Hara bhara kababs are healthy vegan and vegetarian kababs made with potatoes, spinach, green peas, gram flour and few spices. You will find these in many Indian restaurant menus as starter or appetizer or snack. It is also gluten free.
Kabab is usually snack that has been chargrilled, made of meat or vegetables or paneer. It is very popular in Indian subcontinent and Middle eastern countries as well. These are often served as starters with spicy green chutney.
Along with hara bhara kababs you might also like these corn kabab, paneer kababs recipes.
I first tasted this delicious hara bhara kebab in a north Indian chaat shop many years back. It was really good and I could easily make out the ingredients. Then I saw the recipe in few cook books and this veg hara bhara kabab recipe is something I have been making over a decade.
I prepare this very often for after school snack with whatever ingredients available. During winters when fresh green peas and good spinach are in season, this snack is often featured in our home menu 🙂
It tastes wonderful on its own when served piping hot. You can also serve with coriander chutney, mint chutney, green chutney or tomato ketchup or even yogurt for kids. Do try out this easy hara bhara kebab recipe with step by step photos and enjoy!
About This Recipe
What Is Hara Bhara Kabab?
Hara bhara kebab is a crispy tasty and delicious cutlet or veg kabab recipe from north Indian cuisine made of spinach, peas and potatoes.
Hara bhara kabab literally means kabab full of greens. True to its name, it is green, full of good health and energy boosting. It is one of the best and easy after school snack as well as a wholesome starter or even a light dinner.
It is easy to make hara bhara kabab at home if you spinach handy. I usually make this when I have leftover spinach from palak paneer, palak chana etc.
This kabab is a wonderful way to sneak in spinach in kids diet. Even kids those who fuss around to eat spinach will love these hara bhara kababs.
Apart from serving as after school snack you can also serve these kababs as breakfast with any fruit juice or milkshake. For adults this is an excellent tea time snack with ginger chai or masala chai.
Why This Recipe Works?
My keeper recipe yields ones of the best hara bhara kabab that is better than even restaurant ones.
You can shallow fry, deep fry, pan fry these veg kababs. I have pan fried them with less oil here. I have also included instructions for air frying and baking hara bhara kababs.
The spice powders and their proportions in this recipe are so perfect. It yields a very delicious, perfectly spiced and flavorful kababs in minutes.
The binding agents I have used for these veg kababs are roasted gram flour or chickpea flour and powdered poha instead of bread crumbs. These are healthier compared to plain flour and also gluten free ones.
Also I have included some variations, few more vegetables you can add and some alternates for ingredient that may not be available.
Do try out this simple, easy and authentic hara bhara kabab recipe and enjoy! These are
super simple to make
delicious, crispy and hearty
better than restaurant ones
healthy after school snack, appetizer or starter
vegan and gluten free
Ingredients
Potato– Aloo or potatoes are the base of these kababs. We need to boil, peel and mash them. While mashing the potatoes, make sure not to make them very pasty though.
Instead of boiling, I prefer to steam the potatoes as they retain less moisture. See recipe for more details.
Spinach– Palak leaves are used for the "hara" part of this recipe 🙂 Hara or hari means green in hindi and by adding, spianch, peas etc these kababs get the green color.
Make sure to use fresh tender spinach leaves as matured ones sometimes tend to be bitter.
Green peas– Fresh green peas in season and frozen ones if fresh are not available. You can also make hara bhara kabab without green peas.
Spices and herbs– coriander leaves, ginger, green chillies, chaat masala powder, mango powder or amchur powder. You can also add a pinch of garam masala powder for more flavor. We will use rock salt or black salt for more flavor here.
Gram flour– roasted chickpea flour acts as binding agent as well as lends a wonderful nutty flavor. You have to roast the chickpea flour well in low flame until mice aroma wafts out before using in the recipe. Sattu is quicker option though.
Powdered poha– Rice flakes known as poha is powdered and used for crumb coating as well as binding hara bhara kebab recipe here. I use this instead of bread crumbs in most of cutlet recipes like veg cutlet, paneer cutlet.
How To Make Hara Bhara Kabab
Preparation
Pick 2 large potatoes or 4 small ones (400 grams) and scrub them thoroughly. Next cook them until fork tender. You can boil or steam them.
Pressure cooker- 2 whistles in medium flame
instant pot- 4 minutes in pressure cook mode, place on the steamer rack with pressure valve sealed.
Stove top- cook in medium flame for 8-9 minutes.
Once done, peel and mash the boiled potatoes well but do not make them like a paste.
In the mean time bring a large pot of water to a rolling boil. Add 200 grams rinsed spinach leaves and shelled 3/4 cup green peas. Blanch for 5 minutes.
Once done, drain in a colander and rinse with cold water.
Take spinach leaves alone in a mixer jar. To that add green chilli, 1/4 cup coriander leaves, 1 teaspoon cumin seeds and 1.5 inches peeled ginger. Set the green peas aside separately. Grind to a smooth paste without adding water. The moisture in spinach leaves is enough to grind.
Making Dough
Place mashed potatoes in a large mixing bowl. Add blanched peas, prepared paste.
Also add roasted gram flour, chaat masala powder, garam masala powder, amchur or dry mango powder and salt to taste.
Mix very well without adding any water. Now tip the powdered poha.
Mix well and form a tight stiff dough. Try shaping a ball from the dough, if it falls apart add two more tablespoons of poha powder or gram flour.
Shaping & Frying Veg Hara Bhara Kabab
Heat a cast iron pan with 3 tablespoons oil. Spread the oil well. While the oil is getting heated divide the prepared kabab mixture into 12 equal balls. Shape each ball into a flat patty or kabab.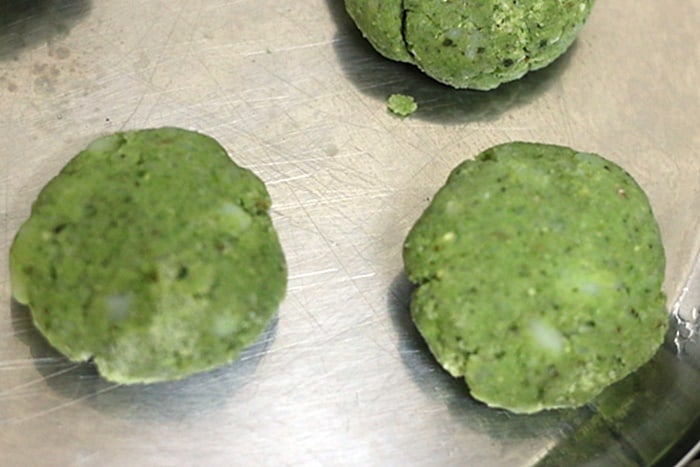 Place the shaped hara bhara kebabs in the pan. Place 4-6 depending on the size of the pan. Fry in medium heat for 1-2 minutes.
Flip and cook the other side. Cook until they turn slightly charred, edges turn crispy and golden brown.
Remove the cooked kababs to a plate.
Serve hot with any chutney or dip.
Expert Tips
While boiling potatoes, make sure to keep it dry as far as possible. One way to achieve this to steam the potatoes instead of boiling them in lot of water. If you boil the potatoes, drain the water thoroughly before mashing.
Instead of pureeing the spinach you can even finely chop them or mince in a food processor.
Instead of adding the peas as whole you can pulse it once in a mixer grinder, do this especially if you plan to deep fry the kababs. While deep frying whole peas may burst in hot oil.
After shaping the cutlet you can press a half cashew in each kabab and fry.
If gram flour is not available you can use corn starch or corn flour or even amaranth flour in this recipe hara bhara kabab.
Another option is you can grind spinach and green peas together for a melt in mouth kabab. I do this often.
Add more green chilies for spicier kababs.
Variations
With Paneer– One variation I often do in this recipe is to add crumbled paneer. For this quantity you can add 100 grams or 1/2 cup crumbled paneer. It lends a very rich taste and flavor as well as makes the kababs more satiating & filling.
Vegetables– Along with spinach and peas you can add blanched and minced broccoli, cauliflower or grated carrots. You can also add chopped onions along with other ingredients.
Instead of potatoes you can use boiled and mashed sweet potatoes as in this sweet potato patties recipe. You can also use boiled yam too.
With chickpeas– If you completely want to avoid tubers you can easily use boiled and mashed chickpeas and make this recipe.
Deep frying– Instead of pan frying you can also deep fry these. Heat enough oil in a pan and once the oil is hot, slide in the shaped kababs. Deep fry in medium flame. Place the deep fried hara bhara kebabs in a kitchen towel to absorb excess oil before serving.
Air frying & Baking Hara Bhara Kabab– Prepare the kabab mixture and shape as mentioned in the recipe., Preheat your oven at 190 C or 375 F. Place the shaped kababs on a greased baking sheet and bake for 10-12 minutes. Flip and bake for another 7-8 minutes or until they turn dry and crispy.
Serving Suggestions
Hara bhara kabab is best served hot straight off the pan. It tastes best with green chutney, coriander chutney, pudina chutney.
You can also serve these with tomato sauce, ketchup.
I also use these as burger patties with eggless mayo, hung curd and a simple kachumber salad to make veg burgers.
More Snacks Recipes
Are you making this recipe? I would love to see a snap of your creation too. Do snap a pic and share on Instagram with hashtag #cookclickndevou and please give a star rating ★ in the recipe card above. Follow us on Pinterest , Instagram, Facebook for more recipes and ideas.
Recipe Card