Idli podi is a condiment made of red chillies & lentils. It is an instant side dish for idli when mixed with ghee or sesame oil. This flavorful powder is indispensable in most of the south Indian homes. This powder also goes by the name idli milagai podi, gun powder, idli karam podi, chutney podi in various regions. Vegan recipe.
I just love to have idlis with podi more than any chutney or sambar. I have been making this idli milagai podi for more than decade now and this recipe is a keeper for sure. This post will help you make idli podi recipe that is flavorful & delicious with a nice texture that is slightly coarse.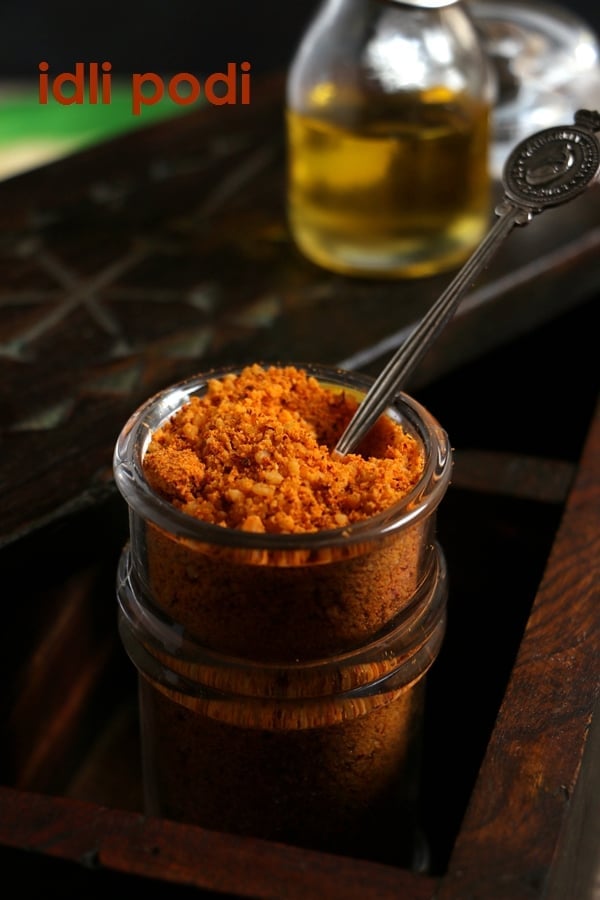 Do you like idli dosa? what is your favorite side dish for them? While many people like to have idli with idli sambar or coconut chutney or tomato chutney, there are also many of us who are loyal fans of idli podi 🙂
I will always reach out for this idli milagai podi even when there are chutneys or sambar. Piping hot idli generously smeared with podi and sesame oil is simply wonderful 🙂
If you are wondering what this deal is all about or have never tried making idli podi at home, read on this post is for you 🙂 Do try it out and I am sure it will be your favorite too just like ours.
What Is Idli Podi?
Idli podi or idli milagai podi is a tasty and flavorful condiment served with south Indian dishes like idli, dosa, uthappam.
In Tamil podi means powder and milagai means chilli. As this is a dry chutney powder often eaten with idli it is called idli podi or idli milagai podi. In Telugu karam means chili or spicy so this dish goes with the name idli karam podi.
There are many variations with this spicy podi and you will literally find several idli podi recipes varying from region to region, even home to home.
In this post I am sharing the most traditional recipe of idli milagai podi recipe with an addition of peanuts and cashews. This is also a no garlic recipe.
Making gunpowder recipe at home is very easy and straight forward. All you need to do are roast the ingredients, cool and grind them to a coarse powder. It keeps well for a month at room temperature and 3 months in refrigerator.
Idli podi is best suited for kids lunch box and travel. While travelling this is the constant side dish with idli as it does not spill or go stale for 2 days at least.
What Does It Taste Like?
Idli podi is very delicious, flavorful and addictive to say the least 🙂 It tastes a bit spicy, a bit Earthy and pungent along with wonderful nutty flavor and crunch from the lentils.
The flavor and taste of idli milagai podi greatly depends on the ingredients added to it. For instance if you want a super spicy podi, you add more chilies. For a wonderful nutty tasting powder just increase the amount of lentils used, you get the gist 🙂
I always aim for balance while making idli podi. I do not make it super spicy or very bland. We like this powder to have enough hotness yet the flavor of the other ingredients to shine through too.
My idli podi recipe will yield you one of the best tasting podis that is super flavorful, addictive and yum with idli, dosa 🙂
Ingredients & Substitutes
Lentils
Chana dal– Chana dal or Bengal gram is the main ingredient for this powder. You can make idli podi just with chana dal or a combination of more lentils.
Urad dal- Along with chana dal I like to add some urad dal for flavor and texture. Urad dal lends a wonderful flavor when roasted.
Red Chilies
Dried red chillies are used for spice, heat and also color in this recipe. There are many varieties of chilies and you can choose the ones you like. For a super spicy podi you can use Guntur red chilies and for mildly spiced podi use Kashmiri red chilies. I have used the Kashmiri chilies here.
The amount of red chilies given here yields a spicy podi. You can make mildly spiced idli podi by reducing the red chilies.
Sesame Seeds
Traditional Tamil style milagai podi is always made with sesame seeds. While traditionally black sesame seeds are used you can also white sesame seeds.
Adding sesame seeds lends a wonderful nutty flavor and taste to this podi. If you are not used to the taste you can skip it.
Asafoetida (Hing)
Another important ingredient in Tamil Nadu style Idli podi is asafoetida or hing. It lends such an authentic flavor and taste. Traditionally rock asafoetida is used but I have used powder only.
Sesame Oil
I like to use sesame oil for roasting all the ingredients. While some recipes call for dry roasting, the flavor of idli podi is so good when we roast the ingredients with few drops of oil. You can also use any cooking oil like vegetable oil or canola oil too.
Optional Ingredients
Traditionally idli podi is made with only the above 6 ingredients. However I like to add some peanuts and cashews for nutrition and flavor boost. You can even add the following ingredients for flavor
curry leaves– 2 sprigs
flax seeds– 2 tablespoons
dried coconut or kopra– a small piece or 2 tablespoons unsweetened desiccated coconut
How To Make Idli Podi Recipe
Heat 1 teaspoon sesame oil in a pan. Add all the measured channa dal and urad dal, cashews and peanuts. Mix and fry till oil coats all the ingredients and then roast till they turn golden brown in medium flame. Remove all the roasted ingredients to a plate and let cool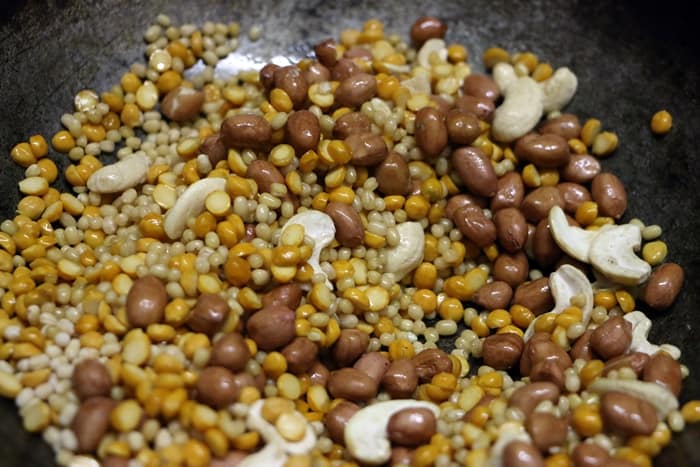 2. In the same pan add asafoetida and dried red chilies. Saute till the red chilies slightly change color and asafoetida is well coated to the chilies. Allow to cool thoroughly.
3. Take all the ingredients in your dry grinding jar and grind for few seconds. Add salt and grind again as coarse or fine you need.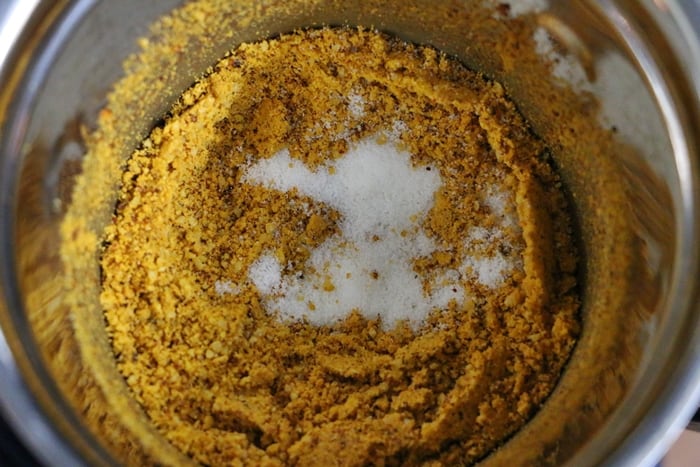 4. Store idli podi in a clean dry bottle or jar.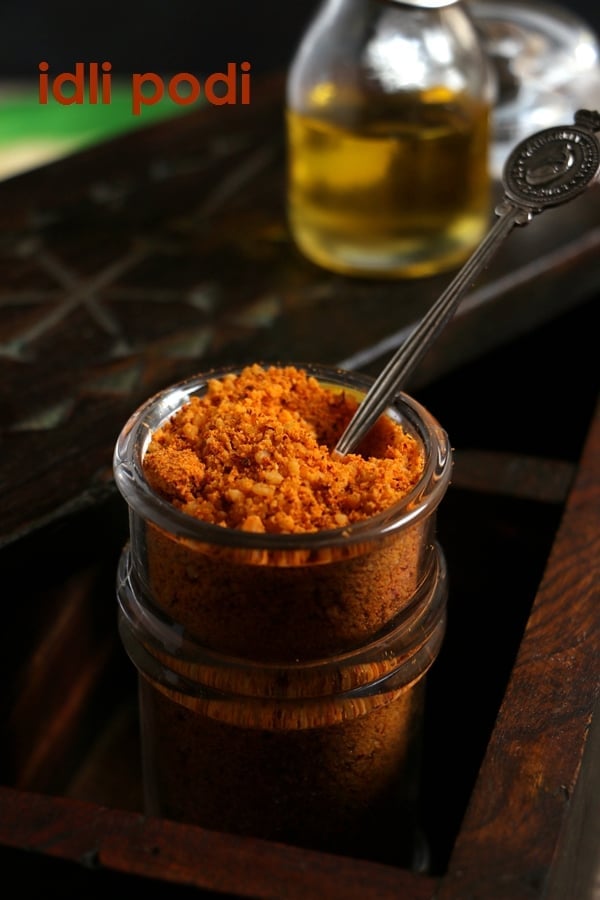 Pro Tips
Make sure your lentils, cashews and peanuts are fresh and not rancid. If you are making in large quantities you can keep the ingredients under sun for few hours and then make the recipe.
Always fry the lentils and other ingredients in low flame until they turn aromatic and golden brown. Let the roasted lentils cool down before grinding.
Sesame oil elevates the flavor and also cools down the spice from chilies. If you want to skip oil you can also dry roast the ingredients in low flame. But as this is used as an instant condiment we like to roast it in oil.
You can vary the proportion of any ingredient to suit your taste.
Add kashmiri red chilies for vibrant yet less spicy powder.
You can keep the texture coarse or fine as per your taste. Use a high powered blender or mixer grinder to powder the ingredients, especially if you are making a big batch. You can make a fine powder or slightly coarse powder as per taste.
Variations
As I mentioned above there are tons of variations you can make in this recipe.
With Tamarind– Adding a small piece of tamarind adds flavor and slightly tangy taste to this milagai podi.
With garlic– to make poondu milagai podi just fry 6-8 cloves of garlic along with chilies
Curry leaves– If you like the flavor of curry leaves, you can add add a handful along with chilies
Andra Style Nalla karam Podi– Check out this detailed recipe for making Andra style super flavorful idli karam podi with coriander seeds, cumin seeds. I love to mix this with rice too.
How To Serve Idli Podi?
For one serving- Take 4 tablespoons of podi and smear with hot ghee, coconut oil or sesame oil. Serve this as condiment with idli, dosa or curd rice. You can also smear hot idlis with podi and pack for lunch.
Always keep the podi in a clean dry airtight container with tight lid. This keeps well for a month at room temperature. You can also store in refrigerator for 2-3 months.
What is idli podi made of?
Traditionally idli podi was just made of red chilies, chana dal, salt and asafoetida. Over the time other ingredients like curry leaves, peanuts were added.
What is chutney powder?
Chutney powder is just another name for idli milagai podi.
Is idli powder gluten free?
No, this dish contains asafoetida. To make it gluten free skip it.
More Condiments
Dry garlic chutney
Curry leaves chutney
Tomato thokku
Are you making this recipe? I would love to see a snap of your creation too. Do snap a pic and share on Instagram with hashtag #cookclickndevou and please give a star rating ★ in the recipe card above. Follow us on Pinterest , Instagram, Facebook for more recipes and ideas.
Recipe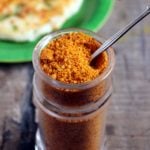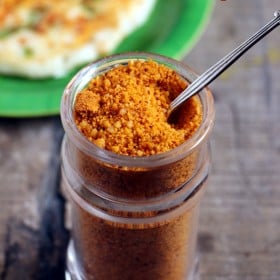 Idli Podi Recipe
Idli podi recipe, spicy and flavor dry chutney powder/ side dish for idli!
1 CUP = 250 ml
Ingredients
1/2

cup

channa dal

1/2

cup

urad dal

1/4

cup

peanuts

2

tablespoons

sesame seeds

white or black

10

cashews

15

dried red chillies

1/2

teaspoon

asafoetida

1

teaspoon

sesame oil

Salt
To serve
sesame oil or ghee

as required
Instructions
Heat 1 teaspoon sesame oil in a pan. Add urad dal, channa dal, cashes, peanuts and sesame seeds. Fry in low flame until aromatic.

Remove to a plate and let cool

In the same pan add asafoetida and dried red chilies. Saute till the red chilies slightly change color and asafoetida is well coated to the chilies. Allow to cool thoroughly.

Take all the ingredients in your dry grinding jar and grind for few seconds. Add salt and grind again as coarse or fine you need.

Store idli podi in a clean dry bottle or jar.
To serve
Mix 3-4 tablespoons podi with ghee or sesame oil and serve with idli
Notes
You can few sprigs of curry leaf along with red chilies.
You can add whole urad dal (black one with skin) too instead of husked urad dal.
Nutrition
Serving:
2
cups
Calories:
513
kcal
Carbohydrates:
60
g
Protein:
27
g
Fat:
20
g
Saturated Fat:
3
g
Sodium:
9
mg
Potassium:
226
mg
Fiber:
24
g
Sugar:
2
g
Vitamin A:
5
IU
Vitamin C:
2
mg
Calcium:
214
mg
Iron:
8
mg
Tried this recipe? Snap a pic and share 🙂
Mention cookclickndevou or tag cookclickndevour