Idli sambar recipe- easy tiffin sambar recipe to serve with idli, dosa, pongal and other south Indian breakfasts! Very easy to make flavorful tiffin sambar in 20 minutes! Also this idli sambar suits best for mini idli sambar with ghee, a madras special delicacy! Idli sambar made with moong dal, veggies and without tamarind, absolutely restaurant style!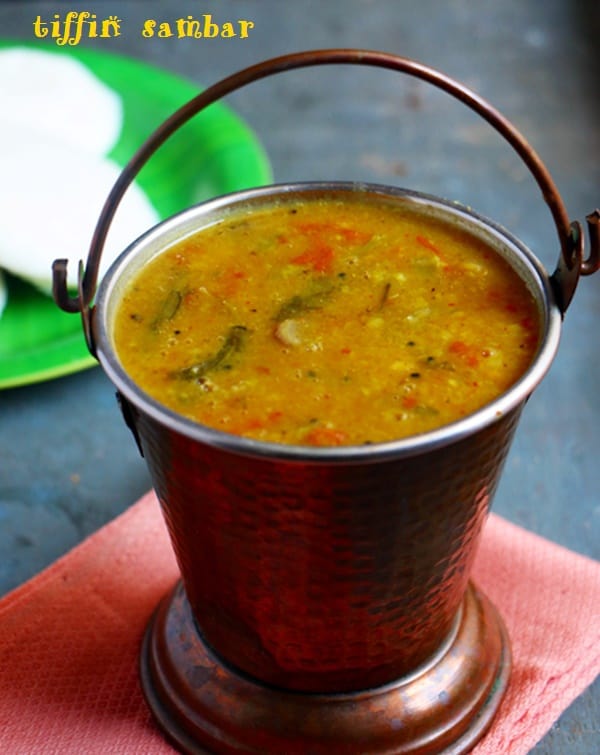 We mostly eat typical south Indian breakfast especially like idli, dosa, pongal, upma on weekdays and this idli sambar is our favorite side dish. I sometimes make this tiffin sambar for dinner also. Unlike traditional south Indian sambar this idli sambar is more thin and slightly sweet. Also this tiffin sambar goes very well with neer dosa.
There are many ways to make idli sambar. This recipe is for restaurant style tiffin sambar that is a bit thin and flavorful. This idli sambar can also be used for making mini idli sambar, sambar vada recipes. I have also added one more hotel idli sambar recipe in the blog.
If you are familiar with south Indian restaurants you also the big deal about the sambar served with idli or vada 🙂 It is typically called as idli sambar and tastes outright delicious. It is very different from the regular sambar served with rice. This sambar also has a slight sweet taste. Read on to know the special ingredients used for making this sambar.
Ladles of tiffin samabr poured over piping hot idlis with a drop of ghee is what good breakfasts are made of :). of course there should be filter coffee 🙂
This Idli Sambar Recipe Is
Delicious, very flavorful just like south India restaurants
Vegan & gluten free
Easy to make at home
Moderately spiced, kid friendly
Uses fresh spice blend
Goes well with all south Indian breakfasts.
Which Dal Is Best For Tiffin Sambar?
To make idli sambar or tiffin sambar recipe usually moong dal is used. Here I have used a combination of toor dal and moong dal. The quantity of dal used should be lesser than regular sambar so that the consistency is thinner.
If you use masoor dal in your cooking you can add it too as most of the restaurants as masoor lentils are in expensive comparatively.
In most of the restaurants they use very less lentils and a big piece of sweet pumpkin. This is done in restaurants for cost cutting 🙂 However adding pumpkin lends a nice sweet note to this idli sambar and you can also add a piece of pumpkin while cooking lentils.
Sambar Masala For Idli Sambar
One more specialty of this sambar recipe is the use of fresh sambar powder. I have shared the recipe for quick sambar powder below.
The taste of sambar will change if you use store bought regular sambar powder. Also you can make and store this idli sambar powder for making quick tiffin sambar on weekdays.
Which Veggies Go Well In Tiffin Sambar?
For best idli sambar use pearl onions or shallots. The small onions especially lend wonderful flavor and a sweet taste to the sambar. You can also use a small piece of pumpkin to get the typical sweet taste.
The other vegetables that go well in this sambar recipe are potatoes, carrots, capsicum. However do not use too much of vegetables in this recipe. Do not use okra, brinjal, broad beans in this recipe as that will alter the flavor.
Furthermore the tamarind is also less in this recipe. You can even skip tamarind.
You can serve this idli sambar with hot idli, dosa, upma and other south Indian breakfast.
How To Make Idli Sambar Recipe
Making Sambar Powder
Take cumin seeds, fenugreek seeds, coriander seeds, channa dal, asafoetida,dried red chillies for roasting and grinding.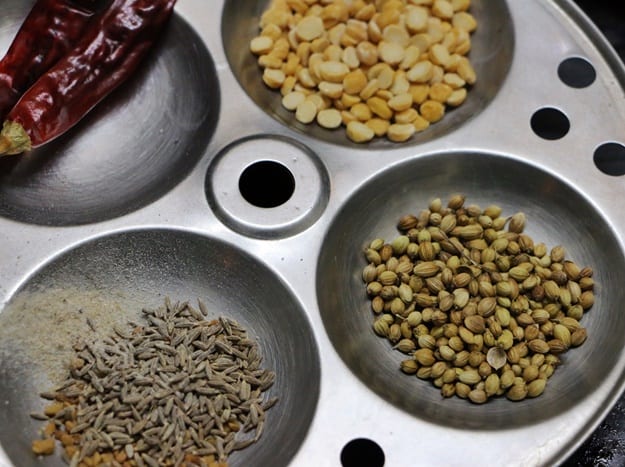 Heat a pan and dry roast all the ingredients in low flame until they slightly change in color and turn aromatic. Allow to cool for sometime. In the meanwhile you can peel the shallots, chop the tomatoes and capsicum.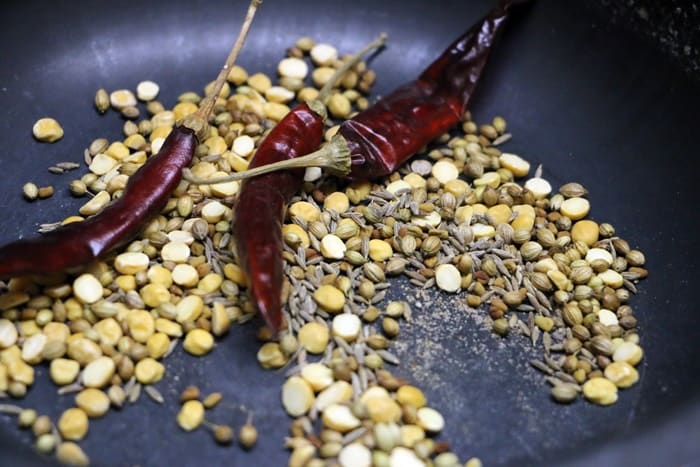 Once the spices have cooled, take them in dry grinder and make a coarse powder.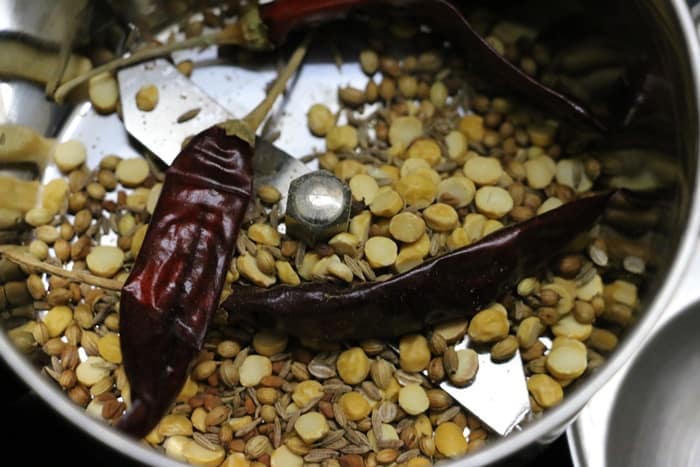 Do not make it a very fine powder, it will form lumps and make the sambar pasty.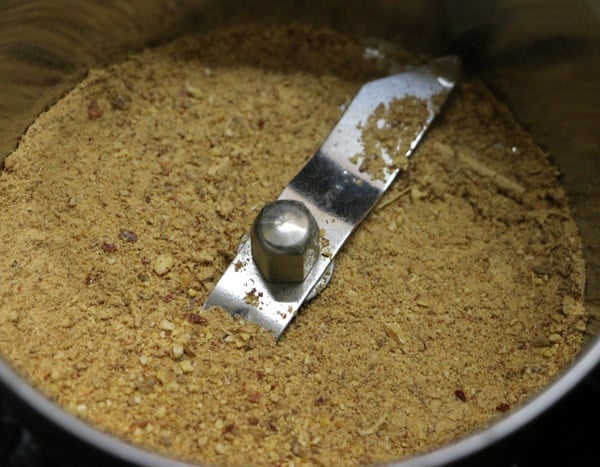 Making Idli Sambar
1. First of all pressure cook toor and moong dal until completely cooked and mushy. Add little salt and turmeric powder while cooking. Soak a small marble sized tamarind ball in 3/4 cup water for 15 minutes and extract thin tamarind juice.
2. Heat a pan and add 2-3 teaspoons sesame oil. Temper with mustard and curry leaves.
3. Once the mustard splutters add peeled shallots and saute well.
4. Let the onions get cooked for a bit. Then add tomatoes,chopped capsicum and saute very well. Also add turmeric powder and mix well.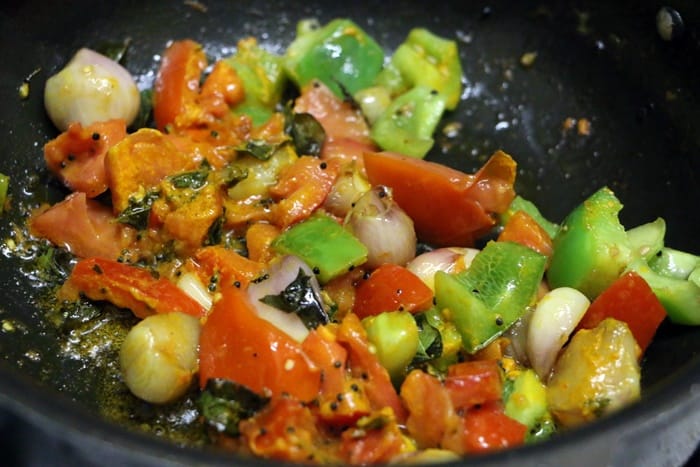 5. Once the tomatoes have turned mushy, add the tamarind juice and mix well. let it come to a boil.
6. Now add 2 cups water and mix well.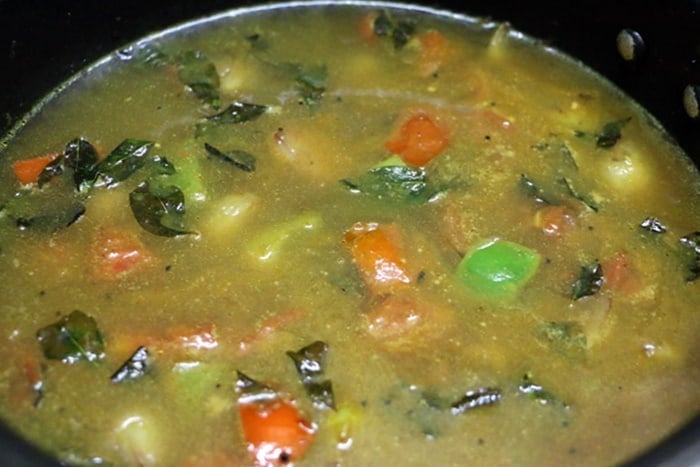 7. Let it boil well for 7-8 minutes.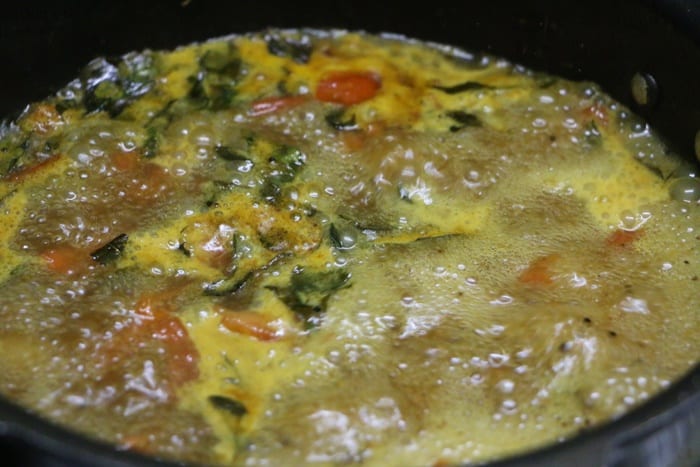 8. While the sambar is boiling mash the dal very well. Then add the cooked and mashed dal, mix very well. Cook for 5 more minutes.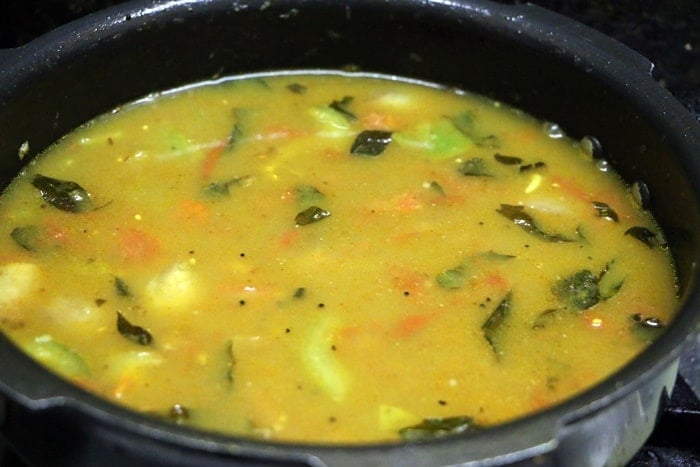 9. Also add the roasted powder and mix well.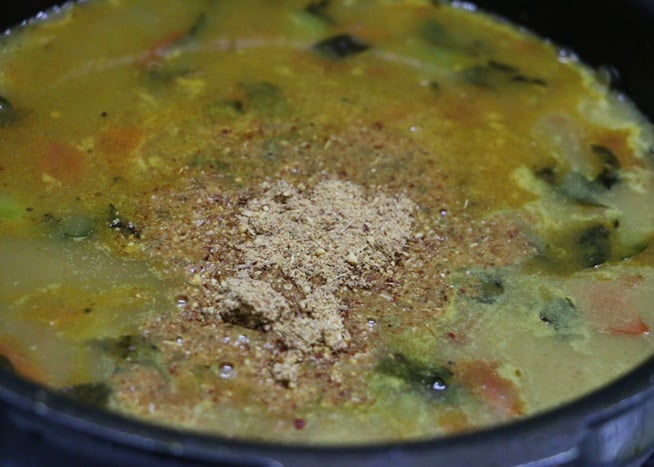 10. Cook for few more minutes.
11. Finally add jaggery powder, mix well,simmer for 4-5 minutes and remove from flame.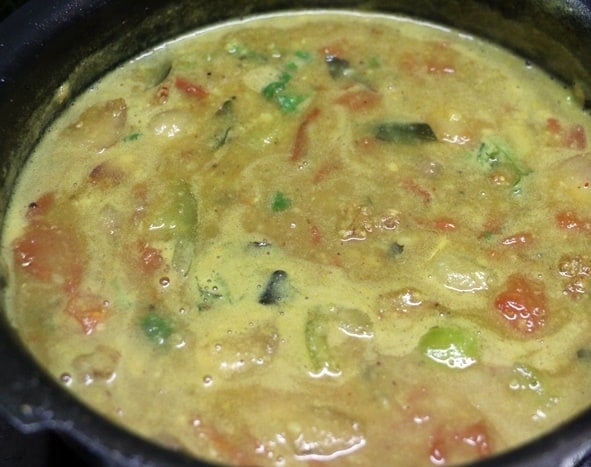 12. Serve tiffin sambar piping hot with idli.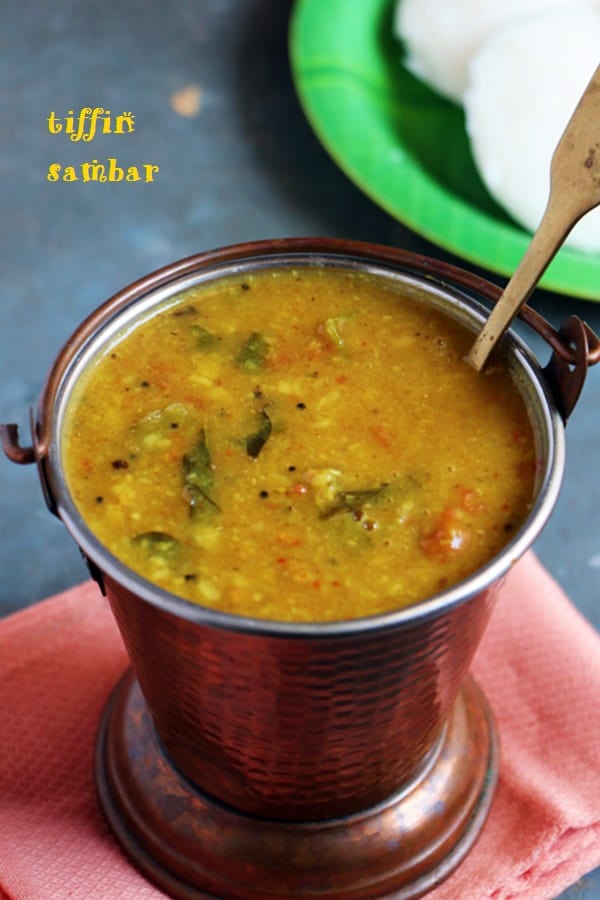 Tips For Making Idli Sambar
While grinding sambar masala for this tiffin sambar you can add 2 tablespoons grated coconut or kopra.
Do use this fresh samabr powder as suggested in the recipe as storebought sambar powder will totally change the taste
Pearl onions yield wonderful aroma to this sambar
The consistency of this sambar is thinner so do not add more dal or thick tamarind extract.
Adding a small piece of jaggery balances the taste and lends a sweet note. Do not skip especially if you are not using pumpkin
You Might Also Like
nellai sambar, varutharacha sambar, vengaya sambar, kadamba sambar , udupi sambar recipes.
Also check more side dish recipes for idli here.
I hope you will try this tiffin sambar recipe and enjoy as much as we did. Please give a star rating ★ in the recipe card below. Follow us on Pinterest , Instagram, Facebook for more recipes and ideas.
Tiffin Sambar Or Idli Sambar Recipe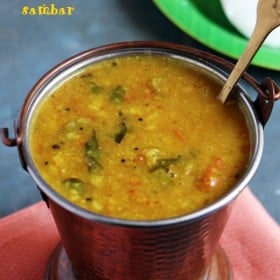 Tiffin Sambar Recipe | Idli Sambar Recipe
Idli sambar,recipe- very tasty, slightly sweet and tangy tiffin sambar specially made for soft idlis and other south Indian breakfasts
1 CUP = 250 ml
Ingredients
For sambar
1/8

cup

toor dal/split pigeon peas

1/8

cup

moong dal/gram dal

1/2

green bell pepper

cubed

2

large tomatoes

chopped fine

10-12

shallots

peeled

1/2

teaspoon

turmeric powder

1/2

teaspoon

jaggery powder

1

small marble sized tamarind

1

teaspoon

mustard seeds

10-12

curry leaves

2-3

teaspoons

sesame oil

Salt
To make idli sambar powder
1

tablespoon

channa dal

3/4

tablespoon

coriander seeds

1/4

teaspoon

fenugreek seeds

1

teaspoon

cumin seeds

3-4

dried red chilies

1/4

teaspoon

asafoetida
Instructions
To make sambar powder
Dry roast and make a coarse powder of all the ingredients mentioned under"to roast and grind"
To make idli sambar
Pressure cook both dals until completely cooked and mushy.

Soak tamarind in water for 15 minutes and extract thin juice.

Chop all the vegetables.

Heat a pan and add 2-3 teaspoons oil. Temper with mustard and curry leaves.

Add shallots and saute well. Also Add tomatoes, capsicum and saute well.

Once the tomatoes turn mushy add tamarind juice and bring to a boil

Now add 2 cups water and let it boil too.

Next add cooked dal and continue to cook for 5 more minutes.

Then add roasted spice powder and mix well. Cook for few more minutes.

Add jaggery powder and simmer for few more minutes. Serve idli sambar hot with idlis.
Notes
1. Adding jaggery perfectly balances the taste, so do add it.
2. You can add 2 teaspoons grated coconut while grinding the spices.
3. Leave out tamarind and add 1 more tomato if you prefer. Adding tamarind will keep the sambar good for few more hours.
Nutrition
Tried this recipe? Snap a pic and share 🙂
Mention cookclickndevou or tag cookclickndevour