Papaya smoothie recipe with banana, palm sugar and coconut milk. This healthy papaya smoothie is a breeze to make in 5 flat minutes! Add any of your preferred fruit instead of banana, stir in some mix-ins for a healthy wholesome breakfast. Here is an easy step by step papaya smoothie recipe for you all!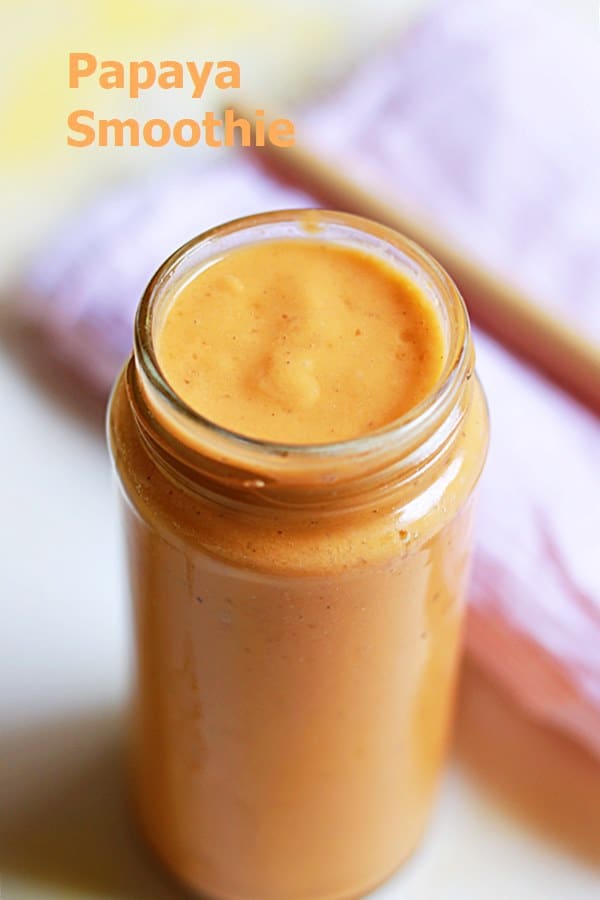 Are you a smoothies for breakfast person? Well then this papaya smoothie will be your best bet. Sweet ripe papaya, thin coconut milk, some palm sugar, a small ripe banana is all you need for this smoothie. So easy, quick and filling smoothie to start your day bright.
Health Benefits Of Papaya:
Papaya is an excellent source of nutrition with numerous health benefits. Papaya helps in
Weightloss
Improves immunity
Rich source of Vitamin A, C
Good for eye health
Rich in antioxidants and fibre
Mild diuretic
To reap all the health benefits of papaya it is best to include it in out diet frequently and one of the easiest way is to make smoothie out of papaya.
Smoothies mask the strong flavor of papaya that some people might detest. Combine ripe papaya with your favorite tropical fruit and there you go with creamy and rich smoothie.
Papaya is an excellent food for toddlers and kids also. You can easily include papaya in their with such smoothies.
This smoothie requires 5 minutes to prepare, 4 ingredients and a regular blender or mixer grinder.
You will love how creamy. fruity and not overly sweet this smoothie is, and of course delicious.
Make yourself a glass of papaya smoothie today and enjoy!
How To Make Best Papaya Smoothie?
To make tasty papaya smoothie start with very ripe and sweet papaya. You can chill the papaya for few hours for more creaminess and to avoid ice cubes.
Use a ripe tropical fruit or a sweet vegetable to compliment the flavor of papaya. Usually an over ripe frozen banana is your best bet. Just use a small one for single serving smoothie.
Blend with your preferred choice of milk and sweetener. You can add some mix-ins like soaked almonds, cacao nibs, pumpkin seeds, flax seeds etc.
Once made serve right away.
Which Milk To Use?
You can make papaya smoothie with any of your preferred milk. Non vegans can use skimmed dairy milk while vegans can use almond milk, coconut milk or any other nut milk in this recipe.
Here I have used store bought organic coconut milk.
Some Delicious Combinations With papaya in Smoothies:
Here are yummy papaya smoothies that you can make in various taste and flavors. Papaya blends wonderfully with many fruits and lends a creamy texture to the smoothie without any ice cream.
Papaya-carrot-coconut milk-sweetener
Ginger-mint-papaya-water
Papaya-watermelon-lime juice-sweetener
Mango-papaya-coconut milk or dairy milk-sweetener
papaya-almond milk-walnuts-sweetener
papaya-milk-sweetener-vanilla
So which one are you making first?
Once prepared serve papaya smoothie right away especially when using coconut milk. For chilled smoothie use frozen or chilled fruits and milk.
You can also use some ice cubes but that will dilute the smoothie which we don't prefer.
More Smoothies For Breakfast
strawberry guava smoothie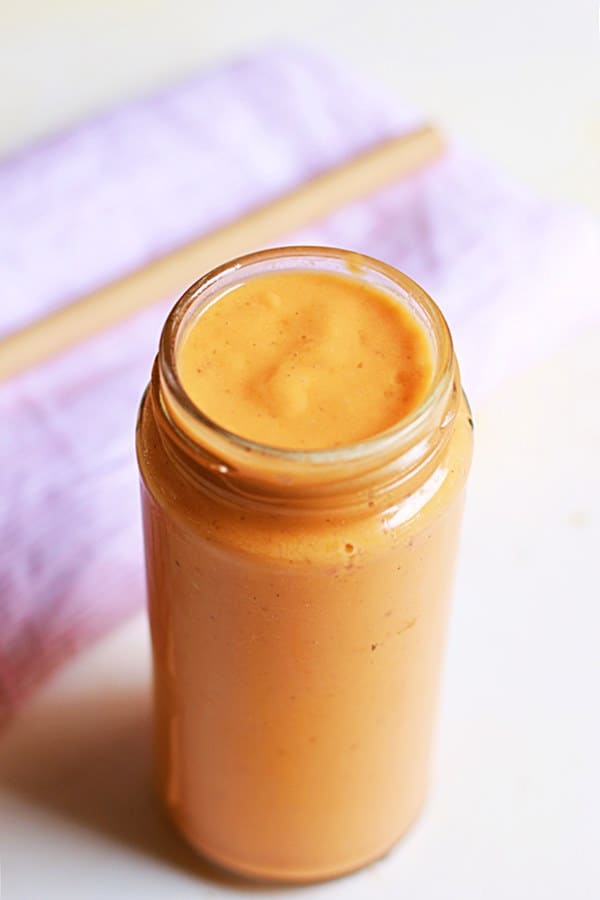 How To Make Papaya Smoothie Recipe Step By Step
1. Add cubed papaya, banana into a blender or mixer jar.
2. Next add palm sugar or any other preferred sweetener.
3. Follow with coconut milk and blend to the smoothie.
4. Serve immediately.
Papaya Smoothie Recipe
Tropical papaya smoothie with a delicious blend of ripe sweet papaya, banana and thin coconut milk. Makes for an excellent breakfast or snack!
1 CUP = 250 ml
Ingredients
1.5

cups

cubed papaya

ripe, sweet

2

bananas

small, ripe and preferably frozen

3

teaspoons

palm sugar

OR any sweetener

1.25

cups

thin coconut milk

unsweetened
Instructions
Add cubed papaya, banana into a blender or mixer jar.

Next add palm sugar or any other preferred sweetener.

Follow with coconut milk and blend to the smoothie.
Nutrition
Tried this recipe? Snap a pic and share 🙂
Mention cookclickndevou or tag cookclickndevour
Are you making this recipe? Do snap a pic and share on Instagram with hashtag #cookclickndevou. Do leave a ⋆ rating along with your feedback!
Let us connect on Instagram, Facebook, pinterest & Twitter for more fun recipes and stories!