Kachori is a crisp, flaky and tasty fried pastry stuffed with savory lentil filling. It is a very popular breakfast or snack from north Indian cuisine often served with thin potato curry like dubki wale aloo or just tamarind chutney & green chutney. Vegan recipe.
Kashta kachori is super crispy and flaky, true to its name and you can make it in many different ways. Here I am sharing the detailed method of making the pastry, moong dal stuffing. In north India, Holi is incomplete without kachoris, gujiaya, thandai and malpuas 🙂
Holi is almost here and along with thandai I am also sharing some delicious treats prepared for this festival of colors like khasta kachori.
Kachoris hold a prominent place in any Holi spread and with this recipe you will be able to make best ones at home. I am sharing the basic recipe of kashta kachori with moong dal stuffing. It is super tasty, really addictive and filling too. These snacks are very popular street food in north India. It tastes wonderful with coriander chutney too.
If you have tasted this dish you know how delicious it is, especially with spicy runny aloo curry like aloo jhol or mathura aloo 🙂 If this kachori is a new dish to you, please read on as you are in for a treat 🙂
About This Recipe
Kachori is a very popular snack or breakfast from north Indian states Uttar Pradesh. Rajasthan also has some variations of this pastry.
You can make both savory and sweet version of this dish apparently. Khasta kachori with moong or urad dal filling is savory, onion kachori and this mawa kachori is a delicious sweet treat. Bedmi puri is also a very similar recipe but the lentils are added to the dough instead of being filled.
Now coming to this recipe, it is super easy to make khasta kachori recipe at home. All you need are few simple pantry staple ingredients.
To get that flaky crispy pastry covering, please follow my tips and you will make best khasta kachori at home in no time 🙂
Just like any Indian dish, this recipe also has minor variations from region to region. I am sharing a very old recipe that my mom makes and it is the best 🙂
To make the outer dough for kachori I have used wheat flour but traditionally it is made with all purpose flour maida only. You can use organic maida or all purpose flour if you wish for this moong dal kachori recipe.
You have to knead the dough just like how you would do for samosa or any other pastry. Knead it very gently just to bring the flour together with fat and water. Do not knead it into a very soft dough like roti. I always use ice cold water for making such dough.
Once kneaded it is very important to let the kachori dough sit for 30 minutes. It lets the gluten to develop and makes the fried kachori super crispy and flaky.
Now coming to filling or stuffing, it is very simple yet delicious one. Boiled moong dal sautéed with basic spices until flavorful. Instead of moong dal you can use urad dal and make bedmi kachori too.
Khasta kachori is a very delicious, filling and fun breakfast or snack that tastes delicious piping hot as well as at room temperature.
You can serve as such with any spicy potato curry or make kachori chaat with these kachoris. Do try out this delicious snack and enjoy. These kachoris are
crispy, flaky & delicious
easy to make
vegan recipe
Holi special treat or snack recipe
filling and satiating for breakfast or snack!
How To Make Khasta kachori Recipe
Preparing Kachori Dough
Take whole wheat flour in a wide mixing bowl. To that add salt. I also add a pinch of carom seeds for flavor.
Now add 2 tablespoons oil to the flour.
Mix well with your finger tips until the oil coats all the flour well. The mixture should resemble bread crumbs. This is a very important step for flaky crispy pastry. When you press a small quantity of flour mixture between fingers it should not break.
Now slowly add cold water in parts and mix.
Knead the dough gently, it is ok for few flour streaks to be there. Cover the khasta kachori dough with a kitchen towel and set aside for 30 minutes.
Making Moong Dal Filling For kachori
Pick and rinse the moong dal very well.
Add enough water and soak for an hour. You can also make the kachori filling without soaking the lentils. Moong dal cooks faster.
Once soaked, drain the dal and add to a pan and add 2 cups water. Cover in cook in medium flame for 12-15 minutes or until the lentils are soft but not mushy. You can also pressure cook or use an instant pot. Pressure cook for 3 whistles and instant pot time will be 7 minutes in manual mode or pressure cooker mode.
Once cooked, drain excess water and set the cooked dal aside. Now heat 1 tablespoon oil in a pan. Add crushed fennel seeds, cumin seeds and roast for few seconds. Next add minced ginger and green chilli. Saute for a minute. You can also add fennel powder instead of crushed seeds.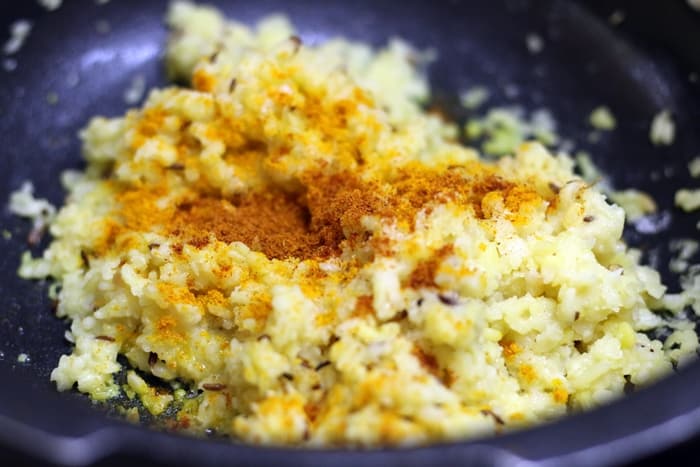 Add the cooked moong dal followed by red chilli powder, garam masala powder, amchur powder, ginger powder and mix well. Add salt to taste. You can also use black salt.
Saute and cook until the mixture turns dry. Remove from flame. Let the filling for kachori cool down a bit.
Shaping Kachoris
To proceed bring the dough we prepared earlier. Knead it once gently and divide into 8 small balls. Also divide the filling into 8 small balls, each ball around 3 teaspoons.
Take a dough ball and slightly dust with some loose flour.
Place on a floured surface and roll into a small circle. It should thin at the edges.
Place a filling ball, bring the edges together and make it seamless. You can prick the kachoris if you do not want them to puff up, I don't usually do it.
Now gently flatten and roll into a small circle. Prepare all the dough balls and filling balls similarly.
Frying Kachoris
Heat oil in a pan. Once the oil is hot but smoky slide a kachori. Ma
Fry until it turns crispy and golden from both sides. Fry in low medium flame for flaky kachori always.
Once it turns crispy and golden, remove from pan using a slotted spoon. Place the fried kachori on a plate lined with kitchen towel to remove excess oil.
Fry all the kachoris in the similar way. Serve hot.
Serving Suggestions
You can serve kachori both hot and at room temperature. It tastes good with any aloo sabzi like potato curry. It also tastes good with tamarind chutney, fried green chilies. green chutney, sweet chuteny.
You can also make kachori chaat by layering kachoris with sweet chutney, green chutney, yogurt, sev and chopped onions.
Pro Tips
Be gentle while working with the kachori dough. Do not knead the dough hard. Just mix the flour with water and bring everything together.
It is important to add enough fat or moyan to the dough for crispy and flaky kachori, so do not reduce the amount of fat.
For a super crispy kachori you can add 2 tablespoons sooji or fine rava to the dough.
To make the kachoris super flaky make sure the oil is always maintained at medium low temperature. Slow frying in low temperature results in flaky crispy and perfectly cooked kachoris.
Storage
These kachoris keep well for 2 days at room temperature and you can freeze them for a week.
To freeze the kachoris, let them cool thoroughly after frying. Store in freezer safe zip lock bags. At the time of serving you can warm in the oven or on a skillet until warm.
More Snack Recipes
Are you making this recipe? I would love to see a snap of your creation too. Do snap a pic and share on Instagram with hashtag #cookclickndevou and please give a star rating ★ in the recipe card above. Follow us on Pinterest , Instagram, Facebook for more recipes and ideas.
Recipe Card