Masala milk or masala paal is a delicious, flavorful and healthy milk flavored with spices. A warm mug of flavorful masala milk is perfect bed time drink during winters. Here is how to fix yourself a cup of delicious and healthy masala milk, easy step by step recipe.
Masala milk recipe or masala paal recipe with step by step photos. Masala milk recipe or masala paal recipe is a very famous milk based drink in Chennai ( Madras).
Masala milk from Saravana bhavan is very famous here. Masala milk recipe is a warm drink in which boiled milk is simmered with few spices,sugar and topped with nuts.
It is a very very tasty drink and best had warm. Masala milk is our favorite and I often prepare it at home. I mostly have milk masala powder handy and use it. If you want to make masala paal from scratch then this recipe is for you.
If you like warm bed time beverages just like we do and want to cut on store bought malt drinks you may like to make badam milk, pista milk, hot chocolate, saffron milk, cardamom milk, turmeric milk etc.
These flavored milks are not only delicious but very healthy, warming and clean drinks for toddlers and kids. So much better than sugar laden packed drinks.
Here I am sharing the best recipe of masala milk on request. There are many variations in masala milk recipe. One or two ingredients may vary to taste. This is the easiest recipe for masala milk. You can make this in no time.
Serve this delicious masala paal to toddlers and kids before bedtime for good night sleep after an active day.
This Masala Milk Recipe Is
Delicious, flavorful & comforting
Warm, soothing and helps for good night's sleep
Vegetarian & gluten free
Healthy beverage for toddlers and kids
Can be made vegan by using dairy free milk.
To make masala milk I prefer to use whole milk for my kid. While adults and weight watchers can use skimmed milk, whole milk has all the health benefits for kids.
Masala milk recipe also has medicinal properties. It is known to cure sore throat, induce good sleep. It also provides nutrition overall. All the ingredients used in masala milk recipe has medicinal properties.
The spices you will need to make masala milk are the regular ones we usually use in Indian cooking.
Pepper corns- boosts immunity
turmeric- antioxidant, immunity booster
Saffron- warming
cardamom- good for digestion
Nuts for general health
Here in this masala milk recipe I have used cinnamon,cardamom and black pepper corns. You can try other spices like nutmeg in this drink.
While I always make this masala paal with nuts you can absolutely leave out the nuts if you are allergic or don't prefer to add nuts. You can also grind the nuts to a smooth paste and add while simmering the milk.
Please note that nuts should be given to babies above one year that too after discussing with your doctor. While feeding this drink to kids you can grind the nuts to fine paste for easy swallowing. Also introduce one nut at a time to kids.
Which Sweetener Is Best For Masala Paal?
To make this drink you can use any of your preferred sweetener like granulated sugar, palm sugar, honey or cane sugar. One sweetener that is delicious in this drink and as well as very soothing for the throat is palm candy. You can also add honey but do not boil or add honey to very hot milk.
Serve masala milk warm. It is best to consume just before sleep. You can consume this drink to cure throat infections too.
How To Make Masala Milk
1. Boil the milk.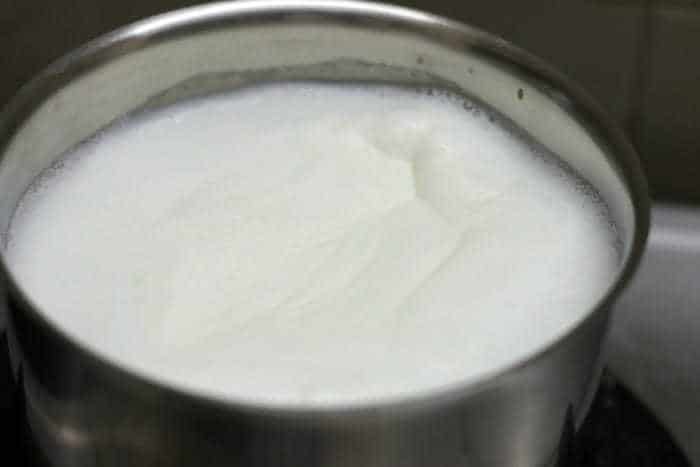 2. Add all the spices and sugar. Simmer for 10 minutes.
3. Add crushed saffron, nuts and mix well. Serve masala milk warm.
How To Make Vegan Masala Paal?
If you prefer to make this vegan you can just replace dairy
milk with non dairy milk like almond milk or soy milki. I especially like this drink made with almond milk for its wonderful flavor and nutrition.
Tips To Make Masala Paal
Using whole milk will yield much richer and creamier drink.
Slightly crush the spices for better release of flavor
If adding honey as sweetener add only to warm milk. Honey should not be added to hot or boiling milk.
If you prefer you can serve this drink unsweetened.
You can double or halve the recipe.
I hope you will try this recipe and enjoy as much as we did. Please give a star rating ★ in the recipe card below. Follow us on Pinterest , Instagram, Facebook for more recipes and ideas.
Masala Milk Recipe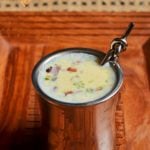 Masala paal recipe,how to make masala paal recipe,masala milk recipe
Masala paal is a popular drink from Chennai,milk simmered with sugar and spices and topped with nuts and saffron.
1 CUP = 250 ml
Ingredients
2 1/2

cups

boiled milk

1 1/2

tablespoons

palm sugar

2-3

cloves

cardamom

1

small stick cinnamon OR 1/2 teaspoon cinnamon powder

10-12

black pepper corns

1/4

teaspoon

turmeric powder

1/8

teaspoon

saffron

Crushed nuts for topping
Instructions
Bring the milk to a boil and add all the spices ad sugar.Simmer for 10 minutes. Filter the whole spices.

Add Saffron and leave aside for 5 minutes..Let the saffron steep.

Serve hot with crushed nuts
Notes
1.Do not skip lack peppercorns and turmeric
2.You can add sugar instead of pal sugar too.
3.You can add sarai paruppu instead of other nuts
Nutrition
Tried this recipe? Snap a pic and share 🙂
Mention cookclickndevou or tag cookclickndevour