Last updated on January 2nd, 2018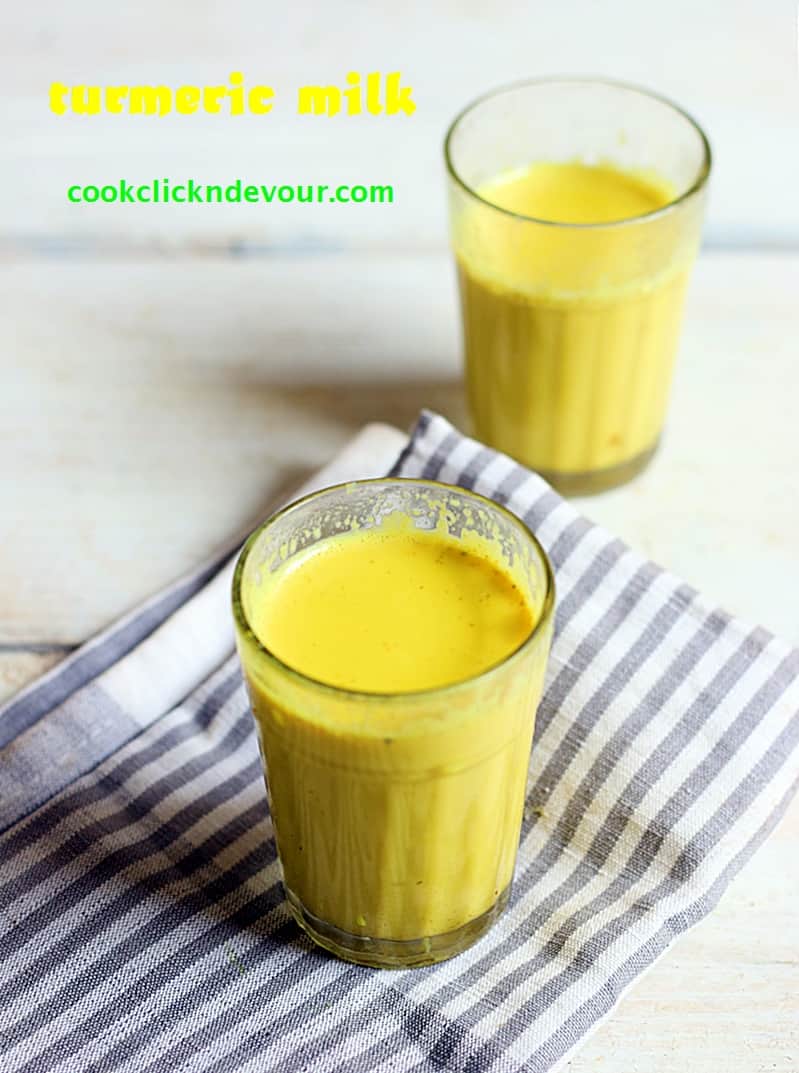 Turmeric milk recipe with step by step photos. Turmeric milk or haldi doodh or Manjal milgau paal is the best ever home remedy for common cold and seasonal cough.
Turmeric milk recipe is a very healthy Indian drink prepared with fresh turmeric root or turmeric powder. Crushed peppercorns and palm candy are also used in turmeric milk recipe. All the ingredients turmeric, palm candy and peppercorns are highly recommended for treating throat irritation, common cold and cough in ayurveda. This turmeric milk recipe is an age old remedy for cold in India.
Turmeric milk is something we grew up with. It is the best ever drink for monsoons and winters. Turmeric milk helps in clearing phlegm, congestion and cold. Turmeric milk also helps to sleep better. These days turmeric milk is widely consumed even outside India in the name of golden milk 🙂 If you want something more fancy there seems to be turmeric latte too. This manjal paal helps in boosting immunity and warming up the body during harsh winters.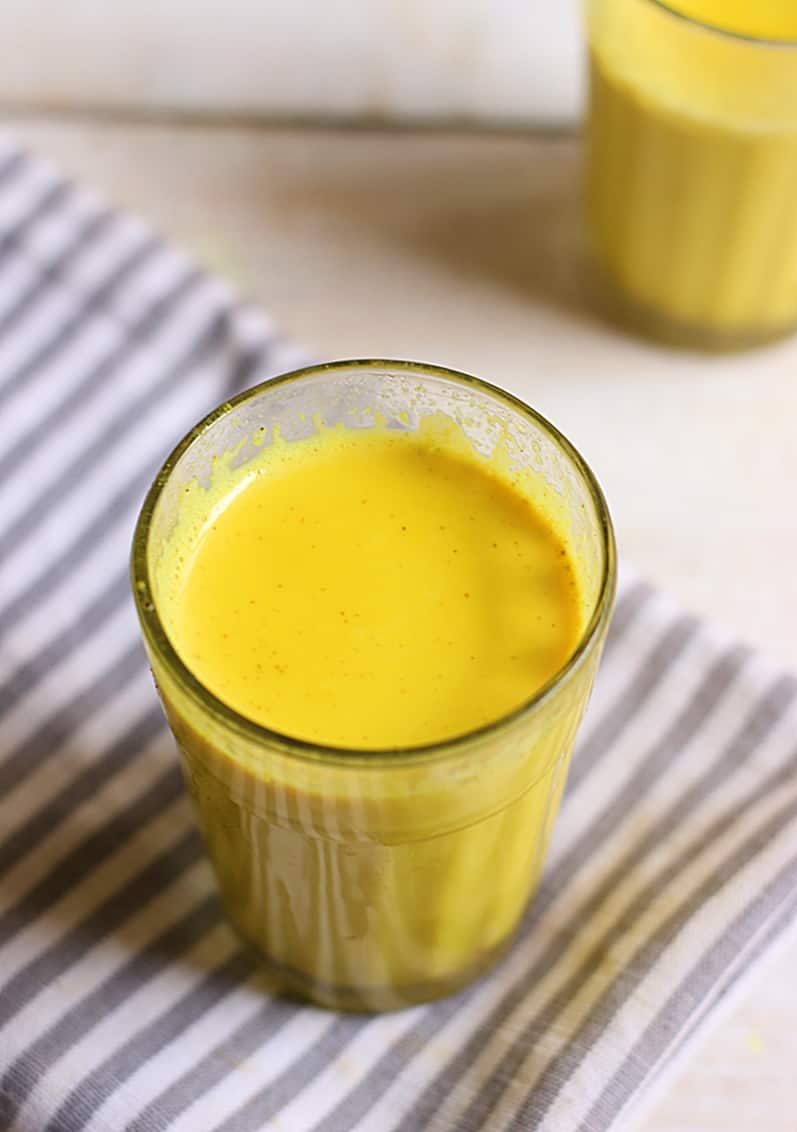 It is widely believed that milk should not be consumed when suffering from cold. It is partly correct too. Pure cow's milk can be consumed when suffering from cold and any other milk may increase the phlegm. So it is better exercise caution and know our ingredients before consuming anything.
To make turmeric milk I always use turmeric powder that is pure. I dry the turmeric and get it powdered. We should be very careful while using store bought turmeric powder. Turmeric powder and chili powder are highly adulterated spice powders in the stores. If you do not want to use turmeric powder you can very well make turmeric milk with fresh turmeric root.
Turmeric health benefits- curcuma longa benefits:
Turmeric is known as haridra in sankrit, Manjal in Tamil, haldi in Hindi. It is a superfood with immense health benefits.
It is used widely for treating cold and cough. Turmeric is also used for treating simple wounds.
It is rich in antioxidants
Balances the three doshas in the body
Used widely for cosmetic purposes like clearing acne, pigmentation in skin
Here I am sharing the turmeric milk recipe that I have been making for years. I usually use 1/4 teaspoon turmeric powder per cup of milk. If using fresh root use 1/2 inch peeled and crushed turmeric root for 1 cup of milk. For full health benefits do not skip palm candy. You can use palm candy crystals or powder. If you do not have palm candy use unrefined raw sugar.
Serve turmeric milk warm during evenings or bedtime.
If you are looking for more winter beverages recipes do check masala paal recipe, almond pistachio milk recipe.
How to make turmeric milk recipe with step by step photos.
Add all the ingredients together and mix well.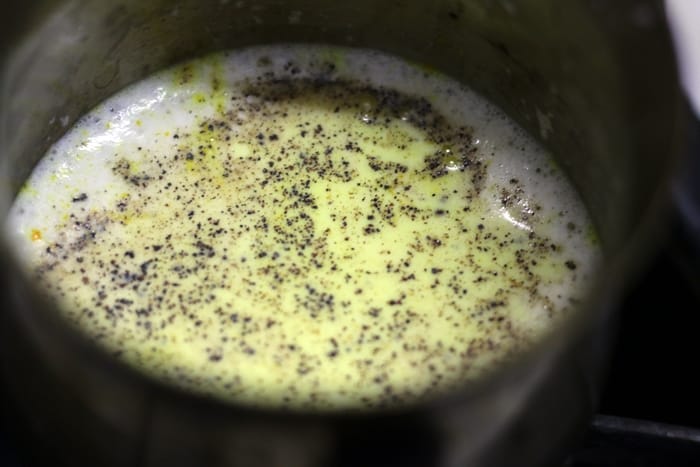 Bring to a boil. Filter if needed. Serve turmeric milk warm.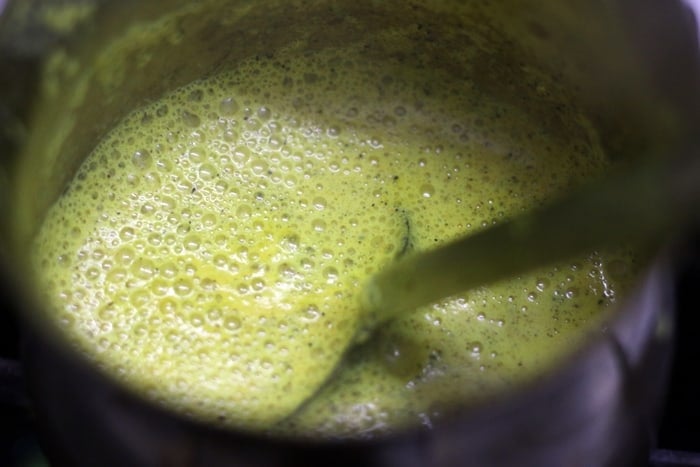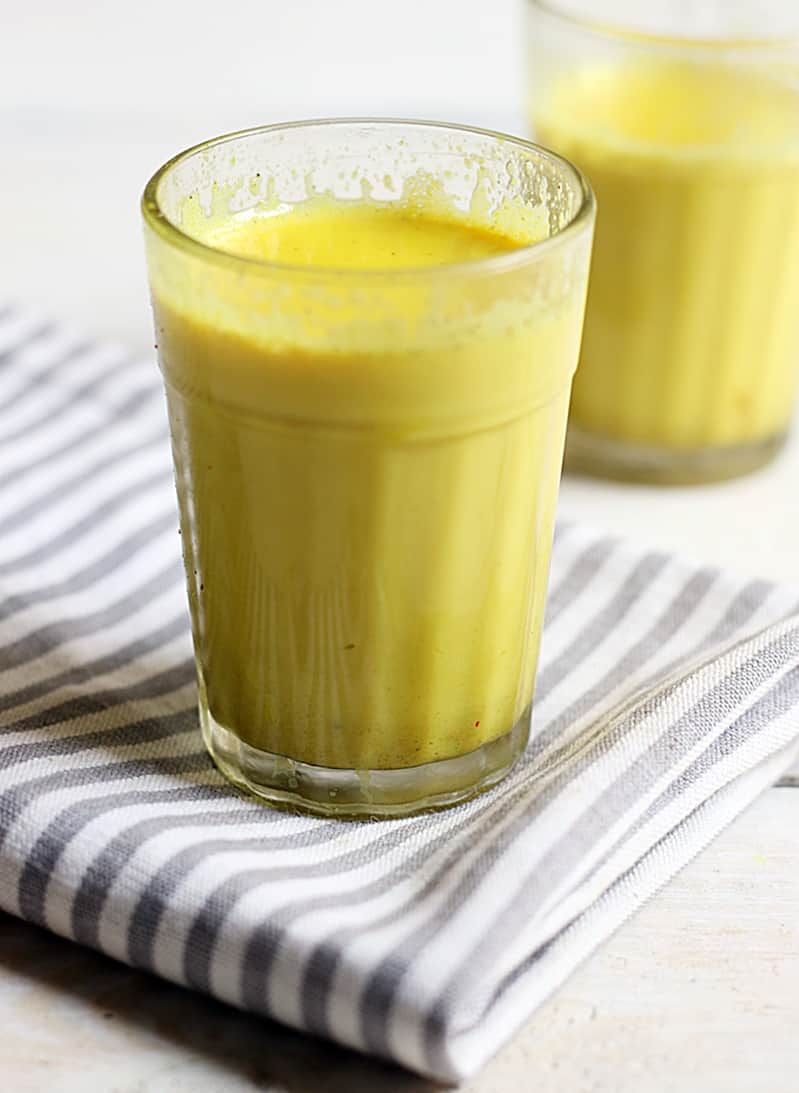 Turmeric milk recipe card below:
Turmeric milk recipe, how to make turmeric milk, Manjal milagu paal recipe | Haldi doodh
Turmeric milk recipe with step wise photos. Easy to make healthy Indian turmeric milk or manjal milagu paal for cold and cough
Ingredients (1 cup=250 ml)
3

cups

milk

boiled

3/4

teaspoon

turmeric powder

3

teaspoons

palm candy powder OR 4-5 big rocks

1/2

teaspoon

pepper powder
Instructions
Add all the ingredients together and mix well

Bring to a boil. Filter if needed. Serve turmeric milk warm