Golden milk or turmeric milk or our good old haldi doodh is the best immunity building beverage and healing drink that you can sip on this winter.
Turmeric's anti inflammatory properties is best for healing and comforting when we feel under the weather. This is also a super delicious, hearty and comforting drink. Wonderful immunity boosting drink for weather chages.
For more flavored milk recipes please check saffron milk, badam milk, cardamom milk, pistachio milk recipes.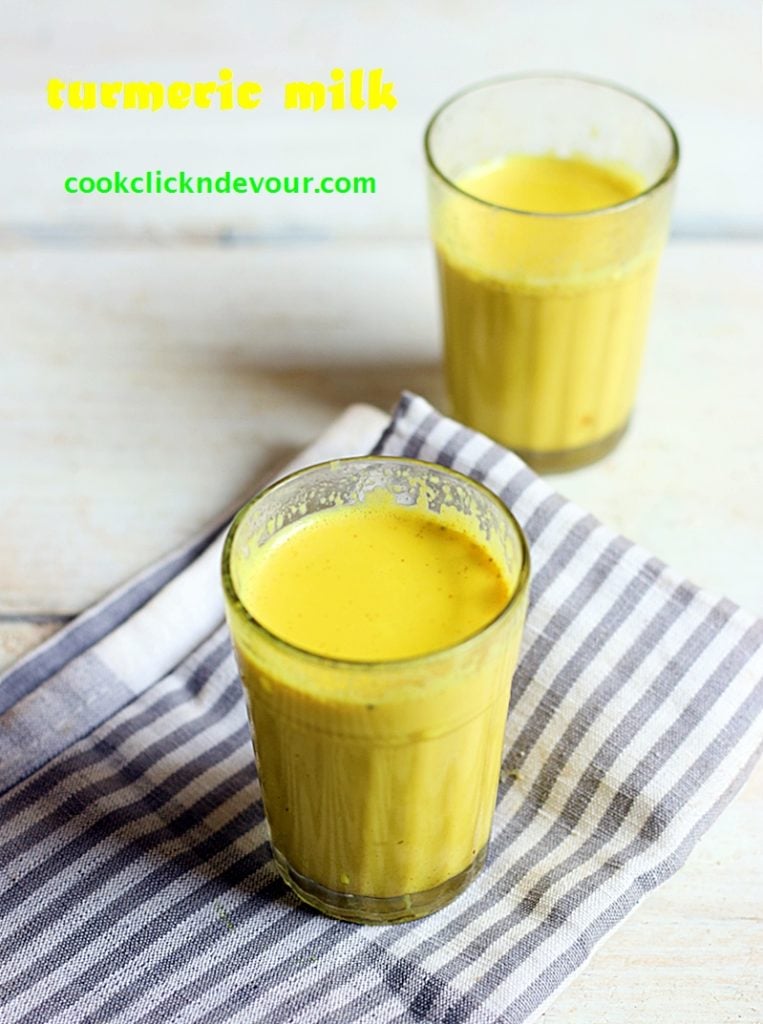 Golden milk also known as turmeric latte seems to be the new rage in Western countries. Are you wondering what it could be? It is just turmeric simmered with milk 🙂 Yes, our own haldi doodh it is.
This warm comforting and mildly spiced drink used to be the night cap for us while growing up. Though it is considered a winter drink, we would have this throughout the year when ever we needed a pick me up.
This drink is a great way to unwind after a long day according to me.
What Is Golden Milk?
Golden milk or turmeric milk recipe is a healing drink or Ayurvedic beverage with Indian roots. It is a simple preparation where you simmer milk with fresh root or ground turmeric and add a pinch of black pepper.
This golden turmeric milk is the most commonly consumed winter beverage in India. It is the age old way of healing drink for treating congestion, phlegm, common cold, flu and sore throat. The health benefits of turmeric and pepper in this drink is plenty.
This is also the drink that the vocal singers resort to. It helps in clearing the throat and keeps their voice clear. This milk is also good for inducing good sleep.
This is the most basic recipe of haldi doodh to which you can add many more ingredients. Another Indian beverage called masala milk is an extension to this recipe with more spices and nuts. It is also a very widely consumed healthy beverage for winters.
Here I am sharing easy recipe to make golden milk with basic ingredients and some variations. I have also included instructions to make it vegan, add alternate sweeteners and more.
I just love turmeric milk on any given day. During nippy evenings, I often make one for us.
If you are looking for easy home remedies to improve immunity or treat common cold this may be your right choice. You can drink this milk even just a warm comforting drink after a tiring day. It is simply delicious. This golden turmeric milk is
traditional Ayurvedic beverage
delicious and flavorful
warm, comforting and soothing
prefect nightcap
home remedy to treat common cold in kids and adults.
Gluten free and can be easily made vegan.
Ingredients
Milk– Traditionally haldi doodh is made with dairy milk only. Here also I have used the same. While making for kids you can use full fat milk or if you want to make it lighter you can make low fat or skimmed milk.
You can also use unsweetened almond milk, coconut milk or oat milk in this recipe. See notes for detailed instructions.
Turmeric– To make golden milk turmeric root or powder can be used. Traditionally roots were used and in the absence of the fresh roots, ground turmeric powder can be used.
I use either of them depending upon the availability. Here I have used powder. You can also use dried turmeric root. Refer notes on how to use them.
Sweetener– Traditionally palm sugar is the sweetener used for this drink. Palm sugar is highly nutritious, heals rough cough and very good for soothing the throat. If it is not available you can use regular sugar, raw sugar or organic sugar.
I will not recommend honey in this drink as it is not advisable to add homey in hot drinks according to Ayurveda. If you you can cool it a bit and and then add honey to warm milk but not to piping hot turmeric milk.
One more excellent sweetener for this drink is maple syrup. If you want to avoid sugar and honey try adding maple syrup and it tastes yummy in this drink recipe.
Pepper– Another important ingredient in this recipe is pepper. Ayurveda recommends consumption of turmeric with a bit of pepper always. Piperine, a compound found in pepper enhances the absorption or bio availability of curcumin in turmeric.
You can also add long pepper or pipli or tailed pepper in this recipe. Use freshly ground black pepper for best taste and flavor.
Optional Ingredients
Along with the above mentioned list of basic ingredients you can add one or all of the below mentioned list of ingredients for more flavor, taste and health benefits.
Cinnamon- A small 1/4 inch pure cinnamon stick can be simmered with milk and removed before serving. Use pure cinnamon and not cassia. 1/4 teaspoon ground cinnamon can also be added.
Green cardamom– You can add 2 crushed green cardamom pods or 1/4 cardamom powder for flav or.
Saffron-1 pinch of saffron enhances the flavor, taste and also has warming properties. Best added during winter.
Vanilla bean- for a different flavor you can try adding a bit of
Fresh or dried ginger– 1/8 teaspoon dried ginger powder or a very small piece of fresh ginger root peeled and minced or ground ginger powder can be used. Simmer along with other ingredients.
Nuts– while serving you can add 1 teaspoon finely chopped almonds for taste.
You can also prepare this milk masala powder and add a pinch when you make turmeric milk.
How To Make Turmeric Milk
The recipe is super simple and takes just 5 minutes.
Add 3 cups milk to a small sauce pan and bring to a boil over medium heat. I using vegan milk skip this step.
Add 1/2 teaspoon ground turmeric powder, 1/4 teaspoon black pepper 2-3 teaspoons palm candy powder or palm sugar. You can also use regular sugar or completely leave out the sweetener. If you are adding any optional ingredients like ginger cinnamon add now.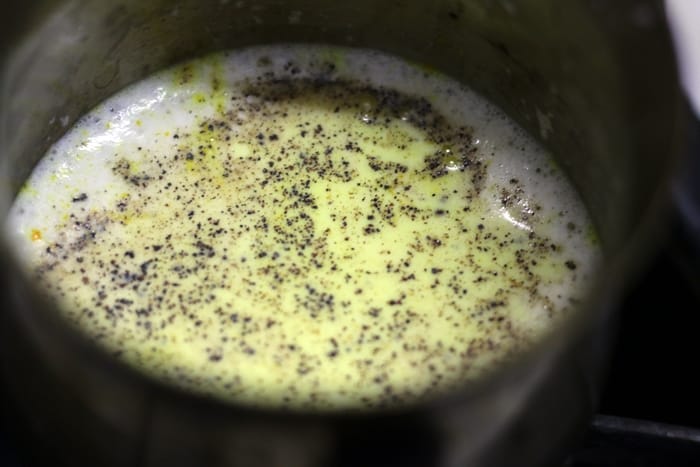 Reduce heat and simmer the milk for 3-4 minutes.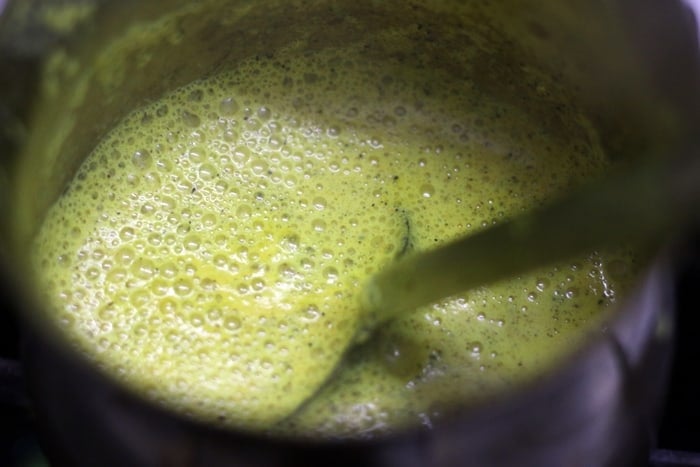 Remove from flame. You can strain the milk if you have added whole spices. If it is just turmeric and pepper you can have as such.
Enjoy turmeric milk or haldi doodh hot or warm.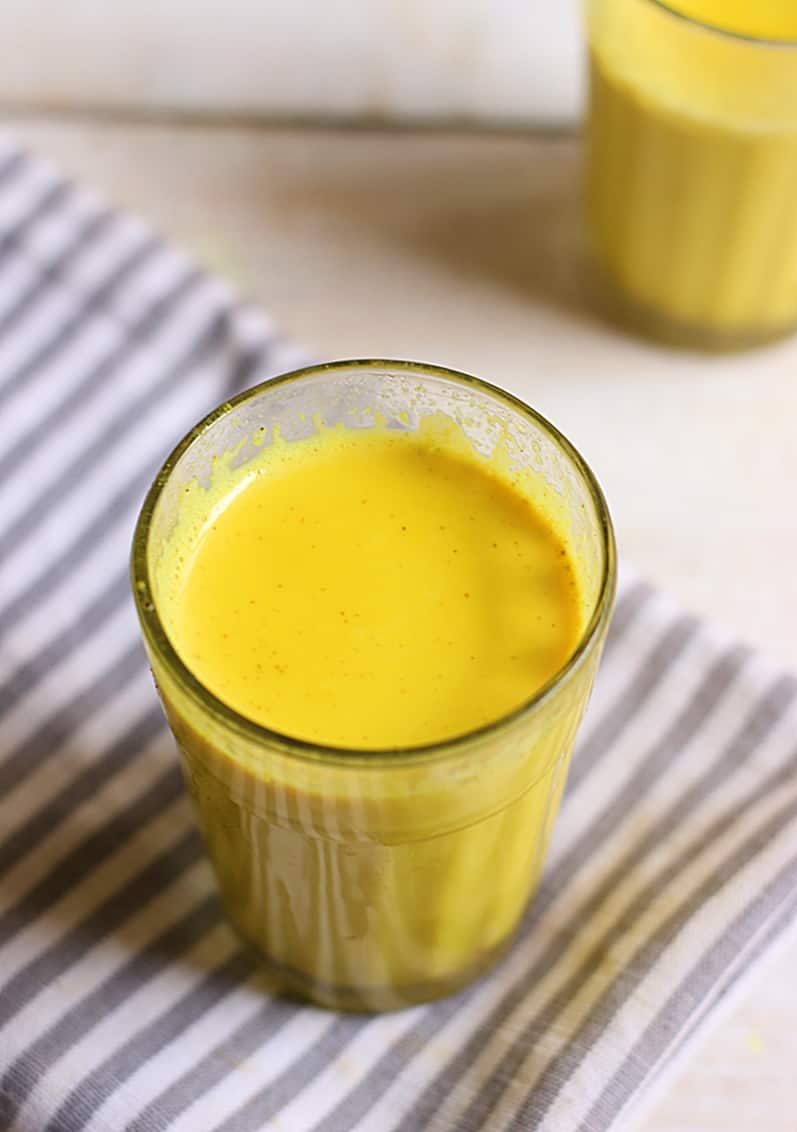 Turmeric Milk With Fresh Turmeric Roots
If fresh turmeric roots are available do use it for making this milk. It is more flavorful and intense with fresh roots. As a word of caution fresh turmeric stains a lot. Here are the instructions to make this beverage using fresh turmeric roots.
Serves 3
Pick 1 inch fresh turmeric root and rinse it well. Peel and mince or grate it using a fine grater. Bring 3 cups milk to a boil. Add grated turmeric, pepper powder and palm candy. Simmer for 3-4 minutes. Strain and serve immediately.
If you want to use honey to sweeten this haldi dhoodh, always use after removing the milk from flame and cool it down for a minute or two. Don't add honey to hot milk or water.
Vegan Golden Milk
Yes to make this haldi doodh vegan just use any non dairy milk like almond milk. I always make this with almond milk and it just tastes yummy.
Just add the ingredients and simmer for 3-4 minutes. While making this drink with almond milk you can add 1 teaspoon coconut oil if you like. The essential fatty acids in coconut oil helps in absorbing the healing properties of turmeric.
Do not not add coconut oil with dairy milk though.
Do note that coconut or almond milk should be rapidly boiled. Just simmer gently. The recipe otherwise remains the same.
How To Consume Turmeric Milk?
In India we have this drink anytime of the year when we get affected with common sold, congestion or sore throat.
For kids you can serve this as immunity boosting drink at the onset of winters to prevent infections due to weather changes.
This milk is very good for inducing sleep so it is a best bedtime drink
Tips To Make Best Golden Milk
Turmeric– Try and use unadulterated organic turmeric in this milk or any recipe. If possible it is best to use fresh roots.
I usually get good organic fresh turmeric roots during season that is around January, which I both freeze for later use as well as dry a whole lot and powder.
You can freeze fresh turmeric roots for up to three months. If you have dried roots you can rub them against a clean rough stone for 5 minutes with few drops of water, make a turmeric paste and use in golden milk recipe.
After adding turmeric and pepper, simmer the milk for 2 minutes to infuse the flavors.
You can use a hand held frother to make it lush and frothy.
This golden milk is best consumed fresh and I would not recommend storing it. Prepare and drink it piping hot or warm to reap the best benefits. I love turmeric milk piping hot always.
Health Benefits Of Turmeric Milk
Has anti inflammatory properties and boosts immunity
Rich in antioxidants and prevents cell damage
Relaxing, soothing and comforting
Helps in treating sore throat and voice damage
Curcumin in turmeric is a anti depressant and mood lifter
Contains anti bacterial, anti fungal and anti virus properties
Maintains heart health
More Drink Recipes
Turmeric Tea
Immunity boosting turmeric tea with ginger and pepper is a wonderful warm beverage for all. With immense health benefits, this tea is miracle drink that helps in weight loss, protects heart along with boosting immunity. Health benefits of turmeric is plenty and this tea is one of the most effective ways to include turmeric in your diet. Make this vegan, sugar free, caffeine free turmeric tea today and enjoy!
Check out this recipe
Saffron Tea Recipe
Saffron tea with mint leaves is a soothing and warm drink for upcoming winters. Instead of grabbing a pack of this tea from stores, make best herbal saffron tea at home with this easy recipe. Just some water, fresh saffron strands and mint leaves are all what you need. Absolutely best drink for relaxing and unwinding. Here is how to make saffron tea from scratch with fresh ingredients. Caffeine free vegan & gluten free beverage!
Check out this recipe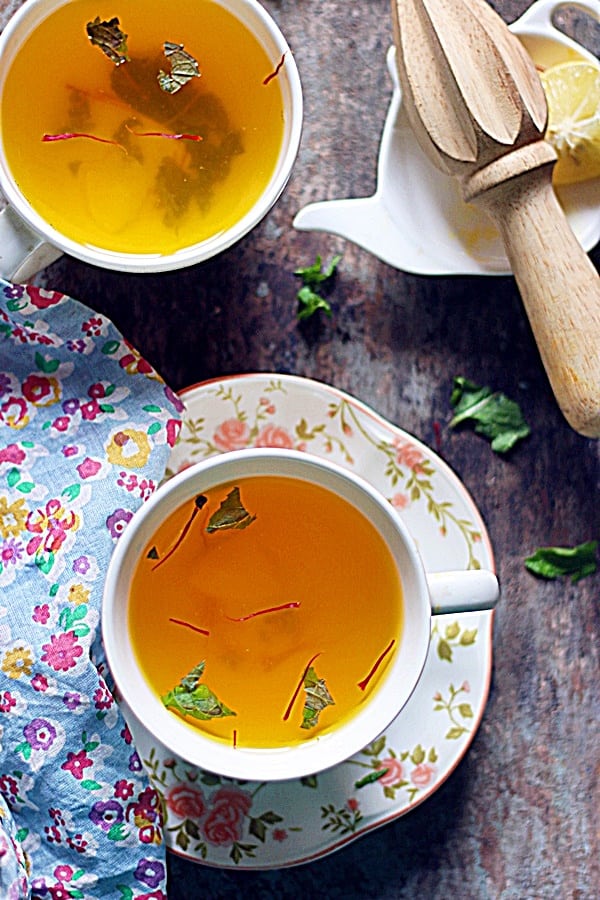 Indian Ginger Tea Recipe | Adrak Wali Chai Recipe
Ginger tea recipe is one of the most popular beverage across India. It is a very tasty beverage made with freshly minced ginger, teas leaves, milk and sugar. A strong cup of ginger tea is all you need to pick you upon a cold day. Here is how to brew that perfect ginger tea or adrak chai with step by step photos
Check out this recipe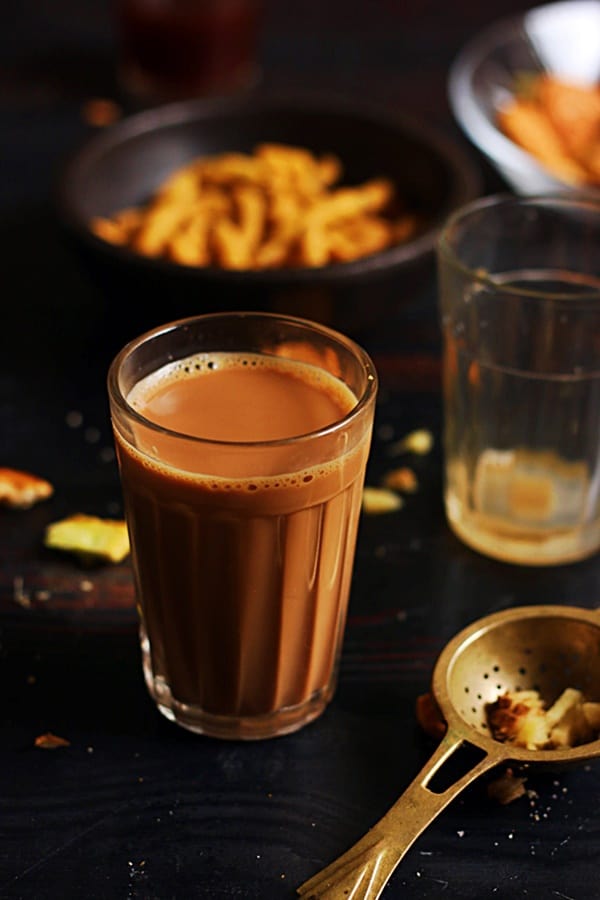 Masala Chai (Masala Tea)
Masala tea powder recipe with step wise photos. Strong Indian masala tea or Indian masala chai recipe
Check out this recipe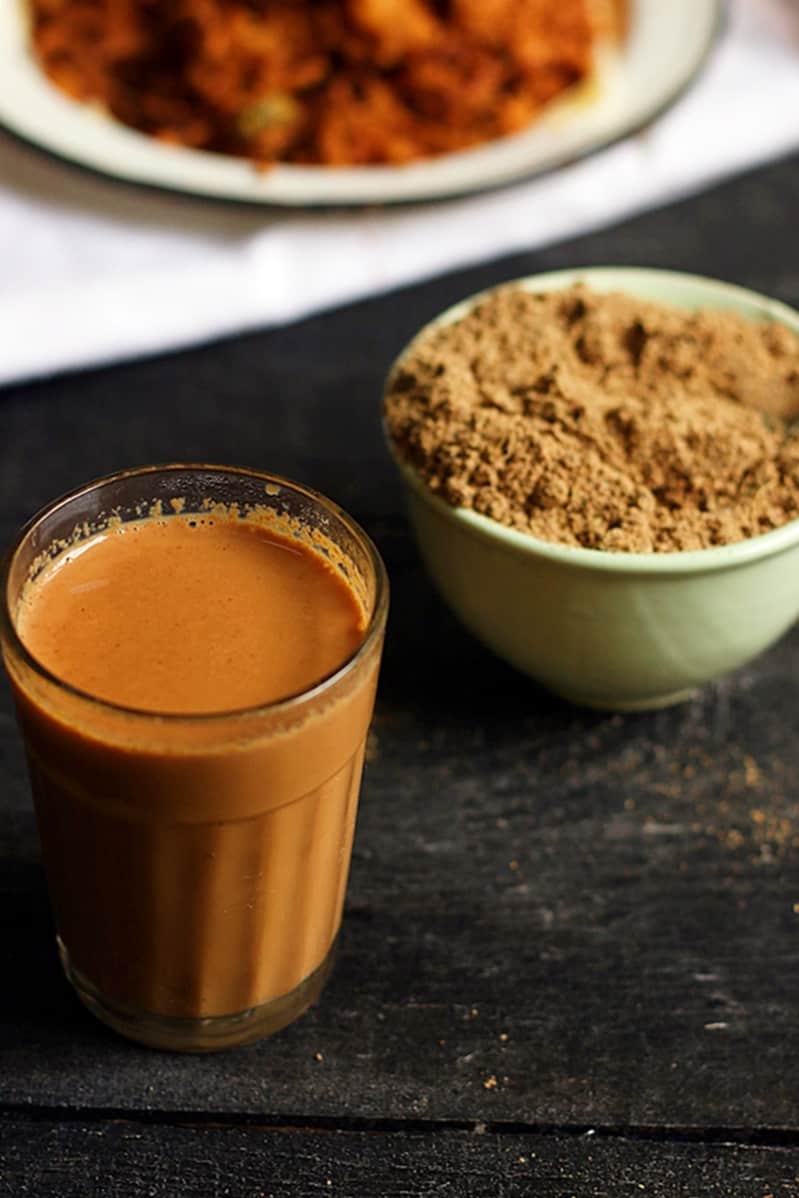 I hope you will try this recipe and enjoy as much as we did. Please give a star rating ★ in the recipe card below if you have tried this recipe. Follow us on Pinterest , Instagram, Facebook for more recipes and ideas.
Recipe Card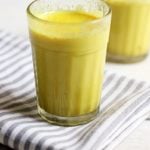 EASY TURMERIC MILK RECIPE- GOLDEN MILK
Golden milk or turmeric milk or our good old haldi doodh is the best immunity building beverage and healing drink that you can sip on this winter. Turmeric's anti inflammatory properties is best for healing and comforting when we feel under the weather. This is also a super delicious, hearty and comforting drink. Wonderful immunity boosting drink!
1 CUP = 250 ml
Ingredients
3

cups

milk

dairy or almond milk (vegan)

3/4

teaspoon

turmeric powder

3

teaspoons

palm candy powder OR 4-5 big rocks

white sugar or cane sugar or agave can be used

1/2

teaspoon

pepper powder
Instructions
Add all the ingredients together and mix well

Bring to a boil. Simmer gently if using almond milk, do not boil. Filter if needed.
Notes
The Nutrition values are estimates.
You can double the recipe.
Nutrition
Serving:
3
servings
Calories:
152
kcal
Carbohydrates:
12
g
Protein:
8
g
Fat:
8
g
Saturated Fat:
5
g
Cholesterol:
24
mg
Sodium:
105
mg
Potassium:
335
mg
Fiber:
1
g
Sugar:
12
g
Vitamin A:
534
IU
Calcium:
276
mg
Iron:
1
mg
Tried this recipe? Snap a pic and share 🙂
Mention cookclickndevou or tag cookclickndevour