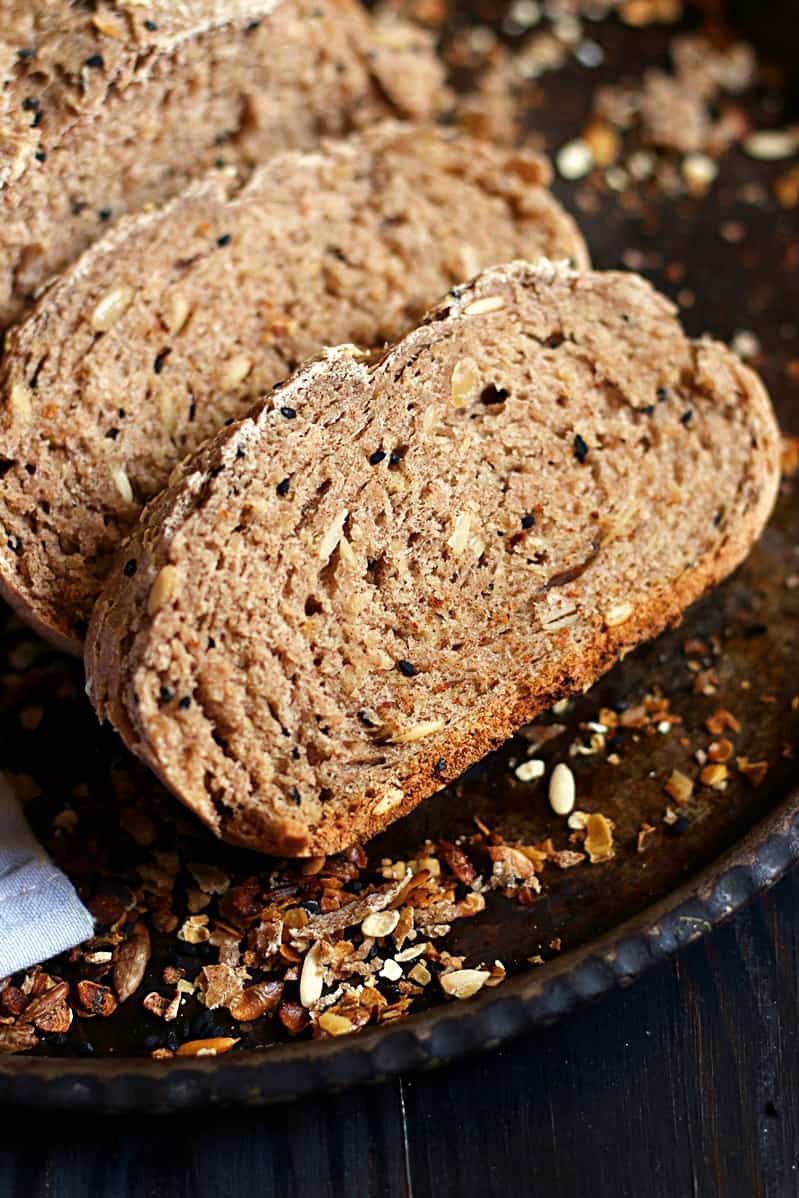 Multigrain bread recipe with step by step photos. Sharing a very healthy no maida multigrain bread recipe with you all today. It is a very very tasty and flavorful bread with 4 different flours and loads of grains. I actually wanted to add more grains but I made this multigrain bread recipe with whatever I had in hand. The bread turned out wonderful, in fact better than what I was expecting.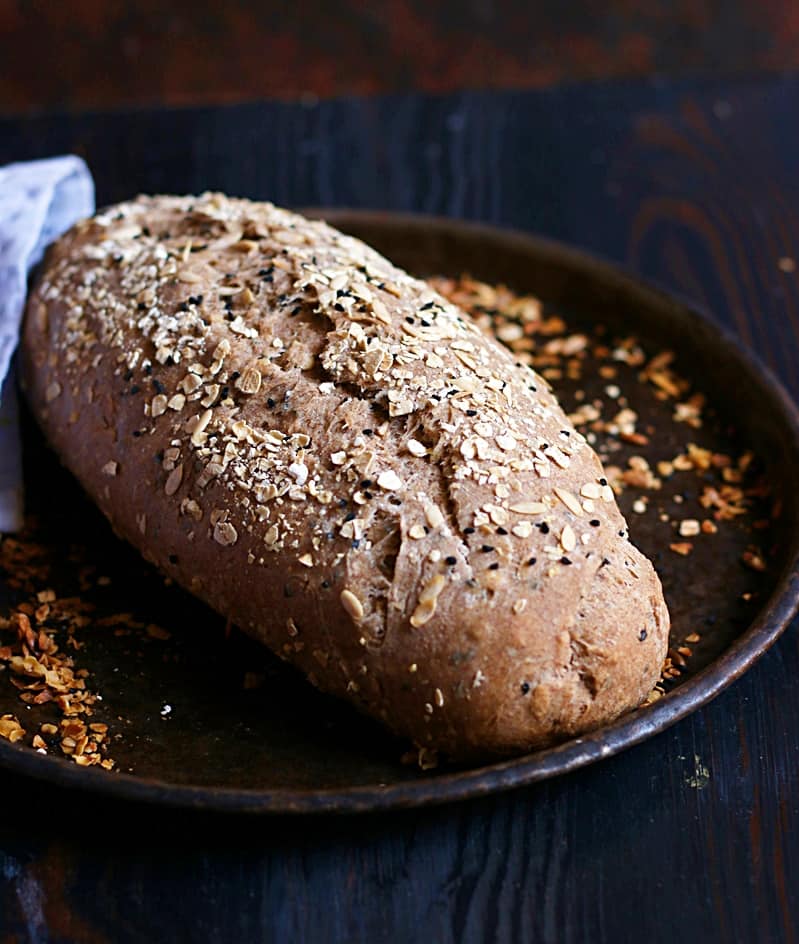 To make multigrain bread recipe, I have used whole wheat flour, oats, ragi flour and bajra flour to make this bread. I have also added a handful of niella seeds, pumpkin seeds, melon seeds and flax seeds to the dough. With just 2 tablespoons of olive oil and goodness of multigrain this is one healthy bread you can bake easily for breakfast or snack. Not only healthy, this multigrain bread is so flavorful and tasty with a wonderful texture. Serve warm with a sliver of butter and a piece of fruit for a healthy breakfast.
Here is how to make multigrain bread recipe with step by step photos. Also check white bread recipe, garlic and herb loaf recipes
Step by step multigrain bread recipe.
1. Add 1 1/4 teaspoon yeast and 2 teaspoons sugar to 1 cup lukewarm water. Let the yeast get activated.
2. Once the yeast is activated add 1 1/2 cups wheat flour, 1/2 cup ragi flour, 1/4 cup bajra flour and 1/4 cup quick cooking oats to the yeast water. Add 2 tablespoons olive oil, required salt and 1/2 cup mixed seeds. Mix well with a spatula and then start kneading. Add 1/2-3/4 cup water as required to knead the dough. Knead well for 10 minutes. The dough should be soft, smooth and non sticky. Cover with a damp towel and set aside in a warm place for 1.5-2 hours. Once the dough is raised punch it back and knead slightly.
3. Grease and dust a baking sheet. Now roll the dough into a thick circle and roll it into tight log.Place on the baking sheet and rest for 20 minutes.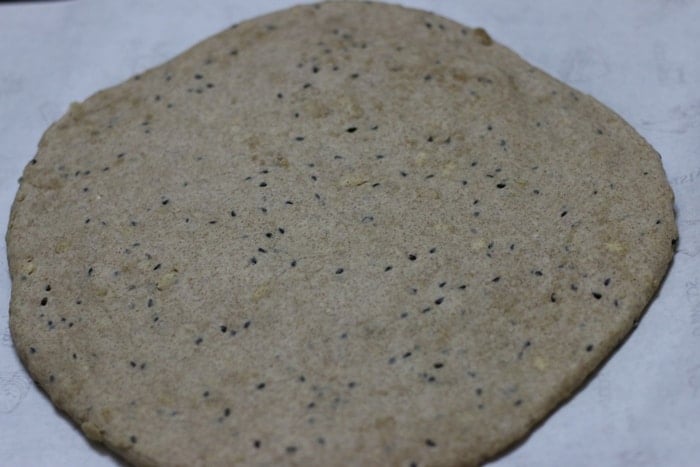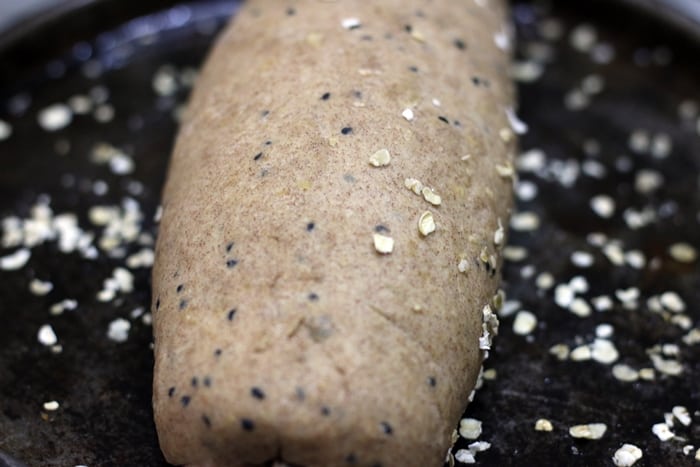 4. Preheat oven at 220C. Brush the top of the rolled log with some water or milk. Add more seeds as topping. Bake in the hot oven for 35-40 minutes. Allow the bread to cool for at least 30 minutes before slicing. Serve multigrain bread with butter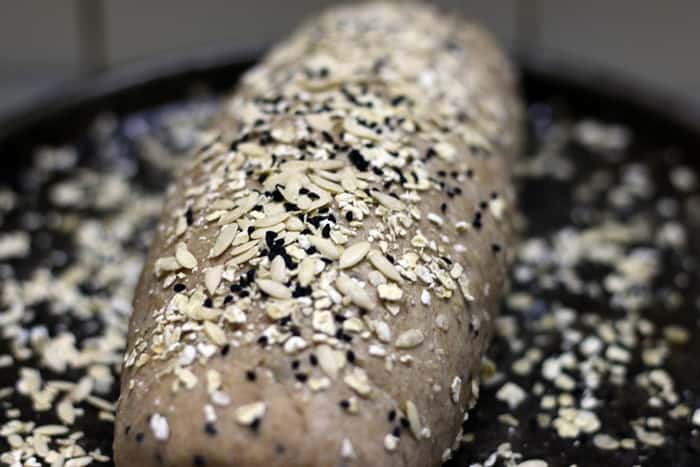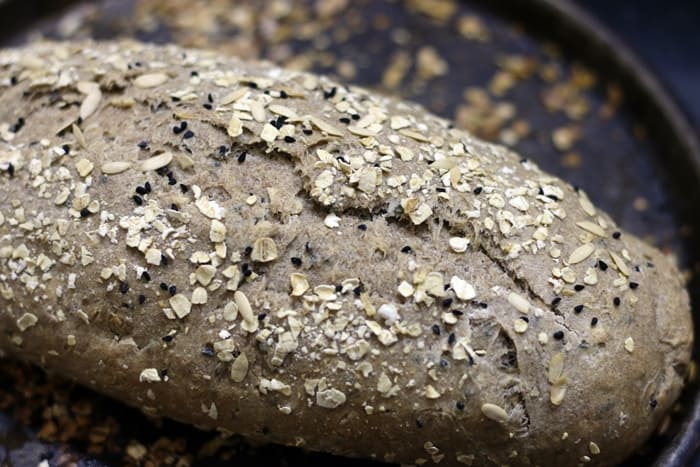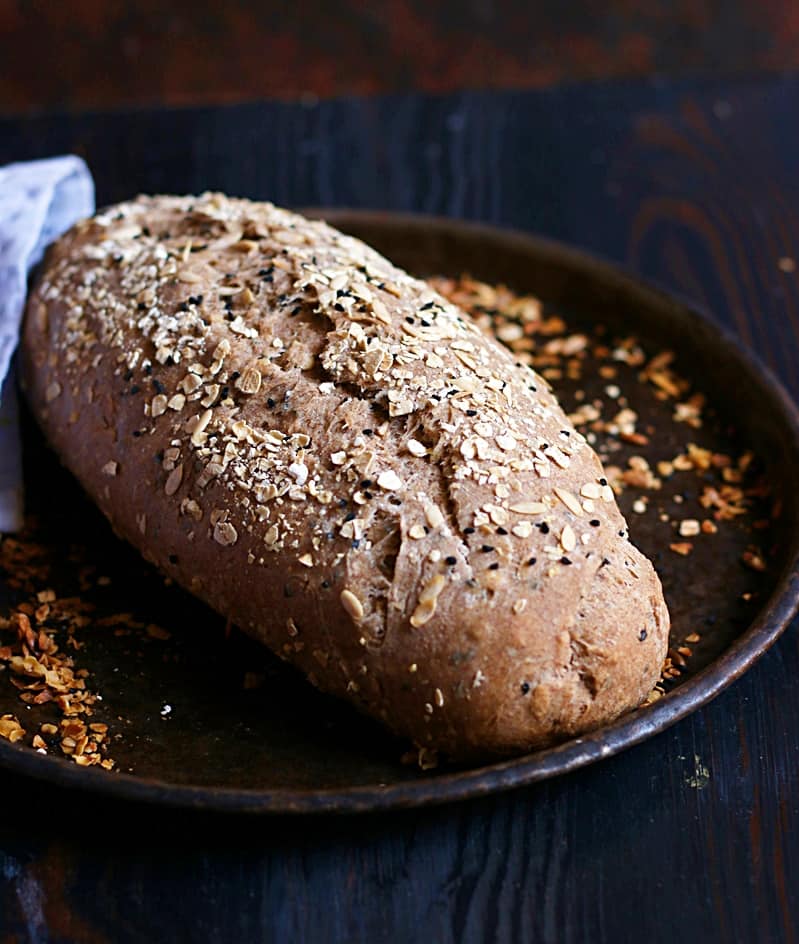 Multigrain bread recipe card below:
Multigrain bread recipe | multigrain seed bread recipe
Multigrain bread recipe with 4 different flours and seeds
Ingredients
1 1/2

cups

whole wheat flour

1/2

cup

ragi flour

1/4

cup

bajra flour

1/4

cup

quick cooking oats

1/2

cup

mixed seeds such as flax seeds

nigella seeds, melon seeds + More for topping

1

cup

lukewarm water + more for kneading

1 1/4

cup

active dry yeast

2

teaspoons

cane sugar

2

tablespoons

olive oil

Salt
Instructions
Add 1 1/4 teaspoon yeast and 2 teaspoon sugar to 1 cup lukewarm water. Let the yeast get activated.

Once the yeast is activated add 1 1/2 cups wheat flour, 1/2 cup ragi flour, 1/4 cup bajra flour and 1/4 cup quick cooking oats to the yeast water. Add 2 tablespoons olive oil, required salt and 1/2 cup mixed seeds. Mix well with a spatula and then start kneading. Add 1/2-3/4 cup water as required to knead the dough. Knead well for 10 minutes. The dough should be soft, smooth and non sticky. Cover with a damp towel and set aside in a warm place for 1.5-2 hours. Once the dough is raised punch it back and knead slightly.

Grease and dust a baking sheet. Now roll the dough into a thick circle and roll it into tight log.Place on the baking sheet and rest for 20 minutes.

Preheat oven at 220C. Brush the top of the rolled log with some water or milk. Add more seeds as topping. Bake in the hot oven for 35-40 minutes. Allow the bread to cool for at least 30 minutes before slicing. Serve multigrain bread with butter
Recipe Notes
1. You can use 3/4 cup maida and 3/4 cup wheat for lighter bread
2. You can use any millet flour as per preferance