Multigrain bread recipe that yields the best ever homemade loaf with the combined goodness of seeds. This seeded multigrain bread slices are so soft, light and very delicious toasted or not! Here is how you can make it easily at home!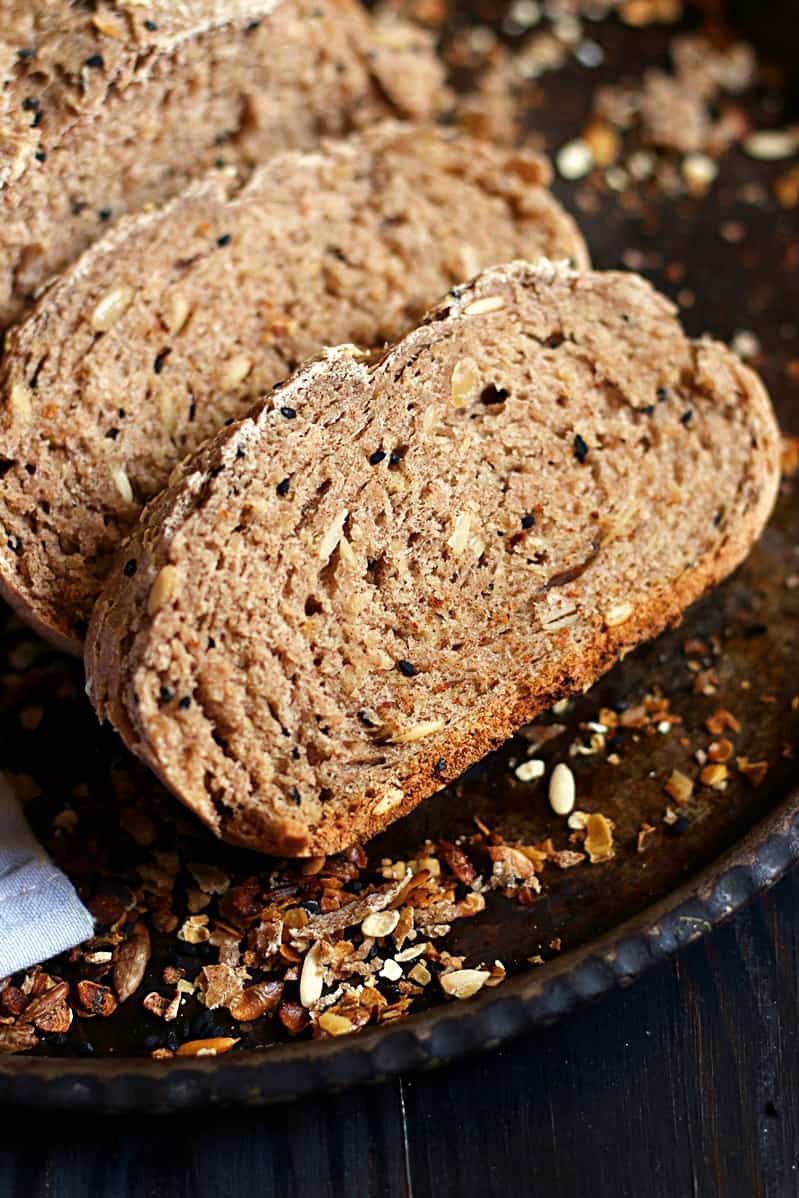 Multigrain bread recipe with step by step photos. Sharing a very healthy no maida multigrain bread recipe with you all today. It is a very very tasty and flavorful bread with 4 different flours and loads of grains.
I love bread and I can have it everyday. Also it is well known that bread comes as a handy ingredient to make made snack recipes especially for toddlers and kids. You might want to check these amazing bread recipes while we are at it.
Over the years, I have started to bake bread at home. I started off with this recipe of white bread and now I often bake braided bread, garlic bread, whole wheat bread recipes. This multigrain seeded bread is our recent favorite and we love it.
This is the kind of bread for breakfast that you can count on for everyday's use. This multigrain bread recipe is
homemade
no preservatives
no unknown ingredients
easy and simple recipe to follow
tasty and flavorful bread every single time.
You can bake this bread recipe very easily even if you are beginner baker.
Hearty slices of warm bread with jam, nutella or pesto or sauce or may be with some tomato soup and apple cucumber salad?
You can also use this bread to make bread upma.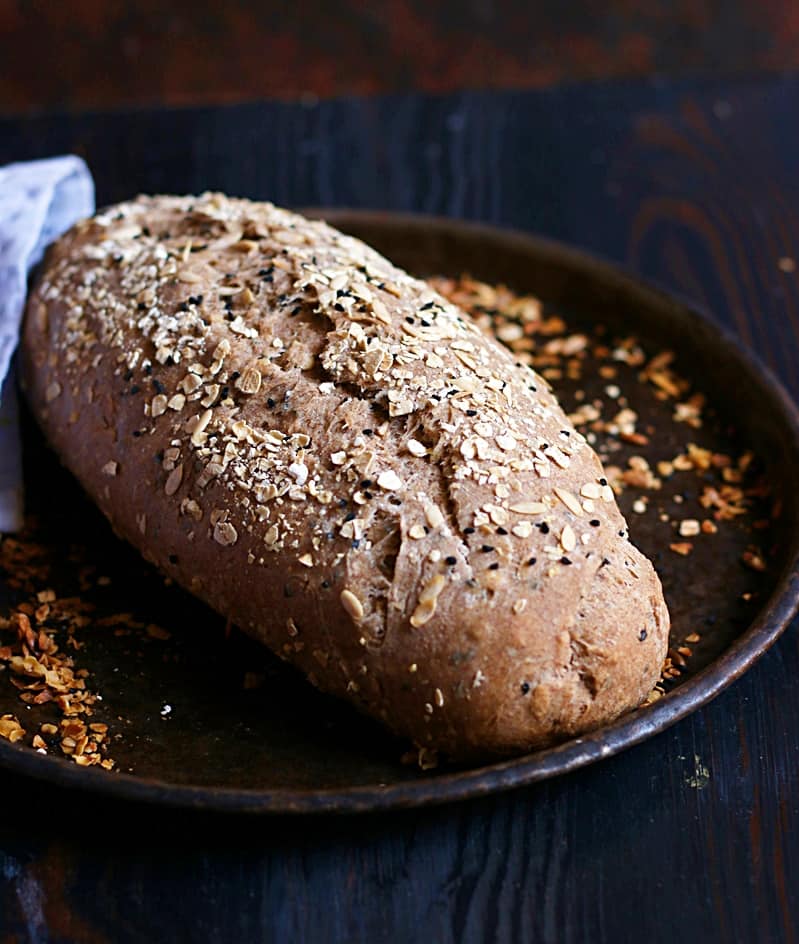 What Is Multigrain Bread?
Multigrain bread is a loaf baked with a combination of 2 or more wholegrain flours instead of regular plain flour. This bread is more healthy that the ones made just with plain flour or wheat flour.
Given to the various wholegrain flours used, multigrain bread is denser and earthy. Also you will find this loaf to be robust and flavorful.
Apart from multigrain flours I have also topped the bread with various seeds. Adding seeds gives a good texture to the bread along with increasing the nutrition quotient.
Ingredients For Multigrain Bread
To make multigrain bread recipe, I have used whole wheat flour, oats, ragi flour and bajra flour to make this bread.
I have also added a handful of nigella seeds, pumpkin seeds, melon seeds and flax seeds to the dough. With just 2 tablespoons of olive oil and goodness of multigrain this is one healthy bread you can bake easily for breakfast or snack.
Not only healthy, this multigrain bread is so flavorful and tasty with a wonderful texture.
Serve multigrain bread slices with a sliver of butter or jam or any pesto.
How To Make Multigrain Bread Recipe Step by Step
Add 1 1/4 teaspoon yeast and 2 teaspoons sugar to 1 cup lukewarm water. Let the yeast get activated.
Once the yeast is activated add 1 1/2 cups wheat flour, 1/2 cup ragi flour, 1/4 cup bajra flour and 1/4 cup quick cooking oats to the yeast water.
Add 2 tablespoons olive oil, required salt and 1/2 cup mixed seeds. Mix well with a spatula and then start kneading.
Add 1/2-3/4 cup water as required to knead the dough. Knead well for 10 minutes.
The dough should be soft, smooth and non sticky. Cover with a damp towel and set aside in a warm place for 1.5-2 hours. Once the dough is raised punch it back and knead slightly.
3. Grease and dust a baking sheet. Now roll the dough into a thick circle and roll it into tight log.Place on the baking sheet and rest for 20 minutes.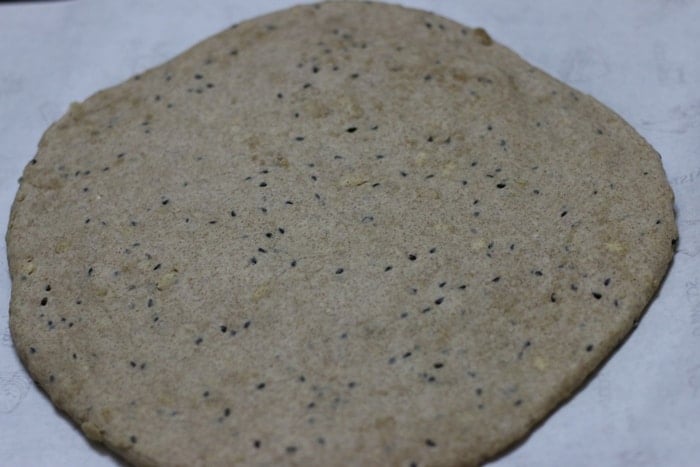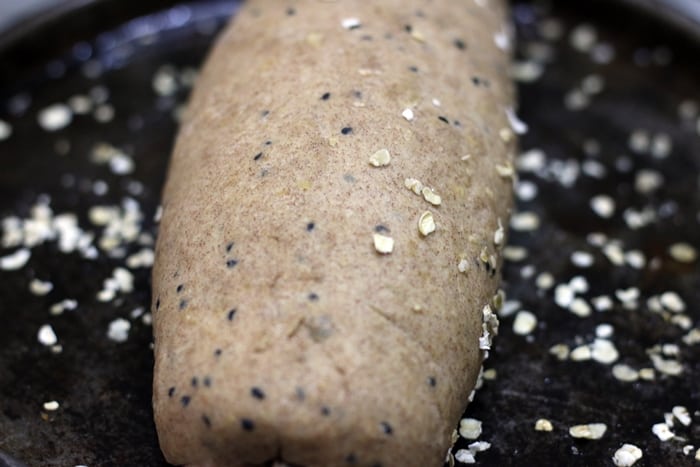 4. Preheat oven at 220C. Brush the top of the rolled log with some water or milk. Add more seeds as topping. Bake in the hot oven for 35-40 minutes.
Allow the bread to cool for at least 30 minutes before slicing. Serve multigrain bread with butter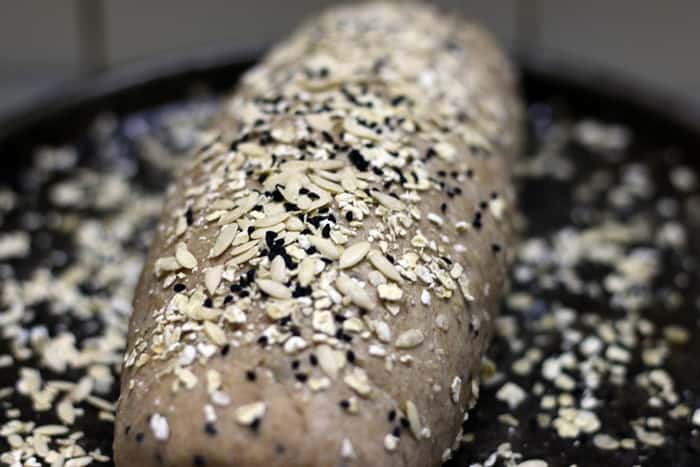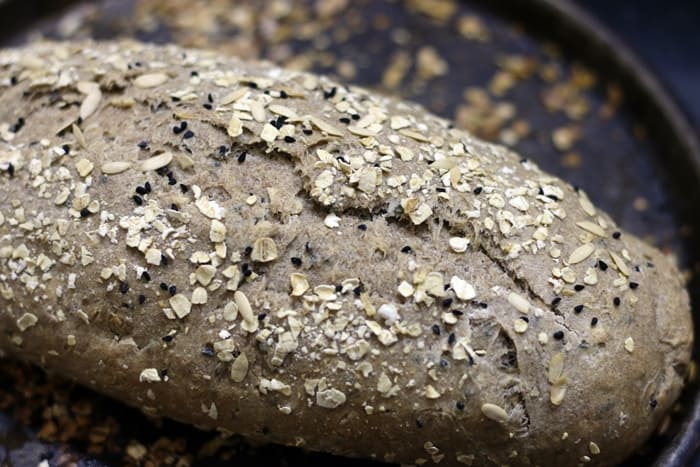 Multigrain Bread Recipe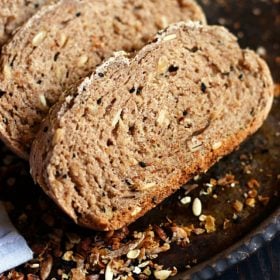 Multigrain bread recipe | multigrain seed bread recipe
Multigrain bread recipe with 4 different flours and seeds
1 CUP = 250 ml
Ingredients
1 1/2

cups

whole wheat flour

1/2

cup

ragi flour

1/4

cup

bajra flour

1/4

cup

quick cooking oats

1/2

cup

mixed seeds such as flax seeds

nigella seeds, melon seeds + More for topping

1

cup

lukewarm water + more for kneading

1 1/4

cup

active dry yeast

2

teaspoons

cane sugar

2

tablespoons

olive oil

Salt
Instructions
Add 1 1/4 teaspoon yeast and 2 teaspoon sugar to 1 cup lukewarm water. Let the yeast get activated.

Once the yeast is activated add 1 1/2 cups wheat flour, 1/2 cup ragi flour, 1/4 cup bajra flour and 1/4 cup quick cooking oats to the yeast water. Add 2 tablespoons olive oil, required salt and 1/2 cup mixed seeds. Mix well with a spatula and then start kneading. Add 1/2-3/4 cup water as required to knead the dough. Knead well for 10 minutes. The dough should be soft, smooth and non sticky. Cover with a damp towel and set aside in a warm place for 1.5-2 hours. Once the dough is raised punch it back and knead slightly.

Grease and dust a baking sheet. Now roll the dough into a thick circle and roll it into tight log.Place on the baking sheet and rest for 20 minutes.

Preheat oven at 220C. Brush the top of the rolled log with some water or milk. Add more seeds as topping. Bake in the hot oven for 35-40 minutes. Allow the bread to cool for at least 30 minutes before slicing. Serve multigrain bread with butter
Notes
1. You can use 3/4 cup maida and 3/4 cup wheat for lighter bread
2. You can use any millet flour as per preferance
Nutrition
Tried this recipe? Snap a pic and share 🙂
Mention cookclickndevou or tag cookclickndevour