Drunken noodles (pad kee mao) is a delicious and ridiculously easy to make stir fry noodles recipe from Thailand. Make it with your choice of vegetables and protein tossed in an delicious to the core Thai sauce.
This dish has that perfect balance of spices, packed with vegetables and super quick to put together. My recipe for homemade pad kee mao is so much better than takeout's and totally customizable too. Vegan recipe.
For more noodles recipes please check hakka noodles, schezwan noodles, chili garlic noodles, sesame noodles recipes.
Noodles for dinner! It never gets old right? At least for me 🙂 I am a big fan of stir fry noodles and always open to explore to new flavors.
This drunken noodles was something I tasted many years back in a small makeshift shop and it was good that I still remember the taste. Yes it was super spicy but I love spicy food and just gobbled it down.
This Thai noodle dish is super popular not only in Thailand but also all Thai restaurants and small makeshift shops worldwide.
If you have never heard of it or have been shying away from eating it at the restaurants given to the spice factor, you are in for a treat with this thai food recipe.
You can totally control the heat in this homemade drunken noodles recipe, add in more vegetables or protein and make as you like.
About This Recipe
What Is Drunken Noodles?
Drunken noodles or Thai pad kee mao is a rice noodles stir fry with meat or vegetables. This noodles does not contain any alcohol but called drunken as it is mostly eaten with a cold beer. This noodles when prepared in the traditional way is super spicy and often washed down with alcohol.
I have not tasted drunken noodles from the streets of Thailand but I can say I have had the tastiest ones in the Thai restaurants here.
It is a very flavorful dish where slippery wide rice noodles are tossed in a brilliant sauce with predominant basil flavor and packed with loads of vegetables. I have tried only vegetarian ones but I see that chicken is very widely used in this recipe.
In all the thai restaurant versions, one vegetable which is always present is baby corn and red pepper. As we like baby corn a lot I also use it. The preparation of drunken noodles is very similar to pad thai but taste wise they are very different.
While pad thai is loaded with peanuts, slightly sweet with nutty flavor this pad kee mao is spicy with with robust flavors.
Why This Pad kee mao recipe works?
Let's just say this recipe is irresistibly delicious and you got to try it at least once 🙂 While I have tried to stay true to the authentic recipe, I have also made sure the ingredients used are easily available and you do not have to run to any specialty stores.
Next this drunken noodles recipe is very adaptable and you can make control the heat when making at home. Even though I like spicy food, when making this at home I aim for more flavor .
The best part of making my favorite thai noodles stir fry at home according to me is vegetables! Yes, you can add as much as you want. Sometimes I go crazy and add twice the amount of noodles, but again this is your recipe and you control everything 🙂
I have added carrots, bell peppers, baby corns, bok choy here. See notes for more options.
Lets talk about the sauce for drunken noodles. It is super tasty, flavorful, spicy along with a hint of sweetness. This is a mix of some commonly available sauces which you should not have any difficulty sourcing.
For that authentic flavor, use good amount of Thai basil or thai holy basil leaves in this noodles. I have used thai basil from my terrace garden, so these are extra special for me 🙂
This is amazing recipe that I really urge you to try this at least once and I am sure you will be hooked to it 🙂 Do make this recipe and enjoy, this pad kee mao is
super easy to make
quick and simplest recipe
better than takeout meals
packed with veggies
vegan and can be made gluten free
perfect weeknight meal
Ingredients You Will Need
Noodles– traditionally you will need rice noodles for thai drunken noodles recipe. You can use those rice sticks or pad thai noodles, basically somewhat wide noodles are what you need for this stir fry noodles dish. Use the widest rice noodles available to you.
If wide noodles are unavailable go for thin rice noodles or any available noodles.
Vegetables– I have used carrots, bok choy, bell peppers and baby corn. You can also use cabbage, broccoli, beans, zucchini in this recipe.
Thai basil leaves– This is the one ingredient that will take the taste and flavor of your thai drunken noodles one level up. You can add 3/4 cup to 1 cup as you prefer.
If you do not have thai basil or thai holy basil you can use regular basil leaves. Thai basil have a light aniseed flavor whereas regular basil has a slight sweet note.
Green onions– Scallions or spring onions or green onions add a wonderful flavor to this noodles. I have added it in two stages. Greens as garnish and white stalk along with ginger garlic.
Chilies– You can use red chilies or chili flakes as per availability. For moderately spicy version I have added two teaspoons red chili flakes which you can increase or decrease.
Sauce– the sauce for this pad kee mao is a mix of dark and light soy sauce, vegetarian oyster sauce, any hot sauce like sriracha or chili paste, brown sugar and a dash of black pepper. Just combine everything with a splash of water and use in the recipe. This sauce is a mix of commonly used sauces in stir fries and other noodle recipes
I do not like to make this noodles super saucy as you find in most restaurants so you can increase the sauce by another 1 or 2 tablespoons for saucy version.
Oher ingredients- ginger garlic, galangal, salt, peanut oil or sesame oil or vegetable oil.
How To Make Thai Drunken Noodles- Pad Kee Mao
Preparing Rice Noodles
First of all prepare noodles per packet instructions. I cooked mine until soft in a large pan of boiling water.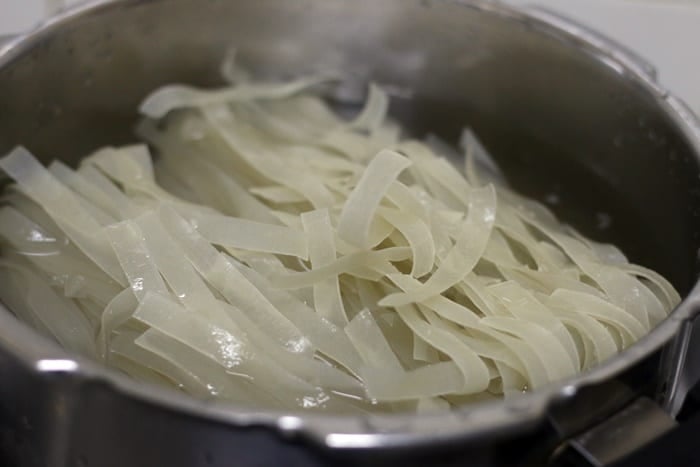 Let the noodles turn soft yet with a bite (al dente).
Once cooked, drain the noodles in a large colander and add few drops of oil.
Toss and place in a wide bowl cover and set aside. These steps will prevent the noodles from drying out.
Making the stir fry noodles
In a small bowl combine 2 tablespoons dark soy sauce, 1 tablespoon light soy sauce, 2 tablespoons vegetarian oyster sauce, 1/2 tablespoon brown sugar, 1 tablespoon sriracha or chili paste.
Add 1 tablespoon water and mix well.
Chop the vegetables into thin strips and set aside.
Heat oil in a wok or a heavy skillet over high heat, add minced ginger 3 cloves garlic, chili flakes, grated galangal if using, finely chopped spring onion whites. Saute in high heat for 2 minutes.
Add the vegetables and saute in high heat for 2 more minutes.
The vegetables will turn a bit soft. Add salt to taste and mix well.
Now stir in the prepared sauce and mix.
Saute in high heat for 2-3 minutes.
Add noodles and saute in high heat until combined. Add thai basil leaves and scallion greens. Saute just for 10 seconds. Remove from heat.
Serve immediately.
Serving Suggestions
These noodles are so flavorful, packed with vegetables and taste great on their own. You can serve this with chili oil for that extra zing or even any spicy sauce like schezwan sauce or chili garlic sauce.
This drunken noodles is also a wonderful side dish in any Asian spread.
Variations
Sauces– the combination of sauces I have used in drunken noodles is totally variable. Instead of vegetarian oyster sauce you can go for regular oyster sauce or even fish sauce.
I have used is low sodium soy sauce naturally brewed one. If you are using the regular ones from Asian grocery store adjust the quantity according to your taste.
Instead of light and dark soy sauces you can also use the all purpose regular soy sauce available in most Asian grocery stores. You can also use hoisin sauce
Vegetables– You can get creative and try different combinations of vegetable in this recipe. I have made this noodles many times with broccoli, snow peas, cabbage, beans. They taste really good along with red bell pepper, baby corns.
Protein– to make this dish more satiating you can add some protein like tofu, panner, edamame or even chopped mushrooms.
Make it gluten free– the only ingredient containing gluten in this recipe is soy sauce. Just use tamari or liquid aminos instead of soy sauce for gluten drunken noodles. Also make sure your oyster sauce is gluten free.
Make it spicier– This noodles tastes really good and more authentic when made spicy. To increase the spice level you can add 2-3 finely chopped bird's eye chili along with chili flakes.
Frequently Asked Questions
What Is Thai basil and how is it different from regular basil?
In Thailand, typically thai holy basil is used for this recipe. However it is difficult to source outside Thailand and the closest substitute it thai basil which is easier to find. Thai basil has a slight aniseed flavor and a bit sharper taste compared to Italian basil. This thai basil tofu is one of the delicious recipes you can make too. If you couldn't thai basil just use Italian sweet basil.
Which oil is best to make this recipe?
I like to make this noodles with peanut oil and drizzle few drops of sesame oil or chili oil just before serving. If these oils are unavailable you can use canola oil or vegetable oil too.
Is this recipe vegan?
My version of this noodles is vegan as I have used all vegetables and vegan sauces. If you are keen on making this recipe vegan, make sure the sauces are vegan.
Difference between pad thai and drunken noodles?
Stir fried noodles with various sauces, meat or vegetables in most common in Thailand. This pad kee mao and pad thai are prepared in similar way but the ingredients are different and so is the flavor and taste.
Pad thai is slightly sweet, tangy from tamarind and pronounced nutty taste and flavor. Drunken noodles on the other hand is spicy, has savory taste and flavor. Also pad thai recipe does not use thai basil like this pad kee mao.
There is also one more similar dish called pad see ew which is essentially stir fried noodles that is salty and smoky made with soy sauce and vinegar.
For More Thai Recipes
Red curry, yellow curry & green curry
Are you making this recipe? I would love to see a snap of your creation too. Do snap a pic and share on Instagram with hashtag #cookclickndevou and please give a star rating ★ in the recipe card above. Follow us on Pinterest , Instagram, Facebook for more recipes and ideas.
Recipe Card