Last updated on January 23rd, 2018
Potato masala curry recipe with step by step photos. Best ever potato masala recipe for poori. I have been making potato masala curry recipe for poori since many years, but this recipe for potato masala curry I am sharing today is the best ever I have ever prepared. I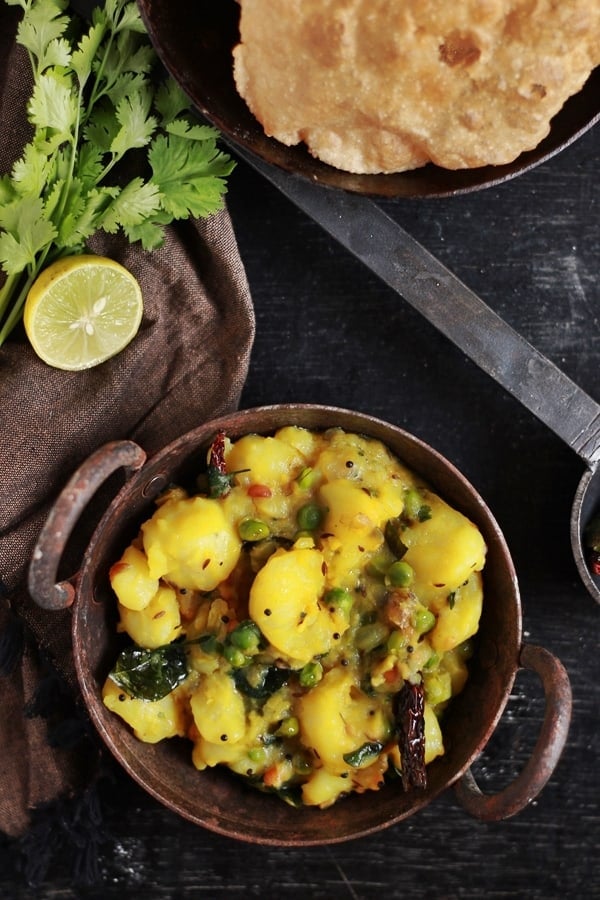 realized that I have not posted potato masala recipe for poori only when I got few reader's request. Last week I again got a request for restaurant style potato masala recipe and that is when I prepared this for our breakfast 🙂
I would not say this is restaurant style potato masala curry recipe, this is by and far better in taste, flavor and texture. Try this method once and you will agree with me too. The recipe may sound elaborate and lengthy but the whole masala comes together in 20 minutes once the boiled potatoes are ready. There are few points to follow to make potato masala curry recipe that tastes great!
Points to make perfect potato masala curry recipe:
1. Use pearl onions or shallots, they simply elevate the flavor.
2. Roast the gram flour well before adding water. You can dry roast gram flour separately, but I usually saute it well along with potatoes.
3. A second seasoning or tempering made at last wit curry leaves and dried red chilies add to the flavor and taste well.
4. When it comes to potatoes, mash one potato very well and roughly cube the remaining potatoes. This gives a nice texture to the masala and it does not watery.
Follow the above mentioned points and try the easy potato masala curry recipe, perfect to serve with light and fluffy pooris, much much better than restaurants!
If you are looking for more side dish recipes do check peas masala, gobi masala, sweet corn curry
Potato masala curry recipe with step by step photos.
1. Boil and peel 3 large potatoes. Crumble or mash one potato thoroughly, roughly cube the other two. Peel and chop the pearl onions.
2. Heat 3 teaspoons oil in a kadai. Once the oil is hot temper with mustard seeds, cumin seeds, urad dal and channa dal. Saute in medium heat till the dals turn golden brown.
3. Add minced ginger-garlic, chopped green chilies and saute well.
4. Add chopped onions and saute till the color changes slightly.
5. Now add the shelled green peas and mix well.
6. Add crumbled as well as cubed potatoes and mix well. Saute for 1-2 minutes.
7. Add gram flour and saute very well coating all the potatoes(3-4 minutes).
8. Add turmeric powder and saute well.
9. Add about 3/4 cup water, salt and mix well. Cover and cook for 8-10 minutes.
10. Once the masala thickens and reaches desired consistency, add cilantro leaves and simmer.
11. Heat 2 teaspoons oil in a small pan and temper with curry leaves, dried red chilies and asafoetida. Add the tempering to the simmering masala. Close the lid immediately and switch off the flame.
12. Add lemon juice and mix well just before serving. Serve potato masala curry hot with poori
Potato masala curry recipe card below:
Potato curry recipe | Potato masala recipe for poori
Potato masala curry recipe, a tasty and flavorful side dish with potatoes made specially for poori!
Ingredients (1 cup=250 ml)
3

large potatoes

boiled and peeled

10

small onions/pearl onions

peeled and chopped

1

teaspoon

ginger garlic

peeled and freshly minced

2

tablespoons

ram flour

1/2

teaspoon

turmeric powder

Cilantro/coriander leaves

Juice of 1/2 lemon

Salt

3/4

cup

water

Tempering 1

3

teaspoons

oil

1

teaspoon

mustard seeds

1

teaspoon

urad dal

1

teaspoon

channa dal

1/2

teaspoon

cumin seeds

2-3

green chilies

chopped

Tempering 2

2

teaspoons

oil

10-12

curry leaves

2

dried red chilies

1/4

teaspoon

asafoetida
Instructions
Boil and peel 3 large potatoes. Crumble or mash one potato thoroughly, roughly cube the other two. Peel and chop the pearl onions.

Heat 3 teaspoons oil in a kadai. Once the oil is hot temper with mustard seeds, cumin seeds, urad dal and channa dal. Saute in medium heat till the dals turn golden brown.

Add minced ginger-garlic, chopped green chilies and saute well.

Add chopped onions and saute till the color changes slightly.

Now add the shelled green peas and mix well.

Add crumbled as well as cubed potatoes and mix well. Saute for 1-2 minutes

Add gram flour and saute very well coating all the potatoes(3-4 minutes)

Add turmeric powder and saute well.

Add about 3/4 cup water, salt and mix well. Cover and cook for 8-10 minutes.

Once the masala thickens and reaches desired consistency, add cilantro leaves and simmer.

Heat 2 teaspoons oil in a small pan and temper with curry leaves, dried red chilies and asafoetida. Add the tempering to the simmering masala. Close the lid immediately and switch off the flame.

Add lemon juice and mix well just before serving. Serve potato masala curry hot with poori
Recipe Notes
1. Do not skip garlic as it needs a deep flavor to the dish.
2. Add lemon juice just before serving.
3. You can add a small tomato along with onions instead of lemon juice.
4. The consistency of the masala is your preference, we like it a bit thick