Aloo palak is an absolutely delicious and nutritious Indian stir fried spinach potato recipe. Palak means spinach and aloo means potato in Hindi. In this recipe potatoes and spinach are cooked together with Indian spices.
This homestyle healthy aloo palak recipe is so comforting, uses minimal spices and tastes best with rice or roti or paratha. Vegan and gluten free. It is one of the popular Indian foods.
For more vegetable recipes please check carrot curry, arbi fry, okra fry recipes.
Potato is one big staple vegetable in any Indian kitchen. We also love potatoes and it is a top favorite for my kid. I cook potatoes at least once a week if not more in various ways.
It is such a versatile one that pairs with almost all the vegetables. Here in this recipe potatoes are combined with spinach leaves and stir fried in Indian spices.
This is a simple comforting and homestyle recipe that gets ready in under 25 minutes and tastes great. You can make this curry in many ways and I am sharing the one we like the most.
Apart from serving it with plain rice or roti, I also use this dry aloo palak sabzi as stuffing in wraps, filling in sandwiches and kathi rolls. This palak aloo tastes good even with coconut rice, lemon rice.
What Is Aloo Palak Curry?
Aloo palak is a north Indian style dry curry with potatoes and spinach leaves. A simplest of recipe to make, delicious and hearty this vegan and gluten free curry is a must try when fresh seasonal baby spinach leaves are abundant.
There are so many aloo based sabzi or potato based Indian dish across the country. Aloo gobi, beans aloo, aloo bhindi, baingan aloo, are few popular ones just like this curry.
Health benefits of spinach are a plenty and we all know how crucial it is to include greens at least 3-4 times a week in our diet of whole family.
I try to add p at least 5 times a week in any form. Palak or spinach is always well received by my daughter and I make it very often in the form of palak paneer, this aloo palak, palak chickpeas curry or even pasta in spinach sauce.
In this stir fry , it pairs beautifully with potatoes. Potatoes and spinach or even potatoes with greens is in fact a winning combo always.
You can cook aloo with methi, make saag aloo and many more. Sometimes when I make sarsaon ka saag, I just throw in couple of boiled and cubed potatoes to make it heartier.
Do try this recipe out and enjoy. This aloo palak recipe is
delicious, comforting and flavorful
vegan and gluten free
wholesome and healthy
versatile
one of the popular palak recipes.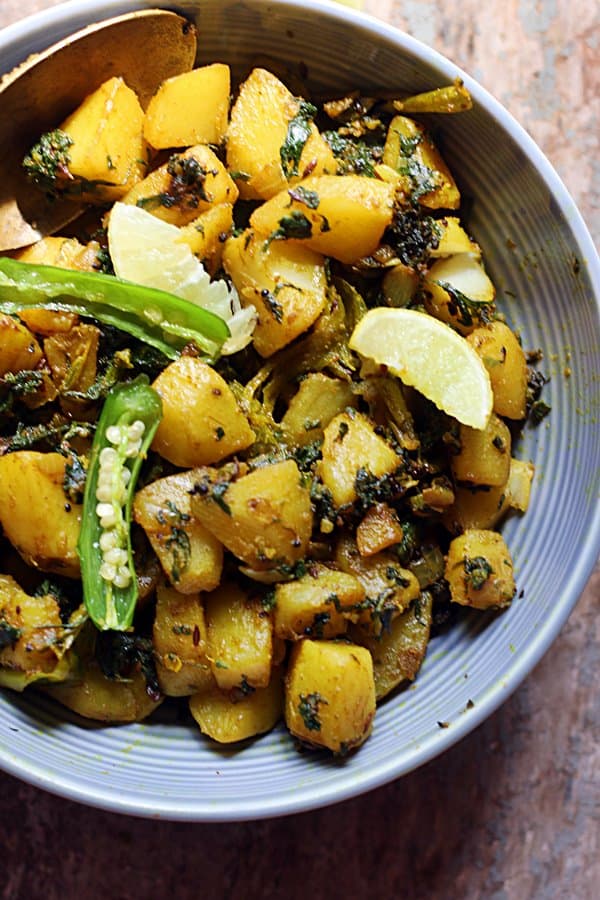 If you are looking for more aloo recipes please check
Ingredients
To make this simple spinach potato curry you need very basic pantry staple ingredients. You will need
palak or spinach – tender leaves are always favored. See my notes on how to prepare spinach leaves for this recipe. You can also use frozen spinach for this recipe.
Potatoes– You can use regular or peeled and halved baby potatoes. I do not like to use boil the potatoes for this stir fry. Just, peel cube and use. If you have cooked potatoes, you can use it too. If you wish to cook the potatoes first, just boil until fork tender, peel, cubed and use.
You can use any type of potatoes like russet potatoes or just regular Indian potatoes.
Onions– I like to add chopped onion in this curry. You can easily skip it if you want to make no onion garlic aloo palak.
garlic ginger – for flavor, again you can skip garlic if you wish. I like to mince the fresh ginger and garlic but you can also use ginger garlic paste.
Green chilli– I like to add green chilies for flavor and heat. You can skip it if making for kids.
Spice powders– regular spice powders like red chili powder, turmeric powder, some garam masala powder and ground coriander.
Preparing Spinach
Pluck and inspect the fresh spinach leaves individually for any worm, insect or rotten leaves.
Place the leaves in a large pot of cold water with a big pinch of salt or vinegar. Set aside for 15 minutes.
Drain excess water and rinse the leaves in clear water twice or thrice. Drain thoroughly in a large colander.
Now finely chop the leaves and use in the recipe.
I usually add tender stems and discard the mature ones.
You can chop the leaves in a food processor or with a sharp knife.
How To Make Aloo Palak Recipe
Preparation
Pick, rinse and clean the spinach as mentioned above. Drain the water completely using a colander. You can also use a salad spinner to remove all the moisture from palak. Finely chop the spinach greens. You can go for a food processor if you prefer. It is important to finely chop the leaves for this dry version of aloo palak.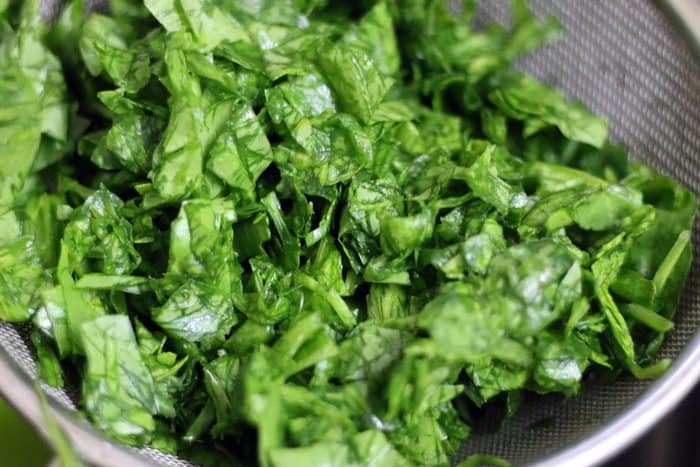 Next Rinse, scrub and peel two large potatoes. Cut into cubes and place them in a bowl full of water for 5 minutes. Rinse thoroughly changing the water twice. This will remove most of the starch from the potatoes. Also finely chop 1 medium onion, mince ginger garlic and set aside.
Cooking Aloo Palak
To make aloo palak heat oil in a pan. Add cumin seeds and mustard. When they begin to splutter, add slit green chili and saute well in medium heat for few seconds. You can also add 1/4 teaspoon methi seeds or fenugreek seeds.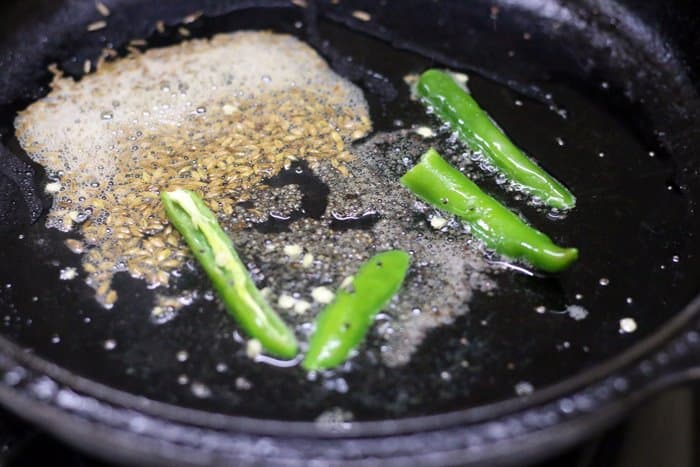 Add the finely chopped onions and fry till they turn a bit soft. Next add the minced ginger garlic and saute for a minute. You can also add garlic alone.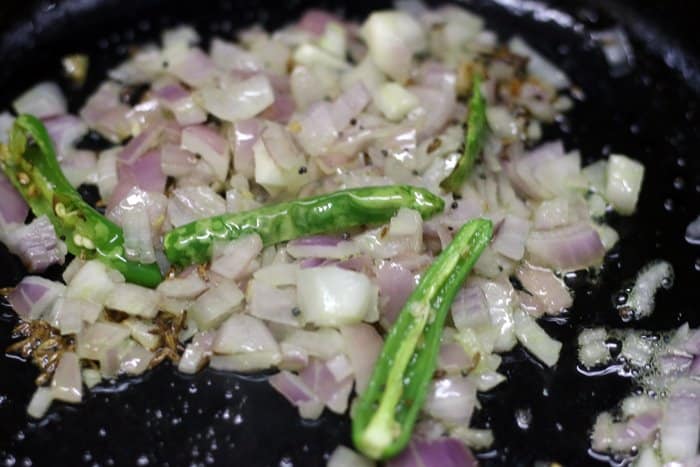 Add potatoes and saute well. Cook in open pan for 2-3 minutes.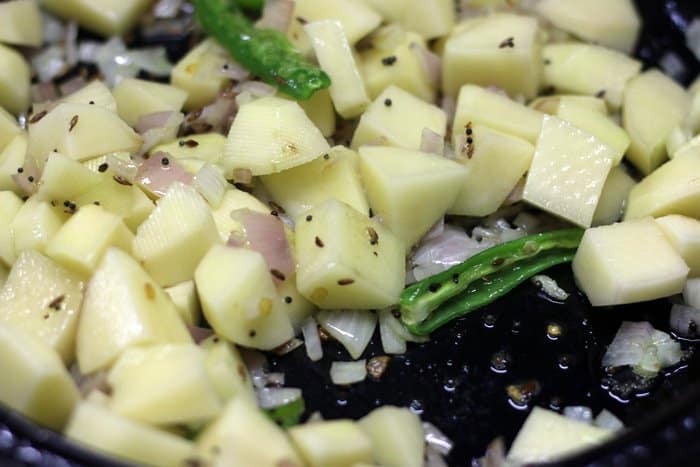 Add the chopped spinach or palak leaves and mix well till raw smell. Gently stir and mix.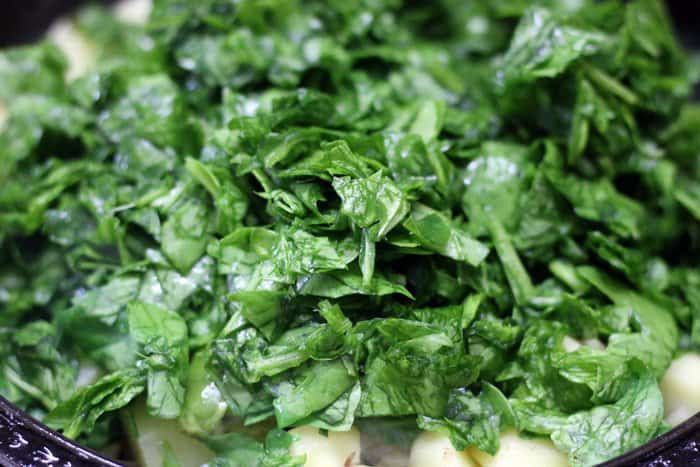 Now add salt to taste, 1/4 teaspoon turmeric powder and 1/2 teaspoon red chili powder. Also add garam masala powder and 1/2 teaspoon ground coriander. Saute and cook till the raw flavor of spice powders leave.
Mix well and cook. Now palak spinach leaves will leave out some water, just mix and cook.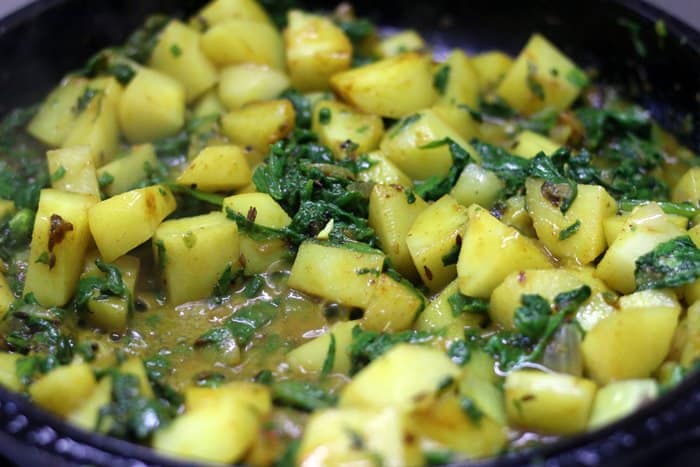 Cook for another 10-12 minutes in medium flame until potatoes are completely cooked, slightly crispy and golden brown. You can cover and cook after adding potatoes until the potatoes cook.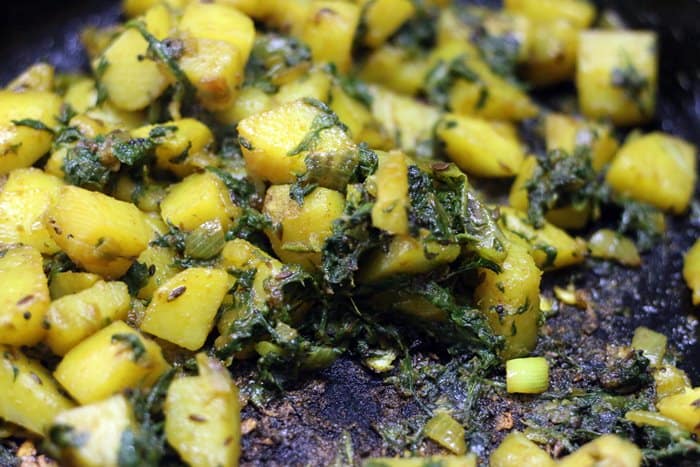 Remove from flame, add lemon juice and mix well. Serve aloo palak warm or cool it down and pack in lunch.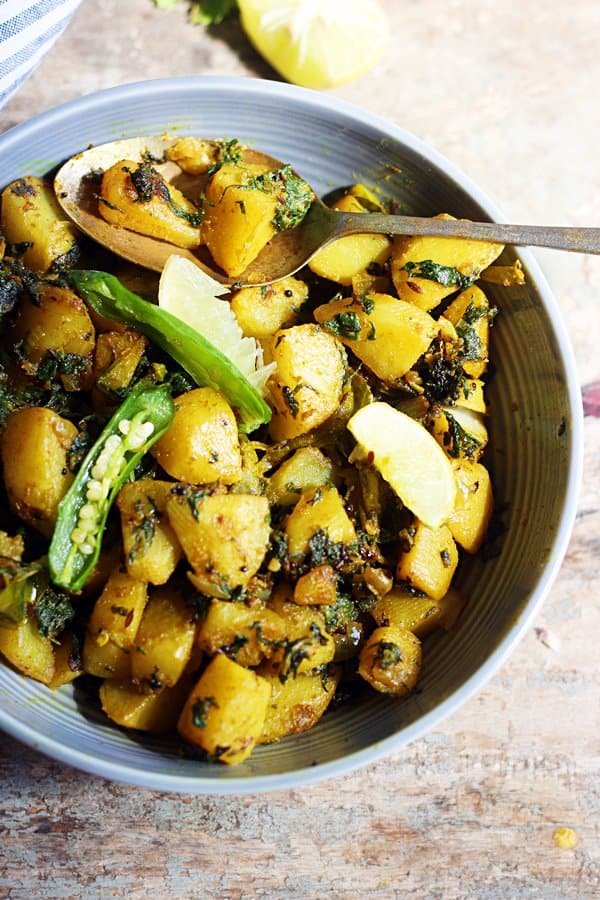 Instant Pot Palak Aloo Recipe
To make this potato spinach curry in instant pot here are the instructions.
Place the insert inside the instant pot and switch it on. Press saute mode and once it is hot, add oil.
Add one by one mustard seeds, cumin seeds, slit green chilies and saute for a minute. Add Onions and saute.
Next add ginger garlic and saute for a minute. Add the cubed potatoes and mix. Add the finely chopped spinach leaves, followed by salt and spice powder. Mix only once. Close the instant pot and cancel saute.
Press pressure cook button and set timer for 5 minutes. Set pressure valve to seal.
Once done, release pressure immediately and open the instant pot. Greens would have left out some water. Cancel pressure cooker mode.
Press saute mode again and cook till the water evaporates for around 1-3 minutes.
Serve spinach potato warm.
Recipe Variations
Gravy version– To make aloo palak gravy recipe just follow this palak paneer recipe and make the spinach sauce or palak puree . Instead of adding paneer cubes, add boiled and cubed potatoes. Simmer for 2 minutes, add crushed kasuri methi and remove from flame. This side dish will taste exactly like restaurant style aloo palak.
Saag Aloo– Saag aloo is another variation you can make with this recipe. Saag aloo is made of mixed greens instead of using palak alone. You can use a mix of palak, mustard, methi, radish greens and follow the same recipe.
Other vegetables– Along with potatoes you can add blanched green peas or boiled corn. You can also add bell peppers for some crunch. Boiled and sautéed cauliflower will be so good in this aloo palak sabzi recipe.
Sweet potatoes– You can us par boiled sweet potatoes instead of potatoes
Instead of onions you can add a pinch of asafoetida. If you use asafoetida, then this potato spinach curry is not gluten free.
You can add 1 tablespoon chickpea flour or gram flour along with potatoes for flavor. You can also add hing or asafoetida but the dish will not be gluten free.
Tips To Make Aloo Palak
Make sure to chop the spinach really fine for quick and even cooking. Next add it only after potatoes are at least half cooked, else the spinach will get over cooked and turn bitter.
This recipe uses very minimal spices to bring out the flavor of spinach. You can increase all the spice powders by another 1/4 teaspoon.
Adding lemon juice before serving rounds off the flavor.
To add a nice flavor you can add 2 teaspoons roasted chickpea flour or gram flour along with potatoes. I sometimes also add maize flour.
You can also add roasted crushed peanuts or sesame seeds to add texture and some crunch for kids.
You can vary the spice powders as per taste. For instance add coriander powder or ground coriander, 1/4 tsp cumin powder along with red chili powder for more flavor.
while making aloo palak for kids, you can skip green chilies.
Serving Suggestions
This Indian main course tastes wonderful with rajma or dal fry, rice and a salad like kachumber. It also goes well with phulka, roti, paratha.
I also pair this with lemon rice, jeera rice, coconut milk pulao, use it as sandwich and wrap fillings.
Frequently Asked Questions
What is saag aloo made of?
Saag aloo is same as this recipe expect we use assorted mixed greens instead of spinach alone.
What other greens can be used in this recipe.
Radish tops, beet tops, kale, mustard leaves, amaranth leaves can be used for making this recipe along or instead of spinach.
Is this recipe vegan?
Yes, vegan and gluten free.
How to make aloo palak with boiled potatoes?
If you have boiled aloo, just peel and cube them first. Add after sautéing palak and cook until the curry comes together.
More Palak Recipes
I hope you will try this recipe and enjoy as much as we did. Please give a star rating ★ in the recipe card below. Follow us on Pinterest , Instagram, Facebook for more recipes and ideas.
Recipe Card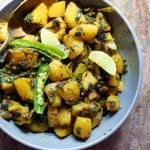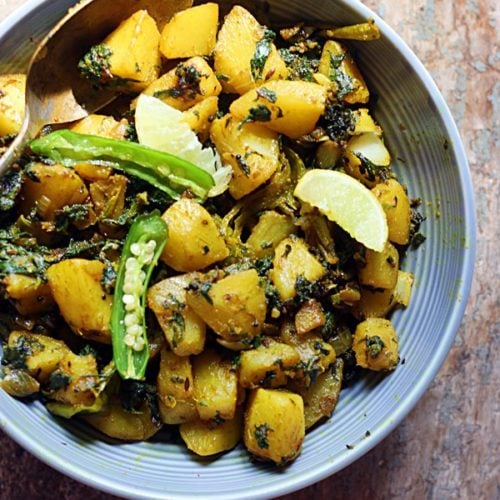 Aloo Palak Recipe (Potatoes Spinach Curry)
Aloo palak is an easy healthy delicious side dish with spinach, potatoes and Indian spices. This aloo palak curry is very mildly spiced, comforting and tasty. Best served with rice or roti or can be used as filling for wraps and sandwiches.
1 CUP = 250 ml
Ingredients
4

cups

spinach leaves

finely chopped

2

cups

potatoes

cubed

1

tablespoon

oil

1/2

teaspoon

mustard seeds

1

teaspoon

cumin seeds

1/2

cup

onion

finely chopped

2

green chilies

slit

1

teaspoon

ginger garlic paste

or minced ginger garlic

1/2

teaspoon

turmeric powder

1/2

teaspoon

red chili powder

1/2

teaspoon

garam masala powder

1/2

teaspoon

ground coriander

salt

to taste

2

teaspoons

lemon juice
Instructions
Prep the spinach leaves as mentioned above. Finely chop the cleaned leaves.

Next scrub and peel the potatoes. Cut them into cubes. Also finely chop the onions.

Heat 1 tablespoon oil in a pan. Temper with mustard and cumin seeds. Add slit green chilies and saute well.

Add the finely chopped onions and saute well.

Add cubed potatoes and mix. Cook in open pan for 6-7 minutes.

Add the chopped spinach or palak leaves and mix well.

Add required salt, 1/4 teaspoon turmeric powder and 1/2 teaspoon red chili powder, garam masala and ground coriander

Mix well and continue to cook.

Cook for 6-7 minutes in medium flame until potatoes are well cooked.

Remove from flame, add lemon juice and mix well. Serve aloo palak warm or cool it down and pack in lunch.
Notes
Use fresh and tender spinach leaves for best results.
Serve warm or cool to room temperature and pack in lunch box
Nutrition
Serving:
3
g
Calories:
79
kcal
Carbohydrates:
7
g
Protein:
2
g
Fat:
5
g
Saturated Fat:
1
g
Sodium:
140
mg
Potassium:
274
mg
Fiber:
3
g
Sugar:
2
g
Vitamin A:
3850
IU
Vitamin C:
18
mg
Calcium:
52
mg
Iron:
2
mg
Tried this recipe? Snap a pic and share 🙂
Mention cookclickndevou or tag cookclickndevour