Sabudana kheer recipe or sago kheer recipe is one popular, easy and most loved kheer recipe across India. You can prepare this tasty kheer as dessert for Diwali, holi festivals. So creamy, rich yet economical sago kheer that you can make in 30 minutes. Here is how to make perfect sabudana kheer recipe with step by step directions.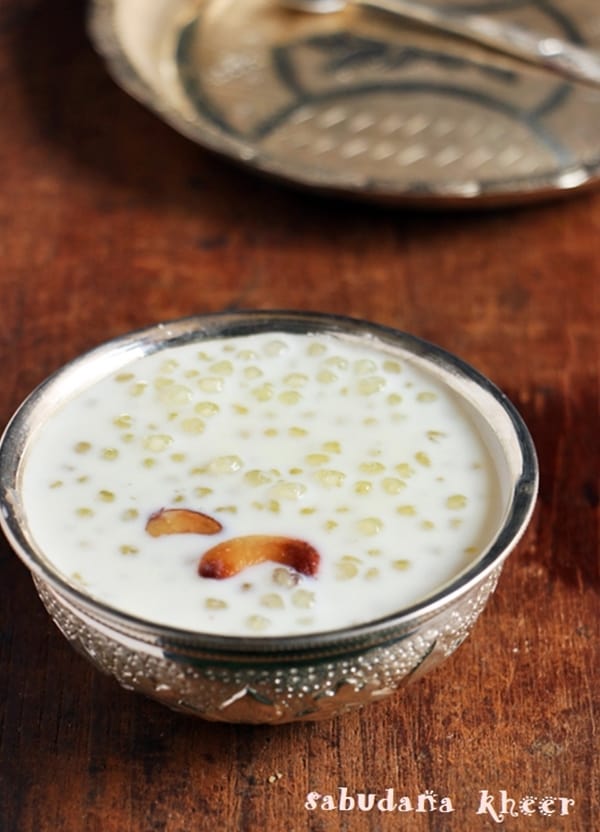 Sago pearls known as sabudana or javvarisi in Indian languages is a very versatile and commonly used ingredient in Indian cuisine. We use sabudana to make khichdi, upma, vadam, kofta, vada and many more.
Sago pearls wen cooked or soaked increases immensely in volume and especially used to cook for a crowd. You can make this sago kheer easily in large volume.
Sabudana is one popular ingredient included while in fasting known as vrat in India. Sabudana khichdi is a popular snack eaten during navratri fasting.
This sabudana kheer is also made during fasting and also for festivals and celebrations. This is my go to kheer recipe when I want to make kheer in large volume.
This kheer is so easy to make, tasty and toothsome. As sago pearls are bland you can flavor this kheer in many ways. I make this mango sago kheer during mango season.
This sabudane ki kheer will win you accolades from your guests,loved ones and all those who taste it. It is creamy, rich, easy and looks very elegant.
I am a big fan of milk based desserts and this sago kheer is my absolute favorite.
So do make this easy sabudana kheer for your Diwali feast and enjoy. This is a very good filling dish for toddlers and kids also.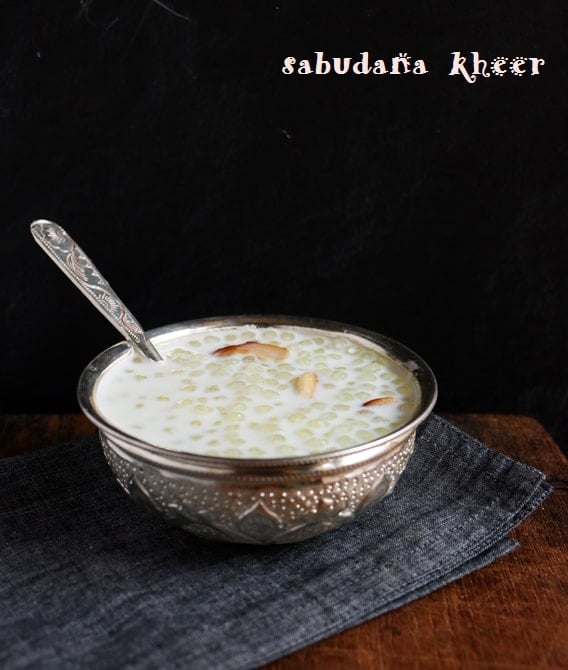 How To Make Sabudana Kheer By soaking sago?
To make sabudana kheer I usually do not soak the pearls. But if you prefer you can soak the pearls for 4 hours and make this kheer.
If you are using soaked and drained sabudana then you need not roast it in ghee.
Wash and soak the sago pearls for 3-4 hours. Drain and set aside. Boil the milk and add the soaked sabudana. Mix well and cook for 30 minutes, stirring frequently. Add sugar after the sabudana pearls are well coked. Simmer for 3-4 minutes, add cardamom powder and mix well. Serve warm!
Sabudane ki Kheer With Jaggery
To make sabudane kheer with jaggery here is the method.
Melt 1/4 jaggery with little water. Once dissolved boil well until it reaces a thick syrupy consistency. Let cool thoroughly.
Prepare the kheer as mentioned in the recipe. At the time of adding sugar add the jaggery syrup and mix well. Simmer for a minute. Remove from flame.
How To Make Vegan Sabudana Kheer?
For making vegan sago kheer you can use coconut milk or almond milk
Roast and cook the sabudana as mentioned in the recipe.
Once the sago pearls are well cooked add 1 cup thin coconut milk and boil for 8-10 minutes.
Finally add 1 cup thick coconut milk, jaggery syrup and simmer for a minute. Remove from flame.
Tips For Best Sabudana Kheer
I prefer to roast and cook the sabudana separately to retain the shape of sago pearls. For very creamy kheer you can use soaking method.
Always use full fat whole milk for kheer recipes
Sago kheer tastes best when served chilled.
The kheer thickens on cooling. So do not make the kheer very thick.
More kheer recipes you might like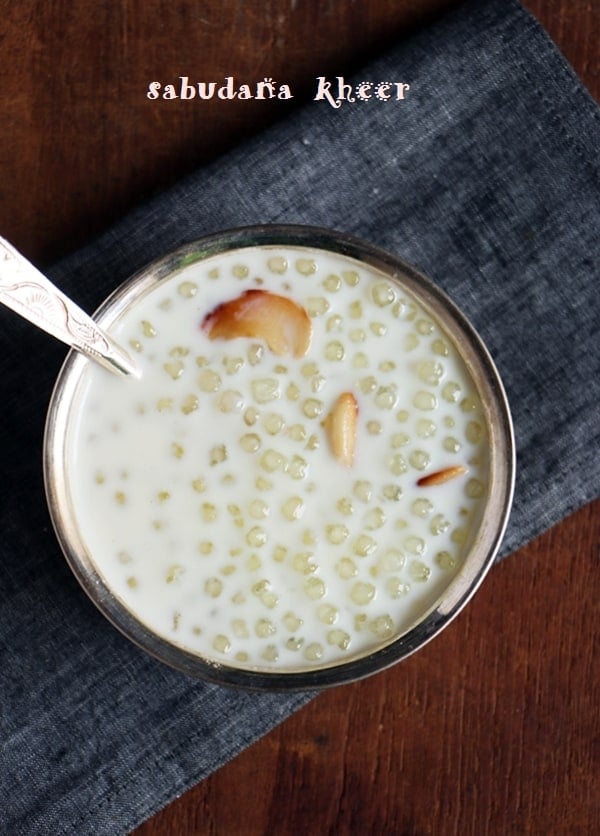 How To Make Sabudana Kheer (Step by Step)
1. Heat a thick bottomed pan. Add 2 teaspoons ghee. Once the ghee is hot, roast the sago pearls for 2-3 minutes, until color slightly changes. Remove to a plate.
2. Fry cashews in the same ghee. remove to a plate.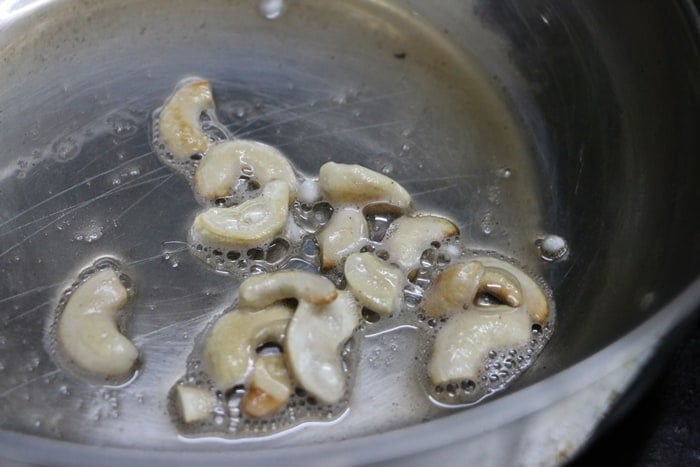 3. Bring 1.5 cups of water to boil in a sauce pan. Add the roasted sago pearls and cook until the pearls are well cooked and glossy. Drain excess water and set the cooked pearls aside.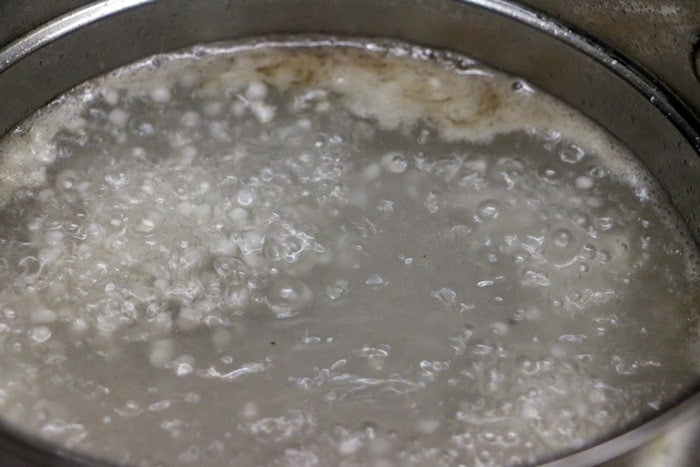 4. Boil 1.5 cups milk. Once the milk is boiled, add sugar and let it dissolve. Mix well and simmer the milk for 5-7 minutes, until the milk thickens.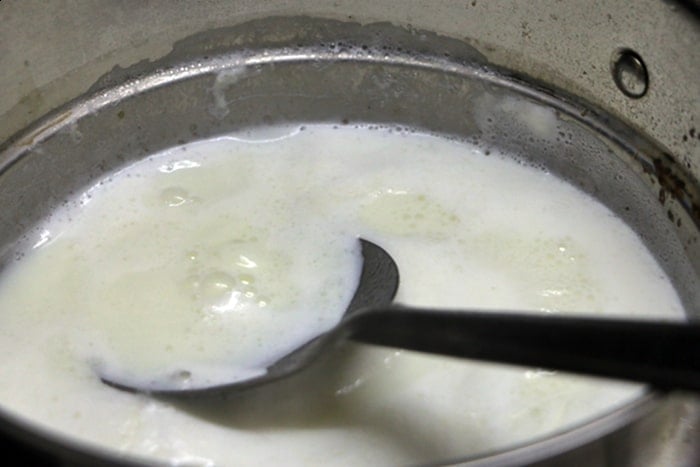 5. Once the milk has reached the required consistency, add the cooked sago and simmer for 5 more minutes.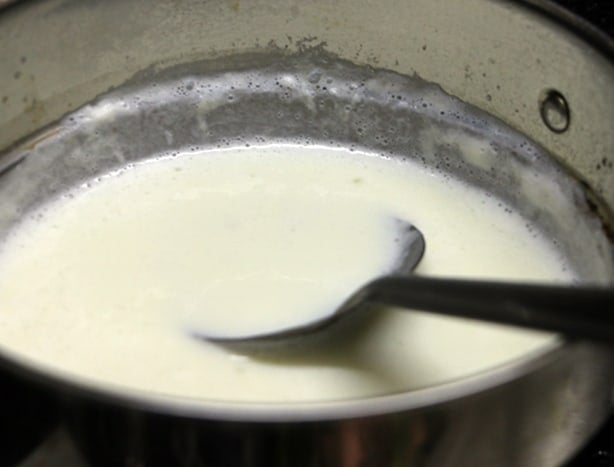 6, Add cardamom powder, fried cashews and mix well. Simmer for 2 more minutes, serve sabudana kheer hot or cold.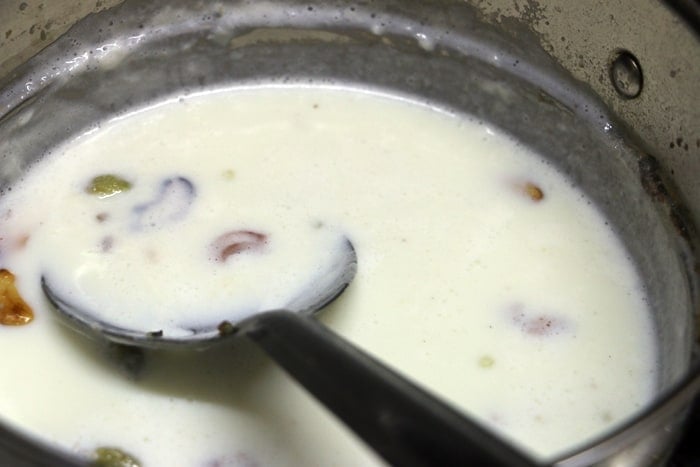 More Sweet Recipes
Sabudana Kheer Recipe
sabudana kheer recipe, how to make sabudana kheer | Sago payasam recipe
Sabudana kheer, quick,easy and tasty dessert with sago pearls in just 30 minutes!
1 CUP = 250 ml
Ingredients
1/4

cup

sago pearls

1/4

cup

sugar

1 1/2

cups

milk

7-8

cashews

1/2

teaspoon

cardamom powder

2

teaspoons

ghee

Water for cooking sago
Instructions
Heat ghee in a pan and roast sago pearls. Set aside

Fry cashews in the same ghee and set aside

Bring 1.5 cups water in a pot and cook sago pearls until they turn glossy.

Boil milk, add sugar and let it dissolve. Simmer the milk for 5-7 minutes until it thickens.

Add the cooked sago pearls and simmer for 5 minutes.

Add fried cashews, cardamom powder and simmer for 2 more minutes.

Serve sabudana kheer hot or cold.
Notes
1. If you prefer more sago in your payasam, you increase it by 1/3 cup.
2. Roasting the sago pearls gives a good flavor to the payasam.
3. Do not boil the kheer after adding sabudana.
Nutrition
Tried this recipe? Snap a pic and share 🙂
Mention cookclickndevou or tag cookclickndevour