Tender coconut pudding with simple ingredients. If you love coconut flavor and smooth agar agar puddings, you will love this super delicious coconut pudding too! Vegan gluten free and yummy, there you got your perfect summer dessert!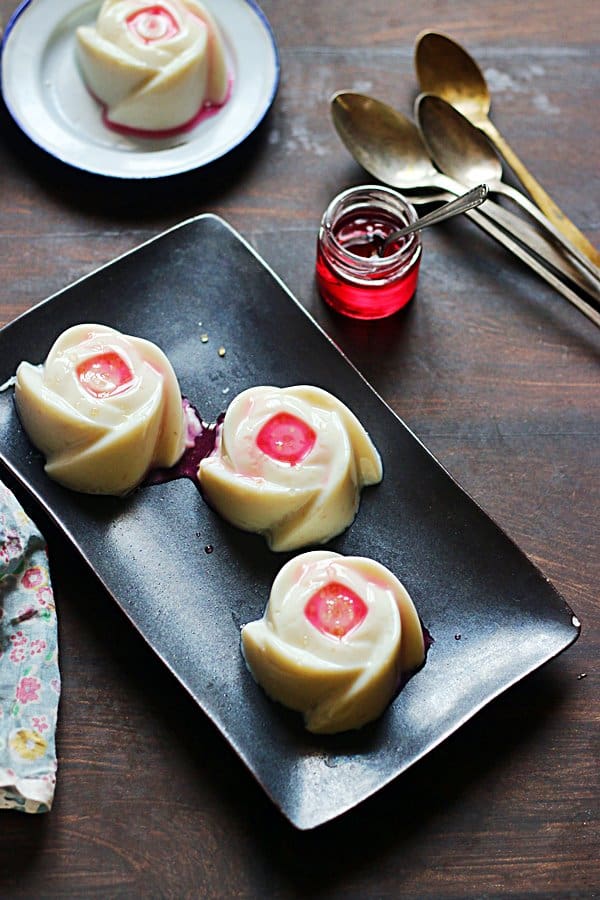 Summer is here with all its might and nothing seems to please the palate like cold desserts and ice creams. I have been making some sort of chilled treat literally everyday. Those are our only respite from this scorching heat apparently.
Out of all the chilled treats I made this year, this tender coconut pudding is the biggest hit at home. It is rich, silky smooth and delicious wit spot on flavors. Now this is huge for a dessert that is vegan, low cal and gluten free too right? All thanks to the humble tender coconut meat and water 🙂
Tender coconut or elaneer as it is called in Tamil is one of the best super foods that nature has to offer. Tender coconut is, instant energy booster,perfect way to stay hydrated,rich in antioxidants. During summer it is a must at our home on every alternate day. Along with consuming as such there are many recipes you can make with tender coconut like this pudding for instance.
This tender coconut pudding is very popular in south India. There are many ways to make it like using condensed milk, coconut milk. Here I am sharing with you all the way I have been making this pudding for years, 10 years to be precise. I picked up this recipe from my mom and have been making ever since. All those who have tasted this pudding just fall for it and can't get enough. Are you all set to try out this perfect summer dessert at home?
So Where Can I Find Tender Coconut?
You need both tender coconut water and meat to make this tender coconut pudding. You cannot use matured fresh coconut as the flavor is strong and texture is not just the same.
If you are in south India you will literally find vendors selling tender coconut in corners of every street. If you are in USA look for tender coconut in Asian markets. My friend from US says she gets tender coconut from whole foods, H mart types. As it is the main ingredient of this pudding you want really fresh and tender coconut meat for this.
What is Agar Agar And How Do You Use It?
This pudding uses agar agar as setting agent.
I am invariably asked by many of my readers what is agar agar when ever I share a recipe with it. So here are some information about agar agar.
Agar agar also goes by the name China grass. It is obtained from red algae and often used as setting agent in Asian recipes. It is the vegetarian substitute for gelatin used in setting jellies, puddings, vegetarian cheesecakes and panna cotta.
Agar agar is available in the form of flakes, powder and sheets. Do note that the quantity of agar varies with the form you use it. You cannot substitute the same quantity of agar flakes with agar powder or sheet. Always go with the package instructions and work your way in the recipe.
For this tender coconut pudding recipe I have used agar agar flakes. This needs some pre soaking and cooking. Details mentioned in the recipe.
So with all the details make this pudding today and enjoy!
This Tender Coconut Pudding Is
Vegan and gluten free
Low cal
Easiest dessert in 10 minutes hands on time
Beginner friendly
Absolutely delicious and smooth
Spot on taste and flavors
How To Make Tender Coconut Pudding Step by Step
Make a hole at the top of the tender coconut and collect the water.
Next break open the tender coconut and collect the meat with a spoon. We need the meat to be this soft and tender as seen in the picture.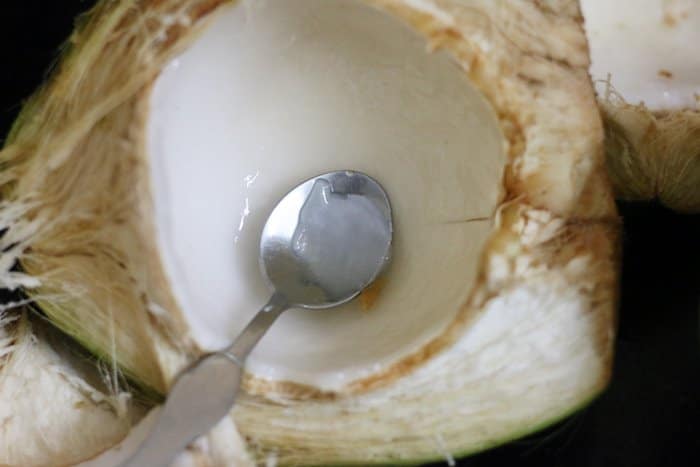 Chop your agar agar flakes finely. Use a kitchen scissor for easy chopping. Soak in 1 cup of water for 10 minutes.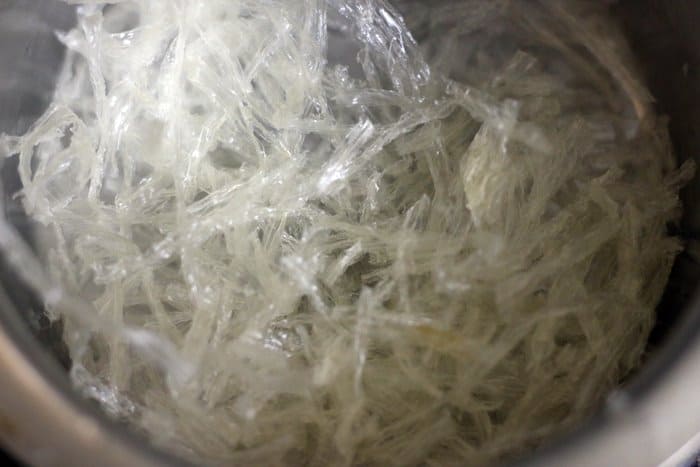 To a blender add 1.5 cups tightly packed tender coconut meat, 1/4 cup sugar, 1 cup coconut water, 1 cup coconut milk.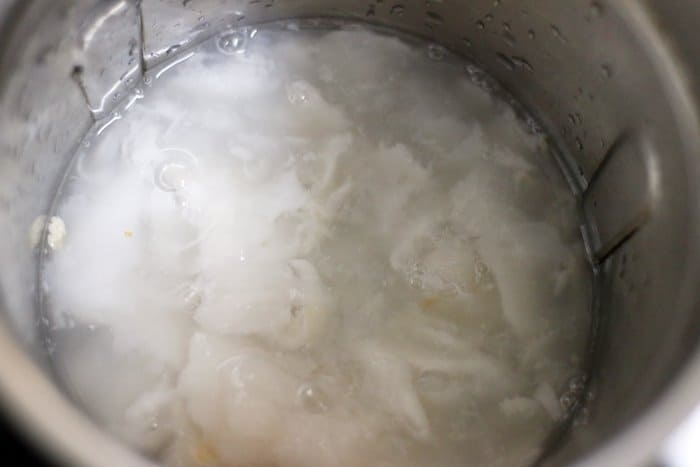 Blend to a smooth puree. Set aside.
Next gently heat the soaked agar agar flakes along with water.
In low flame keep stirring and cook till the agar flakes are completely dissolved.
Now quickly add the prepared agar water to the coconut puree. Mix gently yet quickly.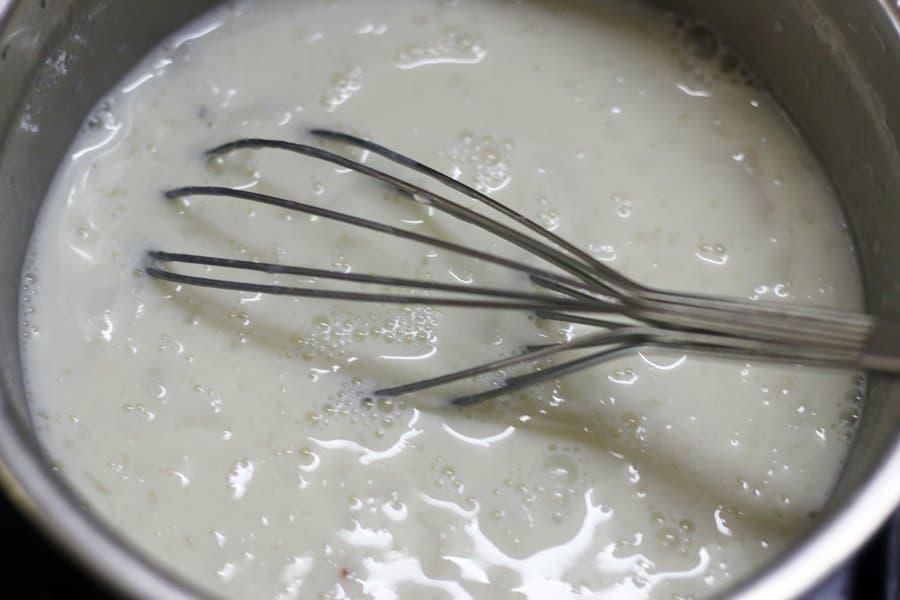 Your tender coconut pudding mixture is ready to be set.
Divide the pudding mixture among 6 small ramekins or moulds. I used my silica moulds to set. No need to grease the moulds.
Refrigerate the pudding for 3-4 hours until serving. Agar pudding sets very well at room temperature but tastes best when served chilled.
Gently remove the pudding from mould once chilled and serve immediately.
Some Tips and Variations
For more pronounced coconut flavor you can few drops of coconut extract. As flavor variation you can add almond extract or cardamom powder too.
I have used thick homemade coconut milk. If you feel the flavor of coconut is overpowering you can easily use dairy milk or almond milk instead of coconut milk.
Once the agar agar water is ready, stir in it into the pudding mixture quickly as it will start to set immediately.
Agar pudding sets very nicely at room temperature. Refrigerating is for serving purpose only.
After pouring the pudding mixture into moulds, use a toothpick to burst all the air bubbles. This will yield a smooth pudding top.
I hope you will try this tender coconut pudding and enjoy as much as we did. Do snap a pic and share on Instagram with hashtag #cookclickndevou and please give a star rating ★ in the recipe card below. Follow us on Pinterest , Instagram, Facebook for more recipes and ideas.
More Pudding Recipes On The Blog!
Tender Coconut Pudding Recipe
Tender Coconut Pudding
Tender coconut pudding with simple ingredients. If you love coconut flavor and smooth agar agar puddings, you will love this super delicious coconut pudding too! Low cal, vegan gluten free and yummy, there you got your perfect summer dessert!
1 CUP = 250 ml
Ingredients
10

grams

agar agar flakes

chopped fine

1

cup

water

1.5

cups

tender coconut meat

tightly packed

1

cup

tender coconut water

1.5

cups

coconut milk

thick

1/4

cup

sugar
Instructions
Collect 1 cup tender coconut water by making hole at the top of a tender coconut.

Break open the tender coconut and collect the meat from the sides. Remove only the white part and discard the brown fibre

Finely chop the agar agar flakes using a kitchen scissor.

Soak the chopped agar flakes in a cup of water for 10 minutes

to a blender add measured tender coconut meat, coconut milk, coconut water and sugar. Blend to a smooth puree.

Gently heat the soaked agar along with the water. Cook in low flame and keep stirring until the agar flakes dissolve completely.

Add the agar water to the pureed ingredients and quickly stir. Stir thoroughly.

Divide the tender coconut pudding mixture among six ramekins or moulds. Set in refrigerator for 3-4 hours. Serve chilled
Notes
This recipe yields 6 regular servings of pudding. You can set the pudding in a big mould and slice before serving too.
You can double or halve the recipe.
Add few drops of coconut extract for coconut flavor.
I added some rose syrup just for color and you can skip it if you don't prefer.
The pudding keeps well for 2-3 days in refrigerator. Keep covered.
Agar puddings set very well at room temperature too.
Nutrition
Tried this recipe? Snap a pic and share 🙂
Mention cookclickndevou or tag cookclickndevour