Delicious, soft and moist vegan mango cake to make the most of mango season. A one bowl vegan cake with just 8 ingredients, this cake just screams mango. A real treat for all mango lovers. Here is the easy recipe with directions included for baking this cake in oven and stove top.
This mango cake is very moist, soft and full of pure mango goodness. I make this cake without fail at least once every mango season. It is really easy and happens at a whim as all the simple ingredients I need are already stocked up in the pantry.
This is a naked cake or cake without icing. We like soft and spongy coffee cakes more than pastries or cakes with icing. Along with this egg less mango cake I also make these delicious cakes like
Mango cake tastes absolutely delicious when you serve it warm. If you want clean slices you can wait till the cake completely cools down tough.
Ingredients Needed
The ingredients used for making mango cake are really simple day to day ingredients you can find in pantry. I have used plain flour or maida which you can easily replace with whole wheat flour.
Next this is a vegan cake without butter, milk, curd, egg or condensed milk. I have used light olive oil for fat in this cake. You can also use any neutral vegetable oil or even melted butter.
I have used sugar here in this recipe but you can also use jaggery powder.
I have flavored this cake with vanilla. If you want to give an Indian touch you can use cardamom powder or even cinnamon powder goes well.
Select the best quality sweet mangoes for mango cake recipe. I like to use ripe alphonso mangoes for mango recipes. Using alphonso mangoes lend a deep color to this cake. You can also use other varieties of mangoes here.
If you are looking for more mango recipes do check aam ka panna, mango almond milkshake, eggless mango ice cream, mango lassi.
How To Make Vegan Mango Cake
1. Peel and scoop out the flesh or chop the mangoes, discarding the stone.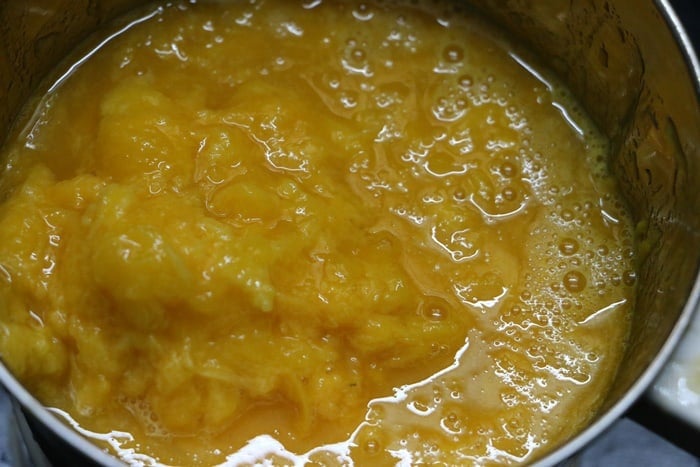 2. Blend the chopped mangoes into a smooth pulp without adding water. The mango pulp should measure 1 1/2 cups, choose your mangoes accordingly. Preheat oven at 180C.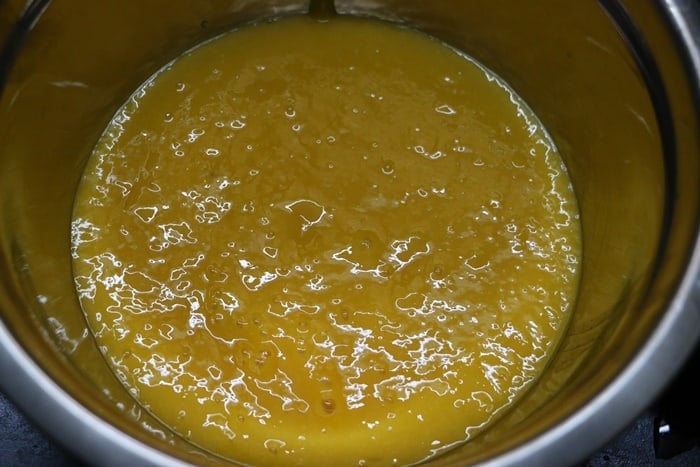 3. Take the mango pulp in a mixing bowl. Add olive oil to it.
4. Add fine sugar (I used castor sugar), scraped vanilla pith or vanilla essence or cardamom powder and mix well.
mix well.
5. Sift the dry ingredients (flour,salt, baking powder and baking soda) once and add to the mixed wet ingredients.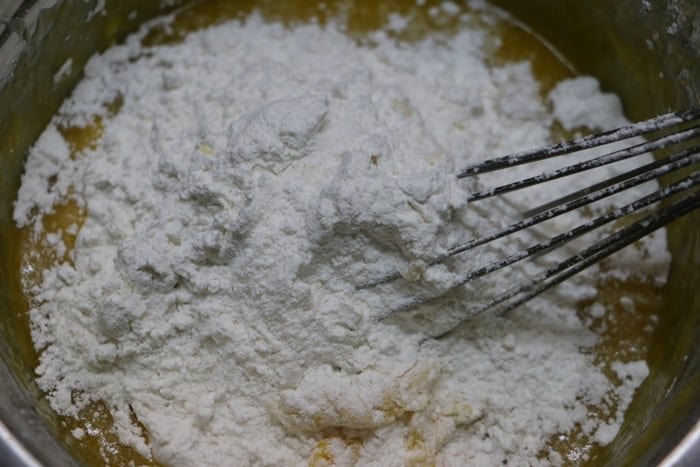 6. Whisk well and well incorporated and a smooth thick batter is formed.
7. Grease and dust a bundt cake tin (9″) well. Pour the cake batter into the tin and tap once to release air gaps.
8. Bake in the preheated oven at 180C for 35-40 minutes Or until the tester comes out clean when tested at multiple places.
9. Allow the cake to cool for 10 minutes before slicing. Serve mango cake warm with coffee.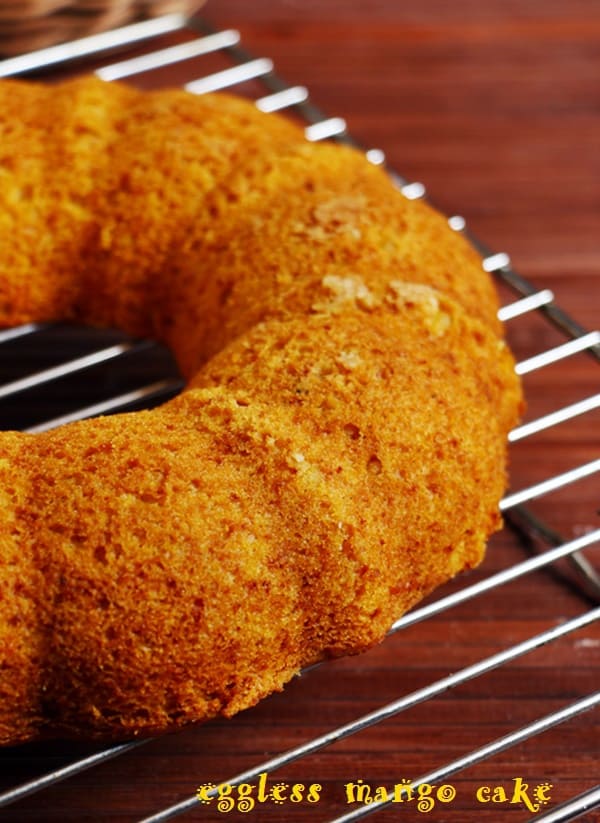 How To Make The Recipe In Cooker?
To make this cake in pressure cooker heat a pressure cooker base with a cup of rock salt. Heat in low flame for 15 minutes. In the meanwhile prepare the batter as mentioned in the recipe. Pour the batter in the greased cake tin.
Place a small stand or plate in hot pressure cooker and place the cake tin. Close the cooker without gasket and valve. Cook in low flame for 35-45 minutes. Once a tester comes out clean, let cool and slice.
Can I Double
Tips To Make Best Mango Cake
To make mango cake recipe at home select good quality pulpy well ripened mangoes.
You can use mango varieties like alphonso, banganapalli mangoes etc.
I have made this mango cake with maida, but you can very well use 100% whole wheat flour OR 50: 50 maida and whole wheat flour. Only thing is the cake will be a bit dense when made with wheat flour nevertheless healthy and tasty.
If you are looking for eggless cakes with fruits do check eggless banana bread, cherry almond cake, strawberry pound cake, eggless orange cake, honey cake
Egg Free Mango Cake Recipe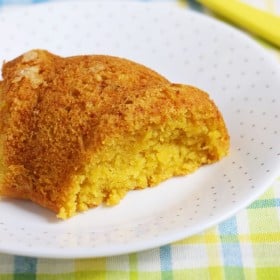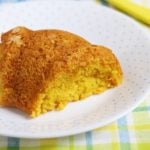 Eggless mango cake recipe | vegan mango cake recipe
eggless mango cake recipe, a very easy to make soft, mosit and delicious vegan mango cake with simple ingredients!
Ingredients
Wet Ingredients:

1 1/2

cups

mango pulp

very smooth

1/3

cup

olive oil

2/3

cup

fine or castor sugar

vanilla pith or 1/2 teaspoon vanilla essence or 1/4 teaspoon cardamom powder

Dry ingredients:

1 1/2

cups

all purpose flour

2

teaspoons

baking powder

1

teaspoon

baking soda

1/4

teaspoon

salt
Instructions
Peel and chop the mangoes discarding the stone.

Blend to a smooth pulp. Preheat oven at 180C.

Take the mango pulp in a mixing bowl and add all the other ingredients mentioned under "wet ingredients" Mix well.

Sift all the dry ingredients and add to the wet mixture. Whisk well to make a smooth thick batter.

Grease and dust a 9" inch bundt cake tin.

Pour the cake batter and tap well. Bake at 180C for 35-40 minutes in the preheated oven.

Allow the cake to cool for 10 minutes. Slice and serve mango cake warm with coffee.
Notes
1. Do not substitute baking powder or soda for each other.
2. The flour to fruit ratio is important for moist cake.
3. You can add honey in place of sugar.
Nutrition
Tried this recipe? Snap a pic and share 🙂
Mention cookclickndevou or tag cookclickndevour