Eggless butter cake recipe for most delicious, flavorful, soft cake with finest crumbs. This is my fool proof recipe for bakery style plain cake that is the perfect combo with tea. If you love soft buttery thick slices of bakery cake, look no further and try this butter cake recipe today!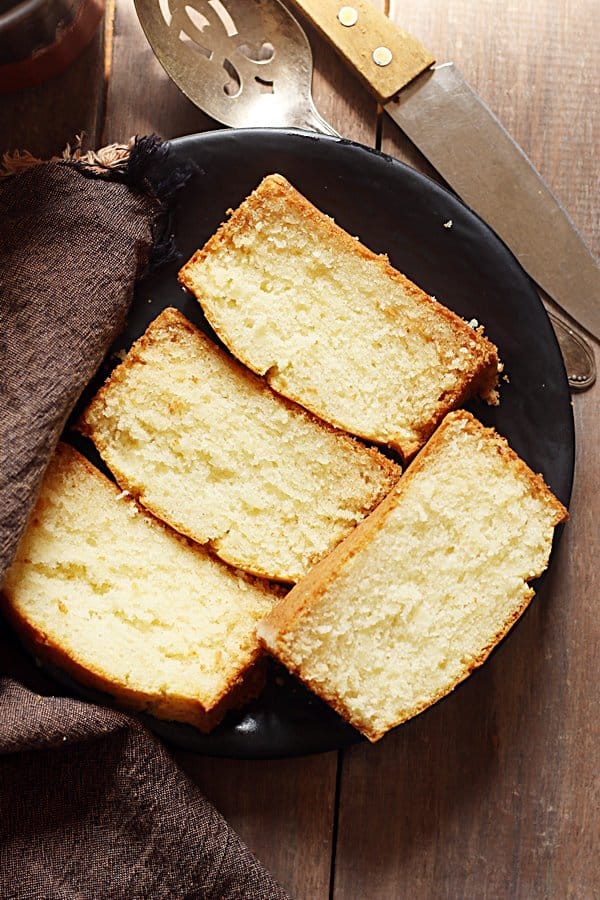 Have you ever been to local south Indian bakeries or Iyengar bakeries? If yes then you will be familiar with treats like honey cake, veg puff, veg rolls, coconut cookies, rava cookies, tutti frutti cake and many many more delights. Of all the delicious treats, this butter cake or plain cake is my favorite. So soft and tasty with mild vanilla flavor these are the best. No wonder these plain cakes are sold like hot cakes 🙂
During childhood we will stop at our favorite bakery on the way back to home from school and enjoy these bakes. And when I started to bake cakes at home during teens, this was the first ever cake I tried. I got this absolutely fool proof butter cake recipe from a dog eared page of a old cookbook from my Mom's stash. The ingredients are pretty simple and procedure is straight forward.
I had made this plain butter cake so many times with success and over the years I have fine tuned the recipe to share the best with you all.
Why Should You Try This Plain Butter Cake Recipe?
You should make this butter cake recipe because it is simply the best. If you find my claim tall, please take a look at the pictures, will you?
Golden colored crust with finest crumbs is what you first want in a good cake. This plain cake bakes beautifully to a even golden top and buttery fine crumbs. The flavor of butter and vanilla is just wonderful in this cake. Moreover you can slice this cake easily without crumbs falling apart.
Unlike many recipes online, this recipe for butter cake does not call for ridiculous quantity of butter. You just need 120 grams of butter for 1.5 cups of flour. Adding too much butter will make the cake only dense and baked cake will be very dark.
In this egg free butter cake recipe, sweetened condensed milk is used instead of eggs. The base of this cake is butter and condensed milk which gives a wonderful soft texture. Thick slices of this cake is perfect with your hot cuppa. As this is a heavy cake full of butter you don't have to frost or top the cake with icing or cream.
Serve fresh slices of this plain butter cake with masala tea or ginger tea or coffee for best evening snack! Kids will love this cake in their snack box.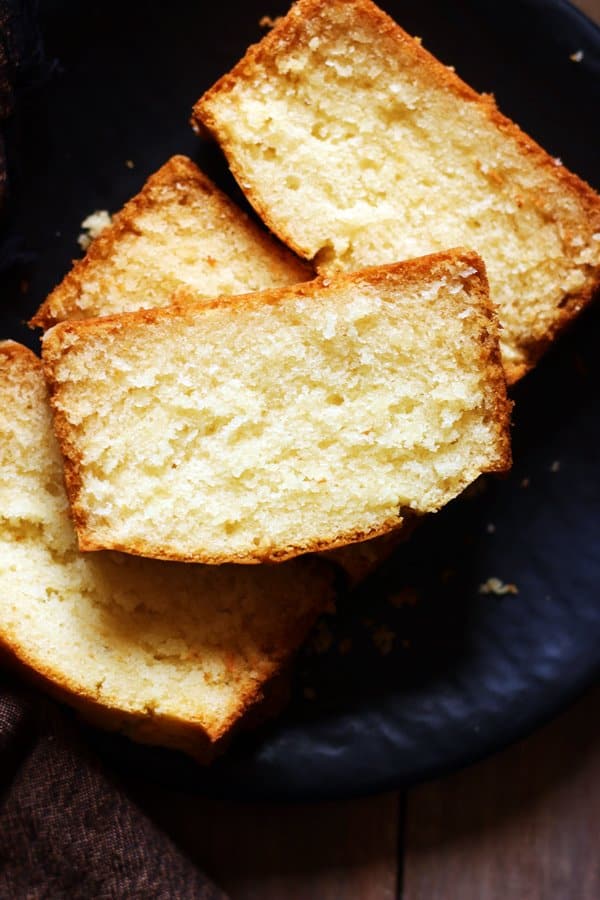 This Butter Cake Recipe
is easy to make
needs simple ingredients and beginner friendly
Uses nominal amount of butter
yields best butter cake with finest crumbs
has lovely flavor from butter and vanilla
best snack to serve with tea.
So are you ready to bake the best ever butter cake in your kitchen? Here you go with easy step by step recipe!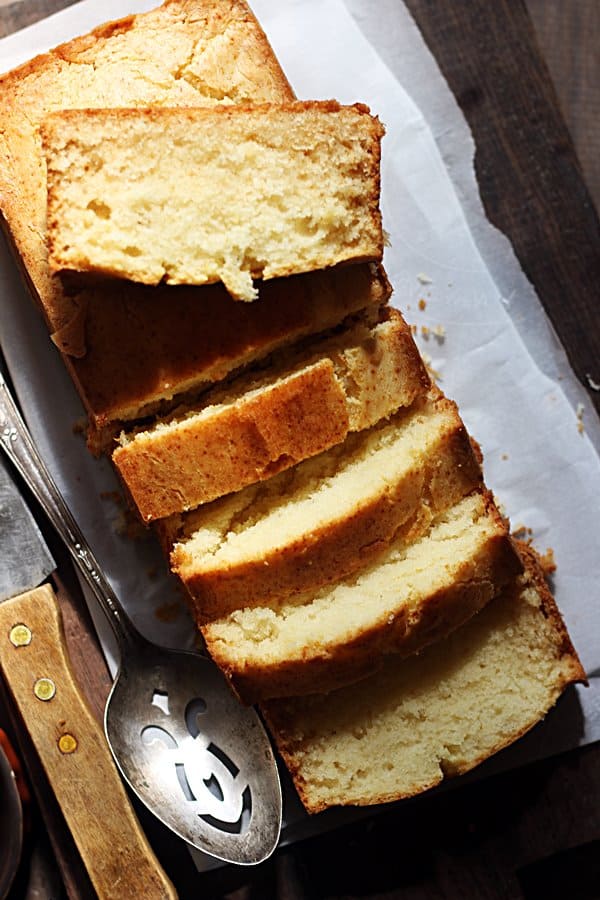 How To Make Butter Cake Step by Step
Preparing batter for plain butter cake
If your butter is refrigerated, remove it from the fridge an hour before baking the cake. The butter should be soft and at room temperature.
Preheat your oven at 180 C or 350 F.
Take soft butter in a dry mixing bowl. Beat the butter using a stand mixer or electric beater at medium speed for 2-3 minutes.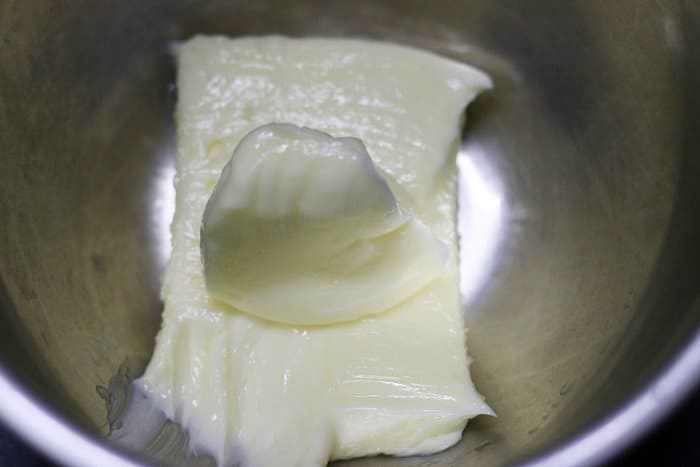 Add the 400 grams condensed milk and 2 teaspoons vanilla extract.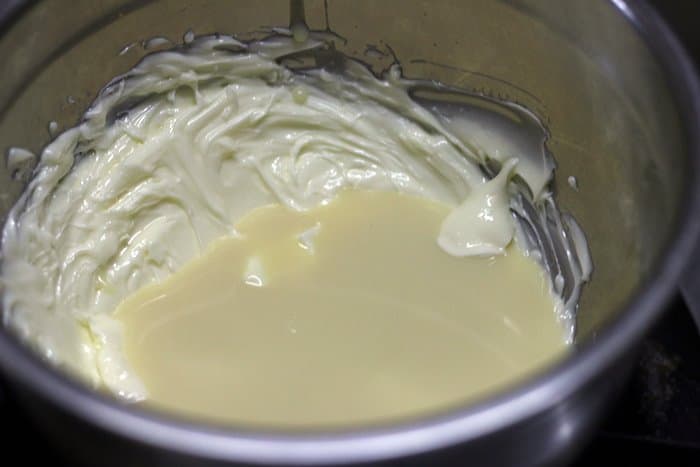 Continue to beat for 2-3 minutes or until the mixture is pale, light and fluffy.
Keep a sieve over the wet ingredients and add 1.5 cups flour, 2 teaspoons baking powder, 1/4 teaspoon salt. Mix well with a spoon.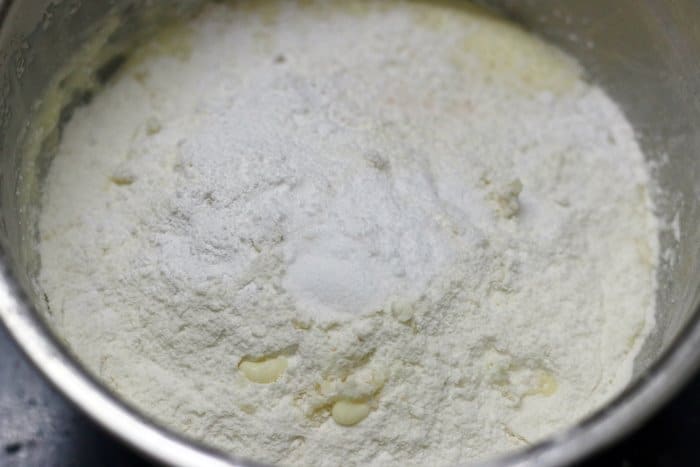 Mix the batter well, add 1.5 cups milk in parts. Add 1/2 cup milk at a time and mix the batter in the same direction. Add more only if needed. You may need 1 to 1.5 cups milks depending upon the quality of flour.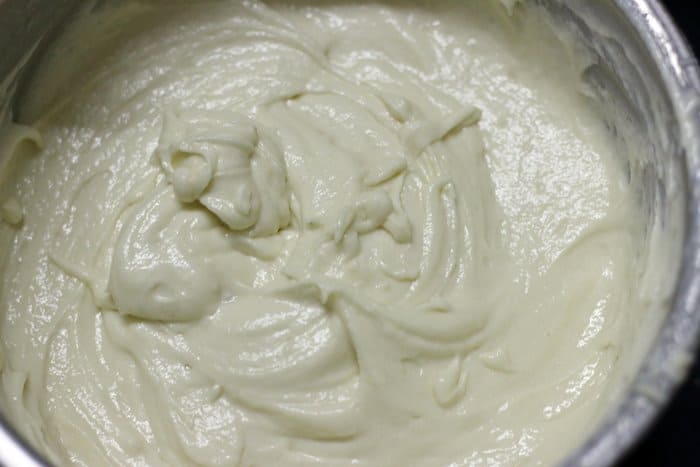 Baking Plain Butter cake recipe
Grease a loaf pan of 8.5 * 4.5 inches baking tin generously with butter. Grease the sides as well. You can dust the pan with flour or line a butter paper.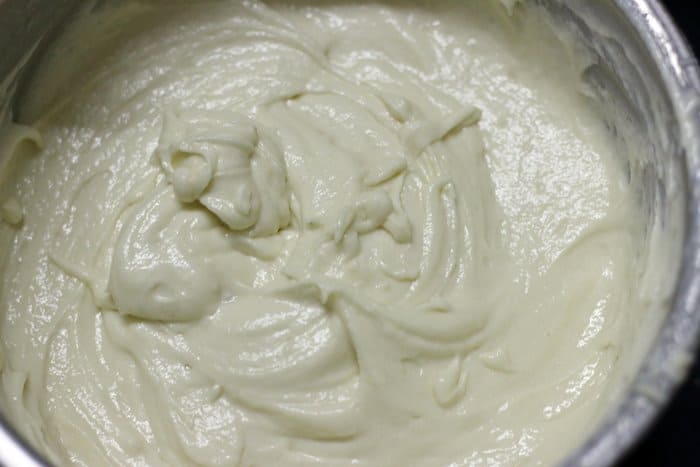 Pour the prepared plain cake batter and tap gently to release air bubbles. Even out the top with a spatula.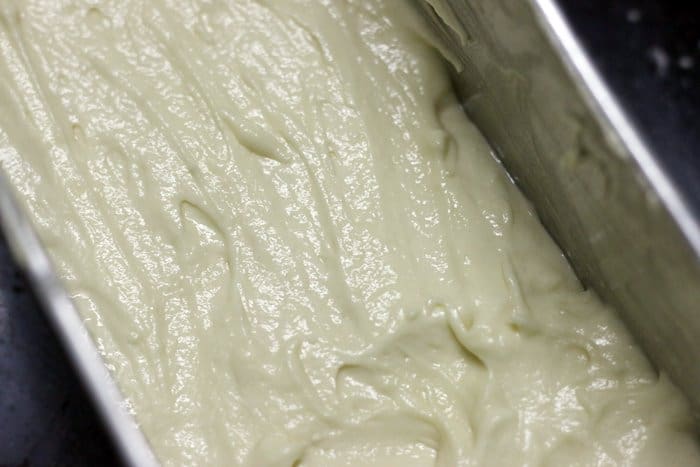 Bake in the preheated oven for 30-35 minutes. The top should turn evenly into golden brown and a tester should come from the center of the cake.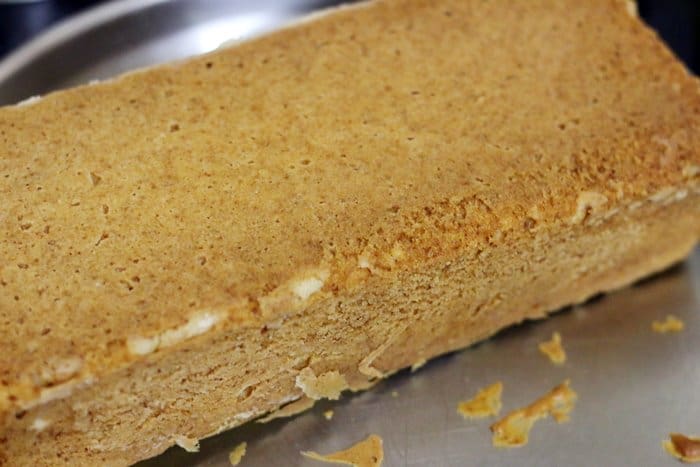 let the baked cake cool in the pan for 10 minutes. Gently invert the cake on cooling rack and cool for 30 minutes before slicing.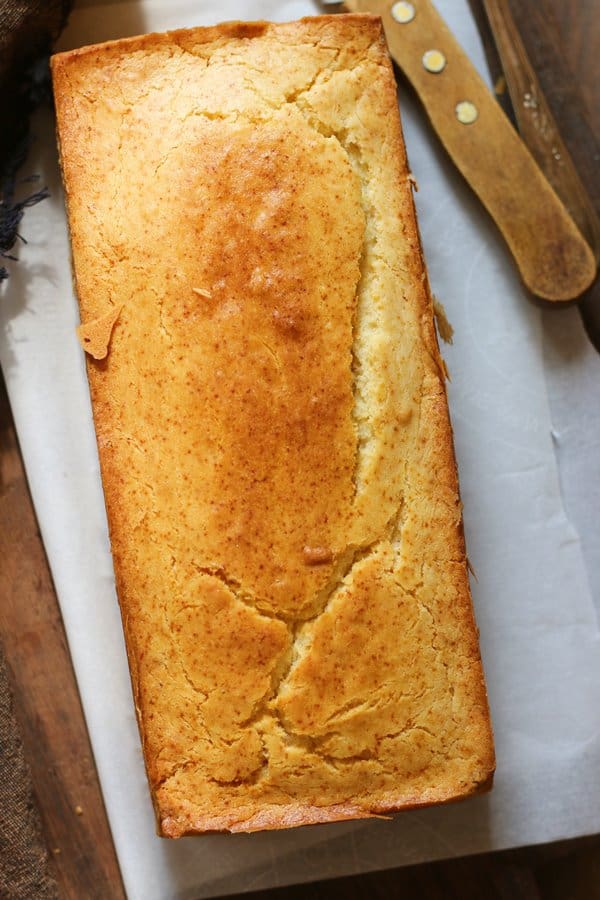 Serving Suggestions:
Slice the butter cake and serve as snack with coffee or tea. You can refrigerate the remaining cake and gently heat in preheated oven for 5-6 minutes before serving.
Tips To Make Best Butter Cake
Butter– Butter is the star ingredient of this cake. Use best quality yellow butter you can source for this cake. I prefer to unsalted butter for cake recipes. We need yellow butter like amul and homemade white butter will not be good in this recipe. Make sure your butter is at room temperature and soft (not melted). The butter should be fresh with good flavor.
You don't need stand mixer for this recipe although you can use if you have one. I have used my electric beater in medium speed to whip the butter. You can even use handheld balloon whisk absolutely.
Pan Size & variations- I have used a bread loaf pan for this plain butter cake. If
Egg substitute- Sweetened condensed milk is the egg substitute for this cake. It is my favorite egg substitute in many recipes. It pairs beautifully with butter and gives amazing texture to this cake. Use full fat good quality condensed milk for best results.
Flour– For light and very soft plain cake use plain flour or all purpose flour. I always use organic wheat maida. I have also tried the cake with wheat flour. It turns out good except for a bit dense cake. You can by all means use wheat flour in this cake. If using wheat flour increase butter by 150 grams and use 1.5 cups milk.
Baking Time– As with all the baking recipes baking time varies from oven to oven So keep this time frame as reference and go by the behavior of your oven. Keep an eye after 25 minutes and go by the color and skewer test.
Self Life– This plain cake keeps well for 3-4 days in refrigerator. All butter based cake turn hard on refrigeration unlike oil based cakes. So you may have to reheat the cake in oven or microwave before serving.
Can I Bake This Plain Cake In Pressure Cooker?
You can absolutely bake this plain cake in pressure cooker. You can follow the detailed instructions mentioned in this cooker cake recipe. If your pressure cooker base is big enough to hold loaf pan use it or use a 7 inch round cake tin for baking this cake in cooker.
I hope you will try this easy butter cake recipe and enjoy as much as we did. Do snap a pic and share on Instagram with hashtag #cookclickndevou and please give a star rating ★ in the recipe card below. Follow us on Pinterest , Instagram, Facebook for more recipes and ideas.
More Delicious Cake Recipes From The Blog
Butter Cake or Plain Cake Recipe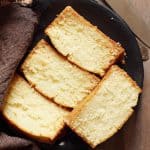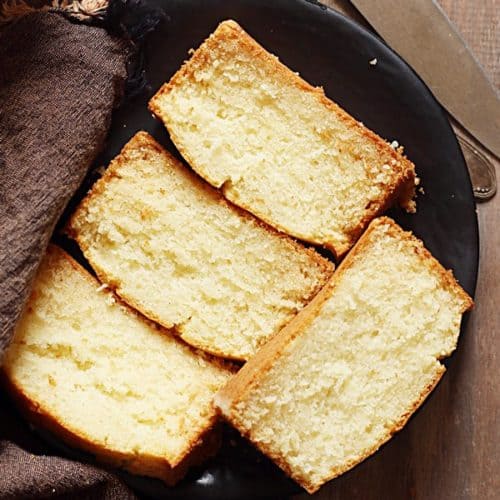 Butter Cake Recipe (Plain Cake)
Eggless butter cake recipe for most delicious, flavorful, soft cake with finest crumbs. This is my fool proof recipe for bakery style plain cake that is the perfect combo with tea. If you love soft buttery thick slices of bakery cake, look no further and try this easy butter cake recipe today!

1 CUP = 250 ml
Ingredients
120

grams

soft butter

unsalted, room temperature

400

grams

sweetened condensed milk

2

teaspoons

vanilla extract

1.5

cups

plain flour

1.5

teaspoon

baking powder

1/4

teaspoon

salt

1.5

cups

milk

start with 1/2 cup and add as required
Instructions
Preparing batter for butter cake
Preheat your oven to 180 C or 350 F.

Grease and dust a 8.5 into 4.5 baking loaf with butter and flour.

Beat soft butter using a electric beater for 2 minutes.

Add condensed milk, vanilla and continue to beat until light and pale.

sift flour, baking powder and salt directly over the wet ingredients. Mix well

Add milk starting from 1/2 cup and work your way to make a thick yet flowing batter. Do not over mix the batter.
Baking the butter cake
Pour into the greased baking tin and bake for 25-35 minutes.

Let the cake cool for 30 minutes once baked. Slice and serve butter cake as needed.
Notes
Use very good quality pure vanilla extract as that is the only flavor we are using here.
Make sure to beat the butter and condensed milk until light, fluffy and creamy.
Let the cake cool completely for clean slices.
This cake keeps well for 3-4 days in refrigerator and two days at room temperature.
Nutrition
Serving:
1
loaf
Calories:
3219
kcal
Tried this recipe? Snap a pic and share 🙂
Mention cookclickndevou or tag cookclickndevour