Mango milkshake is a yummy milkshake recipe made with ripe sweet mangoes. Here I am sharing three delicious ways to make this classic summer drink. Classic milkshake with ice cream, simple mango shake without ice cream and a vegan shake with mangoes.
Mango shake is a a very popular drink in all Indian restaurants and cafes during summer. While most of the restaurants use mango ice cream and milk to make shake, we can make it with fresh ripe mangoes at home easily. During season I make this very often and mostly without ice cream. Here you can choose your preferred method and enjoy 🙂
For more milkshake recipes please check vanilla milkshake, strawberry milkshake, sharjah shake, almond milkshake recipes.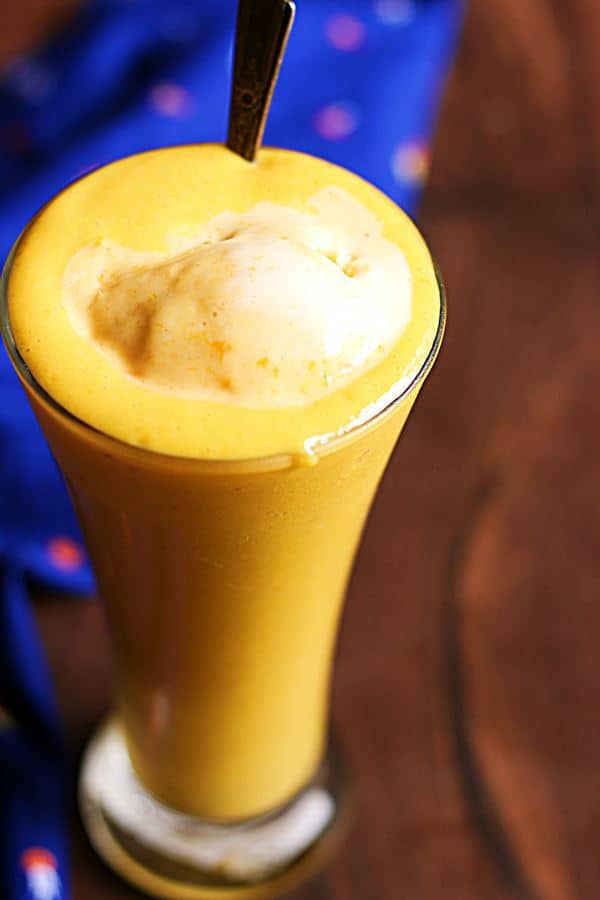 I simply love milkshakes. I can have them day in and day out and during summer I kind of crave them everyday.
Also I can happily skip a meal to sip on a large glass of super cold milkshake and I am impartial to flavors, I like all of them, I have never tasted a milkshake I did not like 🙂
Having said that, mango shake is indeed special may be because it is not available all around the year? During summer I make mango shake at least twice a week as afternoon snack.
Making a good milkshake at home is easy and with few points in mind you can easily make really good cafe style ones or even better.
Here I am sharing my three winning recipes to make mango shake so that you can take your pick and enjoy!
About Mango Shake
Mango milkshake is a classic Indian special drink made with mangoes, cold milk, sweetener and optional ice cream. It is super popular in all restaurants, cafes and small eateries too.
Mango milk shake is super rich, flavorful and absolutely delicious. Ripe sweet mangoes are best suited for this drink and make sure they are non fibrous too.
While my first choice is alphonso mangoes, I am again impartial to mangoes and love all the varieties. So I just use whatever I have handy.
Here in this post I am sharing three methods for making mango milkshake recipe.
Classic cafe style mango shake with ice cream
simple mango shake recipe without ice cream
dairy free mango shake recipe.
Now I am not a total health nut and I do not deprive ourselves from small joys of life like indulging in a cold milkshake once in a while. Moderation is the key for me. My idea is to make such dishes at home where we can add more fruits, quality ice cream and portion control servings 🙂
If you are interested to make cafe style thick and creamy shake, try the first method.
Next If you want to make mango milkshake recipe often at home and a snack for kids, go with second method without ice cream
If you are vegan or diary free I have a mango shake recipe for you too 🙂 None of these methods are superior to one another based on nutrition. I add enough sugar to my milkshakes and will always do 🙂
Mangoes induce heat in the body and while growing up we were always insisted on having a glass of milk after eating mangoes. So combining them both is a good idea right?
Now we do not combine milk with all the fruits we can lay hands on 🙂 Sweet fruits like mangoes are totally compatible with milk. Best part about mango is, it is also good with plant based milks like soya milk, almond milk.
For sweetener I have used raw sugar here but you can use any honey like manuka honey, raw honey or coconut sugar, jaggery or palm sugar too. For flavoring, I always choose between vanilla or cardamom, both are yummy. If you are in a mood to indulge, you can also make mango mastani and enjoy!
Now that summer is at its peaks, it is the best time to grab few mangoes and make a thick hearty, rich and creamy mango milkshake recipe. You will totally love it. It is
Easy, quick and simple
Crazy delicious and addictive
So rich and thick, better than cafes
Full of mango flavor.
Wholesome snack for kids
Healthier when made at home
For more mango recipes please check mango lassi, mango sago, mango jelly recipes.
Ingredients
Mangoes- Pick, ripe sweet and fleshy mangoes with less fibre for making milkshakes and other desserts. I like to use alphonso mangoes for shakes and lassis. You can also use tinned mango pulp or frozen mango cubes.
Milk- You can use dairy or vegan milk depending upon your preference. If you want to go with vegan milk, I highly recommend almond milk. It tastes so good in milkshake.
Ice Cream– Adding ice cream makes the milkshake rich, creamy & delicious. If you are making milkshake for kids snack, you can leave it out though. For mango shake you can go for vegan ice cream.
Also if you do not have any nut milk handy, you can soak handful of nuts in water and blend smoothly along with mango to make milkshake.
Sweetener– You can use any sweetener of your choice here. Sugar, honey, maple syrup everything will work. You can even add dates syrup or palm jaggery but the flavor and color of the shake will vary.
Toppings For Mango Shake- You can top this delicious mango milkshake with many different things. Finely chopped mango cubes, reduced mango pulp, whipped cream, finely chopped nuts, glaced cherries etc.
Flavorings– You can add vanilla extract for the classic milkshake. Cardamom powder, nutmeg, saffron also tastes god in mango milshake.
How To Make Mango Milkshake
Peel and roughly chop the mangoes. Freeze the mangoes for 15-20 minutes. Also boil and chill the milk thoroughly. Take the frozen mango pieces in a mixer jar.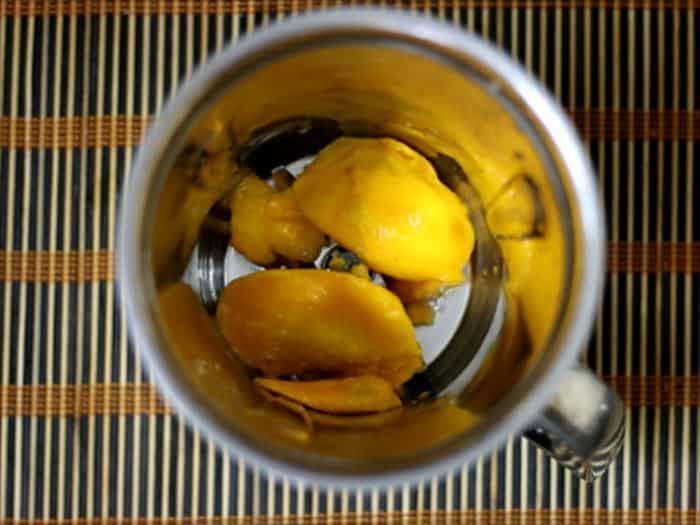 To that add sugar
Chilled milk and cardamom pods. You can also add few ice cubes but it will thin down the mango shake.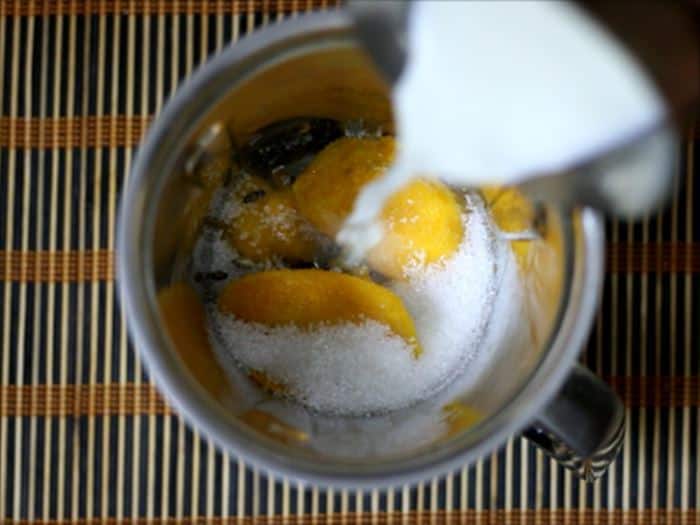 3. Blend smooth. Taste test now and add more mangoes or add more milk if you prefer.
Next add a scoop of ice cream. I have added homemade mango ice cream. You can also use vanilla ice cream here.
4. Blend smooth. Here you can add 1/2 cup finely chopped mangoes and just mix well.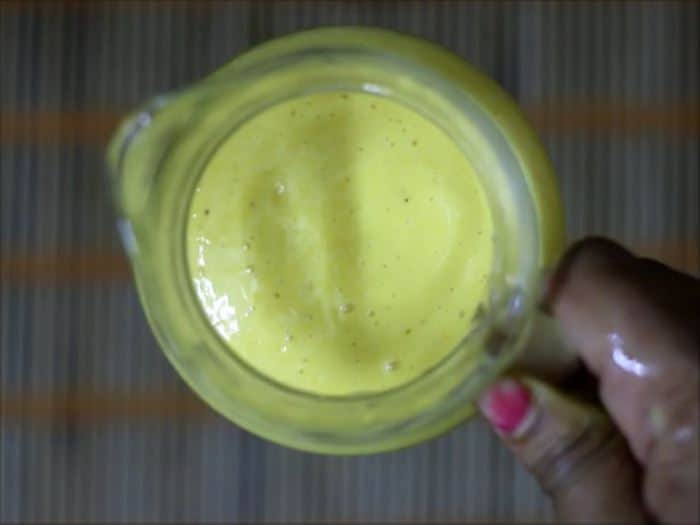 Serve the milkshake topped with a scoop of ice cream.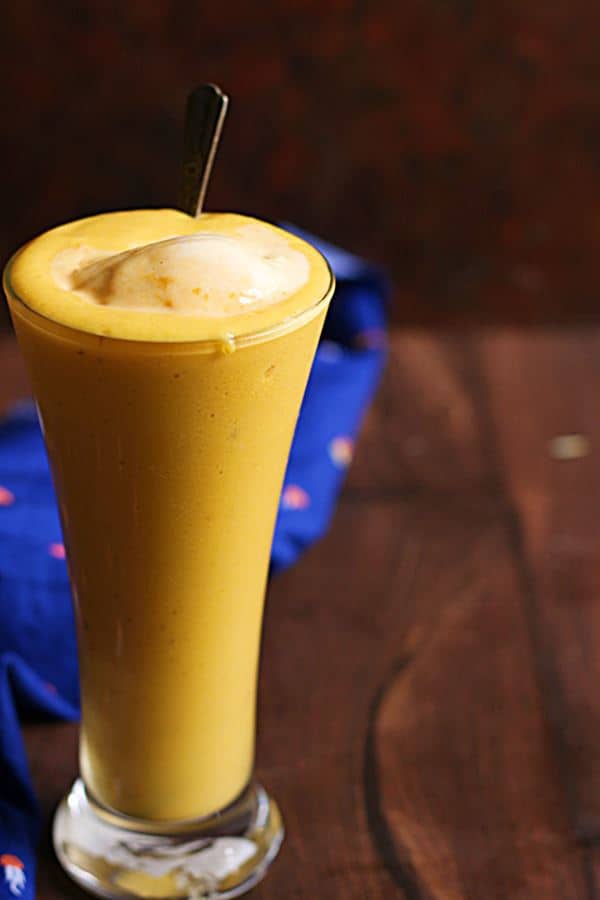 Mango Milk Shake Without Ice Cream
This is a super easy recipe and you need just need milk, mangoes, sugar and vanilla or cardamom. While making milkshakes without ice cream one tip I like to follow is to use frozen milk. I follow the same for this milkshake recipe too.
Homemade milkshakes without ice cream tend to be thin and less creamy, this can be avoided by using frozen milk. Boil and cool the milk thoroughly first, then freeze the milk in small ice cube trays and use this milk while making milkshakes. If frozen milk is unavailable just use boiled and chilled milk. You can also add some cream if you like.
Place cubed mangoes in a blender jar. Add 2 cups chilled milk and 1 tablespoon sugar.
Blend until smooth. You can add few ice cubes but it will dilute the milkshake. I chill the fruit thoroughly instead.
Transfer the milkshake to a serving glass and serve immediately.
Vegan Mango Shake
Peel and roughly chop the mangoes after removing the stone.
Freeze 2 cups of almond milk in ice cubes tray or you can use chilled milk as well. You can also use coconut milk or soy milk.
To a blender jar add chopped mangoes, vanilla, frozen milk cubes or 3 cups dairy free milk, I used almond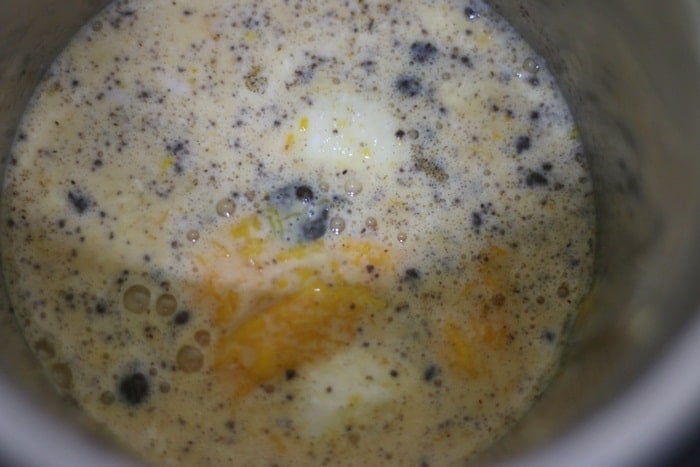 Blend until smooth. Transfer to serving glass and serve vegan mango milk shake immediately.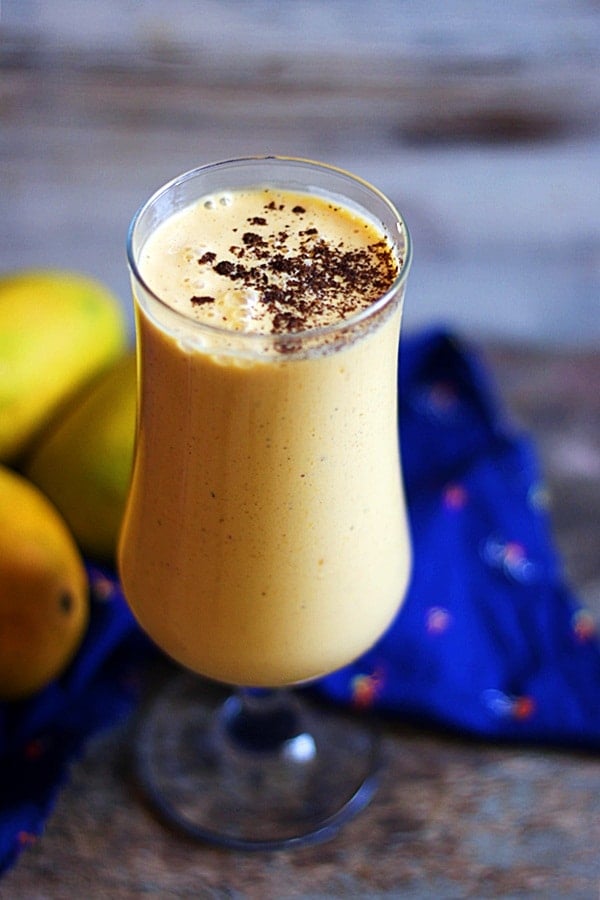 Tips To Make Milkshakes
Mangoes– Choose ripe and sweet mangoes as they taste great in shakes. Make sure the mangoes you use are less fibrous for a smooth and creamy shake. Also try to peel and flash freeze the mangoes for 30 minutes to make creamier shake.
If fresh mangoes to make milkshake are unavailable you can easily use store bought tinned pulp. If you are using sweetened puree, make sure to add less sugar or leave it out. You will need 1 cup of canned mango puree for this recipe.
Milk-Use full fat or whole milk for rich and creamy milkshake. On the other hand to make skinny mango shake you can use low fat milk. If possible use frozen milk for super creamy shake.
Ice cream– When you are making milkshakes with ice cream, use best quality ones for excellent taste. You can use mango ice cream if you like but vanilla ice cream or even pista ice cream tastes good in milkshake with mangoes.
Proportions for desired consistency– There are rules here actually. It all depends on how you like your milkshakes. For super thick shake add minimum milk and use more fruit and ice cream. For simple lighter version just increase milk or you can add ice cubes too. This recipe will yield nice thick cafe style milkshake. Instead of ice cubes you can freeze mango juice in ice cube tray and add those too.
Scaling up– You can double or halve the recipe.
Frequently Asked Questions
What can I add instead of ice cream to make mango milkshake richer.
Fresh cream, whipped cream or double cream can be added.
Can you mix mango and milk?
Yes in general. Sweet fruits like mango can be mixed with milk.
Is mango shake good for health?
Mango shake made with ice cream is more of an indulgent dessert but when made with just mangoes and milk, this is a wholesome healthier snack especially for kids.
Are mangoes nutrient dense?
Yes they are loaded with anti oxidants, vitamin A, good for inducing digestion, good for boosting immunity, improving eye and skin health.
Are you making this recipe? I would love to see a snap of your creation too. Do snap a pic and share on Instagram with hashtag #cookclickndevou and please give a star rating ★ in the recipe card above. Follow us on Pinterest , Instagram, Facebook for more recipes and ideas.
Recipe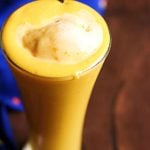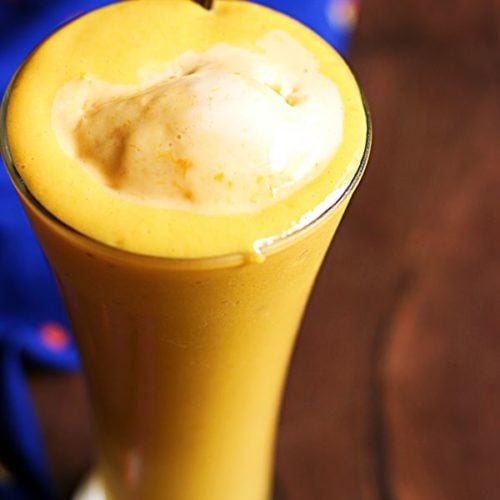 Mango Milkshake Recipe
Mango milkshake is a yummy milkshake recipe made with ripe sweet mangoes. Here I am sharing three delicious ways to make this beverage. Classic milkshake with ice cream, simple mango shake without ice cream and a vegan shake with mangoes.
1 CUP = 250 ml
Ingredients
2

mangoes

peeled and cubed, large, ripe or 1 cup mango puree

1.5

cups

milk

boiled and chilled, or almond milk

3

scoops

ice cream

more for topping, optional

4

tablespoons

sugar
Instructions
First of peel and roughly chop the mangoes. Freeze the mangoes for 15-20 minutes. Also boil and chill the milk thoroughly.

Take the frozen mango cubes in a mixer jar. To that add sugar, chilled milk and cardamom pods. Blend smooth.

Next add a scoop of ice cream an blend smooth.

Serve mango milkshake topped with a scoop of ice cream.
Video
Nutrition
Serving:
3
servings
Calories:
222
kcal
Carbohydrates:
43
g
Protein:
5
g
Fat:
5
g
Saturated Fat:
2
g
Cholesterol:
12
mg
Sodium:
55
mg
Potassium:
394
mg
Fiber:
2
g
Sugar:
41
g
Vitamin A:
1693
IU
Vitamin C:
50
mg
Calcium:
154
mg
Iron:
1
mg
Tried this recipe? Snap a pic and share 🙂
Mention cookclickndevou or tag cookclickndevour