Make the best every vanilla milkshake at home in 5 minutes with this recipe. Rated as one among world's favorite milkshakes this is the most common and preferred milkshake in India also. Here is how to make best vanilla milkshake recipe with ice cream at home. Indulge in some frothy and hearty milkshake with your favorite toppings this summer 🙂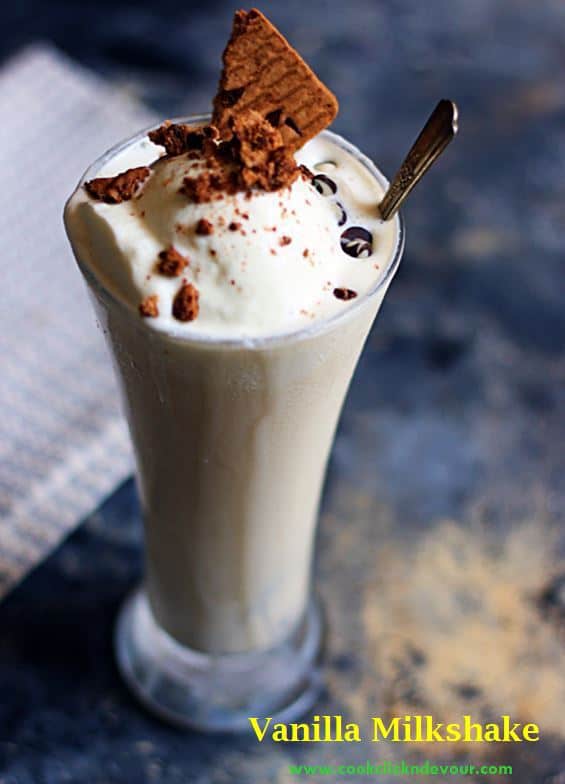 Summer is synonyms to milkshakes at our home. We all love thick shakes that are creamy and rich. Yum, just perfect for summer 🙂 While I make various types of milkshakes like carrot milkshake, almond milkshake, chocolate milkshake, I find myself going back to this classic vanilla milkshake every now and then. It is in fact a very close competitor to our another favorite mango milkshake.
I have fond memories of gulping vanilla milkshake during Summer vacation while growing up. We would just blend chilled milk, vanilla ice cream and extract along with loads of ice cubes in our sumeet mixer grinder. The servings were unlimited and so was the joy 🙂
The standard recipe of vanilla milkshake is easy and simple. It is a four ingredient recipe with milk, ice cream, sugar and vanilla. However the taste of the vanilla ice cream depends on the quality and proportion of the ingredients used. Also with this basic vanilla milkshake recipe you can make changes and create new flavors.
Flavor Variations With Vanilla Milkshake Recipe
Use 2.5 cups ice cream 3/4 cup milk for thick shake. You can also use 1.5 cups milk and 2,5 cups ice cream for slightly thin shake.
You can add vanilla ice cream and use a different extract like butterscotch or almond for a varied flavor.
Also you can top the milkshake with chocolate or coffee ice cream just before serving.
Here I have used crushed cookies and chocolate chips as topping. You can also use chocolate strands, sprinkles or wafers as toppings. Furthermore you can also decorate the serving glass with some chocolate syrup to make it attractive.
Instead of vanilla extract you can use vanilla bean paste or powder for more potent flavor. You can also use vanilla sugar to make milkshake.
Finally you can easily make vanilla milkshake without ice cream also. Just blend thoroughly chilled milk with vanilla and sugar until frothy. Here you can use some whipped cream if possible.
To make vegan vanilla milkshake just you any non dairy milk like almond milk and vegan ice cream.
Making vanilla milkshake at home is easy but there are few tips to make it best. Below I have listed the tips I follow to make perfect milkshake at home every time.
Tips To Make Best Vanilla Milkshake
Make sure the milk is boiled and chilled. If possible freeze the milk briefly before making milkshake.
Use full fat or whole milk for rich and thick vanilla milkshake.
The flavor of the milkshake highly depends on the quality of the vanilla extract. Ty to use best quality pure vanilla extract and avoid essence as far as possible.
Finally use fresh and good vanilla ice cream in this recipe. I like to use homemade vanilla ice cream for vanilla milkshake recipe. Also do not over blend the ingredients. When you blend it for more time the ice cream will melt and milkshake will be diluted.
Serving Suggestions
Homemade vanilla milkshake is a wonderful accompaniment to dishes like pancakes, waffles, cutlets etc. This also serves as fun filled hearty after school snack. Serve as soon as you make it with desired toppings as mentioned above.
More Vanilla Goodness
How to make vanilla milkshake recipe (step by step)
1. First of all boil and let the milk cool to room temperature.Then refrigerate the milk until cold. If possible freeze the milk for 2 hours.
2. Add the chilled milk to a blender or mixer jar.
3. Top the milk with vanilla extract and ice cream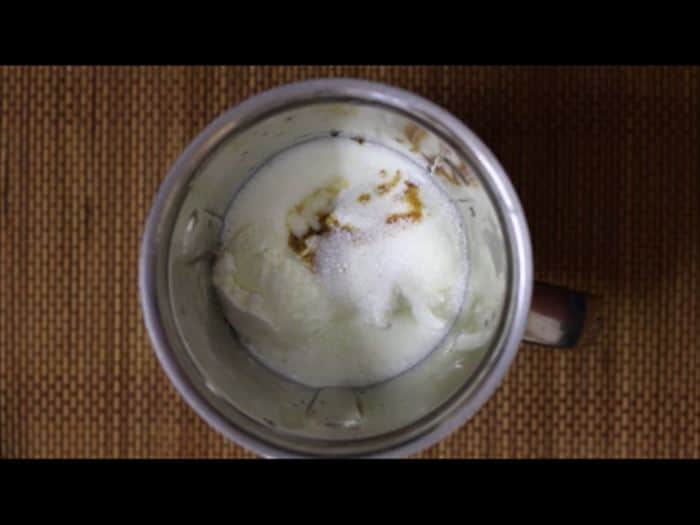 4. Blend just until everything is combined and frothy.
5. Serve immediately.
Are you making this recipe? I would love to see a snap of your creation too. Do snap a pic and share on Instagram with hashtag #cookclickndevou and please give a star rating ★ in the recipe card below. Follow us on Pinterest , Instagram, Facebook for more recipes and ideas.
Vanilla Milkshake Recipe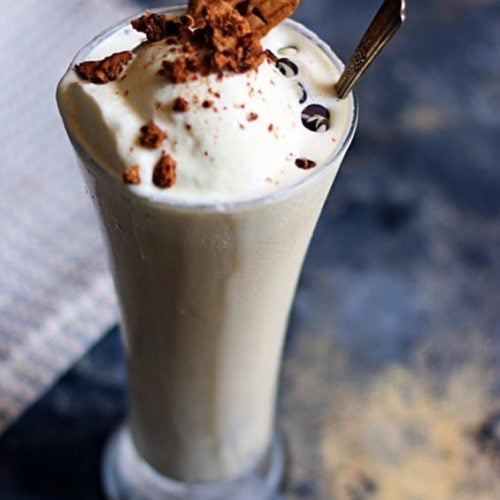 Best Vanilla Ice Cream Recipe (With Ice Cream)
Best homemade vanilla ice cream recipe with homemade easy vanilla ice cream in easy steps with video
1 CUP = 250 ml
Ingredients
2.5

cups

vanilla ice cream

1

cup

Milk

boiled and chilled

3

teaspoons

sugar

2

teaspoons

vanilla extract
Instructions
First of all boil and let the milk cool to room temperature.Then refrigerate the milk until cold. If possible freeze the milk for 2 hours.

Take the cold milk in a blender or mixer jar.

To the cold milk, add ice cream, vanilla extract and sugar.

Blend just until everything is combined and frothy. Serve immediately.
Video
Notes
Use finest vanilla extract and ice cream for best tasting ice cream
For thick shake keep the proportion of ice cream more compared to milk.
Use full fat milk for rich milkshake
You can double or triple the recipe
Nutrition
Tried this recipe? Snap a pic and share 🙂
Mention cookclickndevou or tag cookclickndevour