Rose Milk Recipe – Welcome summer with chilled rose milk that is the quintessential Indian summer drink. With chilled milk (dairy or non dairy), loads of ice cubes and flavorful rose syrup, this three ingredients flavored milk is the best way to beat the heat. Here is how to make best rose milk recipe at home!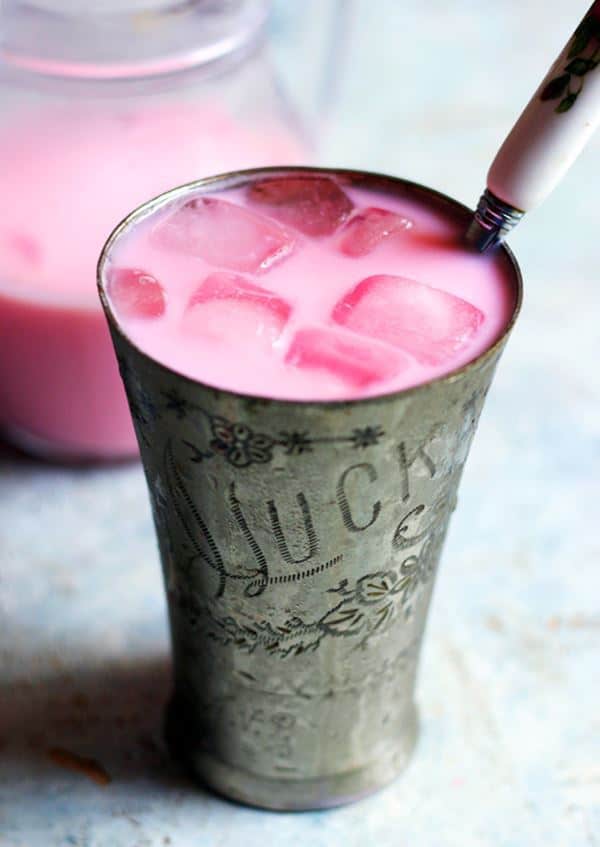 Rose milk is the most simple, flavorful and loved refreshing summer drink. It is an aromatic chilled milk flavored with rose syrup. You will love this perfect thirst quencher that too when served with loads of ice cubes.
You can make this milk in 2 minutes if you have chilled milk handy. Just add 2-3 tablespoons of rose syrup to a cup of chilled milk and there you go. Of course as a rule of thumb you always serve rose milk with loads of ice cubes.
The best part with this rose milk recipe is you can use any milk like dairy milk or almond milk or any non diary milk here. Both vegans and non vegans can enjoy this rose milk alike.
You can serve this rose milk with evening snacks like cheese balls, veg puff, veg rolls, bread balls etc.
This Rose Milk Recipe
Is the Best Summer Drink
Absolutely delicious and flavorful
A great make ahead drink for parties
is way way kid friendly
Is gluten free and can be made vegan.
This drink brings back so many sweet memories. While growing up this was the only exotic drink we had access to :). Especially during summer holidays we use drink up loads and loads of this refreshing drink skipping the regular hot milk.
Flavored milks are always my favorite and I love chilled ones like this rose milk, chocolate milk, pistachio milk, cardamom milk, badam milk. For me these are so easy to make and so much better than a glass of plain milk. I am one of those who just cannot stand plain milk 🙂
Talking of flavored milks, these are one of the best ways to include milk in kids diet. For instance this rose milk is a very attractive and kid friendly drink that is delicious, pretty and vibrant. while growing up this milk or vanilla ice cream was the dessert of choice when we ate out.
To make rose milk recipe you will need rose syrup. I usually have organic rose syrup handy for mixing in milk but you can make this syrup very easily at home too.
How To Make Rose Syrup
1. Pick and clean 3 cups of tightly packed pink rose petals (country variety, preferably organic) very well.
2. Soak the cleaned rose petals in 10 cups of water for 12 hours.
3. After 12 hours heat the mixture gently. Add 2 teaspoons edible rose water, few drops of pink red food color, 6 cups sugar and mix well.
4. Simmer till the mixture reaches syrupy consistency. Strain and cool thoroughly. My mom usually stores this in fridge as there are no preservatives. Use clean dry spoon always.
Apart from using in this drink you can use this rose syrup in rose lassi, royal falooda, popsicle, ice creams, to drizzle on top of fruit salads. I also use a small amount of rose syrup while making fruit custard
How To Make Rose Milk
1. First of all bring the whole milk to a boil. If using non vegan milk, just warm it up and chill thoroughly.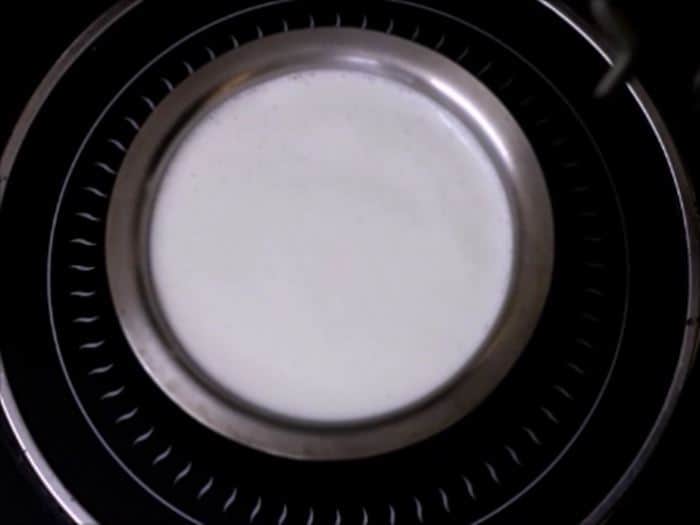 Let it cool a bit and then refrigerate for 3-4 hours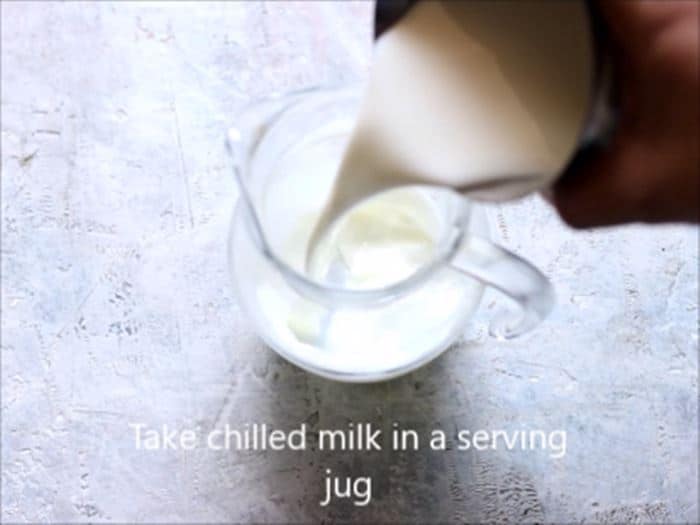 2. Add rose syrup to the chilled milk and mix well.
3. Add ice cubes and serve.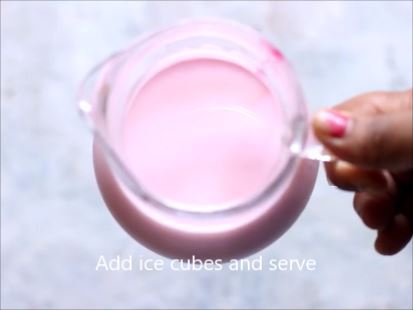 Make Rose Milk Vegan
To make vegan rose milk you can use any dairy free milk like coconut milk, soy milk or almond milk. I have made this drink many times with almond milk and we love it. Just use chilled milk for best results.
Variations With Rose Milk Recipe
With roohafza
To make this drink healthier you can use rooh afza instead of store bought rose syrup.
With Sabja Seeds
To make the drink more cooling you can make rose milk with sabja seeds. Just soak 2 teaspoons sabja seeds in water for 20 minutes, drain and add to the drink before serving.
With Ice Cream
You can serve this drink topped with vanilla ice cream or rose ice cream. You can also blend milk, ice cream and rose syrup together and serve.
With Khoya
To make the drink more rich you can add 2 tablespoons khoya or pal khova to the milk and blend well. Add rose syrup to this milk and mix.
Top Tips For Making Best Rose Milk
Always use full fat milk for rich rose milk
This milk tastes best when made slightly sweeter.
Serve with ice cubes. Add ice cubes just before serving
You can make this ahead and refrigerate for a day.
More Summer Drinks
chocolate milkshake, mango mojito, mango lassi, badam milk, vanilla milkshake, mango milkshake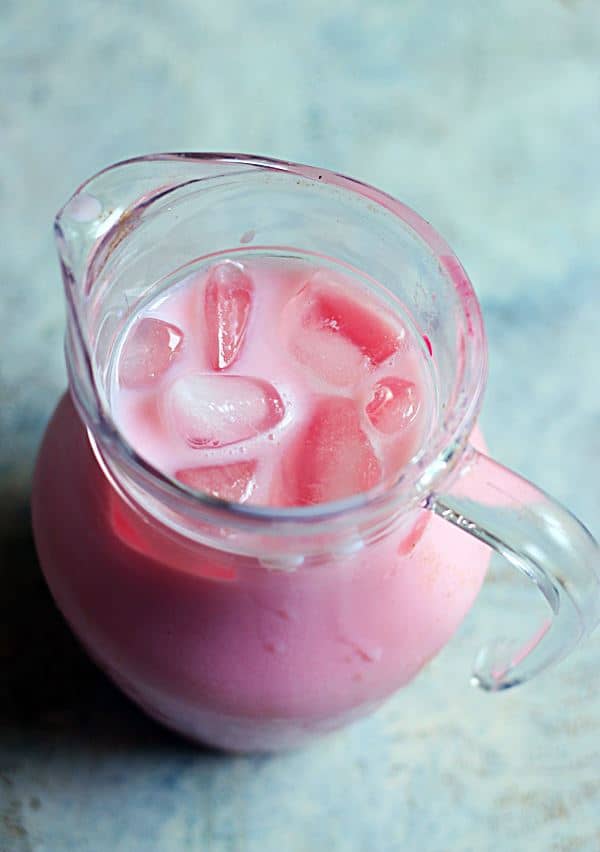 Are you making this recipe? I would love to see a snap of your creation too. Do snap a pic and share on Instagram with hashtag #cookclickndevou and please give a star rating ★ in the recipe card above. Follow us on Pinterest , Instagram, Facebook for more recipes and ideas.
Rose Milk Recipe
Rose Milk Recipe
Rose milk- The most popular and favorite Indian summer drink.
1 CUP = 250 ml
Ingredients
1

cup

milk

boiled and chilled

3

tablespoons

rose syrup

ice cubes

for serving
Instructions
First of all bring the whole milk to a boil. Let it cool a bit and then refrigerate for an hour or two.

Add rose syrup to the chilled milk and mix well.

Add ice cubes and serve.
Video
Nutrition
Tried this recipe? Snap a pic and share 🙂
Mention cookclickndevou or tag cookclickndevour