Last updated on July 23rd, 2018
White sauce pasta recipe is an easy pasta recipe made with white sauce and some veggies. The white sauce used in this pasta recipe is the French bechamel sauce made with flour, butter and milk. In this pasta in white sauce recipe I have not used cheese and made it more hearty by adding veggies. Here is how to make best white sauce pasta with a video!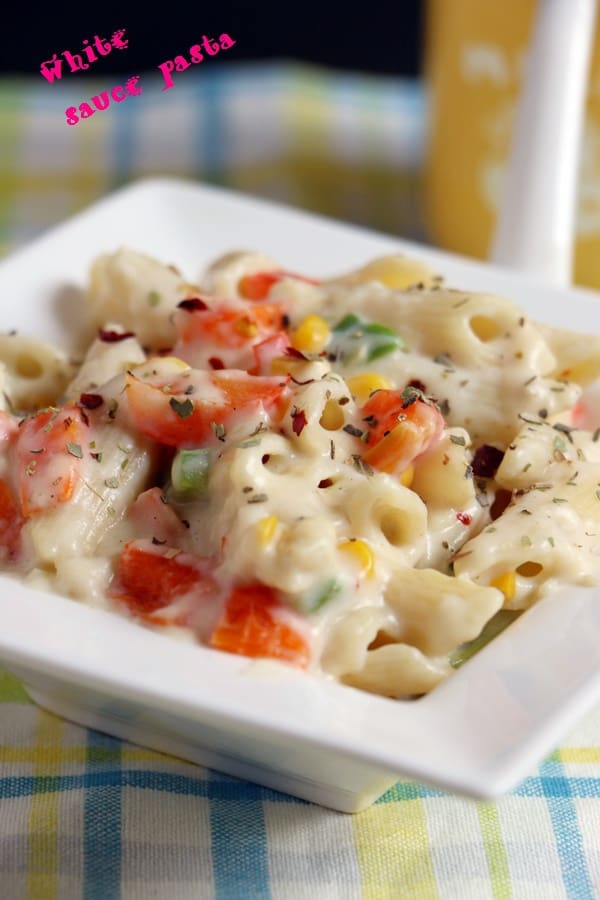 The white sauce pasta recipe I am blogging today was requested by a reader. After trying out my Indian style masala pasta recipe, she asked me how to make white sauce pasta recipe. So sharing it here with you all!
This hearty, rich and creamy pasta tops the favorite list at home. Also this white sauce pasta recipe has always been a hit with friends, family and also a popular one here in this blog.
Smooth and creamy white sauce, al dente pasta and added veggies to compliment the smoothness of the sauce, what is not to love about this 🙂
Making white sauce pasta is very easy and you can make this in minutes. Just have the chopped veggies ready and you can prepare the white sauce and cook the pasta simultaneously.
while I always prefer to white sauce for pasta fresh, you can easily make it a day ahead or use store bought white sauce too.
Serve this yummy Italian white sauce pasta as main course along with bruschetta, garlic bread and soup for a hearty and lovely Italian meal.
What Is White Sauce?
The white sauce used in this pasta recipe is also known as bechamel sauce and it is from French and Italian cuisines. Bechamel sauce is prepared with flour, butter and milk.
Traditionally nutmeg powder is added to flavor white sauce but I do not add it usually. White sauce is widely used in French and Italian cuisines especially in pasta, pizza, lasagna, scalloped potatoes, mac n cheese recipes.
The thickness of white sauce basically can be adjusted according to the dish you are making.
Traditionally some cheese is added to the white sauce towards the end but I have left out the cheese here as the sauce itself is very rich and creamy.
How To Make White Sauce?
White sauce or bechamel sauce is the base for many delicious Italian recipes. This sauce can be made very easily at home with three main ingredients that are flour, butter and milk.
The consistency of bechamel sauce or white sauce depends on the dish you are making. For this white sauce pasta we need the white sauce to be of medium thickness.
Heat butter in a thick pan. Do not let it brown. Add the flour and stir continuously till it cooks and turns aromatic.
Now very slowly add the boiled and cooled milk, stirring continuously. Maintain low flame. Make sure there no lumps absolutely.
Once the flour is well cooked and sauce thickens now salt, pepper powder and nutmeg. Mix well and remove from flame.
If you want to add cheese add grated cheese now and mix well. Do not add cheese while the sauce is cooking.Add once you remove it from flame yet the sauce is still warm.
How To Store White Sauce?
You can make the white sauce ahead and store airtight in refrigerator.
While you need it for the making pasta in white sauce just reheat it either in microwave or stove top whisking continuously.
Add the vegetables and cooked pasta, mix well and serve with seasonings.
How To Make White Sauce Pasta?
This white sauce pasta is the most popular pasta recipe across restaurants, bistros.
To make this pasta easily at home begin with making white sauce.
Simultaneously cook pasta al dente. Toss the pasts in white sauce and mix. Add some parmesan if needed and serve.
You can make pasta in white sauce with or without vegetables.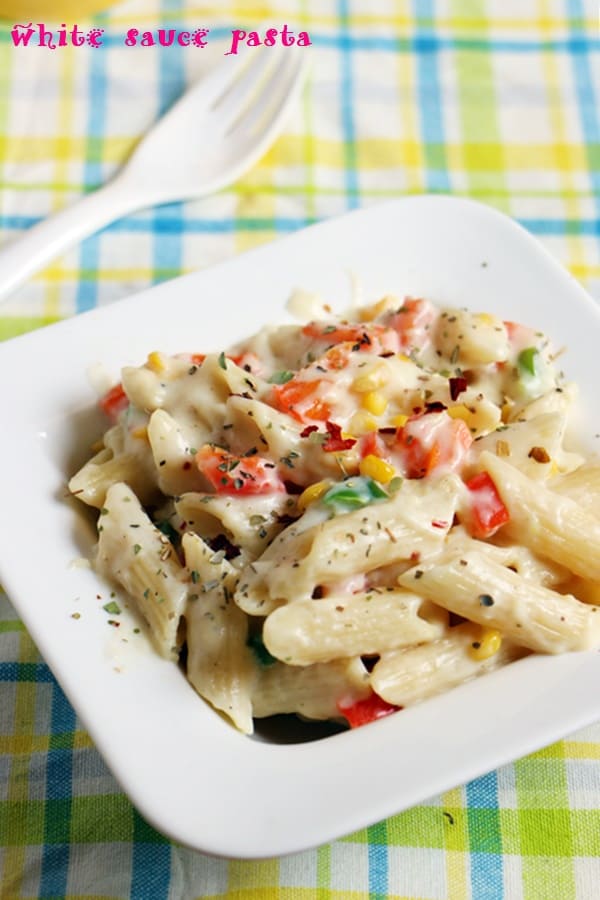 Vegetables In white Sauce Pasta:
We prefer our pasta with veggies. So I usually sneak in as much as possible.
Here, I have added vegetables like different colored bell peppers, sweet corn kernels and carrots. You can also add onions, broccoli florets, baby corns and more. Adding vegetables in pasta is a good idea especially when serving for kids.
The key for making perfect pasta in white sauce is making perfect white sauce. Make sure to do the whole preparation in low flame. Use boiled and cooled milk, after adding milk make sure that you keep stirring the sauce until it turns thick and smooth.
If you want to add cheese in white sauce recipe, add it towards the end and switch off the flame once you add the cheese.
This will be delightful lunch or dinner that toddlers and kids will adore especially. You can use whole wheat pasta, but the flour used in white sauce cannot be replaced with wheat. So it is better to eat this in moderation and once in a while.
Variations For Making White Sauce Pasta Recipe:
You can make white sauce pasta by adding some mayonnaise while making white sauce. Add mayo towards the end and whisk very well off the flame.
You can some minced garlic in white sauce pasta. You can add garlic to the white sauce itself or saute the garlic before adding the vegetables. Adding garlic will elevate the flavor of this pasta recipe.
If you want to add cheese in white sauce add it after switching off the flame. This will ensure that the cheese blends thoroughly.
Tips For Making Perfect White Sauce Pasta:
Make sure the milk used for making white sauce is boiled and thoroughly cooled. This will ensure that the sauce is smooth without lumps.
Always make white sauce in low flame.
Roast the flour very well until it turns golden for flavorful white sauce.
Cook pasta al dente and keep it closed until use. If the pasta turns dry it will soak up the white sauce.
If you are looking for more pasta recipes do check: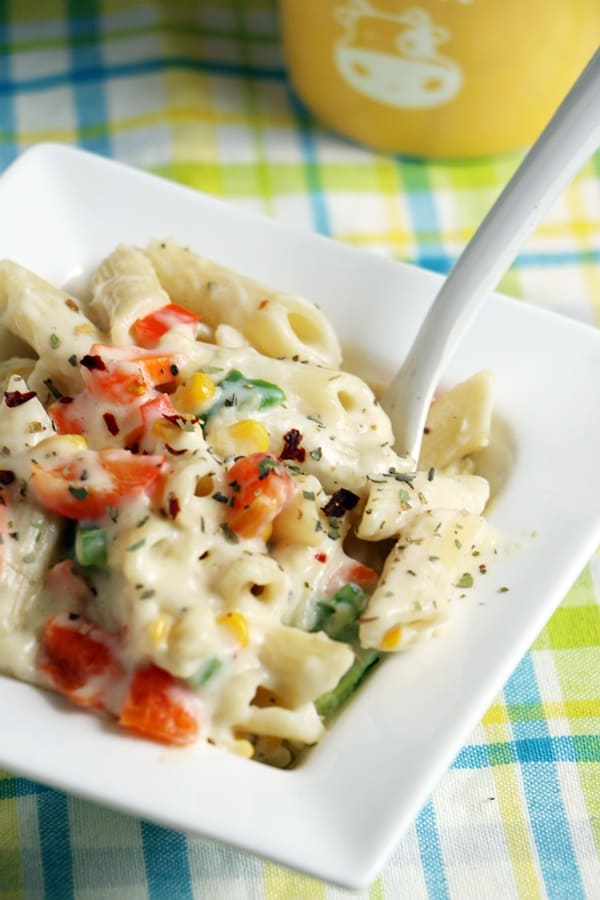 White Sauce Pasta Recipe Video:
How To Make White Sauce Pasta Recipe(step by step)
Prep Work for making  white sauce pasta
First of all bring plenty of water in a pot to boil. Add pasta along with a drop of oil and cook till done. Drain and reserve the stock. Set aside the boiled pasta.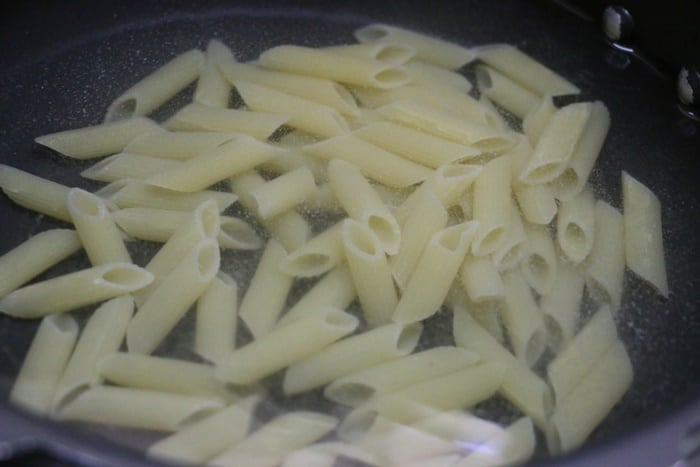 2. Now to make white sauce,  in a pan add 1/2 teaspoon butter. Add the chopped bell pepper, boiled sweet corns, peeled and chopped carrots and saute for few minutes. Remove to a plate.
Making White Sauce Pasta:
3. In the same pan add 1 1/2 tablespoons butter and melt it.
4. To the melted butter, add 1 tablespoon madia or all purpose flour and whisk very well.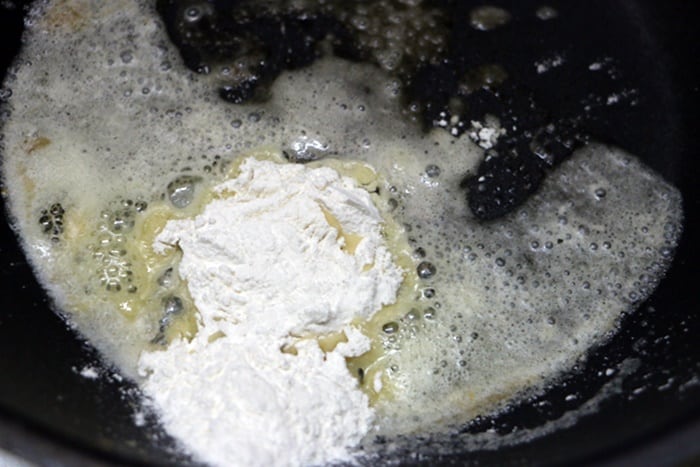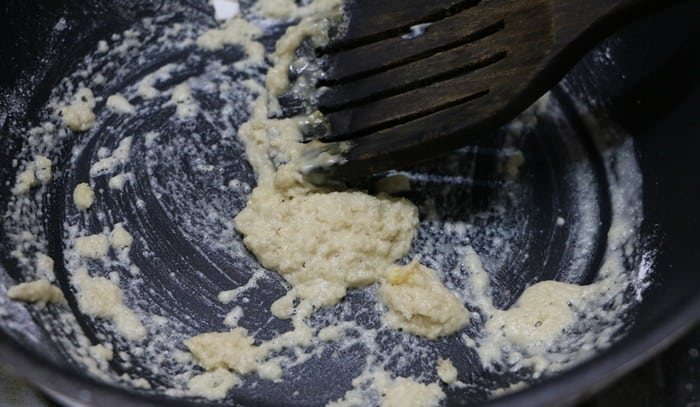 5. Also add 1/4 cup boiled and cooled milk. Keep whisking in low flame.
6. The mixture will start to thicken. At this stage add chilli flakes, pepper powder, oregano and also salt.
7. keep whisking till the white sauce further thickens and turns smooth.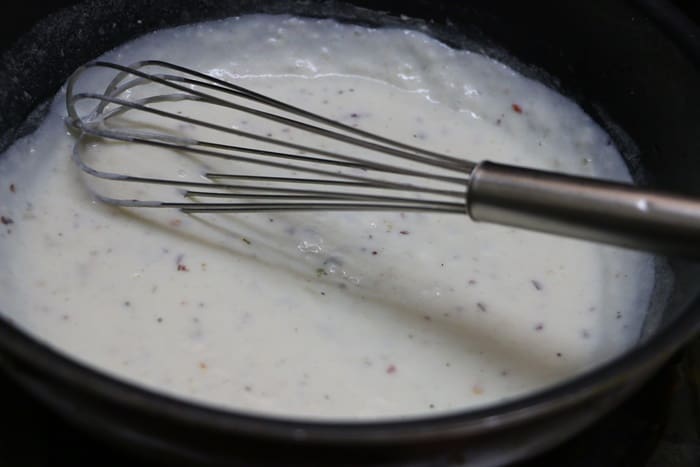 8. Add the sauteed vegetables and mix well.
9. Finally add the boiled pasta to the prepared white sauce.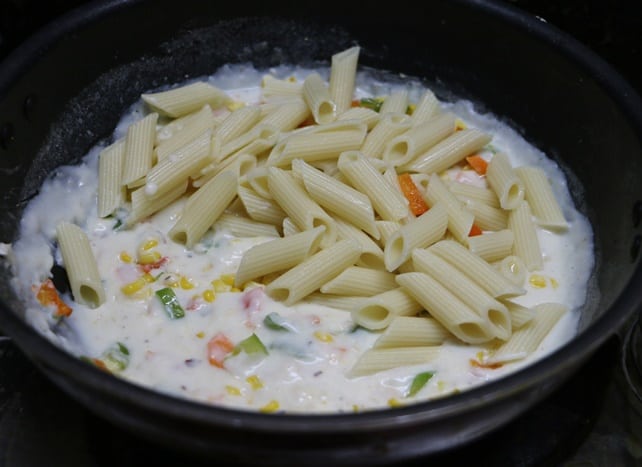 10. Mix well and add some more dried herbs if needed. Serve white sauce pasta hot.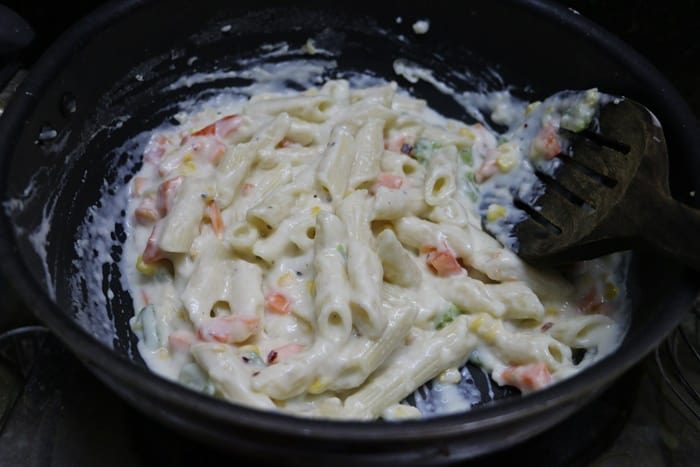 White Sauce Pasta Recipe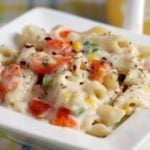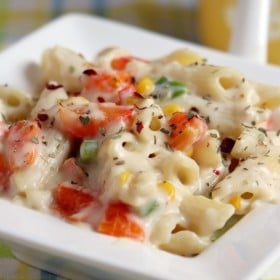 White sauce pasta recipe, how to make pasta in white sauce
White sauce pasta recipe, easy to make rich, delicious and creamy pasta in white sauce and vegetables!
Ingredients (1 cup=250 ml)
3/4

cup

pasta

I used penne

1

small carrot

peeled and chopped fine

1/3

cup

sweet corn kernels

boiled

1/2

green bell pepper

chopped fine

1/2

red bell pepper

chopped fine

1/2

tablespoon

butter
For white sauce
1 1/2

tablespoons

butter

1

tablespoon

maida/ all purpose flour

1 1/4

cup

milk

boiled and cooled

1/2

teaspoon

pepper powder

1/4

teaspoon

dried oregano or basil or thyme

1/2

teaspoon

chilli flakes

Salt
Instructions
Boil the pasta and set aside.

Heat 1/2 tablespoon butter in a pan and saute the chopped vegetables. Remove to a plate.

Add 1 1/2 tablespoons butter in the same pan and add maida/flour. Whisk very well.

Add boiled milk and mix well. Whisk very well in low flame to avoid lumps.

Once the sauce starts to thicken, add salt, pepper powder, chilli flakes and dried herbs. Mix well.

Cook further in low flame till the sauce thickens and turns smooth.

Add sauteed veggies and mix well.

Add boiled pasta and mix well.

Serve white sauce pasta hot.
Recipe Video
Recipe Notes
1. Make sure that there are no lumps in white sauce.
2. You can add 2 tablespoons grated cheese while preparing white sauce. Or you can serve the topped with grated cheese.
3. You can any dried herb or even mixed pasta spice instead of oregano.
Are you making this recipe? Do snap a pic and share on Instagram with hashtag #cookclickndevou. Do leave a ⋆ rating along with your feedback!
Let us connect on Instagram, Facebook, pinterest & Twitter for more fun recipes and stories!