White sauce pasta or pasta in béchamel sauce is one of our most favorite pasta recipes at home. Wonderfully rich and creamy with perfectly seasoned sauce, this pasta spells comfort in every bite.
I always add some vegetables to make it hearty. Tastes delicious served piping hot and perfect dish in a continental meal.
For more delicious pasta recipes please check penne arrabiata, pasta in spinach sauce, pasta in pumpkin sauce, pasta salad, masala pasta recipes.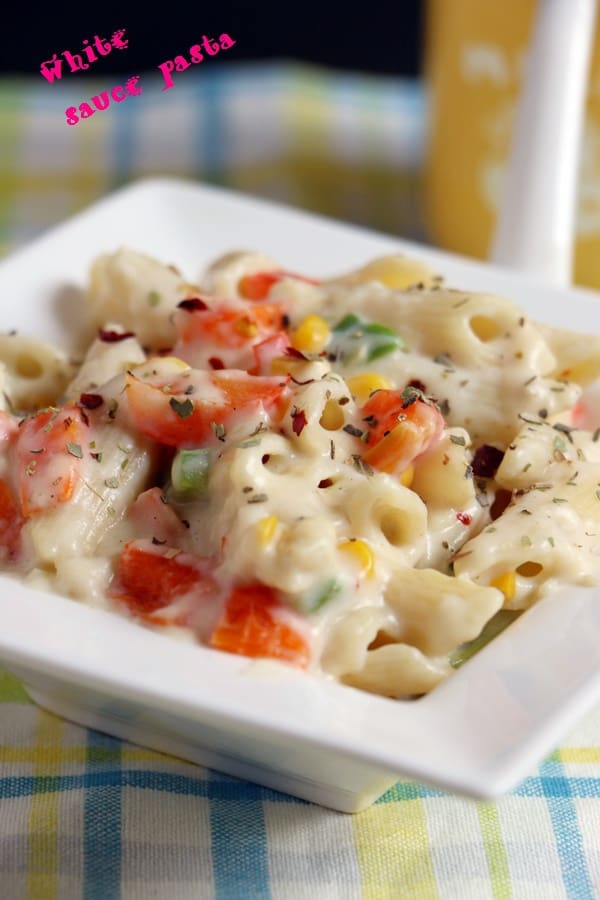 So how many fans for creamy sauce laden pasta here? My husband and daughter are great fans and would have this pasta happily everyday if given.
Pasta cooked al dente slathered in creamy and delicious creamy sauce further adorned with vegetables is sure a treat for all pasta lovers. At our home we like it really loaded with veggies and piping hot 🙂
This is my tried and tested keeper recipe for white sauce pasta and I am sure you will love it too. Do follow my recipe with step by step photos and a short video. Do check out my tips and variations to make this dish more delicious. Let's get started 🙂
About This Recipe
White sauce pasta or béchamel pasta is a classic Italian pasta recipe where al dente penne pasta in tossed in a creamy, mildly spiced rich white sauce or béchamel sauce.
I have been making this pasta in white sauce for years and I can confidently say I make one of the best. This comes from after tasting this pasta in many restaurants. My family says they are nowhere close to our homemade pasta 🙂
It is no wonder as most of the restaurants serve either overcooked or undercooked pasta with a pasty bland sauce and hardly there are vegetables. Only a few restaurants get the knack.
If you have tasted this pasta in a good restaurant and crave for more, the good news is you can make the best white pasta at home 🙂 With this recipe and a short video below, it is so easy and quick 🙂
While making at home you can totally control the amount of butter or cheese, add more vegetables or even your preferred protein and make it interesting.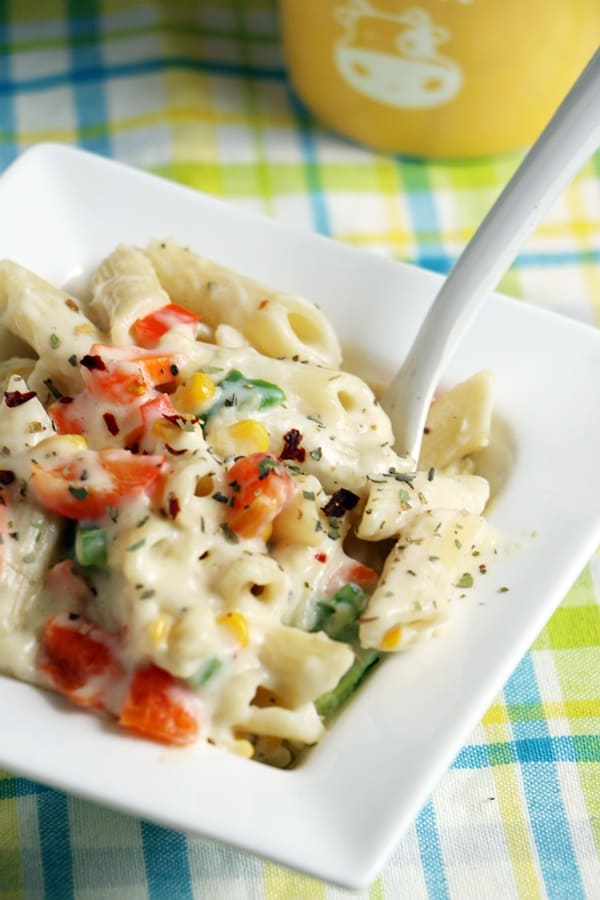 Making pasta in white sauce is easy and just takes around 30 minutes. I usually prepare the sauce and cook the pasta simultaneously and it takes just 20 minutes for me.
You can really use any type of pasta here. I have used penne pasta here this time. When making for kids instead of penne pasta you can use mini elbow for ease of eating.
You can also use whole wheat penne pasta or even quinoa or millet pasta to keep it healthier.
While I always prefer to make this sauce for pasta fresh, you can easily make it a day ahead or use store bought sauce too.
Smooth and creamy sauce, al dente pasta and added veggies to compliment the smoothness of the sauce, what is not to love about this 🙂
The key for making perfect pasta in white sauce is making perfect sauce. Make sure to do the whole preparation in low flame. Use boiled and cooled milk, after adding milk make sure that you keep stirring the sauce until it turns thick and smooth.
This will be delightful lunch or dinner that toddlers and kids will adore especially. You can use whole wheat pasta, but the flour used in sauce cannot be replaced with wheat. So it is better to eat this in moderation and once in a while.
Serve this yummy Italian bechamel sauce pasta with bruschetta or garlic bread salad and soup for a hearty and lovely Italian meal. May be you could add a salad to go with it. It is one of our comfort food and my favorite dinner recipe.
This White Sauce Pasta Is
So easy, comes together in minutes
Made from scratch at home with recipe for creamy sauce
So delicious and flavorful, crazy addictive!
Turns out very creamy and rich without any cheese
Loaded with veggies
Way, way kid friendly
How To Make Bechamel Sauce
White sauce or bechamel sauce is the base for many delicious Italian recipes. This sauce can be made very easily at home with three main ingredients that are flour, butter and milk.
The consistency of sauce depends on the dish you are making. For this pasta we need sauce to be of medium thickness. I have not added any cheese in this recipe but you can add if you like.
Heat butter in a thick pan. Do not let it brown. Add the all purpose flour and stir continuously till it cooks and turns aromatic. Now very slowly add the boiled and cooled milk, stirring continuously. Maintain low flame.
Make sure there no lumps absolutely. Once the flour is well cooked and sauce thickens now salt, pepper powder and nutmeg. Mix well and remove from flame.
If you want to add cheese add grated cheese now and mix well. Do not add cheese while the sauce is cooking. Add once you remove it from flame yet the sauce is still warm.
You can make the sauce ahead and store airtight in refrigerator. While you need it in the recipes just reheat it either in microwave or stove top whisking continuously.
How To Make White Sauce Pasta Recipe
First of all bring plenty of water in a pot to boil. Add pasta along with a drop of oil and cook till done. Drain and reserve the stock. Set aside the boiled pasta.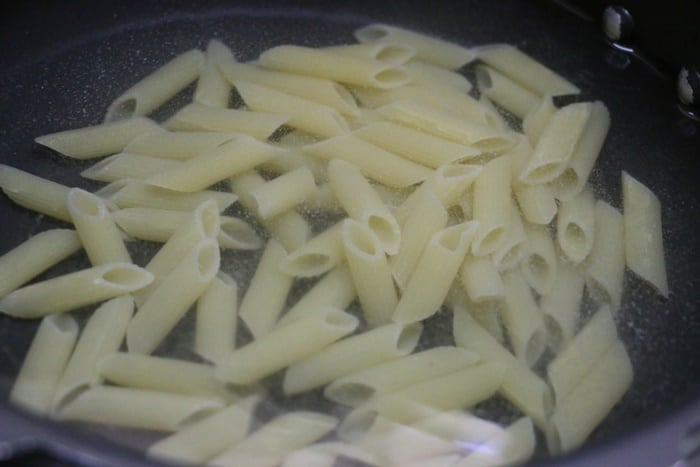 Now to make the sauce, in a pan add 1/2 teaspoon butter. Add the chopped bell pepper, boiled sweet corns, peeled and chopped carrots and saute for few minutes over medium heat. Remove to a plate.
Next melt 1.5 tablespoons butter in a sauce pan. To the melted butter, add 1 tablespoons all purpose flour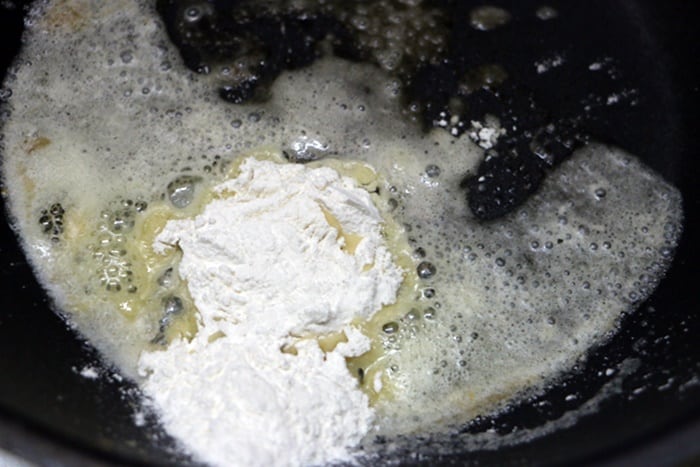 Whisk very well.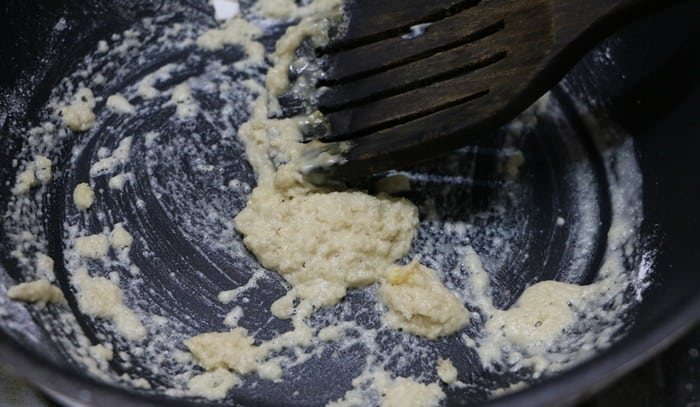 Also add 1/4 cup boiled and cooled milk. Keep whisking in low flame.
The mixture will start to thicken. At this stage add red chili flakes, salt and pepper, oregano flakes.
Keep whisking till the white sauce further thickens and turns smooth.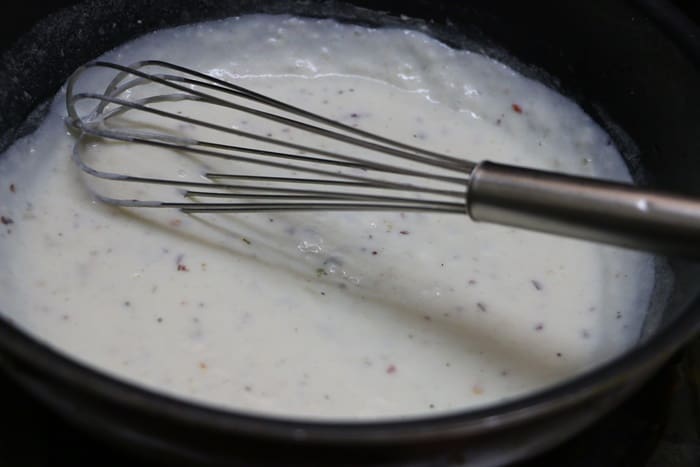 Add the sautéed vegetables and mix well.
9. Finally add the boiled pasta to the prepared white sauce.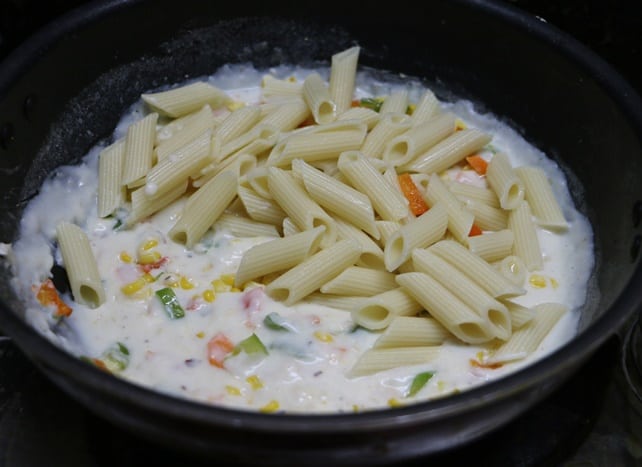 Mix well and add some more dried herbs if needed.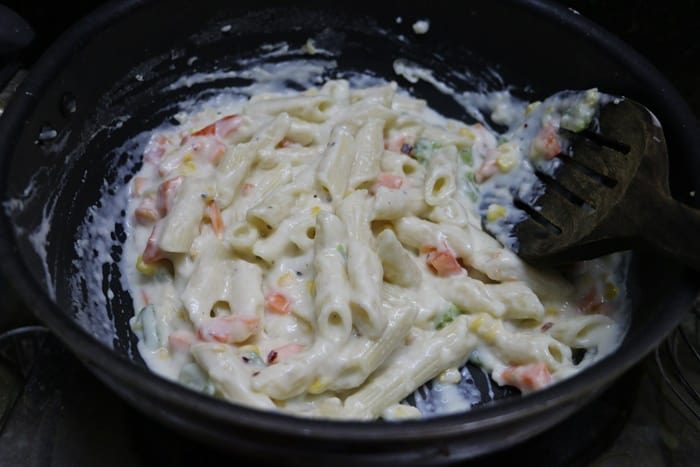 Serve white sauce pasta hot. You can add some grated parmesan before serving. Make sure to use vegetarian parmesan if you want to keep this pasta vegetarian.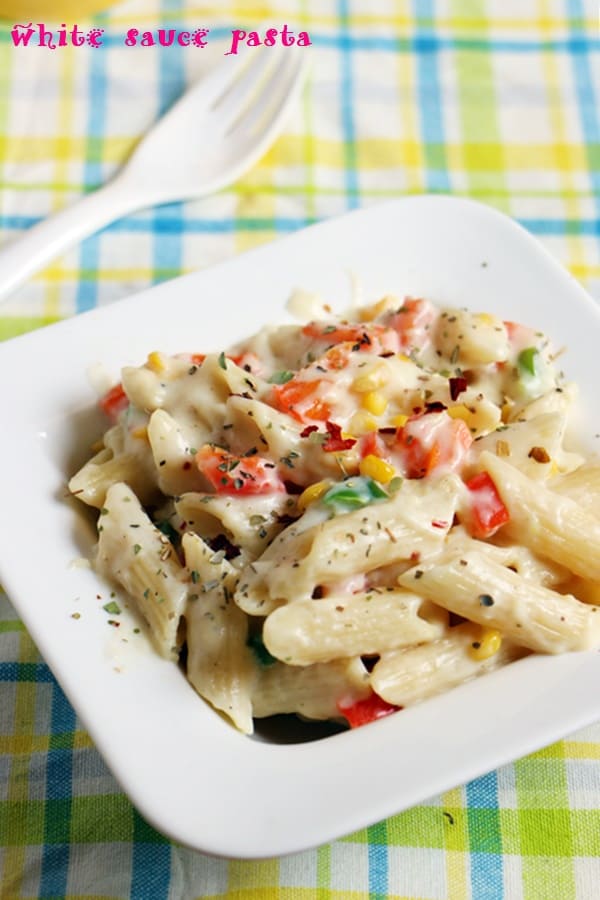 Recipe Variations
Cheese- To make this white sauce pasta recipe with cheese you can use grated mozzarella or cheddar. Just add the grated cheese while serving and mix well while the pasta is hot. Alternately you can also add some cheese in sauce and mix well.
Generally the cheese used in béchamel sauce pasta is processed ones. I sometimes add a good dollop of cream cheese to give this pasta a wonderful creamier and richer taste.
You can serve with grated parmesan cheese.
Garlic– Add minced garlic while making the sauce or along with veggies to elevate the flavor of the dish.
Mayonnaise– You can make 2 tablespoons mayonnaise while making the sauce. It lends a creaminess and rich taste. Add mayo towards the end and whisk very well off the flame.
Protein – If you like to add some proteins and make this a complete meal yo can add sautéed mushrooms or any meat.
Vegetables- We prefer our white sauce pasta with veggies. So I usually sneak in as much as possible. Time and again I wonder how pasta is a best vehicle to carry all the vegetables. I mean there is no way I make a pasta dish with out loading it with vegetables.
Here, I have added vegetables like different colored bell peppers, sweet corn kernels and carrots. You can also add onions, broccoli florets, baby corns and more. Adding vegetables in pasta is a good idea especially when serving for kids. You can also add halved cherry tomatoes.
Herbs & spices– To make this white pasta sauce more flavorful you can finely chopped herbs like basil, parsley to it. Add after removing the sauce from flame and mix well. You can also add dried herbs.
Spices can also be added to this sauce base bring a new dimension in taste and flavor. A big pinch of freshly cracked black pepper or some red chilli flakes adds some heat and flavor to the sauce.
Sauces- Sometimes I also add a splash of flavorful sauces like tomato sauce or red pepper sauce to make the dish more interesting. You can also add marinara sauce. Just 2-3 tablespoons would do.
Tips To Make Bechamel Sauce Pasta
Cooking pasta– The cooking process of pasta can make or break any pasta dish. We need al dente texture with pasta which means it is well cooked but has slight bite that is toothsome. Make sure to use a large pot or pan so that pasta does not over crowded on cooking. It helps to cook pasta for a minute lesser than motioned in package instructions
Next always add plenty of water for boiling pasta. I usually add 3.5 cups of water for 1 cup paste. Bring the water to full rolling boil before adding dry paste to it. Also add 1/4 teaspoon salt and 1/2 teaspoon oil to the boiling water. This will make the pasta non sticky. After draining the cooked pasta, make sure to keep it covered in a large bowl before tossing in the sauce. Also retain the pasta water or stock after cooking pasta to add later in the dish.
Choosing Pasta– You can add any type of pasta you like here. If you use spaghetti the dish will be spaghetti in white sauce 🙂 While making for kids you can use mini penne or elbow macroni that is easier to eat. I usually use penne, rigatoni or fusili pasta for this recipe.
Other notes– Make sure the milk used for making white sauce for pasta is boiled and thoroughly cooled. This will ensure that the sauce is smooth without lumps.
Always make the sauce in low flame. It goes from cooked to burnt very easily.
Roast the all purpose flour very well until it turns golden for flavorful sauce.
Serve with some grated parmesan cheese for more rich taste.
Frequently Asked Questions
How to make vegan white sauce pasta?
You can use dairy free milk like almond milk and vegan butter or olive oil to make vegan béchamel sauce.
Can I use wheat flour for making the sauce?
I would not recommend it, the texture varies.
Can I make ahead and store this sauce?
Yes this white cream sauce can be stored in refrigerator for a week.
How to make a very creamy white sauce?
You can add 1/4 cup cream or cream cheese at the end.
Are Alfredo sauce, white sauce and mornay sauce the same?
white sauce– Mainly made with a roux of butter and flour using milk to get the desired consistency.
Alfredo sauce- Contains cheese like parmesan and usually cream is also added. Most recipes do not call for flour.
Mornay sauce is simply béchamel with added cheese like gruyere, emmental or white cheddar cheeses
More Pasta Recipes
I hope you will try this white pasta recipe and enjoy as much as we did. Do snap a pic and share on Instagram with hashtag #cookclickndevou and please give a star rating ★ in the recipe card below. Follow us on Pinterest , Instagram, Facebook for more recipes and ideas.
Recipe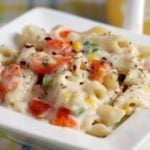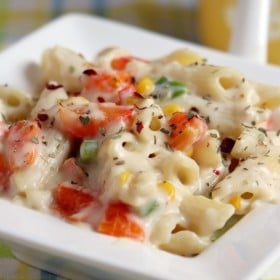 White Sauce Pasta (Bechamel Sauce Pasta)
White sauce pasta or pasta in béchamel sauce is one of our most favorite pasta recipes at home. Wonderfully rich and creamy with perfectly seasoned sauce, this pasta spells comfort in every bite. I always add some vegetables to make it hearty. Tastes delicious served piping hot and perfect dish in a continental meal.
1 CUP = 250 ml
Ingredients
1.25

cups

pasta

I used penne

1

carrot

peeled and chopped fine

1/3

cup

sweet corn kernels

boiled

1/2

green bell pepper

chopped fine

1/2

red bell pepper

chopped fine

1/2

tablespoon

butter
For white sauce
1 1/2

tablespoons

butter

1

tablespoon

plain flour

1 1/4

cup

milk

boiled and cooled

1/2

teaspoon

pepper powder

1/4

teaspoon

dried oregano or basil or thyme

1/2

teaspoon

chilli flakes

Salt
Instructions
Boil the pasta until al dente and set aside.

Heat 1/2 tablespoon butter in a pan and saute the chopped vegetables. Remove to a plate.

Add 1 1/2 tablespoons butter in the same pan and add maida/flour. Whisk very well.

Add boiled milk and mix well. Whisk very well in low flame to avoid lumps.

Once the sauce starts to thicken, add salt, pepper powder, chilli flakes and dried herbs. Mix well.

Cook further in low flame till the sauce thickens and turns smooth.

Add sauteed veggies and mix well.

Add boiled pasta and mix well.

Serve white sauce pasta hot.
Video
Notes
While making the sauce for pasta, make sure there are no lumps. Cook in low flame to ensure there are no lumps.
If you want to add cheese, you can add two tablespoons grated cheese while cooking the sauce.
You can any dried herb or even mixed pasta spice instead of oregano.
Nutrition
Serving:
3
servings
Calories:
251
kcal
Carbohydrates:
30
g
Protein:
7
g
Fat:
12
g
Saturated Fat:
7
g
Trans Fat:
1
g
Cholesterol:
30
mg
Sodium:
133
mg
Potassium:
350
mg
Fiber:
2
g
Sugar:
8
g
Vitamin A:
4727
IU
Vitamin C:
43
mg
Calcium:
134
mg
Iron:
1
mg
Tried this recipe? Snap a pic and share 🙂
Mention cookclickndevou or tag cookclickndevour