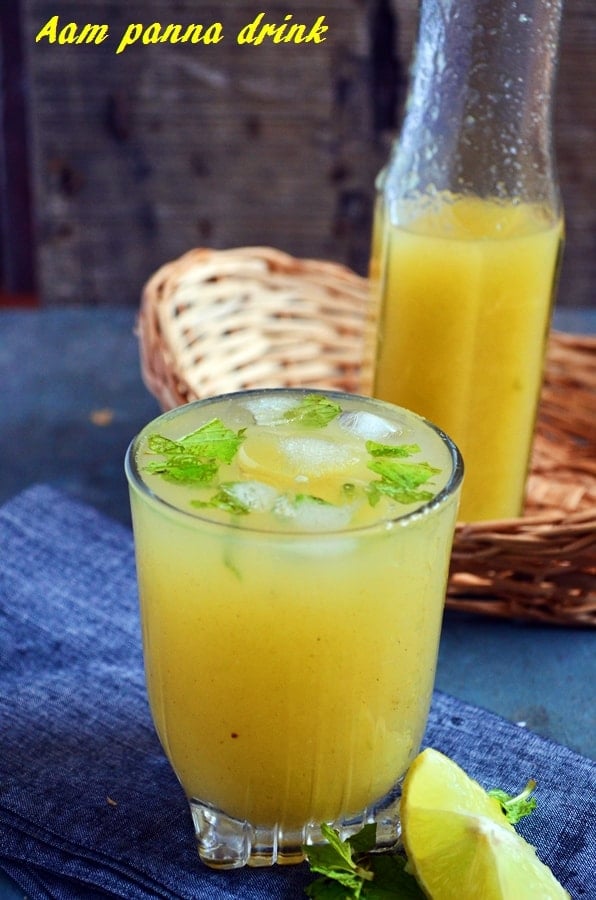 Aam panna recipe with step by step photos. Aam panna is a very refreshing and cooling summer drink with green raw mango. Aam panna recipe is a much sought after summer drink across India. I make aam panna recipe every mango season. This raw mango juice recipe is one of a kind juice. It is sweet, salty and tangy. Very refreshing and tasty juice to beat the heat. I made this aam panna recipe last week and we enjoyed it thoroughly. Aam panna is basically cooked raw mango juice with spices and salt.
I actually made aam panna concentrate recipe. The aam panna concentrate can be stored in a clean bottle you can make aam panna drink by just mixing water. I made this preserve 2 times already. It gets over in no time. Apart from being tasty, aam panna recipe is a very healthy one too. The flavorings used for amm panna is black salt, cumin etc. All these ingredients are very healthy.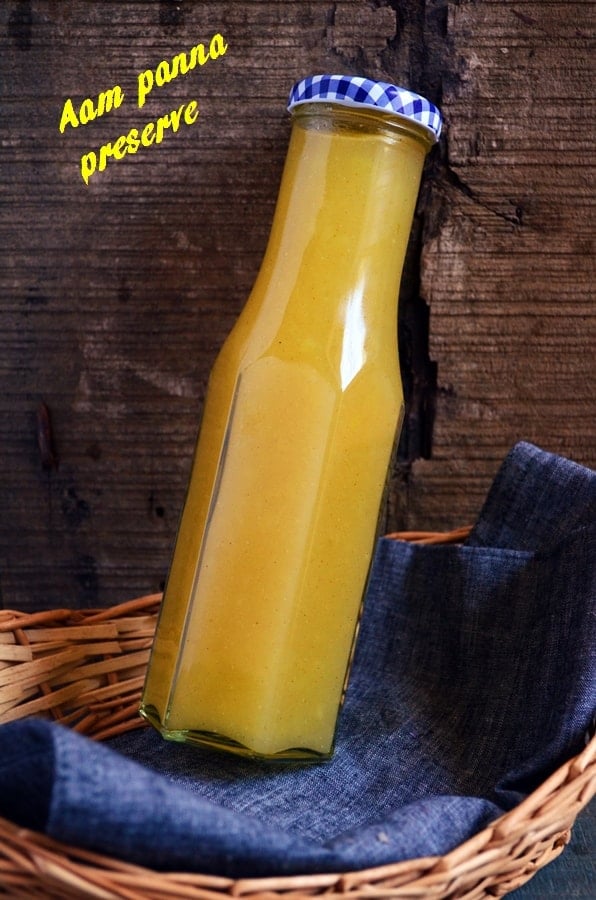 To make aam panna recipe you can any kind of raw mango. the color of aam panna drink will vary with the kind of raw mango you use. If making aam panna concentrate  make sure you store in a thoroughly cleaned dry bottle. Since we do not add any preservative always refrigerate the concentrate. You can vary the quantity of peppercorns cumin as per taste. I like to make mildly spiced aam panna. You can use sugar or jaggary to sweeten aam panna. You can even use honey. If using honey do not heat it. Just mix honey with the juice while serving.
Serve aam panna with ice cubes and mint sprigs.
here is how to make aam panna recipe with step by step photos.
If you are looking for more summer drink recipes do check

Step by step aam panna recipe
1. Select a firm green mango and peel the skin.
2. Grate or chop the mango,leaving out the seed. I just grated the mangoes with a peeler as shown in the pic.
3. Pressure cook or boil the mangoes very well till they are very soft and almost dissolved in water.
4. Mash the mango pieces very well with a masher along with the water. Cook in low flame for 5 minutes.
5. Add sugar and mix well. Continue to cook for 10 minutes in low flame till the syrup thickens and reaches the sauce stage.
6. Add the pepper powder or crushed pepper and roasted cumin powder. Mix well and simmer for 3-4 minutes.
7. Once the syrup boils and thickens,remove from flame,add lemon juice and mix well. Store aam panna preserve in a clean bottle and cool thoroughly before refrigerating.
Aam panna drink recipe:
Take 2-3 tablespoons of aam panna preserve and add 3/4 cup water. Mix well an add crushed mint leaves and ice cubes. Serve immediately.
Aam panna recipe card below: