Carrot juice recipe in a blender or juicer – a detailed guide to make delicious and healthy juice from fresh carrots at home. You can use a juice if you have else this can be made easily with a blender too.
Carrots are one of the healthiest root vegetable that provides vital nutrients and juicing carrots is one of the easiest ways to serve to fussy toddlers and kids.
Here I am sharing the most basic method to make carrot juice and some variations you can make with it. This post also discusses the health benefits of carrots.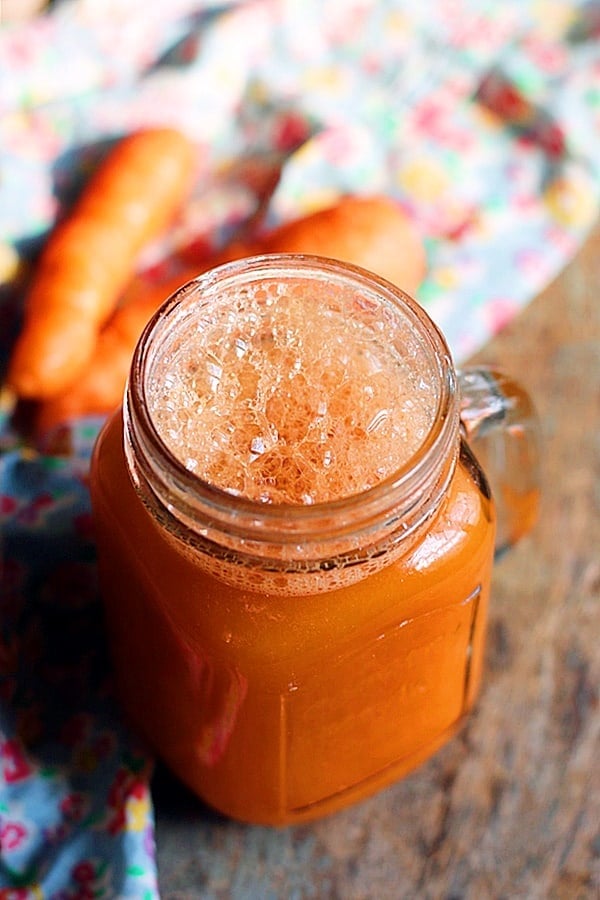 I hope you will try this easy juice and enjoy. It tastes delicious with red carrots too.
About This Recipe
Carrot juice recipe is nothing but passing raw carrots through a juicer or blending peeled and cubed carrots with little water. This is the most basic method, which you can vary in many ways though.
It tastes wonderful when you make it with fresh, tender and sweeter carrot. Adding sweetener is optional.
The taste and flavor of carrot juice varies with the type of carrot used. Use tender fresh carrots for best taste. Mature carrots tend to be very fibrous.
Carrots are one of the healthiest and very commonly used vegetables around globe. As we all know eating raw carrots help in improving eye sight, helps in weight loss and builds immunity in general.
Carrot is rich in beta carotene, vitamin A, K and also rich in fiber. With all these health benefits, it is very good to make carrots a part of regular diet.
While raw carrots taste delicious, crunchy and yummy in carrot recipes like thai carrot salad, kachumber, some folks, especially kids may be fuss around eating it. So carrot juice is your best bet as it tastes really good and refreshing too.
I usually make carrot juice in blender with little water as we do not prefer the concentrated juice. Instead of water you can also add few other things, which I have discussed in the notes.
Do try this out if you want to include more carrots in your diet easily. This carrot juice recipe is
very delicious and refreshing
best way to consume raw carrots
easy to make in blender or juicer
good for immune system
very healthy
How To Make Carrot Juice
Preparing carrots
Carrots should be cleaned thoroughly before using in any recipe as they may contain dirt and mud from the ground.
Pick tender carrots and rinse them thoroughly under running water. Fill a large pot with clean water and add few drops of vinegar to it. Soak the carrots for 15 minutes.
Drain the water and peel the carrots. At this stage you can cube them if you are making juice in a blender or just pass the whole carrots in a juicer.
Making Carrot Juice In Blender
Add the cubed carrots to a blender jar with 1.5 cups water. Blend until very smooth. Strain the carrot pulp and serve carrot juice immediately.
Using a juicer
Just pass the peeled carrot through the juicer chute and collect the juice. Pour in in serving glass.
serve immediately.
Variations
While plain carrot juice is very healthy and delicious, you can make it even tastier by few add-ins. I usually make this juice by combining carrots and few other ingredients to keep it interesting and also for health benefits. Here are few of our favorites.
Carrot ginger juice– This is my most favorite and most repeated combo. Most of the times I just add a fresh ginger root of about 1.5 inches along with carrots. It adds such a wonderful flavor and you will also reap the benefits of ginger
Carrot juice with oranges– This is again a very popular, delicious and flavorful combo with carrots. You can add sweet oranges or tangerine in this recipe. The quantity is totally up to you. I usually add equal amounts. You can also add grapefruit.
Instead of adding fresh oranges you can mix equal parts of unsweetened orange juice with carrot juice too.
With tropical fruits like mango, pineapple, papaya, passion fruits taste very good in carrot juices. Just make sure your fruit is ripe and sweet. Adding sweet fruits like mango or banana will make this juice more appealing for toddlers and kids.
Carrot celery juice– Sometimes I add a handful of fresh chopped celery and it tastes very flavorful. Here you can also add cucumber, baby spinach, kale or tomato with carrots.
Using lemon or lime juice– Just add 1 tablespoon lemon juice or lime juice for a slight tangy flavor.
Carrot juice with wheatgrass– This is another wonderful combination. Adding wheat grass thickens the juice also adds nutrition.
With coconut water– Adding tender coconut water instead of water while blending carrots add a wonderful flavor and taste. To make the juice thick you can also add tender coconut meat. You can also add sugar cane juice instead of coconut water.
Apple carrot juice is a another favorite combo at home that I often make. Apples go very well with carrots, makes the juice sweeter, flavorful and healthier.
With nut milk– You can use any nut milk like almond milk for thick filling drink. You can also make carrot smoothie by adding one small banana or frozen berries in this combination.
ABC juice– add equal parts of carrots and apples along with 1/2 the amount of beetroot to make this popular, healing and healthy abc juice which stands for apple beetroot carrot juice.
Carrot Juice Benefits
This juice is excellent for your immune system. It boosts the overall immunity and helps body fight infections. It is rich in many minerals, vitamins and fiber.
Carrot is a very good source of antioxidants and fights free radicals
Helps in improving eyesight and maintaining eye health.
It is alkaline in nature and balances the acidity thereby treats indigestion.
good one for skin glow
helps in improving heart health
good for maintaining cholesterol and blood sugar levels
Side Effects
Carrot juice is known to cause certain level of pigmentation and tanning. So it is not suggested to dirnk it everyday as it may cause an orange tinge in some folks.
Tips + FAQs
Can I add sweetener in this juice?
Yes, if you prefer a sweeter juice you can add any sweetener like honey, maple, palm sugar or any other of your choice.
Can the carrot juice pulp after straining the juice be used?
Yes, I usually use the pulp in pancakes, muffins or use it for making face pack.
What is the best time to rink carrot juice?
Vegetable and fruit juices are best consumed 30 minutes before breakfast or as a late afternoon snack, basically when your tummy is not full.
Can I refrigerate carrot juice?
I suggest you drink up this juice as soon as prepared. For chilled carrot juice you can either chill the carrots itself or add ice cubes while blending.
How long can carrot juice be stored?
carrot juices are best consumed fresh with in 30 minutes. If you have leftover juice freeze in popsicle moulds and have as pops or thaw in refrigerator and use within 2 days.
More Fresh Juice Recipes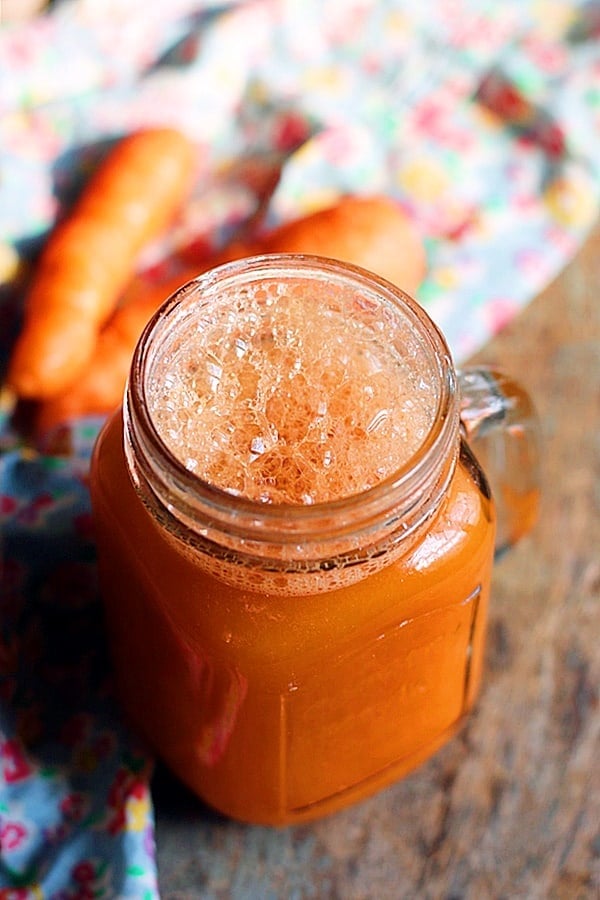 Are you making this recipe? I would love to see a snap of your creation too. Do snap a pic and share on Instagram with hashtag #cookclickndevou and please give a star rating ★ in the recipe card above. Follow us on Pinterest , Instagram, Facebook for more recipes and ideas.
Recipe Card
Carrot Juice Recipe In Blender and Juicer
Carrot juice recipe in a blender or juicer – a detailed guide to make delicious and healthy juice from fresh carrots at home. You can use a juice if you have else this can be made easily with a blender too.
1 CUP = 250 ml
Ingredients
600

grams

carrots

peeled, cubed if needed
Instructions
Rinse thoroughly and peel the carrots. At this stage you can cube them if you are making juice in a blender or just pass the whole carrots in a juicer.

Add the cubed carrots to a blender jar with 1.5 cups water. Blend until very smooth. Strain the carrot pulp and serve carrot juice immediately.

Just pass the peeled carrot through the juicer chute and collect the juice. Pour in in serving glass. Serve immediately
Notes
1. You can add ginger in this recipe too.
2. You can few mint leaves before serving
Nutrition
Serving:
3
g
Calories:
82
kcal
Carbohydrates:
19
g
Protein:
2
g
Fat:
1
g
Saturated Fat:
1
g
Sodium:
138
mg
Potassium:
640
mg
Fiber:
6
g
Sugar:
9
g
Vitamin A:
33412
IU
Vitamin C:
12
mg
Calcium:
66
mg
Iron:
1
mg
Tried this recipe? Snap a pic and share 🙂
Mention cookclickndevou or tag cookclickndevour