Garlic rasam or poondu rasam recipe south Indian rasam recipe with garlic cloves. Garlic means poondu in Tamil, hence the name. This is a very flavorful and delicious rasam that tastes wonderful with mashed rice and ghee on a cold day. There are so many variations in poondu rasam and here is how I make poondu rasam easily without grinding!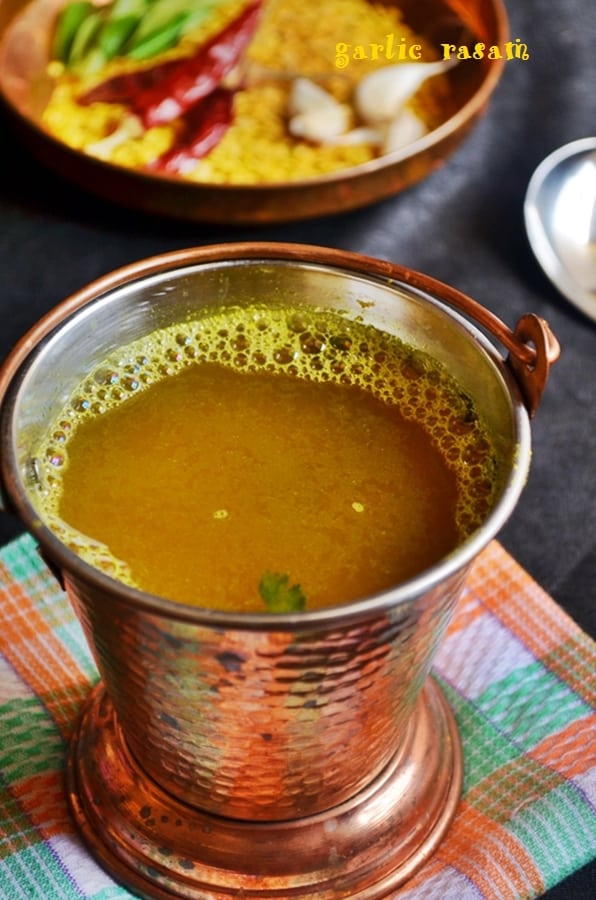 Come monsoons, rasam, hearty curries and spicy gravies take precedence in our menus. Nothing speaks comfort like a bowl of piping hot rasam with potato, okra fry or keerai masiyal for me 🙂
Thankfully there are so many varieties of rasam like this poondu rasam, milagu rasam, mysore rasam, pineapple rasam, paruppu rasam so that we have so many flavors to enjoy.
Garlic rasam/poondu rasam is one staple at home during monsoons. As most of you must be knowing garlic is an excellent ingredient with loads of medicinal properties and it greatly helps in fighting cold.
Poondu rasam is also helpful for treating indigestion and good for sore taste buds. This is an excellent meal for toddlers and kids. They will the flavor and texture of well mashed poondu rasam rice with ghee.
I am not a big fan of garlic. If there is one dish that I love which highlights garlic, then it has to be this garlic rasam or poondu rasam.
Serve Poondu rasam with rice and any side dish like poricha kootu, broad beans kootu, keerai kootu or cauliflower fry, cabbage poriyal, potato poriyal etc.
This Poondu Rasam Recipe Is
So healthy with medicinal properties
Easy, no grind recipe
Gluten free and Vegan (if ghee is not used for tempering)
You don't need rasam powder
very good winter food
Tastes excellent with wonderful flavor.
Good for toddlers and kids.
To make poondu rasam you don't need rasam powder used in regular rasams. Garlic cloves are ground with few other ingredients to make this delicious garlic rasam.
The most common version of poondu rasam recipe is where garlic cloves are ground with green chilies and curry leaves, but in this recipe,pepper corns,cumin seeds and garlic pods are freshly crushed and added to the rasam.
Usually an instant rasam powder is made with pepper corns, cumin seeds and garlic cloves. Here I have used my mortar and pestle to crush those ingredients.
Other ingredients you need to make garlic rasam are curry leaves, lentils, jaggery, red chilies, green chilies, salt and turmeric powder.
Which Dal Is Best For Making Poondu Rasam?
Here I have used toor dal to make poondu rasam.
ou can use toor dal or moong dal or you can make rasam even without dal. The number of garlic cloves is really your choice. I have used 4 small pods and that gives a very mild flavor. You can add up to 8 pods too if you prefer strong garlic flavor.
Serve garlic rasam with steamed rice and any spicy dry curry like potato curry, carrot curry or even potato chips.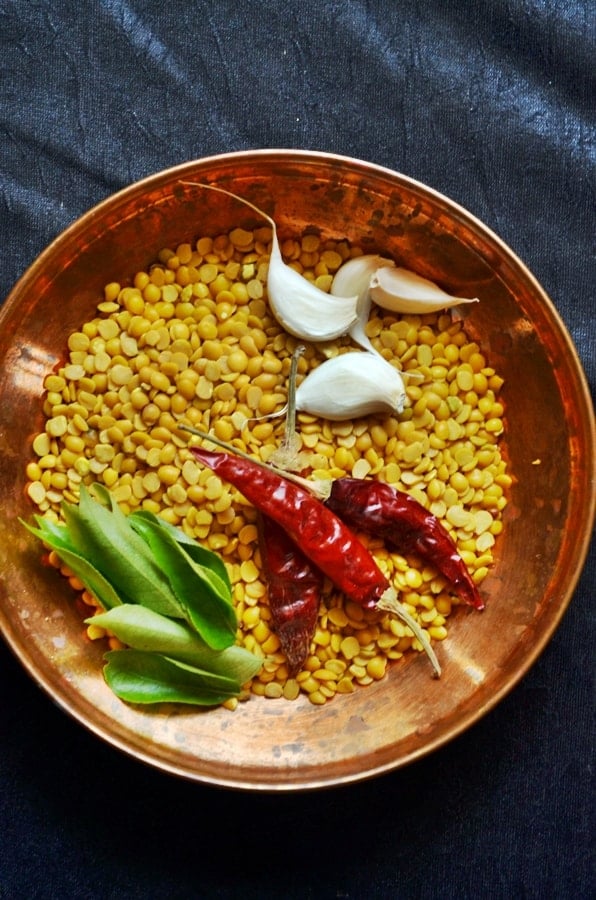 How To Make Poondu Rasam Recipe
1.Take a small lemon sized tamarind and dissolve it in 2 cups of water.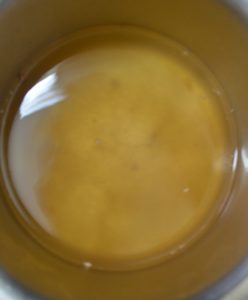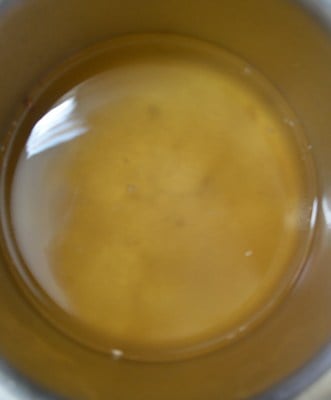 2.Add torn dried red chillies,green chillies,turmeric powder,jaggery,asafoetida and curry leaves. Boil this for around 10 minutes until it reduces a bit in volume.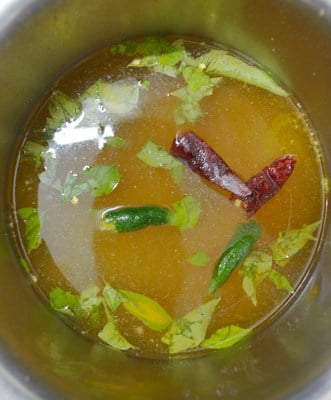 3. Crush peeled garlic pods, pepper corns and cumin seeds. Now add the crushed peppercorns-cumin seeds-garlic pods and continue to boil for another 5-7 minutes. Add salt.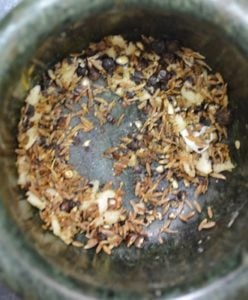 4. Now mash the cooked toor dal along with water and add to the boiling rasam. Continue to boil until the rasam turns frothy.
5. Heat 1 teaspoon oil in a pan and temper with mustard,curry leaves and finely chopped garlic.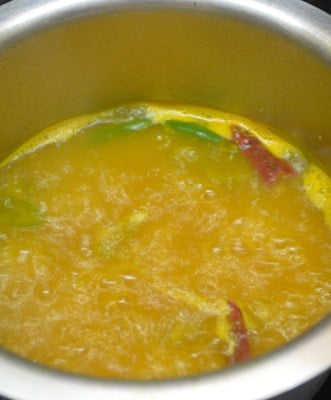 6.Add this tempering to the rasam along with the oil and mix well.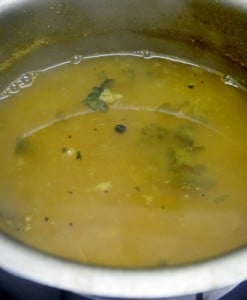 7. Add the finely chopped cilantro leaves,close the lid and switch off the flame. Serve easy garlic rasam with hot rice or plain as soup.
Tips For Making Best Poondu Rasam
You can add more or less garlic cloves as per taste
If you want very spicy garlic rasam you can add add 1 green chili along with garlic, peppercorns
Never let the rasam boil after adding dal. It should froth a little
Adding jaggery will round off and balance the taste.
I hope you will try this poondu rasam recipe and enjoy as much as we did. Please give a star rating ★ in the recipe card below. Follow us on Pinterest , Instagram, Facebook for more recipes and ideas.
Garlic Rasam Recipe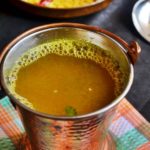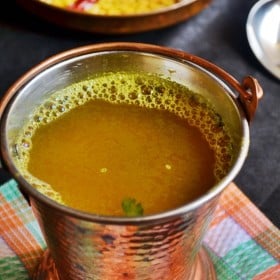 Garlic rasam recipe | Poondu Rasam
Garlic rasam recipe- easy south Indian garlic clear soup spiced with pepper corns and cumin

seeds.No

grind rasam with garlic pods to serve with rice.
1 CUP = 250 ml
Ingredients
To crush into coarse powder
1 1/2

teaspoons

black peppercorns

2

teaspoons

cumin seeds

3

garlic cloves

big
For making rasam
1/4

cup

tuvar/arhar dal

cooked and mashed

1

tablespoon

Tamarind

2

cups

water

warm

1/4

teaspoon

turmeric powder

1/2

teaspoon

jaggery

optional

Salt

to taste
To temper garlic rasam
2

teaspoons

ghee

(clarified butter)

1

teaspoon

mustard seeds

1/2

teaspoon

cumin seeds

3-4

garlic pods

10

curry leaves

2

dried red chilies
Instructions
To make instant rasam powder
Crush together 3 garlic pods, 1 1/2 teaspoons black pepper and 2 teaspoons cumin seeds into a coarse mixture. You can use a mixer grinder or mortar and pestle
To make rasam
Soak tamarind in 2 cups water and extract thin tamarind water.

To that add crushed rasam powder, salt, jaggery, asafoetida and turmeric powder. Bring to a rolling boil

Add the cooked and mashed toor dal and simmer till the rasam turns frothy
To temper garlic rasam
In the meantime, heat 2 teaspoons ghee in a small pan

Temper with mustard seeds, cumin seeds, curry leaves, dried red chilies and garlic cloves

Add to the simmering rasam. Add coriander leaves and switch off the flame

Serve garlic rasam hot with rice,
Nutrition
Tried this recipe? Snap a pic and share 🙂
Mention cookclickndevou or tag cookclickndevour