Grilled paneer recipe– an easy to make quick and delicious paneer snack or starter that you can make in 20 minutes flat. Soft and juicy paneer cubes with those charred grill marks will sure be a hit in any party or a special snack for toddlers and kids! This is a quick version of classic paneer tikka with minimum ingredients. Here is a quick recipe of grilled paneer with video for you all 🙂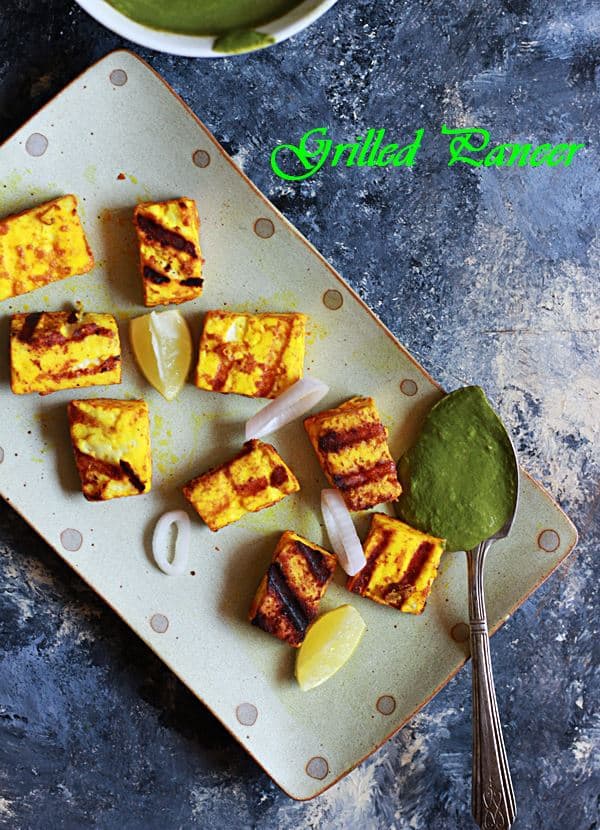 Paneer snacks are a top favorite at home and I almost always have homemade paneer handy. This grilled paneer is one among easy paneer snacks that I often make for quick tea.
This is a very mildly spiced recipe and suitable for toddlers and kids. You can serve this as snack or use to stuff sandwich, wrap or even use as topping for pulao or jeera rice.
Ingredients For Making Grilled Paneer:
This is a very versatile recipe and you can season as per your taste. Here I have used very minimum spices with a dash of homemade tomato ketchup. Tomato ketchup is optional and you can also use yogurt instead. In this recipe some chili powder, cumin powder and salt is added as seasoning. Below I have listed variations.
You can use ginger-green chili paste and yogurt for flavor.
Also you can use gram flour or chickpea flour, chili powder, garam masala and lemon or lime juice.
For a varied flavor you can use olive oil, dried herbs, pepper powder and salt also.
Here I have grilled paneer on stove top using a cast iron grill pan. I find this pan very handy when I have to grill a small amount of paneer or other veggies. However you can also make this recipe in oven. instructions given below.
How To Make Grilled Paneer in oven.
Prepare the paneer mixture as mentioned in the recipe. Preheat your oven at 220C to 240C.
Line a baking sheet with foil or grease well.
Arrange the paneer pieces in a skewer and bake or grill for 10-15 minutes until slightly charring occurs.
If you do not have skewers you can place the paneer cube directly on baking tray and grill.
Serve grilled paneer as snack with green chutney. You can also make sandwiches with this grilled paneer. I made a quick sandwich with paneer pieces, bell peppers and sandwich chutney.
More Paneer Snacks Recipes:
How To Make Grilled Paneer Recipe Step By Step.
1. Cube paneer into bite size pieces.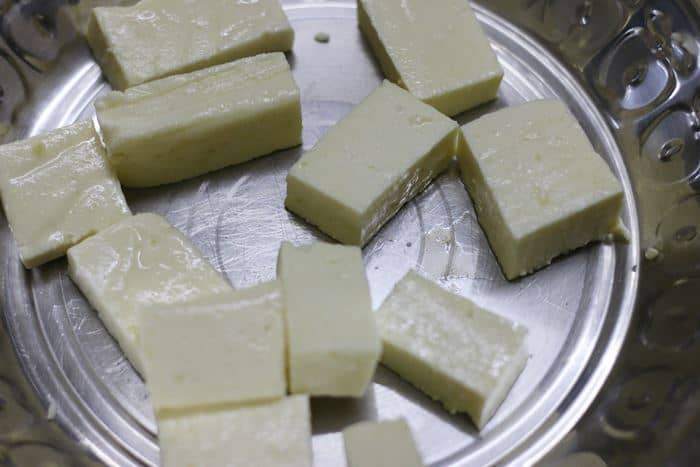 2. Add the cubed paneer into a mixing bowl. To that add salt, cumin powder, chili powder and tomato ketchup or sauce. mix well. Set aside for 10 minutes.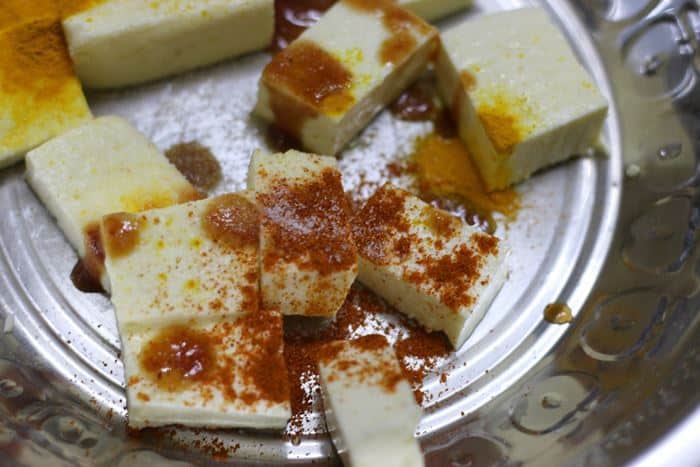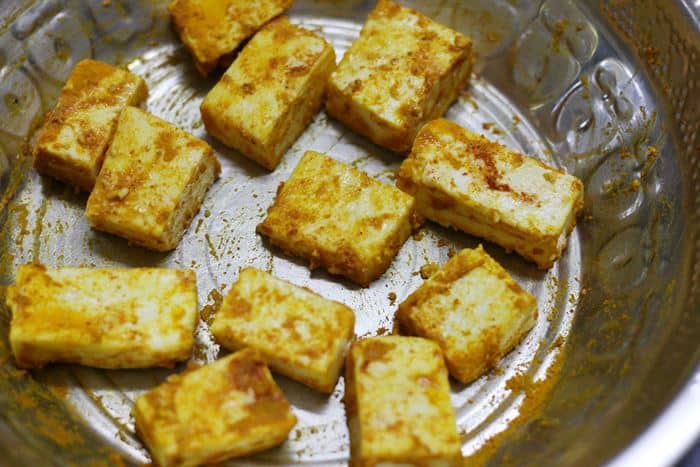 3. Heat a grill pan for 5 minutes. Brush with some ghee or oil.
4. Arrange the paneer cubes and cook in medium flame for 4-6 minutes.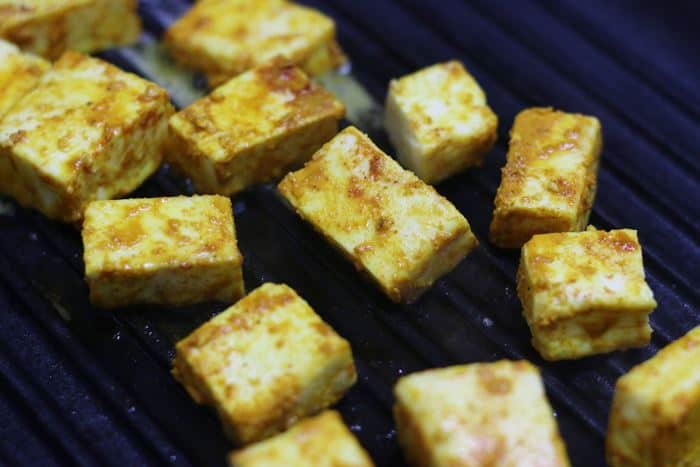 5. Flip gently and cook further till the paneer cubes are charred and grill marks appear.
6. Serve grilled paneer with green chutney.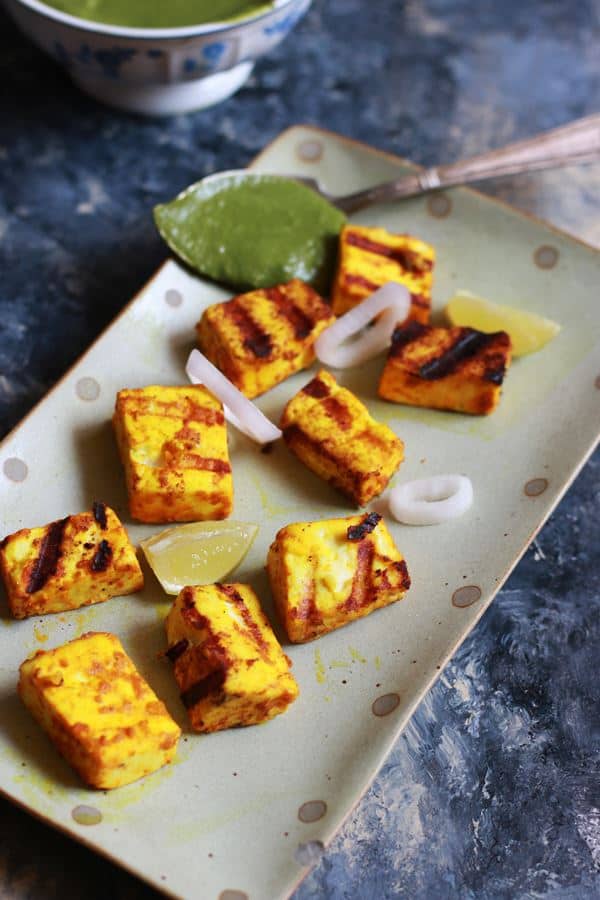 Grilled Paneer Recipe Card:
Grilled Paneer Recipe on Stove Top
Grilled paneer recipe- an easy to make quick and delicious among paneer snacks, this grilled paneer tastes wonderful with some green chutney.
Ingredients (1 cup=250 ml)
200

grams

paneer, cubed

Indian cottage cheese

3

tablespoons

tomato sauce or ketchup

1/2

teaspoon

chili powder

1/2

teaspoon

cumin powder

salt

2

teaspoons

oil or ghee
Instructions
Cube paneer into bite size pieces.

Add the cubed paneer into a mixing bowl. To that add salt, cumin powder, chili powder and tomato ketchup or sauce. mix well. Set aside for 10 minutes.

Heat a grill pan for 5 minutes. Brush with some ghee or oil.

Arrange the paneer cubes and cook in medium flame for 4-6 minutes.

Flip gently and cook further till the paneer cubes are charred and grill marks appear.

Serve grilled paneer with green chutney