Pav bhaji dosa recipe is a popular Mumbai street food. You will love this super delicious crispy dosa stuffed with flavorful pav bhaji masala and topped with butter. It is so easy to recreate this street food recipe at home too. Here is how to make best pav bhaji dosa at home.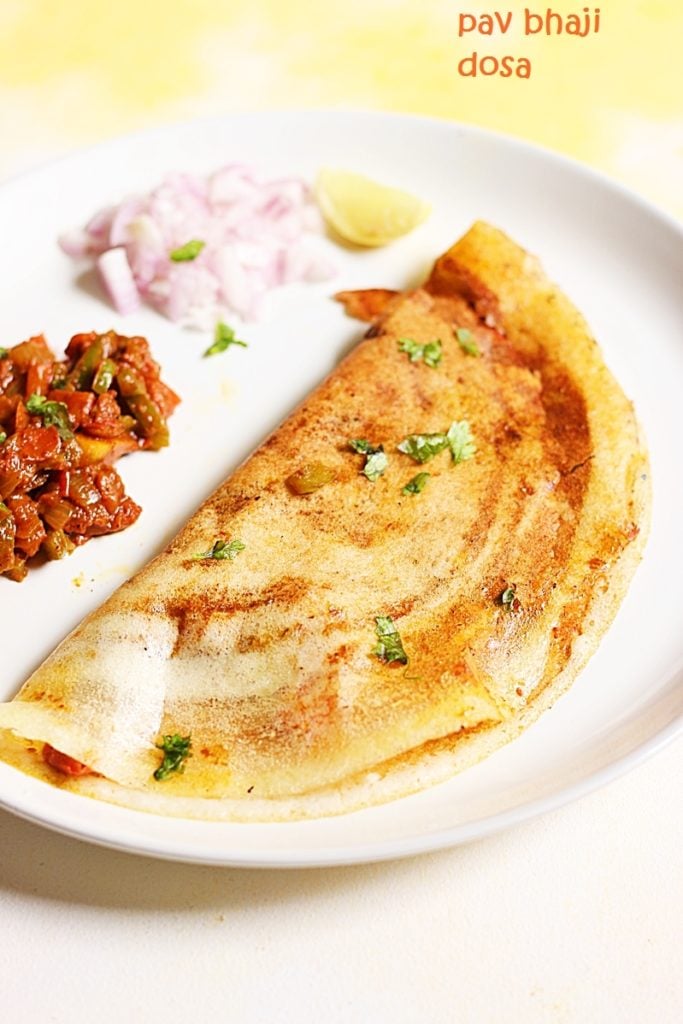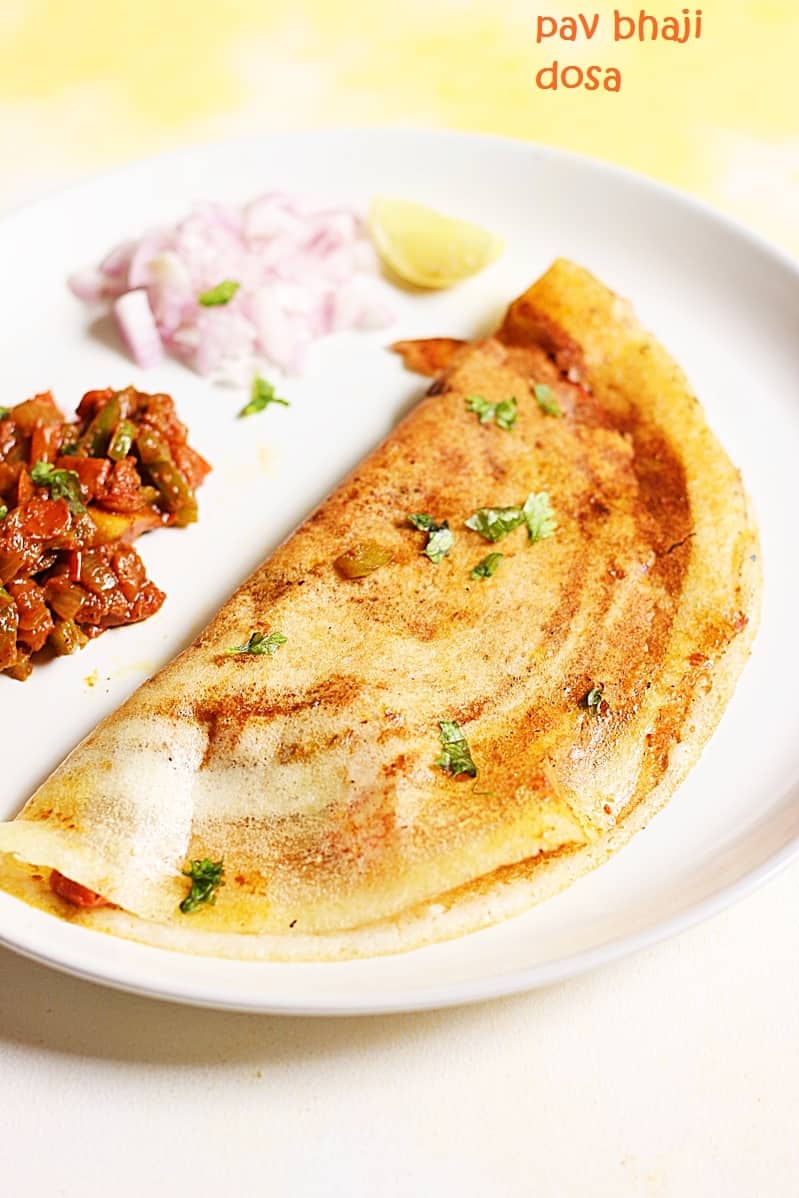 What Is Pav Bhaji Dosa?
Pav bhaji dosa recipe is a fusion recipe where south Indian dosa meets north Indian Mumbai pav bhaji. It is a popular street food from Mumbai. You will find many delicious fusion dosa recipe in the streets of Mumbai like schezwan dosa, cheese dosa, jini dosa, spring dosa etc.
This dosa is one among them and a very delicious one at that. It is usually prepared in the same tava used for making pav bhaji masala. Dishes like this dosa or tawa pulao are usually prepared to use up the left over pav bhaji masala in the street shops.
Pav bhaji dosa recipe is a very popular Mumbai street food just like pav bhaji, ragda patties, pani puri, vada pav etc . This dosa is also seen on busy streets of Chennai these days along with other fusion recipes like dosa pizza, dosa sandwich.
I once tasted this dosa in a dosa mela or fair. It was so delicious and I loved it a lot. The flavor of butter and the taste of bhaji paired very well with the dosa.
The taste was so prominent that I was so easily able to guess how it was made. Ever since I have been making this dosa at home. Usually whenever I make pav bhaji, I reserve a portion of bhaji for this dosa.
Dosa batter is always handy, so making this dosa is very easy. Makes for a very delicious and satiating breakfast. While making for my kid i sometimes add some grated cheese over the bhaji. This dosa is an absolute delight for kids.
This Pav Bhaji Dosa Recipe Is
Delicious & flavorful
Tastes exactly like the ones from street carts
Gluten free & can be made vegan by using oil instead of butter
Kids friendly
Easy & quick breakfast
To make pav bhaji dosa you will need idli or dosa batter and pav bhaji masala. If you have left over bhaji from pav bhaji you can make this dosa in no time.
Just heat a dosa tava well. Spread some oil all over and wipe gently. Pour a ladle full of dosa batter and spread into a thin dosa. Place a generous portion of pav bhaji masala and sprinkle some raw onions. Top with some butter and cook for a minute. Fold into half and cook till crispy. Serve hot.
Can I add cheese in this dosa?
Absolutely you can add grated cheese here. Just spread some grated cheese after spreading the bhaji, cover and cook till cheese melts.
What other variations can I make with this recipe
You can add paneer cubes or mushrooms in the bhaji.
How To Make Pav Bhaji Dosa
Take a ladle full of dosa batter and spread into thin dosa on hot tava.
Let it cook for few seconds. Add oil over the edges.

Spread pav bhaji generously over the dosa till the brim. Keep some butter in the center.
Sprinkle some raw onions.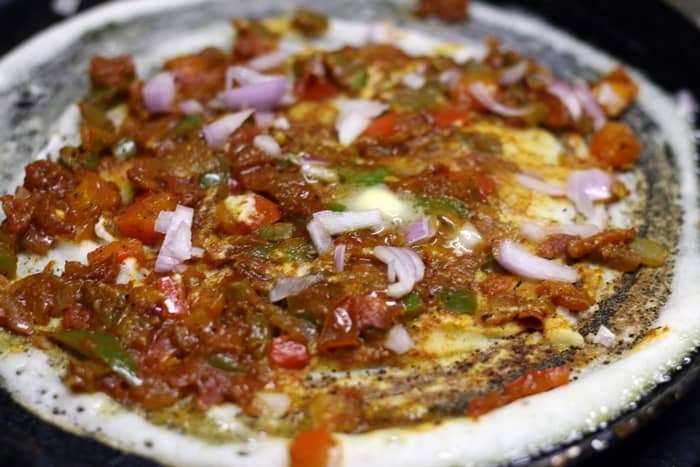 Cover and cook till the dosa turns golden and crispy.

Serve immediately with more raw onions.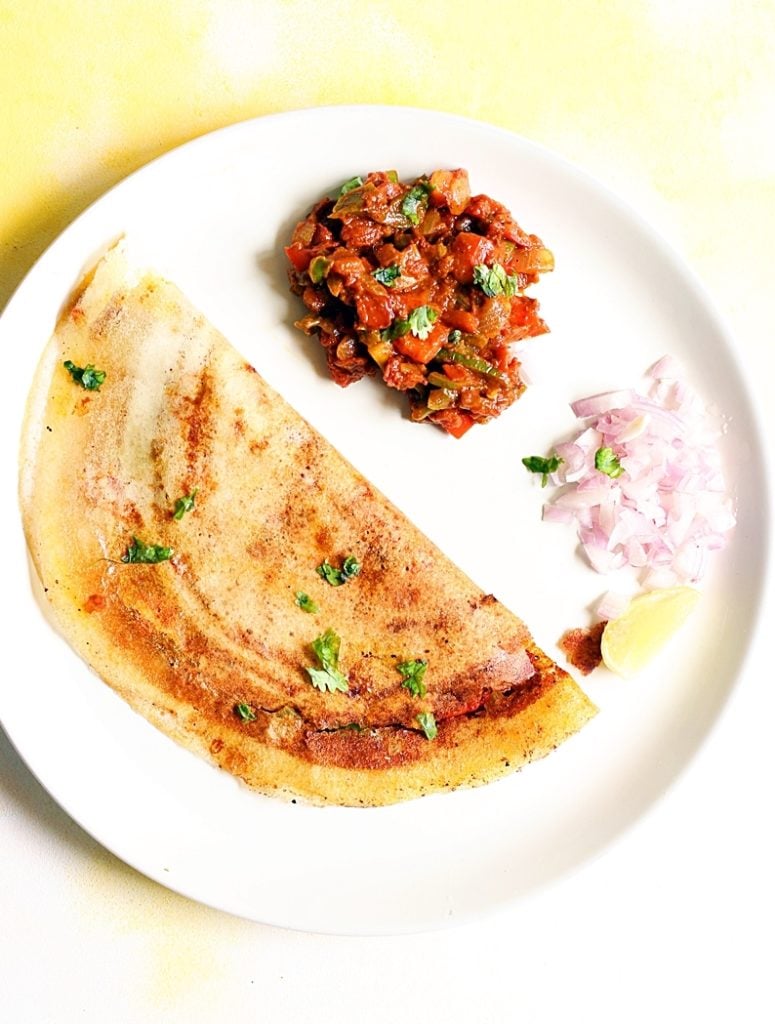 What Goes Well With Pav Bhaji Dosa?
You can serve pav bhaji dosa with spicy tomato chutney or garlic dip. I personally feel coconut chutney or sambar don't go well this dosa. You can also serve this dosa with spiced curd for toddlers and kids.
Some Tips To Get The Recipe Right
If your bhaji is as chunky pieces of veggies, just slight reheat it and mash the veggies very well.
Use a well seasoned cast iron pan or tava for making dosa.
Make sure your dosa batter is not very thick or thin, You should be able to pour and spread the batter easily.
Always serve hot as soon as you make it.
More Dosa Recipes For You
I hope you will try this recipe and enjoy as much as we did. Please give a star rating ★ in the recipe card below. Follow us on Pinterest , Instagram, Facebook for more recipes and ideas.
Pav Bhaji Dosa Recipe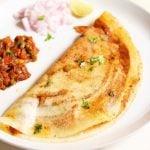 pav bhaji dosa recipe, how to make pav bhaji dosa recipe | Dosa recipes
pav bhaji dosa recipe with step by step photos. Easy to make Mumbai street food pav bhaji dosa with leftover pav bhaji`
1 CUP = 250 ml
Ingredients
2

cups

dosa batter

1

cup

leftover bhaji from pav bhaji

1/2

cup

raw onions

Butter

OIl

Lemon wedges
Instructions
Take a ladle full of dosa batter and spread into thin dosa on hot tava.

Let it cook for few seconds. Add oil over the edges.

Spread pav bhaji generously over the dosa till the brim. Keep some butter in the center.

Sprinkle some raw onions.

Cover and cook till the dosa turns golden and crispy.

Serve immediately with more raw onions
Nutrition
Tried this recipe? Snap a pic and share 🙂
Mention cookclickndevou or tag cookclickndevour