This watermelon feta salad is probably the best thing I made this summer. This is a wonderful concoction of sweet melons, salty cheese and flavorful dressing. A big bowl of this salad with a piece of baguette and some lemonade is my idea of perfect al fresco 🙂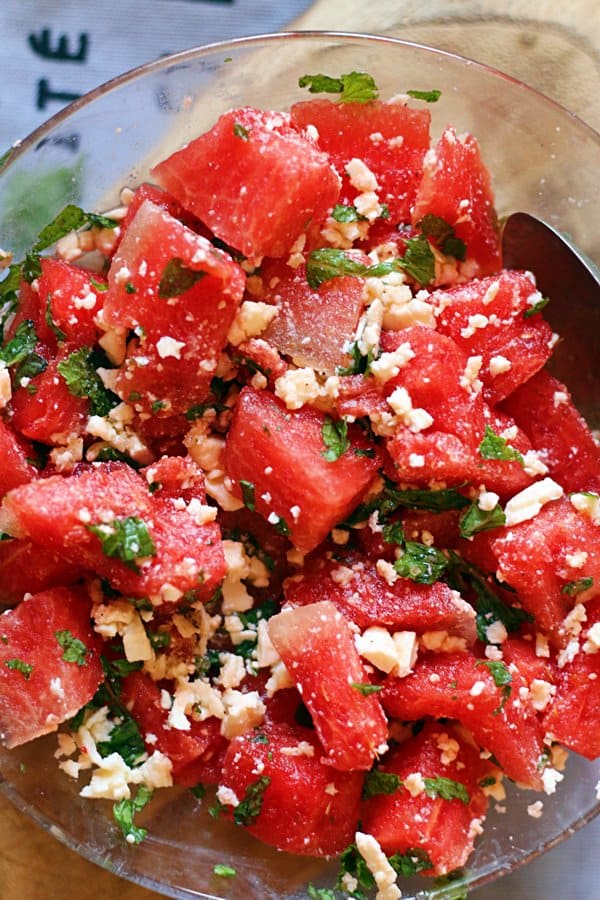 Watermelon is a true boon during summer. In fact only watermelon, mangoes and ice apple are our only respite from summer. Apart from gorging as such I prepare few tasty treats like ice cream, popsicles, agua fresca, juice and salad with watermelon. These are delicious treats that help us stay hydrated.
Salad is an everyday affair at home mostly. We prefer salads year around, not just summer. But refreshing and cooling ones like this watermelon salad are best eaten on hot days.
I make this salad in many ways and here I am sharing our most favorite. It is a beautiful mix of chopped watermelon, crumbled feta cheese, some mint leaves and dressing of lemon, honey, chili flakes, salt. As simple as a salad recipe can get yet absolutely delicious and moreish.
Whenever I make this salad, I plan a meal out of this. A big pretty bowl of fresh watermelon salad, freshly baked baguette or braided bread, a lemonade or fruit punch is ideal al fresco 🙂
This Watermelon Salad Recipe
Easy, simple and no cook recipe
Healthy recipe with clean ingredients
Delicious, moreish and flavorful
Kid friendly salad that is attractive
Making watermelon salad is very easy and takes just ten minutes of preparation. As with any salad recipe the quality of ingredients is everything in this recipe. Use fresh melon and good quality cheese.I have used locally sourced organic feta cheese in this recipe and it was wonderful.
To make the flavorful dressing for this salad you will need equal parts of honey, lemon juice, some chili flakes, ground pepper and salt. The dressing sounds simple but it is incredibly flavorful and delicious. You can make and store this dressing for other salads too.
This salad does not keep well for long as the watermelon will turn soggy. Serve watermelon salad as soon as prepared. You can serve with baguette, bruschetta or cheese toast.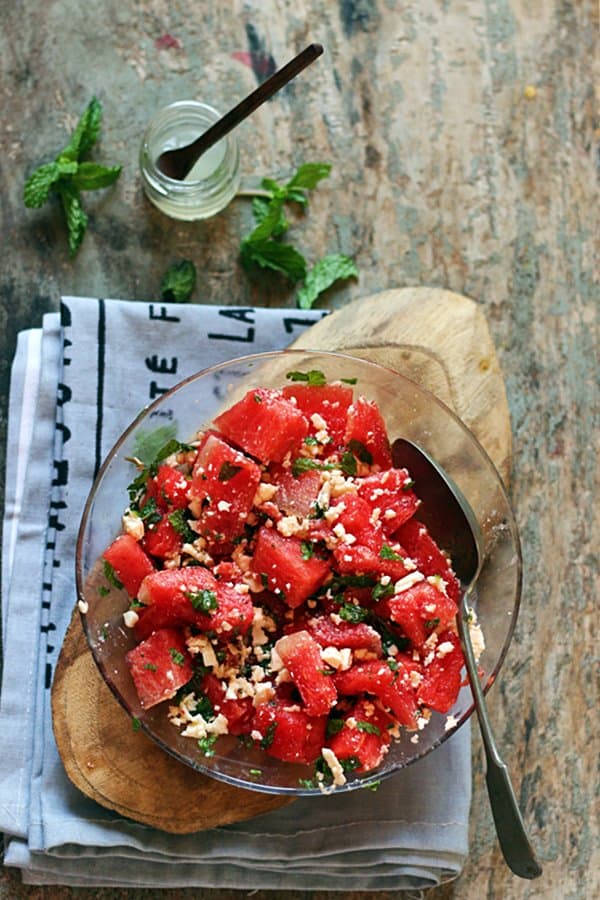 How To Make Watermelon Salad Step by Step
1. Peel and cube the watermelon discarding the seeds.
2. Add the cubed melon followed by mint leaves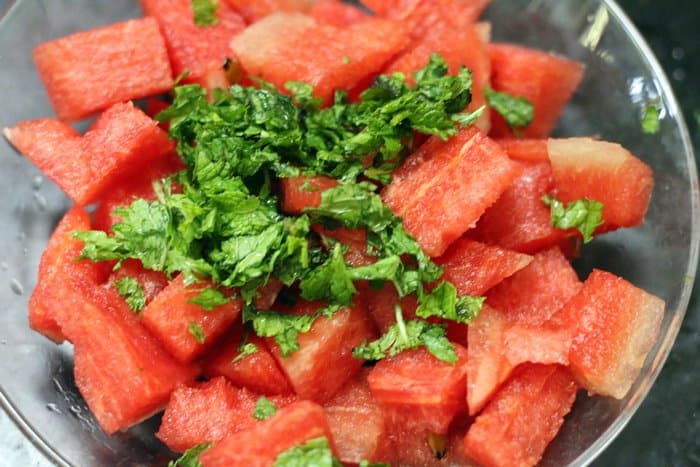 3. Mix lemon juice, honey, chili flakes, sugar salt and freshly ground pepper in a small bowl.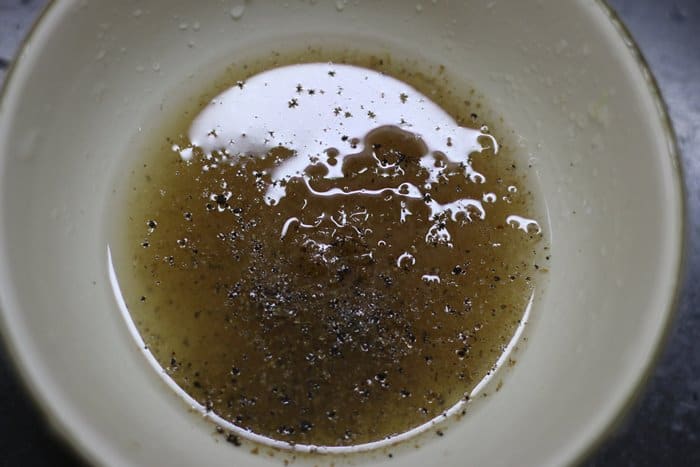 4. Pour this dressing over the chopped melons.
5. Add crumbled feta cheese and mix well.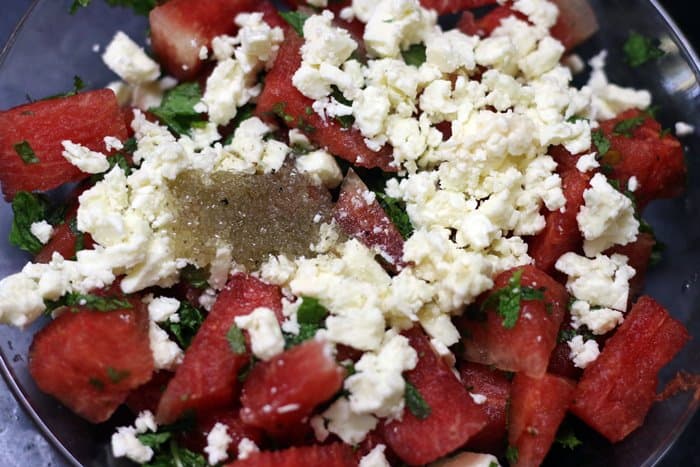 6. Serve immediately.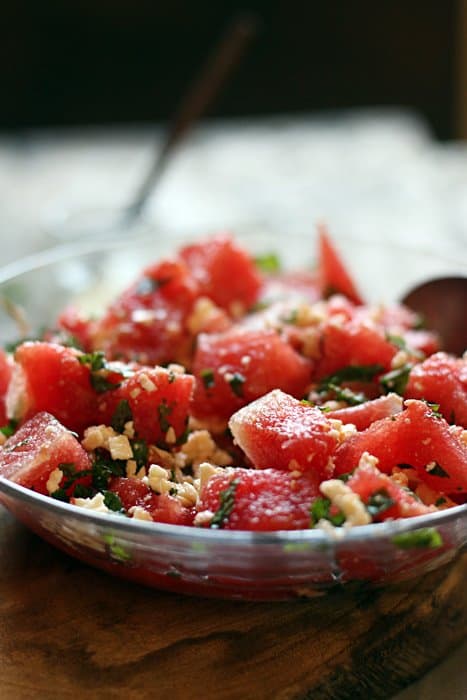 Variations With This Salad Recipe
With Balsamic Vinegar
Add 2 tablespoons balsamic vinegar in dressing and use for the salad
Watermelon Cucumber Salad
Along with watermelon you can add 1 cup cubed cucumber and mix well
With Tomato
Add 20 halved cherry tomatoes along with melon.
With Onions
Add 1/2 cup cubed red or white onion along with watermelon and mix well
With Basil Leaves
Instead of mint leaves you can add fresh torn basil leaves
Substitute For Feta Cheese?
If feta cheese is not available you can use
Crumbled fresh paneer
sliced halloumi
Fresh mozzarella
Vegan Watermelon Salad
Use crumbled tofu instead of feta cheese
Tips For Best Watermelon Salad
Watermelon tends to leave out lot of juice after chopping and turn soggy. So you cannot chop the fruit ahead.
This salad tastes best when everything is prepared and served fresh.
However you can make and store the dressing well in advance.
For more hearty salad you can add few croutons just before serving.
More Salad Recipes
Watermelon Feta Salad Recipe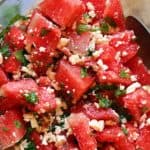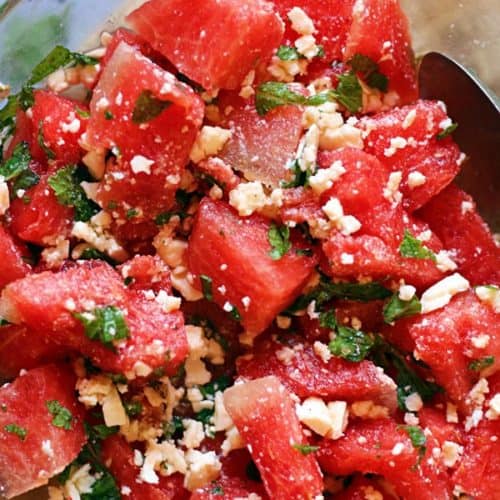 Watermelon Feta Salad
This watermelon feta salad is probably the best thing I made this summer. This is a wonderful concoction of sweet melons, salty cheese and flavorful dressing. A big bowl of this salad with a piece of baguette and some lemonade is my idea of perfect al fresco 🙂
1 CUP = 250 ml
Ingredients
3

cups

chopped watermelon

3/4

cup

crumbled feta cheese

10

mint leaves

torn
For Dressing
2

tablespoons

Honey

2

tablesoons

lemon juice

1

teaspoon

sugar

1/2

teaspoon

freshly ground pepper

1/2

teaspoon

chili flakes

sea salt

to taste
Instructions
Peel and cube the watermelon discarding the seeds.

Add the cubed melon followed by mint leaves

Mix lemon juice, honey, chili flakes, sugar salt and freshly ground pepper in a small bowl.

Pour this dressing over the chopped melons.

Add crumbled feta cheese and mix well.

Serve immediately
Notes
Do not store this salad for long
You can double the recipe
Nutrition
Tried this recipe? Snap a pic and share 🙂
Mention cookclickndevou or tag cookclickndevour