This Indian homemade butter naan recipe yields the best restaurant style butter naan, that is soft with flaky edges and feather light. Just perfect homemade naan bread to soak up your curries and gravies. This naan bread is fluffy, light, easy and truly delicious. Here is how to make best butter naan at home!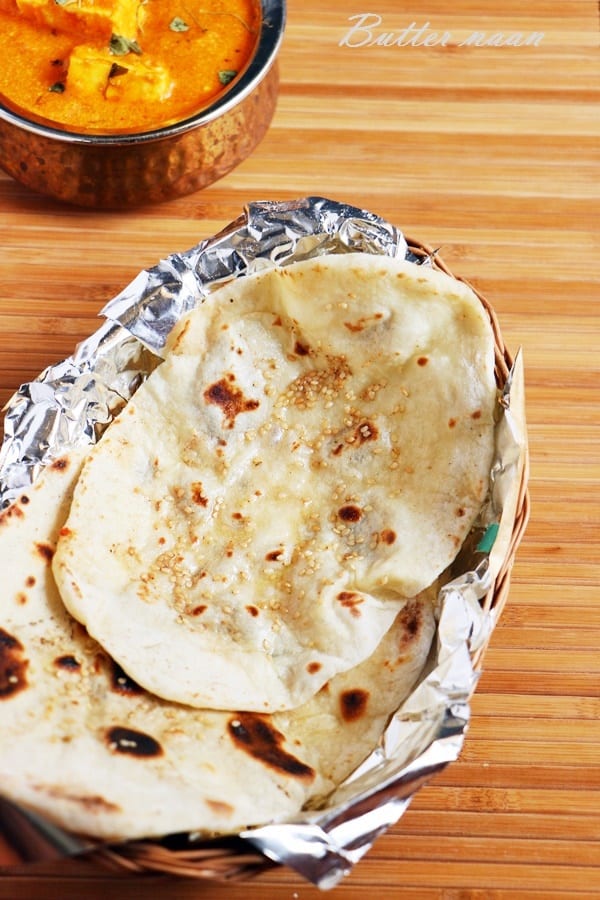 Butter Naan- The Quintessential Indian Flatbread!
What is your go to meal choice when you visit a north Indian restaurant or dhaba? Most of use like to order a delicious flatbread to mop our curries and gravies. Though there are so many flatbread options that Indian cuisine as to offer, this butter naan is uber famous and very delicious too.
Most of us like a warm piece of soft naan bread slathered with butter to go with spinach chickpea curry, paneer tikka masala, paneer butter masala or palak paneer. Did you know making butter naan recipe at home is very easy and you do not need any special equipment?
Naan bread is super popular across the globe too. A well made garlic or butter naan with a good curry is most loved in the US and other countries. It is one of the most preferred Indian food among westerners.
There are so many varieties of naan like dhaba naan, cheese naan, garlic naan, stuffed ones but this butter naan is the most basic one. If you prefer you can also make whole wheat naan bread.
This butter naan bread is my tried and tested recipe that I have been making for years. It is a recipe that never fails. You will get tasty, fluffy and light naan that does not have an yeasty flavor or taste every single time.
So if you are very fond of naan bread from restaurant or takeouts, give it a miss and try out this homemade naan bread. You will be amazed 🙂
This Homemade Naan Is
Easy & straight forward recipe
Vegetarian and can be made vegan
Feather light and very soft
Goes well with all delicious curries
Simple recipe with less ingredients
What Is Butter Naan ?
Naan is a leavened Indian flatbread that is baked in clay ovens (tandoor) in highest temperatures. You can leaven a naan with yeast or baking powder and curd. Usually restaurant style soft butter naans are leavened with yeast only.
Naan is India's most popular flat bread that served in all restaurants and especially dhabas. Butter naan recipe is usually prepared in tandoor (clay oven) in high heat to produce the signature chars here and there. Here I am sharing an easy recipe for butter naan on tava.
Butter naan is always made with maida or all purpose flour especially in restaurants. I prefer to make whole wheat naan at home. But I do make this restaurant style butter naan for guests. Obviously these naans turn out more soft and light when made with all purpose flour as opposite to whole wheat naan.
As most of us do not have access to tandoor or clay oven we can easily make this butter naan on tava or in oven. The smoky tandoor effect can be achieved at home cooking on direct flame or broiling for few minutes in oven. This recipe yields very soft naan bread that does not chewy or hard on cooling.
This butter naan is always cooked in tandoor (clay oven) in Indian restaurants. As opposite to restaurant naan, this homemade naan does not turn hard or chewy on cooling.
While making butter naan recipe at home is extremely easy yet there are tips and tricks that will help you make best butter naan.
Ingredients For Making Butter Naan?
Flour
Plain flour or all purpose flour. If you want you can use whole wheat flour completely or in parts. Do note that when you use whole wheat flour the quantity of yeast and water will vary. Naan made with wheat flour will be a bit dense and dark.
Yeast
The yeast you use can make or break your recipe. Use the best quality yeast you could, not only for this recipe but for all the recipes that call for yeast. I have made this recipe with active dry yeast which required proofing. If you have instant dry yeast you can add it directly to the dough.
Water
Use filtered lukewarm water around 110 f for proofing the yeast.
Milk And Curd
Mild and curd lends a soft texture to this flat bread and vegans can simply use some warm water in place of it.
Toppings For Naan
Here I have used white sesame seeds. You can also use black sesame seeds, nigella seeds, finely chopped garlic and cilantro leaves.
How To Make This Recipe Vegan?
For making vegan homemade naan just replace butter with oil and milk with warm water.
Can I Make Butter Naan In Oven?
Yes, you can make this recipe in an oven easily. Here are the steps. prepare the dough as mentioned below. Preheat oven at 250 C / 450 F (or the maximum temperature of your oven) for 20 minutes. Also preheat the cast iron skillet or pizza stone or baking tray. Place the rolled naan on the baking tray. The watered side down as in making on stove top. Broil for 4 minutes. Remove and serve.
How To Make Butter Naan Without Yeast?
To make naan without yeast, just add 1.5 teaspoons baking powder instead of yeast and add just to the flour mixture and knead the dough.
Tips For Making This Recipe Perfectly
First of all use very good quality yeast as otherwise the taste of the yeast will be felt in the naan.
Make sure to knead the dough really well as it is an important step to get elastic naan.
Roll the naan dough thin for feather light naan.
While rolling the dough do not apply lots of pressure.
Finally for best tasting naan use cast iron skillet with handle as cast iron retains the heat and spreads it evenly.
Serving Suggestions:
Serve butter naan as soon as you make it. It is best served with veg jalfrezi, palak paneer, paneer butter masala, paneer lababdar, matar paneer, navratan korma curries.
It is best to serve butter naan immediately, else stack the naan and cover them loosely with a cotton napkin to retain softness and warmth.
Make More With Your Naan Bread
Apart from serving butter naan as flat bread with curries, I also make a very delicious naan pizza.
Sometimes I cut the leftover naan bread into wedges and toast in oven until crispy. Tastes great with cheese spread.
I also make a quick naan sandwich just like tortilla sandwich.
Freezing The Naan Bread
You can make the most of this naan bread well ahead and freeze. Freezing naan bread is basically like freezing uncooked tortilla.
Just make the dough, let it proof and roll the naan as mentioned and roll out all the naans.
Now make a stack of these rolled naan dough alternating each dough roll with a parchment paper. Place in freezer safe bags and seal. Keeps well for minimum three months.
When required, remove as many as you need from the freezer and pop in the oven or cook on stove top.
More flatbread recipes
Tandoori roti, whole wheat naan, aloo kulcha, dhaba naan, ajwain paratha, pudina paratha, lachha paratha, aloo paratha , vegan naan recipes.
How To Make Butter Naan Recipe

First of all take 1/3 cup lukewarm water in a bowl. Sprinkle 1/2 tablespoon active dry yeast over the water. Add sugar and keep the bowl undisturbed for 10 minutes.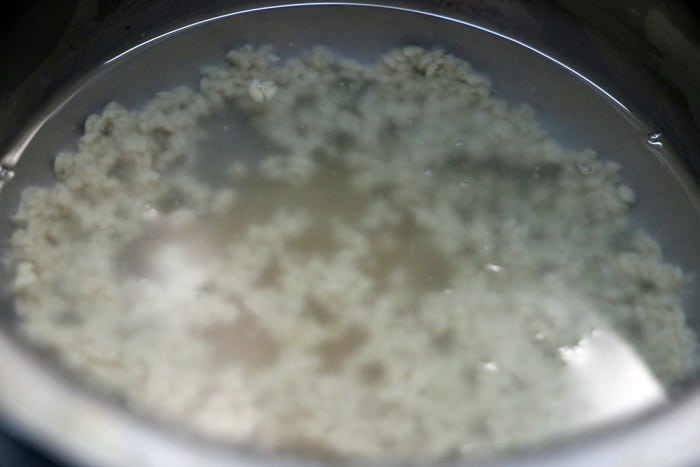 The yeast will become active and turn frothy.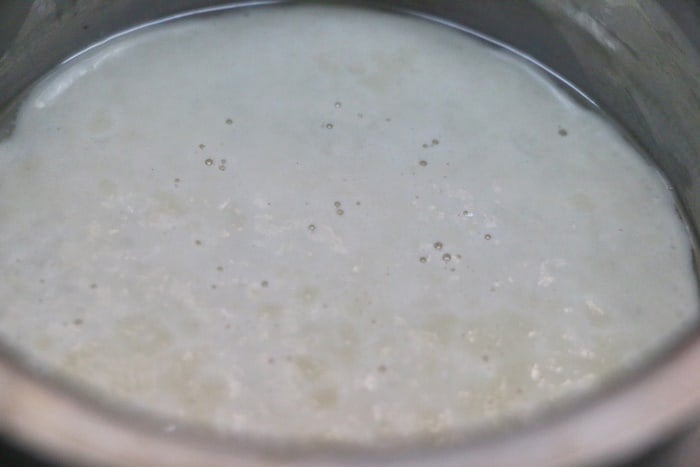 Take 1 1/2 cup maida /all purpose flour in a big mixing bowl.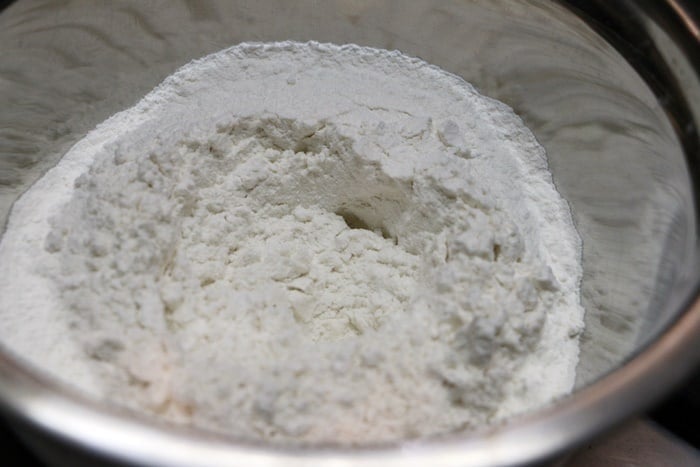 Add the yeast mixture,milk, curd or more warm water and whisk well.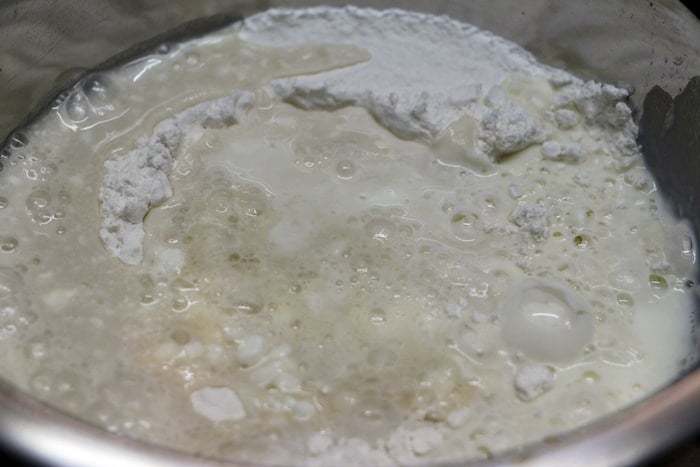 Add salt and mix well. Add water little by little and knead to a soft dough. The dough will little bit sticky. You can add flour to make kneading easy.
Let the dough rest for 1.5 hours till the volume doubles up.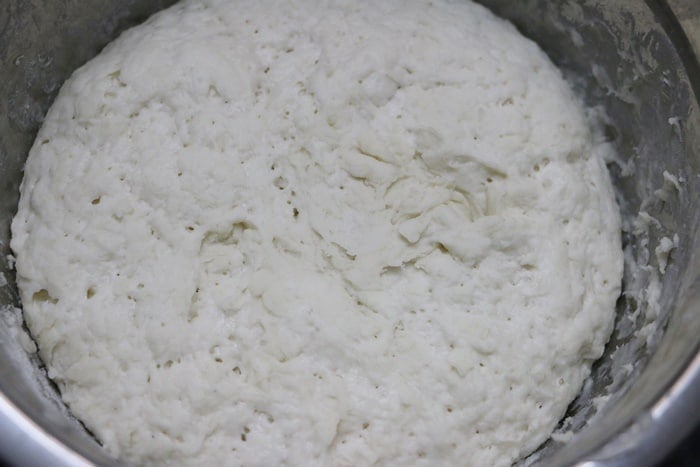 Divide the raised dough into 7-8 equal sized portions. Flatten a portion and roll into a tear shaped naan. Brush one side of the naan with some water.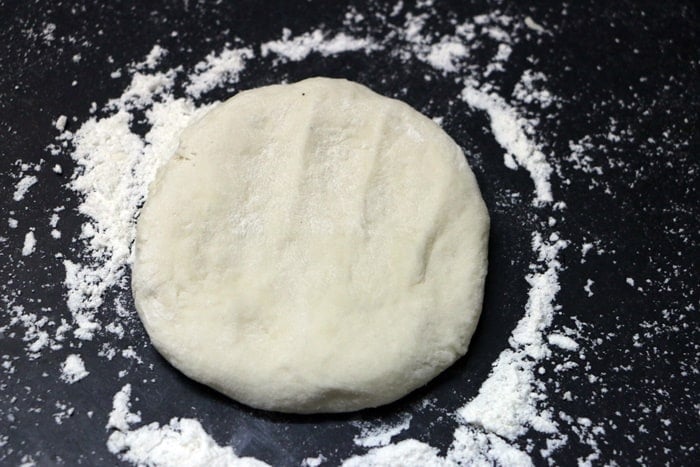 Heat a tava with handle. place the naan on the tava, the watered side should touch the tava. cook for just 10 seconds.
Now remove the tava from flame and turn the tava upside down so that the other side of the naan is directly cooked on flame.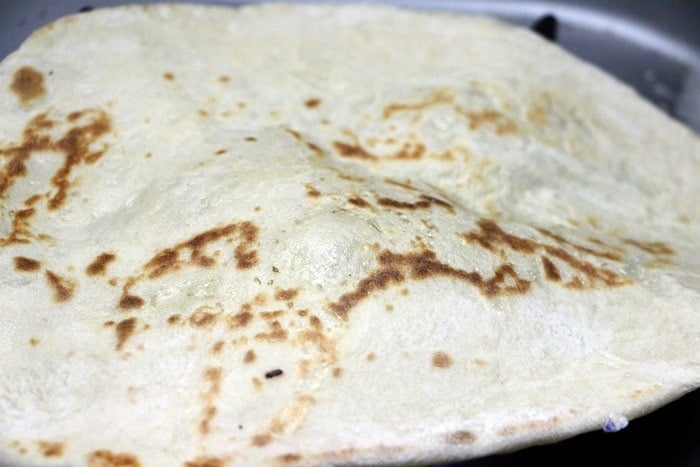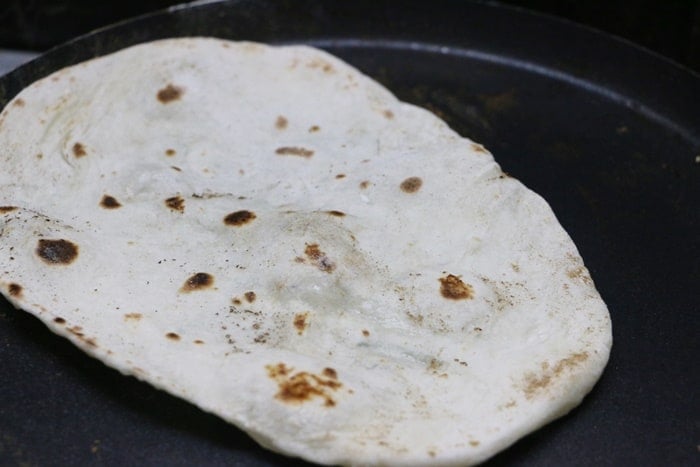 Apply some melted butter on both sides and spread some esame seeds. Press gently with spatula. Prepare all the butter naan same way.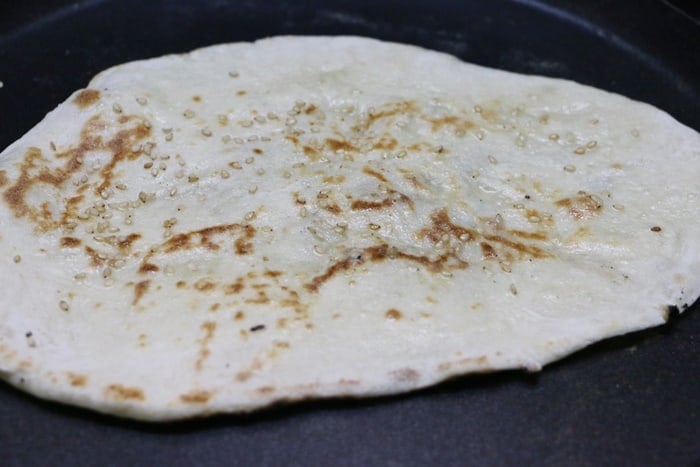 If not serving immediately, stack the naans and cover loosely with a towel.
Serve butter naan with any spicy gravy of your choice.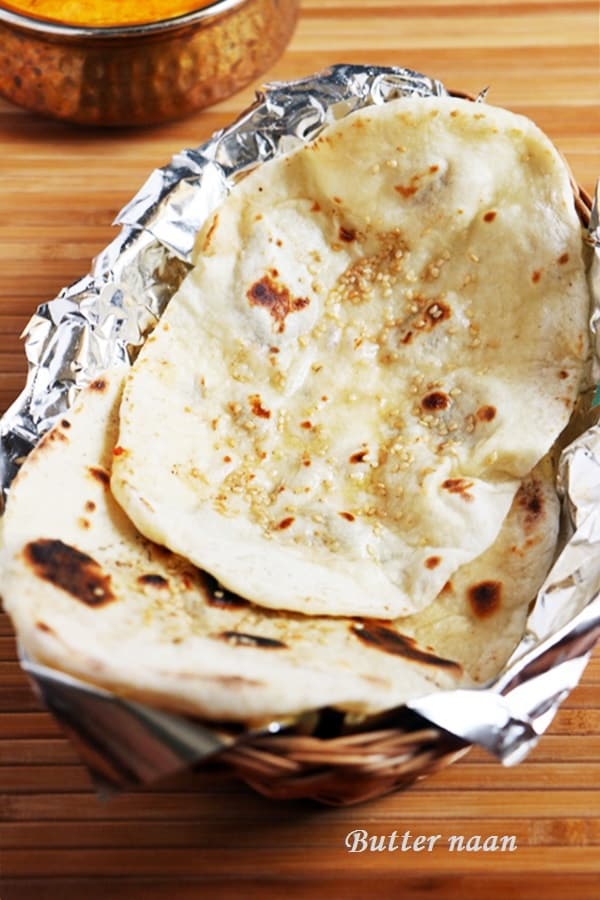 Are you making this homemade naan recipe? I would love to see a snap of your creation too. Do snap a pic and share on Instagram with hashtag #cookclickndevou and please give a star rating ★ in the recipe card below. Follow us on Pinterest , Instagram, Facebook for more recipes and ideas.
Homemade Butter Naan Recipe
Homemade Butter Naan
Butter naan recipe, leavened Indian flat bread, very popular tandoori recipe made easily at home on tove top!
1 CUP = 250 ml
Ingredients
For yeast mixture
1/3

cup

luke warm water

1/2

tablespoon

sugar

1/2

tablespoon

active dry yeast
To make dough for butter naan
1 1/2

cups

maida/all purpose flour + more for dusting

1/2

cup

warm milk

or warm water

1

tablespoon

curd

optional

Salt

soft or melted butter for brushing on naan

or olive oil for vegan naan

Toasted sesame seeds
Instructions
To activate yeast
Sprinkle yeast over 1/3 cup warm water. Add sugar and let the yeast to activate for 10 minutes.
To make dough
Take flour in a mixing bowl and add yeast mixture,milk,curd and salt. Mix well

Add water little by little and knead to a soft dough

Let the dough rest for 1.5 hours till it doubles in volume.

Divide the dough into 7 equal portions.

Roll a portion into a tear shaped naan, about 1/2 inch thick and brush with little water on one side.
Making butter naan
Heat a tava with handle and place the rolled naan, watered side down.

Cook for 10 seconds, invert the tava and cook the other side directly on flame till chars appear.

Brush with some melted butter and sprinkle sesame seeds. Serve butter naan hot with any spicy gravy.
Notes
1.You can add 1 tablespoon butter to the dough instead of milk.
2.Instead of sesame seeds you can add nigella seeds too.
3.You can cook butter naan on tava itself instead of cooking on flame.
Nutrition
Tried this recipe? Snap a pic and share 🙂
Mention cookclickndevou or tag cookclickndevour