Chocolate milkshake recipe that is rich, creamy and delicious. With just four ingredients and a blender or mixer you can make the yummiest chocolate thick shake better than any cafe. This is a real deal, not just a thick homemade chocolate milk in the name of shake 🙂 Make a tall glass of this deliciousness, sit back and enjoy!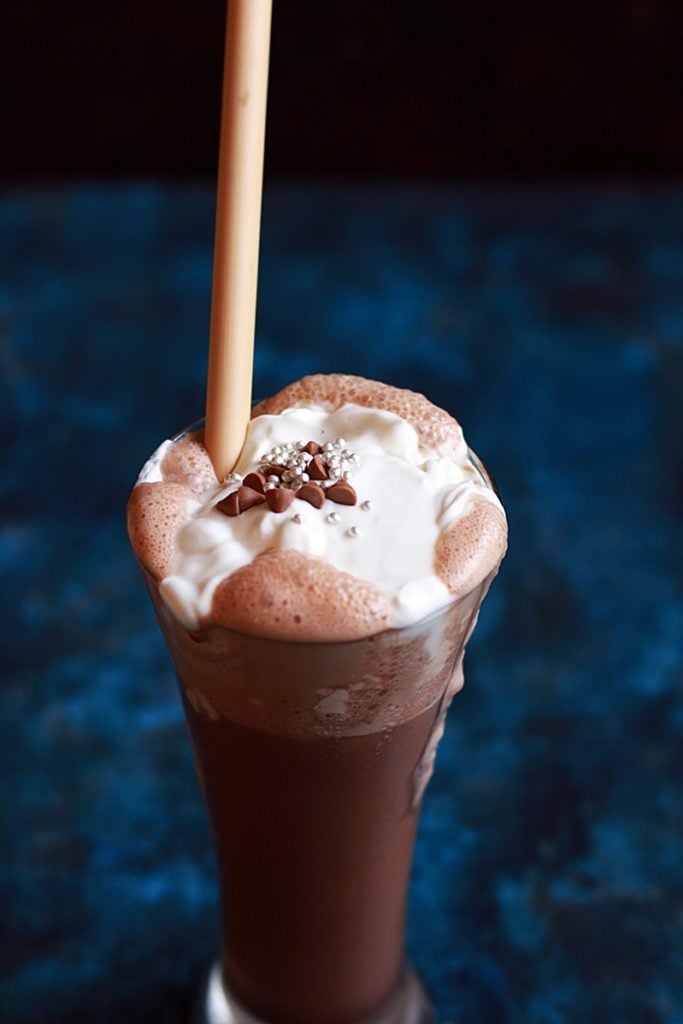 Thick shakes are my absolute favorites and I can have the everyday. While having milkshakes everyday is not practical I do take full advantage of summer and make them often. While we enjoy fruity shakes with mango, strawberry or with veggies and nuts like carrot, almond often, I prepare butterscotch or this chocolate milkshake occasionally as treat.
This chocolate shake is a real deal guys. It is not a thick version of homemade chocolate milk where you stir in cocoa powder with milk and sugar. No offense to chocolate milk, it is equally delicious and my favorite too but chocolate milk is milk and milkshake is milkshake 🙂 While I am all for eating healthy food everyday, this chocolate shake does not come anywhere near healthy ) I rarely make this and it has to to spot on!
So if you are looking for a really good summer afternoon pick me up or a dessert after a good meal or a holiday treat for kids this recipe will be your best bet.
This Chocolate Milkshake Recipe
Absolutely delicious thick shake just like cafes
Rich, creamy and luscious full of chocolate flavor
The best holiday treat for kids
Easy to make using a blender or mixer
4 ingredients and 5 minutes recipe
Ingredients You Will Need
So to make the best chocolate shake recipe you need just 4 ingredients. When you need very less ingredients in a recipe, let them be of finest quality.
Here you will need chocolate ice cream, milk, honey and vanilla. Yes try to honey in this recipe as it makes all the difference. The flavor of this milkshake with honey is so good and rich. I have also used a splash of my homemade chocolate sauce here. If you have store bought ones like Hershey's chocolate syrup you can use it in this chocolate milkshake recipe. Even caramel sauce can be used as variant in flavor.
For this recipe I have used my homemade chocolate ice cream. It is an eggless custard base ice cream and one of the creamiest ice cream you will make at home. So that added to the richness of this chocolate shake. Use full fat or whole milk. During summer I always have frozen milk handy for quick shakes. Just boil, cool and freeze the milk in small boxes. You can use this milk for thick shakes.
I prefer to use honey while making any chocolate based beverage like this milkshake or hot chocolate. Honey simply elevates the chocolate flavor. You will know once you try 🙂
How To Make Chocolate Milkshake
1. Take boiled and chilled milk, chocolate ice cream, honey and sugar in a blender jar.Blend thoroughly.
2. Transfer to a tall serving glass and top with whipped cream, chocolate strands. Serve chocolate milkshake immediately.
Chocolate Shake With Cocoa Powder
This is a quick and easy alternative if you do have chocolate ice cream handy. Though not as creamy and rich like the real one, this is sure enough to please the kids in short notice.
Bring 1/2 cup water to a rolling boil. To that add 3 tablespoons cocoa powder and mix well without lumps. Adding cocoa powder to boiling water will make it bloom and intensify the flavor of cocoa.
Add 3 cups chilled or frozen milk, cocoa mix, honey and vanilla in a blender jar. Blend well frothy and creamy. Serve topped with chocolate strands, unsweetened whipped cream or vanilla or butterscotch ice cream.
Make It Vegan
Use almond milk and vegan ice cream for making this drink vegan
Tips For Best Thick Chocolate Shake
Use best quality ice cream as your milkshake will taste exactly the same.
Use frozen milk for rich and frothy milkshake. This way you can avoid ice cubes too. Adding ice cubes will dilute the milkshake.
This recipe yields a thick milkshake. You can add more milk or reduce the quantity of ice cream for diluted ones.
You can top the milkshake with more ice cream or whipped cream or marshmallows
The recipe can be doubled.
This milkshake keeps well for a day in refrigerator.
More Chocolate Recipes
Chocolate Milkshake Recipe
Chocolate milkshake recipe with ice cream
Chocolate milkshake recipe with ice cream. Easy to make rich and creamy chocolate milkshake with simple ingredients!
1 CUP = 250 ml
Ingredients
1 1/2

cups

boiled and chilled milk

3-4

scoops chocolate ice cream

2

tablespoons

honey

2

teaspoons

cane sugar

Topping:

Sweetened whipped cream

Chocolate strands
Instructions
Take boiled and chilled milk, chocolate ice cream, honey and sugar in a blender jar.Blend thoroughly.

Transfer to a tall serving glass and top with whipped cream, chocolate strands. Serve chocolate milkshake immediately.
Notes
You can double the recipe
Keeps well for a day in refrigerator.
Nutrition
Tried this recipe? Snap a pic and share 🙂
Mention cookclickndevou or tag cookclickndevour