Vegetable cutlet recipe- Easy to make simple and delicious vegetable cutlet that you can serve as evening snack with mint chutney, sauce or for breakfast. You can deep fry, shallow fry, toast, make in an air fryer or even bake these cutlets.
This recipe is a perfect base recipe for making veg cutlet with mixed vegetables and potatoes as binding agent. You can alter this recipe multiple ways to suit your taste. Here is how to make easy vegetable cutlet with step by step photos.
For more similar veg patties recipes please check aloo tikki, hara bhara kabab, potato cutlets recipes.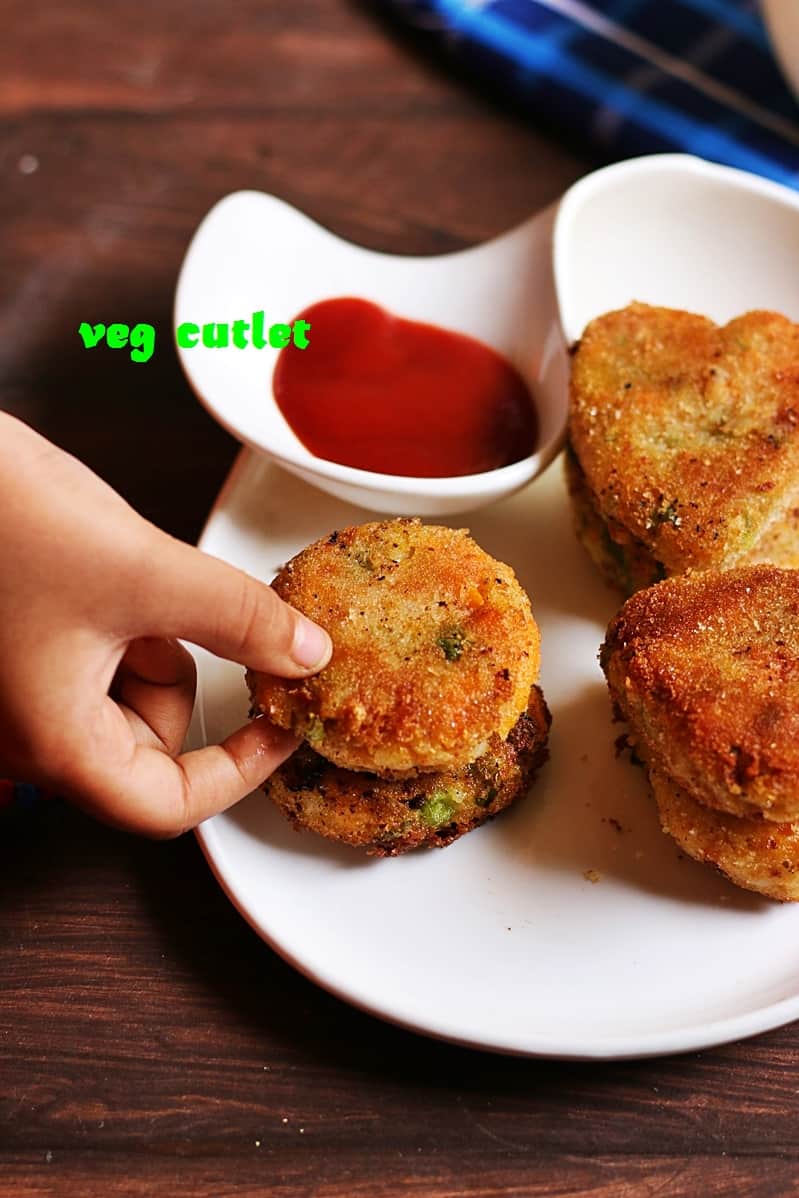 How many of you like to have some crispy spicy snack with your evening coffee or tea? I am a huge fan of evening snacks, why I mention it specially is, I do not make any special evening snacks regularly.
Most of the days my daughter will have ragi malt with some fruits and I will just have a strong coffee. Occasionally I do make fresh snacks and this vegetable cutlet is one of our top favorite.
Vegetable cutlet are very popular evening snack recipe in some Indian restaurant menus. The shape, flavor and taste of this snack varies from place to place.
I like the crispy, almost black deep fried veg cutlets served in some restaurants in Chennai and Bangalore. They are available only during evening around 4 -7 pm 🙂 If you have tasted that you know what I am talking about.
This recipe for veg cutlet is the same for those restaurant style ones. I have not used beets here so the color is not very dark.
Piping hot cutlets with strong masala chai or filter coffee is always something I love, how about you? If you have not heard of this snack or already fan and want to try it at home, please read on to get the recipe with step by step photos, tips and variations 🙂
About This Recipe
What Is veg Cutlet?
Cutlet or patty is a popular tea time snack made with mixed veggies or meat. This veg cutlet recipe is a patty made with various vegetables. Few more popular ones are chicken cutlet, fish cutlet, kheema cutlet recipes.
Here in this vegan version of veg cutlet recipe, you basically boil, mash the veggies, season them and shape them into patties. Then toss the patties in bread crumbs and fry them. This is the basic vegetable cutlet recipe but there are tons of variations.
A mix of vegetables like carrot, peas, French beans go into the making of veg cutlet recipe. Potatoes are used as binding agent for vegetable cutlet. However I have tried this easy vegetable cutlet recipe with yam too. Sweet potatoes and raw bananas can also be used.
So if you want to avoid potatoes you can easily use sweet potato, yam or raw banana in veg cutlet recipe. I also have a delicious sweet potato cutlet shared here.
Easy snacks with potatoes like this veg cutlet, cheese balls, bread balls, veg rolls , sabudana vada, corn cutlets, come very handy for kids evening snacks. You can also check these cutlet recipes collection.
Why This Veg Cutlet Recipe Works?
May I start with the fact that these are outright delicious, crispiest and so close to the restaurant ones?
Next in this recipe, I have added as many vegetables as I can? So good for those who fuss over eating vegetables.
This is a super easy to make cutlet recipe with very minimum effort. All you need are some good stash of vegetables. No bread crumbs available? No problem, see my tips and variations section for other options.
It is very easy to make vegetable cutlet at home is really easy and quick too. It is as easy as boiling the veggies. With few tips and tricks you will soon get then knack of making perfect crispy veg cutlets at home. I have also shared many time saving tips towards the end, keep reading!
I have always loved a well made veg cutlet. Also I prefer these homemade ones as these are more flavorful, crispy and especially less greasy compared to veg cutlets from restaurants.
Yes, I have not deep fried these patties but toasted them with very less oil in a cast iron pan. So much less greasy and lighter than the restaurant cutlets 🙂
Serve veg cutlet as snack with mint tea. For kids you can serve these cutlets with badam milk, pistachio milk, saffron milk, apple milkshake, badam milkshake, hot chocolate or juices. These cutlets are
Easy, simple & quick
Uses a variety of veggies
Vegan & gluten free
Shallow fried and less oily
Healthy and wholesome snack for toddlers and kids
Very crispy & delicious.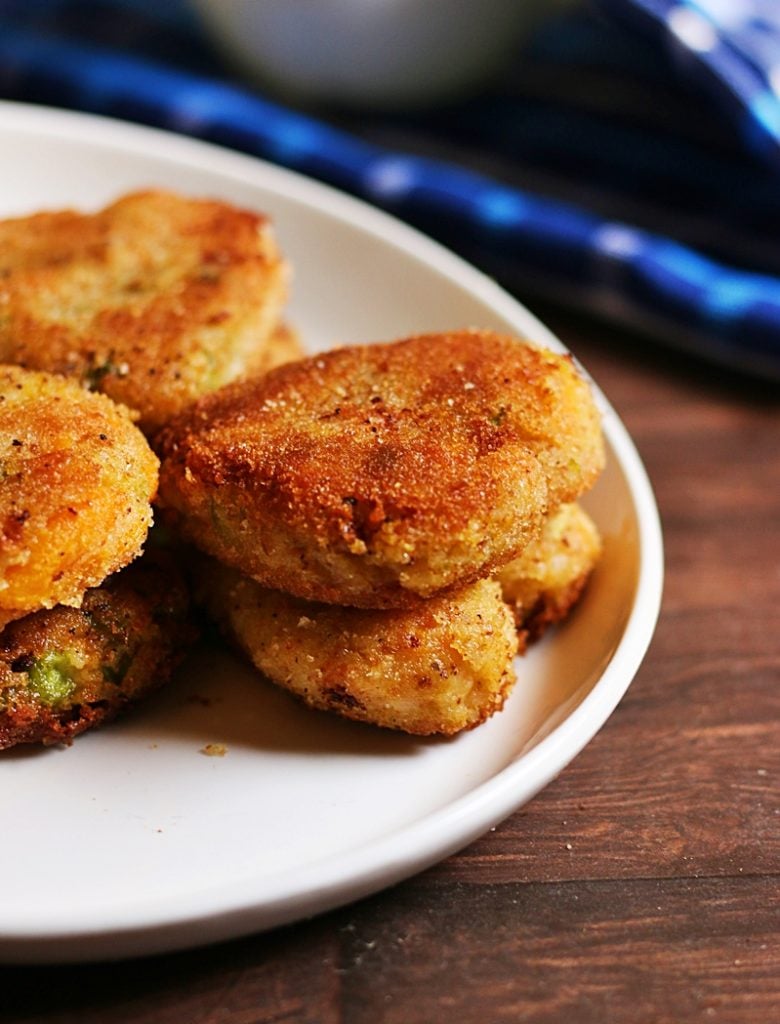 Ingredients For Vegetable Cutlet
To make veggie cutlets we need very few ingredients and mixed vegetables. Apart from the veggies we need ginger, garlic, green chilies, garam masala powder, chili powder for seasoning.
You can use any vegetables of your choice for making veg cutlet This time I have used a mix of carrots, green peas, beans along with potatoes. You can also use sweet corn, cauliflower, broccoli, beetroot in this recipe.
The dark color of these cutlets in restaurants is partly beets and also food coloring.
I have used corn flour slurry for dipping the shaped patties from cutlet mixture but you can also use all purpose flour or plain flour slurry. Finally we need bread crumbs or panko crumbs to coat the shaped patties before frying them. See variations if bread crumbs are not available.
Here I have shallow fried the veg cutlet, you can also deep fry them, pan fry them or even bake them or make in an air fryer. I have included instructions for all these
How To Make Veg Cutlet Recipe
Preparation for vegetable cutlet
To make this Indian snack recipe you will need 2 large potatoes, 1 large carrot, 12 beans, 3/4 cup green peas. Scrub and peel the potatoes and carrots. Chop all the veggies coarsely. No need to chop them precisely, we are going to mash them anyways. Also mash two green chillies , 1/2 inch peeled ginger and
Bring a large pot of water to boil with a pinch of salt. Add the vegetables, cover and cook the vegetables for 8-10 minutes or until fork tender.
If you prefer you can use a pressure cooker or instant pot for boiling vegetables.
Pressure cooker– add the vegetables, add 2 cup water and a pinch of salt. Pressure cook for 2 whistles in medium flame
Instant pot- Add the vegetables in the inner vessel and add water. Cover the instant pot, press pressure cooker or manual mode and set timer for 4 minutes, pressure valve in seal position. Let the pressure settle down naturally.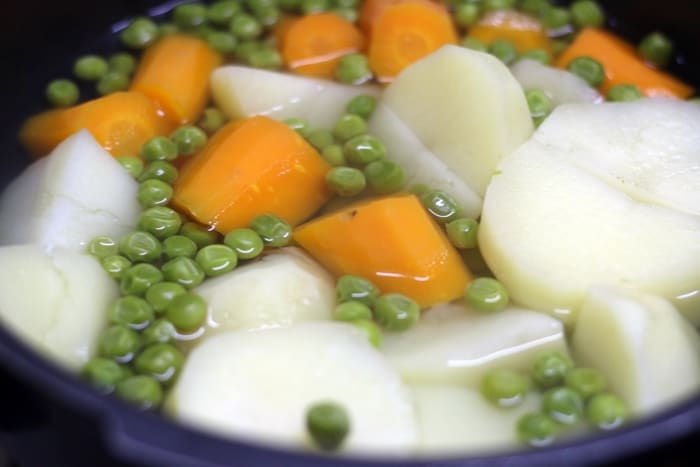 Drain the boiled vegetables in a colander and mash well using a potato masher. Make sure to drain the water very well. If the water from the boiled vegetables is not drained well the cutlets will soak up lot of oil and turn out soggy.
To the mashed potatoes and other vegetables add, minced green chilies, ginger garlic, 1 teaspoon salt and following spice powders and other ingredients for veg cutlet recipe
1 teaspoon garam masala powder
1/2 teaspoon red chilli powder
1/4 teaspoon black pepper powder
1/2 teaspoon cumin powder
1/4 teaspoon mango powder or amchur
1/2 teaspoon coriander powder
1/4 cup finely chopped coriander leaves
1 teaspoon lemon juice. Mix very well and bring the cutlet mixture together.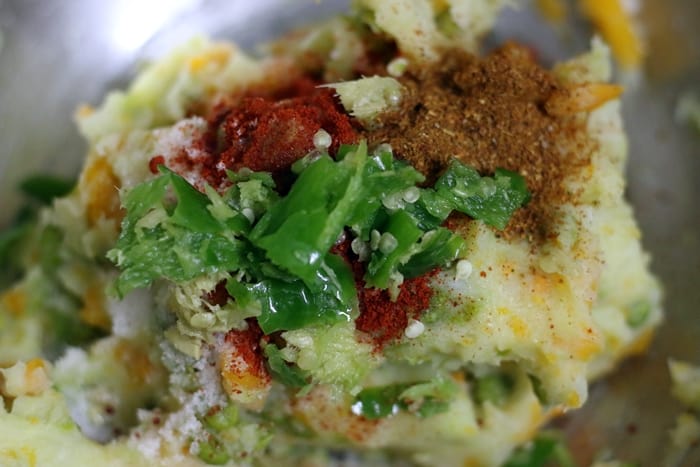 Shaping and Frying Veg Cutlet
Add 1/4 cup bread crumbs to the cutlet mixture. Mix well and try shaping a cutlet. If the mixture is loose add one more tablespoon of bread crumbs. Divide the mixture in eight parts.
Shape the vegetable cutlet mixture into round or heart shaped using cookie cutter.
Mix corn flour or all purpose flour with water into a thin paste to prepare corn flour slurry. Dip the shaped cutlets one by one. You can also use gram flour or chickpea flour here.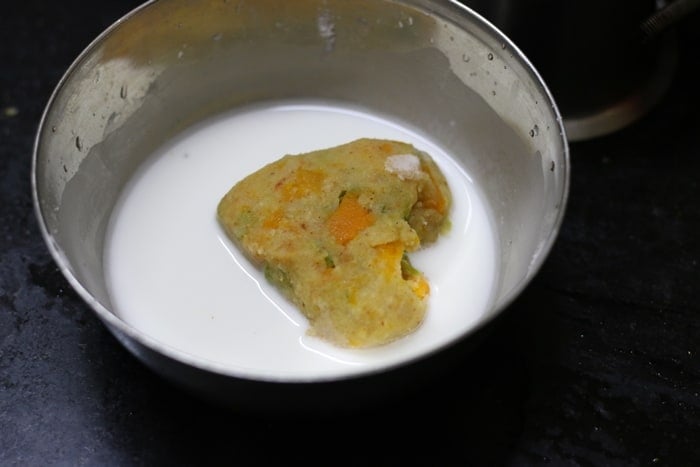 Roll over the bread crumbs.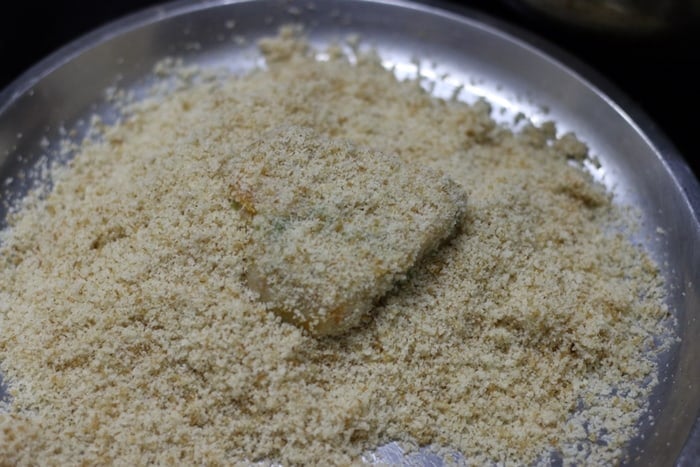 Now you can either deep fry, shallow fry , air fry or bake these cutlets. Here I have shallow fried them with 2 tablespoons oil for 8 cutlets.
Heat 2 tablespoons oil for shallow frying in a heavy pan. Place the shaped cutlet mixture. Place 3-4 according to the size of your pan. Do not disturb it for a minute. Gently flip and cook the other side.
Now cook until the cutlets turn golden and crisp from all sides. Once the cutlets turn golden brown remove from pan using a long slotted spoon.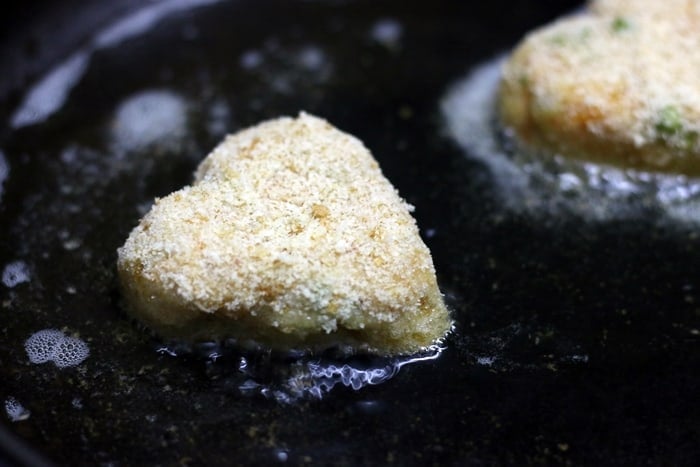 Drain in a kitchen towel. Serve veg cutlet hot with green chutney or mint chutney or tomato ketchup. It makes for a wonderful tea time snack for all,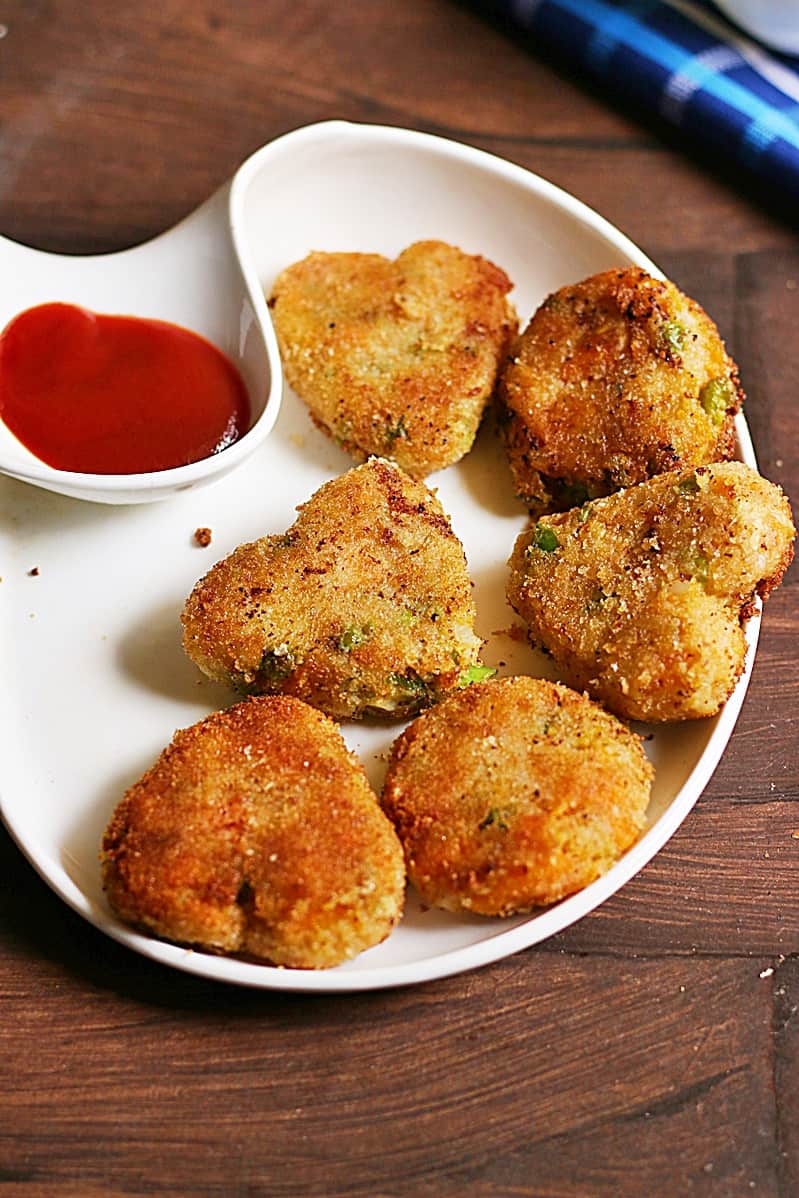 Baking Or Air frying Instructions
If you want to avoid frying or reduce oil intake, you can easily bake these cutlets. Prepare the vegetable mixture, shape them and roll them in bread crumbs.
To make vegetable cutlet in oven preheat oven at 200 C or 390 F. Arrange the prepared cutlets in a greased baking tray. Pop them in the oven and bake for 12 minutes. Remove the tray from the oven, flip the cutlets and bake for 8-10 more minutes.
You can also air fry the cutlets in the same temperature. Grease some oil in the netted basket and place the cutlet.
Pro Tips To Make Best Cutlet
Adding potatoes helps in binding the veggies together. So if you want to omit them, do add sweet potatoes or yam or raw banana. Just boil them as you would the potatoes.
Cook and mash the veggies, but do not make them into a paste. Small pieces of veggies and green peas add a nice texture and prevents from veg cutlet turning too soft in the inside.
If your veggie mixture is very sticky you can add chickpea flour or some of the bread crumbs to reduce moisture.
Serve vegetable cutlet along with green chutney, tomato sauce or even, schezwan chutney, chili garlic chutney.
Variations with Vegetable Cutlet Recipe
You can add 1/2 beetroot along with other veggies in this veg cutlet recipe. Especially when making for toddlers and kids you can beets for a bright color.
Add 1/2 cup grated paneer or 1/2 cup grated tofu for texture in veg cutlet.
Instead of shaping into cutlets you can also shape these into bite size nuggets and fry them.
Also you can shape them as kabab and fry or bake them in skewers.
Making Cutlet- Frequently Asked Questions
Can We Freeze The Shaped Cutlets?
These cutlets are perfect make ahead snack that you can count on for any parties. Prepare the veggie mixture, shape and roll over the bread crumbs. Now arrange these in a big tray and chill for an hour in the refrigerator. Once chilled, place them in an freezer safe box or bag and freeze till required.
When needed, just remove and thaw for 10 minutes. Bake or fry the cutlets as needed.
You can freeze the veg cutlet mixture for a month.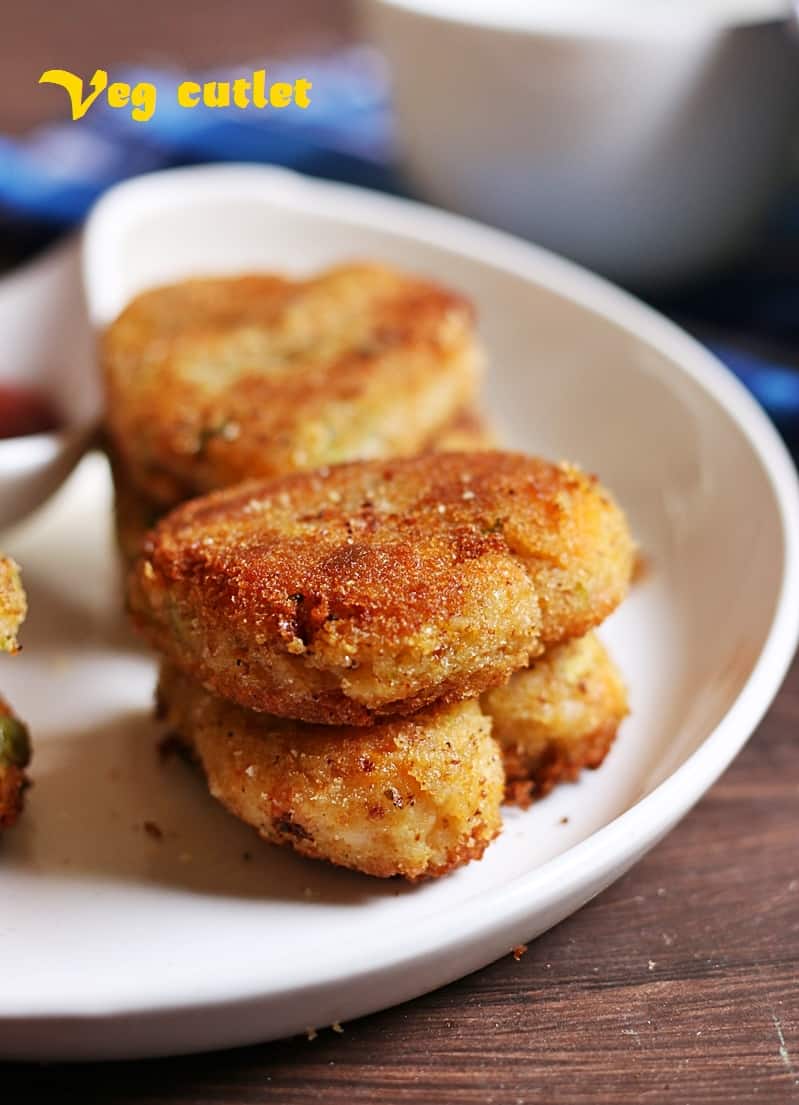 How To Make Veg Patties or Veg Cutlets Without Bread Crumbs
Bread crumbs are used in veg cutlet recipes for making them crispy. If you want to avoid using bread crumbs ten you can use any one of the below mentioned options.
Roasted and pulsed oats
roasted and pulsed rice flakes
Crushed corn flakes
Apart from serving as evening snack you can use this vegetable cutlet for making veg burgers too. You can use this vegetable cutlet as burger patties and make veg burger
More Snacks Recipes
Bread Cutlet Recipe
Bread cutlet recipe with step by step photos. Sharing an easy recipe for bread cutlet with potatoes. This bread cutlet is a easy and filling breakfast or snack that gets ready in 15 minutes.
If you have few slices of leftover bread not good enough for a full breakfast, you can make these amazing cutlets with them in just under 30 minutes. They turn out super crispy with soft interior. Vegan recipe.
This is a very basic recipe which you can alter in so many ways. Do try this out and enjoy!
Check out this recipe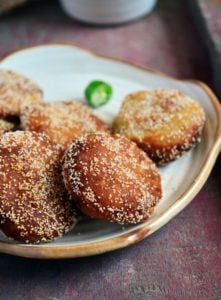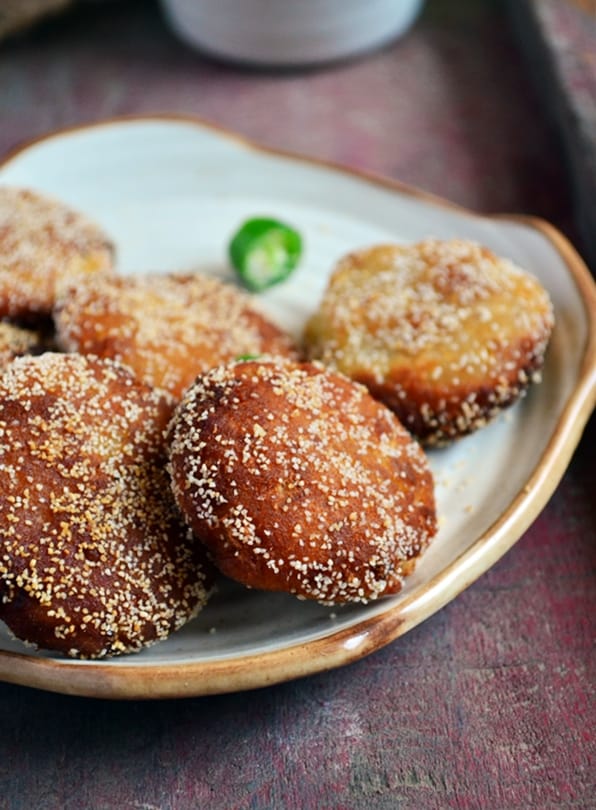 samosa recipe-Punjabi samosa, how to make samosa recipe
Samosa recipe, spicy tangy potato masala stuffed in flaky, crispy deep fried flour pastry!
Check out this recipe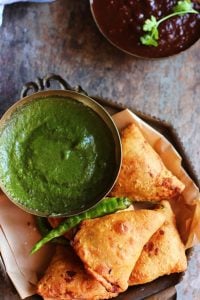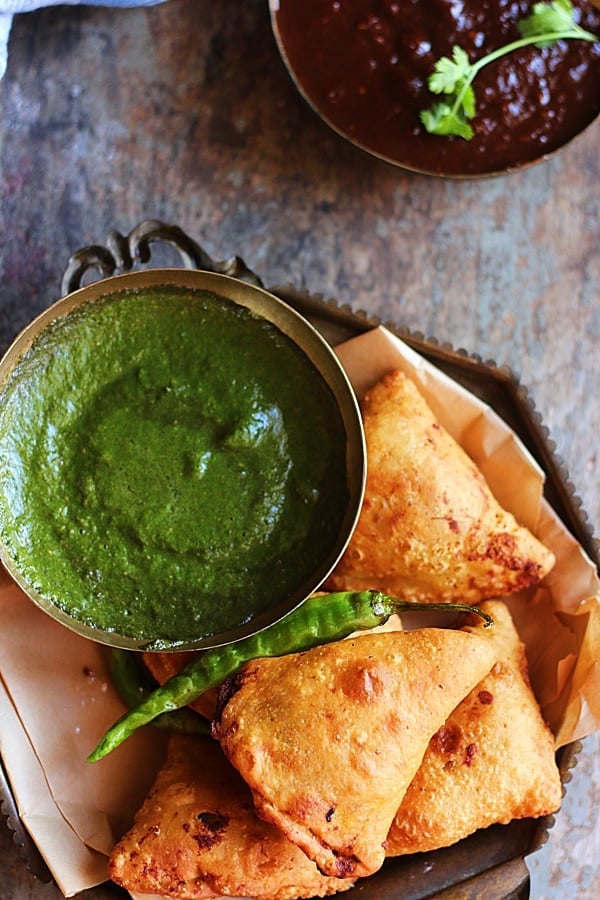 Spring Rolls
Crispy homemade spring rolls with homemade wrappers and flavorful veggie filling.
Check out this recipe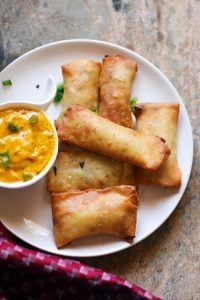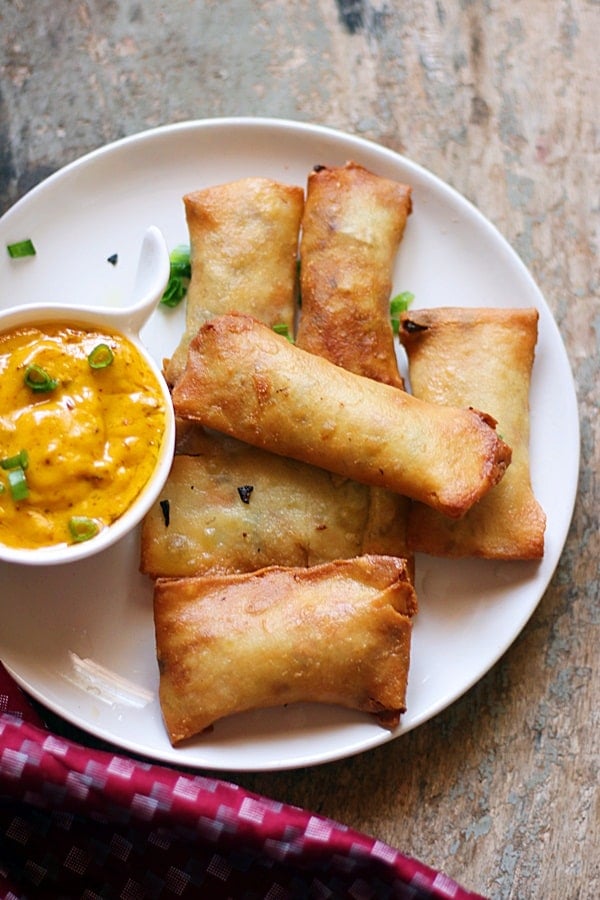 I hope you will try this vegetable cutlet recipe and enjoy as much as we did. Please give a star rating ★ in the recipe card below if you have tried this recipe. Follow us on Pinterest , Instagram, Facebook for more recipes and ideas.
Recipe Card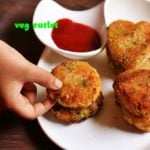 Veg cutlet recipe | vegetable cutlet recipe | Snacks recipes
Veg cutlet recipe with step by step photos. Easy to make simple, delicious veg cutlet to be served as evening snack with green chutney.
1 CUP = 250 ml
Ingredients
For vegetable cutlet mixture:
400

grams

potatoes

peeled

1

carrot

large

1/2

cup

green peas

12

french beans

1/4

cup

bread crumbs

more for coating

1/2

teaspoon

roasted cumin powder

2

green chilies

1/2

inch

peeled and minced ginger

1

teaspoon

garam masala

1/2

teaspoon

cumin powder

1/2

teaspoon

red chili powder

1/4

teaspoon

dry mango powder

amchur

1/4

teaspoon

black pepper powder

Salt
Other ingredients for veg cutlet
2

tablespoons

corn flour

or plain flour or gram flour

4

tablespoons

water

3/4

cup

bread crumbs

1

teaspoon

salt

2

tablespoons

oil

for shallow frying
Instructions
preparing veg cutlet mixture:
Steam or boil the vegetables until done. Mash well. Do not make it pasty.

To the mashed add salt and spice powders. Mix well.
Shaping and frying the veg cutlet
Add two tablespoons bread crumbs. Mix well and try shaping a cutlet. If the mixture is loose add one more tablespoon of bread crumbs. Divide the mixture in eight parts. Shape the vegetable cutlet mixture into round or heart shaped using cookie cutter. Mix corn flour or gram flour with water into a thin paste.

Dip the shaped cutlets one by one and roll over bread crumbs.

Heat oil for shallow frying. Place the cutlets and fry until golden brown from all sides.

Drain in a kitchen towel and serve veg cutlet hot.
Notes
Bread crumbs are used in veg cutlet recipes for making them crispy.
Instead of bread crumbs you can use roasted and pulsed oats, rice flakes or panko crumbs. You can also use roasted semolina or rava.
While mashing the veggies do not make them very pasty.
You can make veg burgers using these cutlets as patty.
Nutrition
Serving:
8
cutlets
Calories:
110
kcal
Carbohydrates:
15
g
Protein:
3
g
Fat:
4
g
Saturated Fat:
1
g
Sodium:
436
mg
Potassium:
90
mg
Fiber:
2
g
Sugar:
2
g
Vitamin A:
1437
IU
Vitamin C:
6
mg
Calcium:
33
mg
Iron:
1
mg
Tried this recipe? Snap a pic and share 🙂
Mention cookclickndevou or tag cookclickndevour