Diwali snacks recipes collection- a helpful collection of 50 easy and tasty diwali special snacks recipes for Diwali 2018. All the recipes are easy, tasty, tried and tested many times!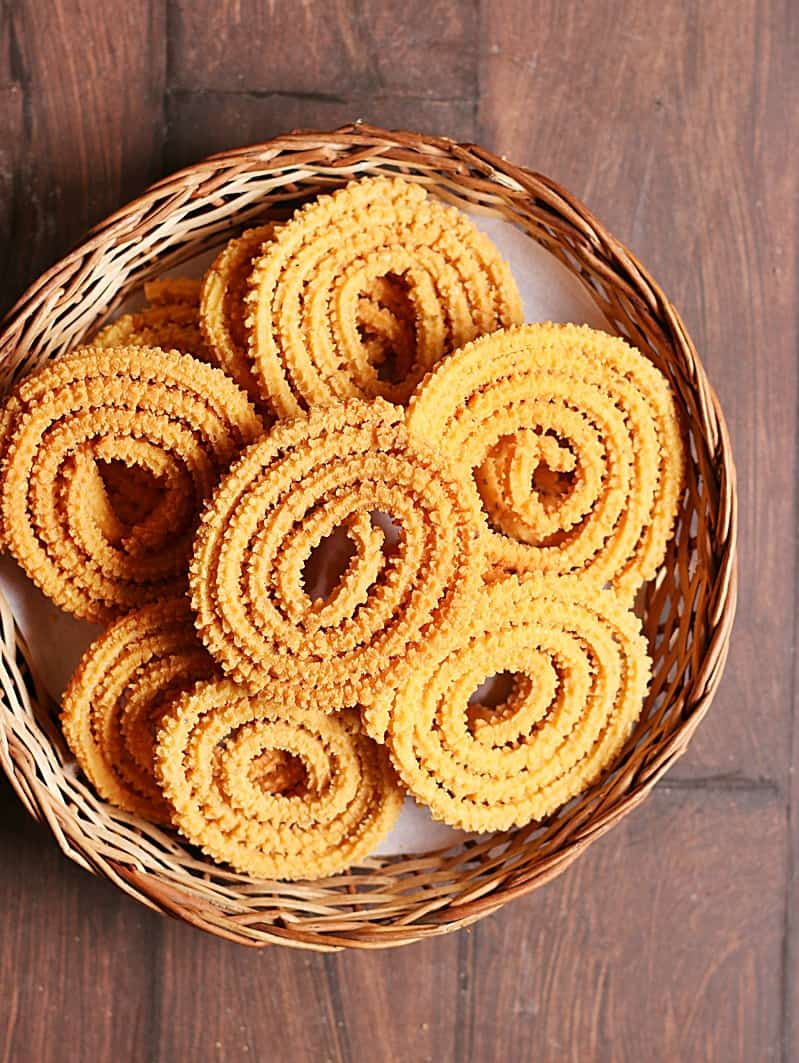 This year Diwali falls on Nov 7th, 2018. It is the most important Indian festival that is celebrated across the country. Like any other Indian festival, homemade sweets and snacks form a big part of Diwali also.
I have already the compilation of 100 Diwali Sweets Recipes 2018 and this post is a compilation of Easy Diwali Snacks Recipes 2018.
In this Diwali Snacks Recipes list I have divided the recipes as chivda or mixture recipes, murukku recipes, vada recipes, pakoda recipes and chips recipes for your convenience. Take your pick and enjoy!
Before going to the recipes here are few tips and tricks for making perfect Diwali snack recipes.
Tips For Making Diwali Snacks
Always use good quality oil for making deep fried snacks. Snacks made with fresh oil taste best and also does not affect the tummy.
Avoid reusing oil as far as possible. Ghee can be reused though due its high smoking point.
For making murukku recipes avoid adding too much butter or ghee to the dough else it will dissolve in the oil while frying.
Also if the butter or fat is less than required the murukku will be hard.
Avoid frying in high flame.
Diwali Snacks Recipes- Murukku Recipes
Mullu murukku– Easy and traditional murukku made in Tamil nadu for all Diwali. Very delicious and beautiful looking murukku.
Magizhampoo murukku– Tasty and flavorful murukku made with urad dal and moong dal flour.
Butter murukku– Crispy and melt in mouth murukku with butter flavor, a very famous one in Tamil nadu snack shops
Ragi butter murukku– Butter murukku with finger millet flour.
Cashew murukku– Tasty and crunchy murukku with cashew nuts
Instant chakli– Easy and tasty chakli made easily with store bought rice flour.
Sago murukku– Very tasty and slightly tangy murukku made with sago pearls and curd.
Bread murukku– Yes you heard it right, crispy chakli with leftover bread
Pottukadalai murukku– Very crispy and tasty murukku with roasted gram dal flour.
Peanut murukku– Yet another innovative murukku recipe with peanuts. Also check potato murukku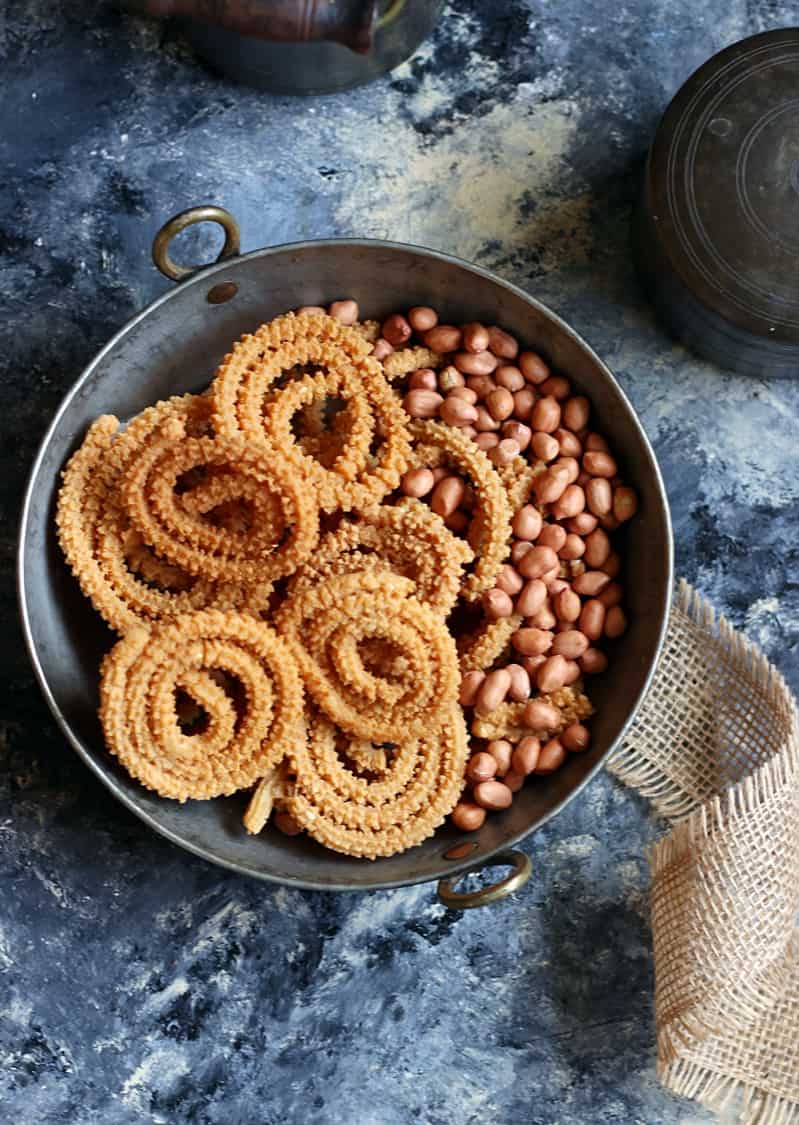 Diwali Snack Recipes- Mixture Recipes and Chivdas
Madras Mixture– South Indian style mixture that is made in all Tamil homes for Diwali.
Bombay Dal Mixture– North Indian sweet shop style mixture made easily at home
Poha chivda– Classic north Indian sweet and spicy chivda recipe
Sago chivda-Very easy to make elegant looking chivda with sago pearls
Makhana chivda– Tasty and crispy chivda with roasted makhana, no deep fry chivda. Also check murumura chivda
Potato mixture– A very tasty and crispy mixture made with deep fried potatoes.
Vada Recipes For Diwali
Medhu vada– Classic south Indian medhu vada made for all festivals
Masala vada– paruppu vada or masala vada that is made in many homes for diwali. Also check corn vada recipe
Sabudana vada– delicious no onion garlic vada with sabudana. Also check batata vada
Pakoda and Bonda Recipes For Diwali
Cashew pakoda– crispy and pakoda made with cashewnuts.
Onion pakoda– classic tea time snack with onions and gram flour. Also check cabbage pakoda, cheese pakoda, corn pakoda, palak pakoda, gobi pakoda , semiya pakoda recipes
Mysore bonda- You can serve this tasty bonda hot with coffee for guests.
Diwali Snack Recipes-Assorted
milagu thattai– Crispy and thin disc shaped snacks with pepper flavor. Also check maida thattai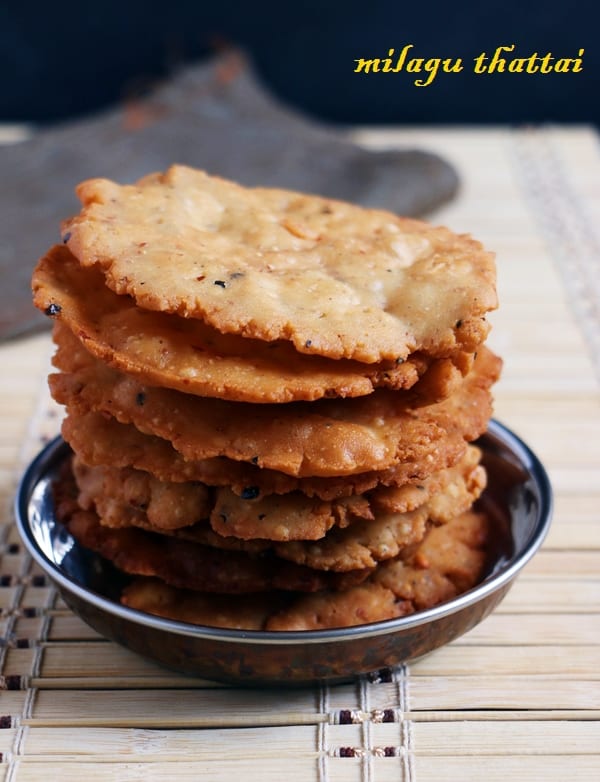 Rava seedai-easy to make tasty seedai with semolina
Seepu seedai– Chettinad special snack made with coconut milk
Namak Phare– North Indian special diwali snack
Kachori– Delicious deep fried snack with urad dal stuffing.
Onion bajji– Crispy and puffy bajji made with onions for diwali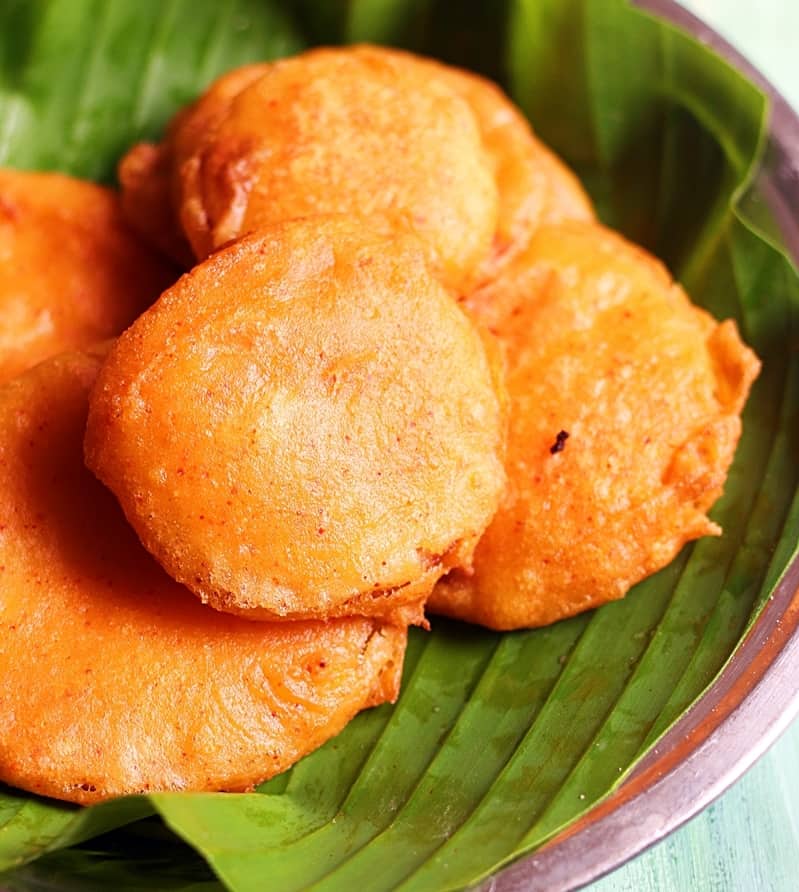 Plantain chips– Along with vada you can also make this raw banana or plantain chips easily. Also check potato chips, tapioca chips and sweet potato chips
Aloo bhujia– Easy recipe to make spicy and tangy potato sev. Also check cheese sev
Mathri– One more diwali special snack made in north India
Kara bhoondi– South Indian special fried spicy snack with gram flour